There was a time when virtual reality was little more than a pie-in-the-sky dream of computer programmers and sci-fi fanatics. Now, however, it's becoming more and more clear that VR has a solid place in the future of entertainment – and we don't just mean video games, but feature films, television, and more, as well.
In fact, virtual reality has actually advanced to the point where you can indulge in this totally immersive tech even if you don't have a gaming system or a computer. If you're looking to get on board with this next-level future-vision of entertainment, however, it can be difficult to know where to start. Lucky for you, however, we've rounded up the following 10 best VR headsets available right now. Whether you want to take down the Empire onboard an X-wing or just digitally visit a beach in the Bahamas, you can do it with one of these offerings.
Google OEM Daydream View
Google is still trailing Apple from a pretty great distance when it comes to their consumer hardware. But they do have a couple of legs-up on the world's most dominant tech brand. Namely in the form of their Daydream VR platform. And that's exactly what makes this VR headset so great. At a very reasonable price point, this headset uses the Daydream-enabled smartphone you already have (Google, Samsung, and LG all offer at least one) an turns it into a functional VR rig perfect for gaming (along with the included controller), video streaming, and whatever else your heart desires. It's also lightweight and made from super soft fabric, so you won't suffer from VR fatigue while wearing it.
Platform: Daydream-Ready Smartphone
Type: Wireless
Samsung Gear VR
While Google's VR headset it certainly worth consideration, it was hardly a groundbreaking innovation. In fact, Samsung beat them to the punch by quite a bit with their Gear VR. And, wouldn't you know it, this particular device is still one of the best. Similarly, it also uses your smartphone rather than a standalone screen, comes with a controller that works for both browsing and gaming, and it's also compatible with the brand's Gear VR 360-degree camera. That means, if you shoot your adventures with it, you can watch them back in your Gear VR headset.
Platform: Samsung Smartphone
Type: Wireless
Oculus Go
Oculus is the brand that really revolutionized the world of virtual reality with their PC-centric Rift VR rig. But once other brands started taking the tech and paring it down to portable formats, they weren't about to be left behind. Which is why they developed their Oculus Go headset. What makes this one really special is that it is completely standalone. Meaning you don't have to plug it into a computer or use your smartphone as the screen. Just power it on, put it on your head, and dive into the virtual world. It's also got built-in speakers, an extremely wide field of view, and quad fast-switch LCD displays that reduce the "screen door effect" common in lesser VR setups.
Platform: iOS/Android
Type: Wireless
PlayStation VR
It's actually kind of a shame that PlayStation's VR setup is proprietary, because we'd love to see how it works with things outside of their developmental slate. That is to say, PSVR is a damn-near perfect video game console virtual reality rig and we wish we could use it on our PCs. It's a little on the cumbersome side of the spectrum, that much is true, but the tradeoff is certainly the best console-based immersive gaming experience out there. And even if Xbox tried to compete, we're not sure they'd manage very well. It helps, too, that PlayStation has some really excellent exclusive content for the PSVR – like Doom, Skyrim, and even a Star Wars: Battlefront experience.
Platform: PlayStation 4
Type: Wired
HP Windows Mixed Reality Headset
While every other rig on our list is just straightforward virtual reality, HP is trying to pioneer something a little bit different: mixed reality. Think of it like a more intense version of the AR (augmented reality) used in things like Pokemon Go – where the real world and virtual world overlap, except with HP's headset, it's far more seamless. best part is, you can actually use this device as a straightforward VR headset, as well. And better than that, you have the ability to stream Xbox games (from your Xbox One) into a virtual world. So, if your TV is small, you can put on the rig, stream your games into the virtual world and have a much larger screen. Weird, sure, but also very cool.
Platform: Windows
Type: Wired
Razer OSVR HDK 2
Razer has certainly made a name for themselves in the PC gaming world, not just for their peripherals, but for actual computer hardware, as well (like their gaming-focused smartphone). They also happen to make an open-source VR headset, which is especially cool. For reference, open-source means developers can use the hardware platform to develop virtual reality games without limitations. But it isn't just a cool piece of hardware for developers, as your average everyday gamer can also use it to link up with Steam – the world's premier digital distribution platform. It also features an impressive 2160×1200 resolution display, has comfortable microfiber padding on the face mask, and runs at an impressive 90 fps.
Platform: Windows
Type: Wired
Lenovo Mirage Solo
One of the bigger issues with most fully-features virtual reality headsets is that they are bogged down by wired connectivity. In fact, almost all high-end offerings are tethered by wires to a PC or console. Lenovo's Mirage Solo, however, is both fully-featured and completely wireless. Which also means its the first of its kind. Better still, it uses Google's Daydream platform – meaning out of the box you have access to over 250 apps and games. It also features a 2.5 hour battery life – which is great if you want to take advantage of any live-streaming events – has a 2560 x 1440 resolution via a QHD display, and has its own onboard memory (expandable up to 256 gigs).
Platform: Google Daydream
Type: Wireless
Oculus Rift
While Oculus' Rift was really the original pioneer of the current wave of VR, it's also still one of the best – thanks to the company's dedication to staying ahead of the curve. And while It's cool that Razer offers open-source code for developers, Oculus originated that on their platform, as well. But being first to the party isn't the only thing that makes this a great VR headset, as it has a whopping number of other notable features. For instance, it has integrated VR audio, so the immersion isn't just visual, but aural, as well. And while the brand has their own controllers, it also comes with a special Xbox controller, too, so you can game with a traditional remote if you prefer.
Platform: Windows
Type: Wired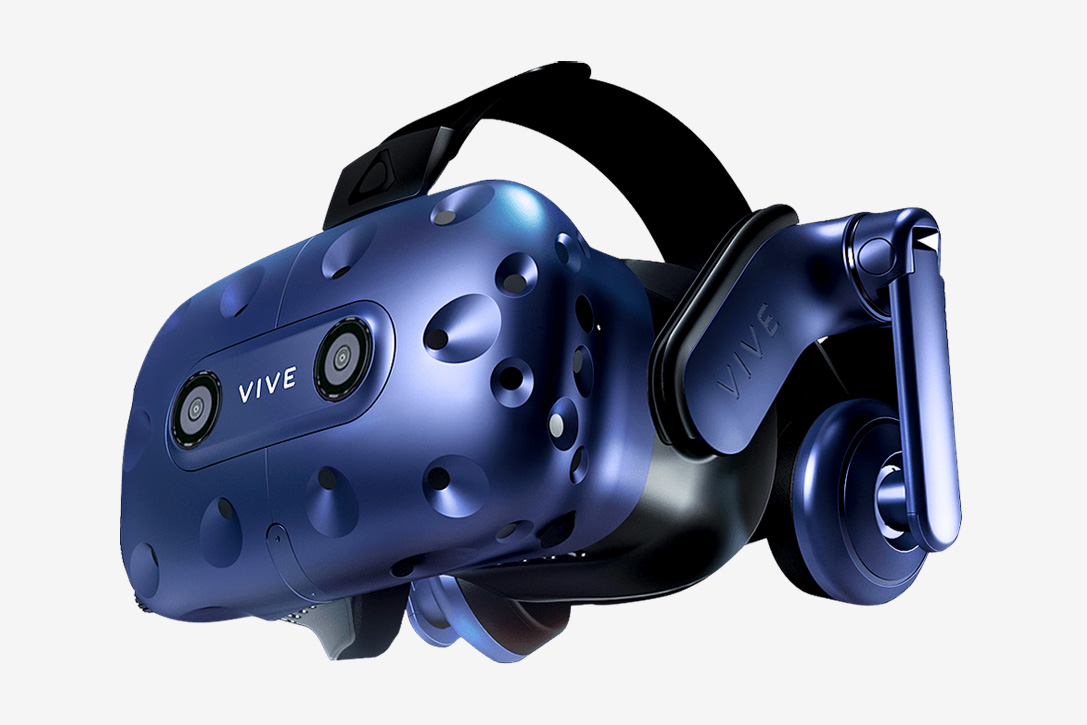 HTC Vive Pro
HTC's Vive Pro is at the absolute top tier when it comes to virtual reality hardware – but it does come at a high price. Still, it's hard to argue that what it has to offer isn't worth the cost. After all, we're talking an Ultra HD 2880 x 1600 resolution display, integrated 3D audio, dual onboard microphones, a super comfortable ergonomic format, and the ability to turn an entire room into your virtual space (with additional sensors, of course). The brand is even set to release a wireless adapter, so you won't even have to be tethered to your PC in order to use it. If only the best of the best will do, this is certainly it.
Platform: Windows
Type: Wireless
Pimax 8K VR
Whereas all of these other VR headsets come from fairly recognizable brands, there's one that stands out both for seemingly coming out of nowhere and the impressive tech it features. Called Pimax, this is the world's first 8K virtual reality headset. And that, in and of itself, would be enough to earn it a spot on this list. But, shockingly, it's not the only thing that makes this one great. The Pimax also features one of the largest VR displays out there. It's so big, in fact, that you can actually use your peripheral vision while playing games or enjoying a VR experience. Finally, it's also compatible with the Steam, Oculus, and PiHome VR platforms – so you have access to a gargantuan number of games, experiences, and more.
Platform: Windows
Type: Wired
15 Best Retro Gaming Consoles
If you like your video game experiences a little less 3-dimensional and more old school, then you're definitely going to want to have a gander at our list of the best retro gaming consoles.