Though cars have slowly become more expensive over the decades, certain sectors of the market have also grown increasingly competitive among manufacturers, namely the coveted $30K – $50K segment. Offering a more premium machine while still remaining fairly practical and utilitarian, this price point actually represents a decent fraction of all cars sold in the U.S., with Kelley Blue Book claiming that the average price of a new car in the United States last year was around $46,000.
Knowing a great many Americans are willing to spend up to — and not much over — $50,000 for a new vehicle, an enormous amount of resources go into these models, both in terms of their development and marketing, with budgets that can easily go into the billions. Because of the highly competitive nature of this space, it can be difficult to sort through the endless sea of available options inundating today's market. And it's for this reason that we've broken the sub-$50K category into five main groups to handpick the five best options from each in this guide to the best new vehicles you can buy for under $50,000.
Coupes
Sporty Daily Drivers
Toyota GR Supra 2.0
Sharing its chassis and engine platform with BMW's Z4 M40i, Toyota's latest generation GR Supra is a high-performance daily driver that's offered in a relatively affordable turbocharged 2.0-liter inline-four configuration that's still capable of delivering 4.7-second 0-60mph times and a respectable top speed of 155mph. There's also an enormous number of available aftermarket parts for the fifth-gen Supra.
Engine: Turbocharged 2.0L Inline-Four
Weight: 3,770LBs
Horsepower: 255HP
Torque: 295FT-LBs
Audi A5 Coupe
Another peppy coupe powered by a turbo'd two-liter inline-four, Audi's A5 is a sporty and compact car that offers just enough cargo space to still make for a fun yet practical daily driver. In addition to being mated to a trick seven-speed S Tronic transmission, the A5's engine also benefits from a 12-volt mild hybrid system that, combined with the Audi's advanced all-wheel-drive system, lets this luxurious yet capable coupe clock 0-60mph times of only 5.3 seconds.
Engine: Turbocharged 2.0L Inline-Four
Weight: 3,638LBs
Horsepower: 261HP
Torque: 273FT-LBs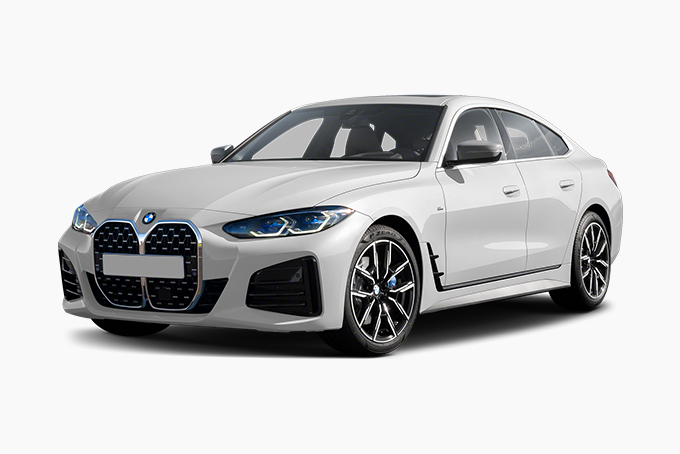 BMW 430i xDrive Gran Coupe
Powered by a BMW M TwinPower Turbo engine that's helped along by a 48-volt mild-hybrid system and a quick-shifting eight-speed sport transmission, the BMW 430i xDrive Gran Coupe offers an incredible blend of practicality and performance, with the cargo space, doors, seating, tech, and creature comforts needed for a sensible daily driver while still offering more than its share of thrills in the canyons and corners. Coming back onto the scene after being absent from the 2021 model year, this model benefits from the Bavarian brand's latest generation of facelift, now featuring an ultra-prominent, oversized, modern take on BMW's classic kidney grille design.
Engine: Twin-Turbocharged 2.0L Inline-Four
Weight: 3,814LBs
Horsepower: 255HP
Torque: 258FT-LBs
Mercedes-AMG CLA 35 Coupe
Built by hand in Affalterbach, the Mercedes-AMG CLA 35 Coupe is another stunning amalgamation of comfort and performance, with an ultra-plush cabin that can see its occupants rocketed from 0-60mph in only 4.8 seconds thanks to a 302-hp turbocharged two-liter AMG-enhanced four-cylinder engine, a seven-speed SPEEDSHIFT DCT dual-clutch transmission, and AMG Performance 4MATIC all-wheel drive. This model also benefits from the usual host of AMG upgrades throughout.
Engine: Turbocharged 2.0L Inline-Four
Weight: 3,505LBs
Horsepower: 302HP
Torque: 295FT-LBs
Chevrolet Camaro 2SS
While it may not be Chevy's top-of-the-line ZL1 model, the 2SS sits just one step below, with the same 6.2-liter V8 engine, just minus the supercharger. Available in hardtop or convertible versions, the Camaro 2SS comes loaded with a host of impressive features all as standard, including a premium Bose audio system, an 8" touchscreen HD color display, dual-zone climate control, interior spectrum lighting, and a cool 455 horses on tap.
Engine: 6.2L V8
Weight: 3,696LBs
Horsepower: 455HP
Torque: 455FT-LBs
Hatchbacks
Compact Hot-Hatches
Hyundai Veloster N
From the Korean company's high-performance N range, the Veloster N is the track-derived, range-topping variant of Hyundai's popular hot hatch. Loaded with performance-focused features, the Veloster N boasts 19" alloy wheels shod in Pirelli PZero rubber, electronically-controlled suspension, an N Corner Carving Differential, aluminum-alloy sport pedals, N Light sport bucket seats, a variable exhaust valve system with large bore outlets, and five different individual drive modes that allow the user to adjust elements like steering and suspension.
Engine: Turbocharged 2.0L Inline-Four
Weight: 3,106LBs
Horsepower: 275HP
Torque: 260FT-LBs
Mini John Cooper Works Hardtop 2 Door
A performance-focused track-ready version of the legendary revived car, the Mini John Cooper Works is an ultra-sporty and compact model that drives like a turbocharged, street-legal go-kart. The upgraded compact includes an ergonomic leather steering wheel with F1-style paddle shifters, additional instrumentation, leather-trimmed sport seats with integrated head restraints, JCW red accents, Brembo brakes, a sports exhaust, firmer, sportier suspension, and an electronically locking front differential. The JCW can also be further upgraded straight from the factory with features such as available adjustable Nitron suspension, a full aero kit, exclusive two-tone color schemes, and Dinamica microsuede upholstery.
Engine: Turbocharged 2.0L Inline-Four
Weight: 2,892LBs
Horsepower: 228HP
Torque: 235FT-LBs
Volkswagen Golf R
Since the debut of the first-generation Golf in 1974 — known as the "Mk1" or "Type 17" — Volkswagen's boxy little hatchback has grown into nothing short of an automotive icon, with a devoted cult following that's kept it in near-continuous production for the last 48 years, during which time well over 35 million units have been sold. The R spec Golf represents a more tuned, high-performance variant of the model, with a turbocharged 2.0-liter inline-four that enables this range-topping Golf to achieve a 155-mph top speed and an even more respectable 0-60mph time of only 3.9 seconds.
Engine: Turbocharged 2.0L Inline-Four
Weight: 3,417LBs
Horsepower: 315HP
Torque: 295FT-LBs
Audi A4 allroad
Audi's A4 allroad delivers practically everything one can ask for in a family hauler, with spacious seating for five, plenty of tech and creature comforts, 24.2 cubic feet of cargo space — or nearly 60 with the second row of seating folded down — and a potent 261-hp turbocharged 2.0-liter inline-four engine that rockets the sport wagon to 60mph from a standstill in 5.5 seconds. This model also benefits from Audi's robust suite of driver assists and aids, as well as a 12.3" infotainment display and the Four Rings brand's legendary quattro all-wheel-drive system.
Engine: Turbocharged 2.0L Inline-Four
Weight: 3,847LBs
Horsepower: 261HP
Torque: 273FT-LBs
Toyota GR Corolla
The latest addition to Toyota's high-performance Gazoo Racing lineup, the GR Corolla is a tremendously sporty hot hatch that's been re-engineered from the ground up for behind-the-wheel thrills. Brimming with features that have trickled down from Toyota's experience in road and rally racing competition, the GR-spec Corolla boasts GR-FOUR All-Wheel-Drive, a sport-tuned suspension package, multiple drive modes including a Track setting, a triple muffler exhaust setup, 18" 15-spoke cast wheels, a track-tuned aero kit, a wider stance, a short-stroke shift lever, a hand-operated e-brake, a GR leather-trimmed steering wheel, special sports seats, and a 300-hp turbocharged 1.6-liter inline-three motor. And while pricing has not yet been announced for the new GR Corolla, we expect it to be well below the $50K mark.
Engine: Turbocharged 1.6L Inline-Three
Weight: 3,249LBs
Horsepower: 300HP
Torque: 273FT-LBs
Sedans
Four-Door Family Haulers
Tesla Model 3 RWD
The most affordable model currently offered by Tesla (until the Cybertruck's arrival), the Model 3 is a bar-setting electric vehicle that features a pair of independent digitally-controlled motors that monitor and respond to road conditions every 10 milliseconds and sends just over 320hp and 310ft-lbs of torque to the EV's rear wheels. Other highlights include an 11.5-kW onboard charger, seating for five, 23 cubic feet of cargo space, a massive 15" central touchscreen, a 4.2-second 0-60mph time, and a wildly-impressive range of 358 miles on a single charge.
Engine: 239kW Single Electric Motor
Weight: 3,648LBs
Horsepower: 320.5HP
Torque: 310FT-LBs
Subaru WRX GT
A sporty, performance-focused version of Subaru's WRX that still makes for an objectively practical commuter car, the GT-spec variant is a bit of a sleeper car, with a rather unassuming outward appearance that conceals Recaro performance seats, a drive mode selector, reverse automatic braking, the Japanese automaker's EyeSight Driver Assist Technology package, a Performance Transmission with paddle shifters, and electronically adjustable dampers — all as standard. Riding on matte gray-finish 18" alloy wheels, this model is powered by a turbocharged 2.4-liter Boxer-four engine that's good for 271hp and 258ft-lbs of torque.
Engine: Turbocharged 2.4L Boxer-Four
Weight: 3,534LBs
Horsepower: 271HP
Torque: 258FT-LBs
Alfa Romeo Giulia Sprint
An extremely elegant, Italian-built sedan that can be had for under $50,000 in its base model form, the Alfa Romeo Giulia Sprint is a high-end luxury model that performs as well as it looks, with best-in-class top speed thanks to the car maxing out at 149mph, plus best-in-class horsepower with 280 ponies being sent to the car's rear wheels. Driver-assist features like forward collision warning with full-stop capabilities, blind-spot monitoring, and front and rear park assist all come as standard, too.
Engine: Turbocharged 2.0L Inline-Four
Weight: 3,521LBs
Horsepower: 280HP
Torque: 306FT-LBs
Polestar 2 Long Range Single Motor
Available from just $40,900 after a Federal tax credit is applied, the Long Range Single Motor version of the all-new Polestar 2 is a cutting-edge electric car that offers 231hp, a seven-second 0-60mph time, and a 270-mile range, though, for just $51,900, the company also sells a dual-motor-spec that brings power up to 476hp and its 0-60mph time down to just 4.2 seconds — albeit at the cost of 10 fewer miles in range. As one would anticipate from a premium, state-of-the-art EV, this model also comes loaded with technological bells and whistles.
Engine: 170kW Single Electric Motor
Weight: 4,400LBs
Horsepower: 231HP
Torque: 243FT-LBs
Dodge Charger Scat Pack
Powered by a 392 HEMI V8 that puts down 485hp and 475ft-lbs of torque, Dodge's Charger Scat Pack is a high-performance turnkey variant of a modern muscle car that comes straight from the factory with a long list of upgrades such as quad-piston Brembo calipers at all four wheels, a Uconnect 4C touchscreen with access to SRT Performance Pages, heated cloth seats and leather steering wheel, 20" low-gloss, five-arm, split-spoke aluminum wheels, and launch assist, line lock, and launch control, all coming as standard. And, for $5,695 more, Dodge also offers the even more impressive widebody variant of the Charger Scat Pack.
Engine: 6.4L V8
Weight: 4,385LBs
Horsepower: 485HP
Torque: 475FT-LBs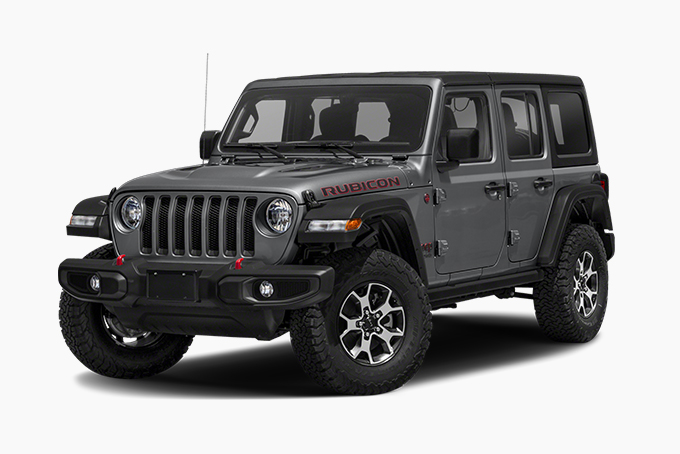 Jeep Wrangler Rubicon
Sitting in the middle of the Wrangler range, the Rubicon is an off-road-capable 4×4 that still lends itself to daily driving and commuting duties. Equipped with a Rock-Trac transfer case with a 4:1 Low Range setting, the Rubicon packs a 3.6-liter V6 engine that's good for 285hp and almost 300ft-lbs of torque. Offered in two-door or four-door configurations and with hard or soft-top roof options, Jeep's Wrangler Rubicon is also available with a host of factory upgrades such as the Xtreme Recon package with massive 35″ tires, a 100:1 crawl ratio, Mopar Door-Off mirror kit, a Sunrider Flip Top, half doors, and a Corning Gorilla Glass windshield.
Engine: 3.6L V6
Weight: 4,222LBs
Horsepower: 285HP
Torque: 295FT-LBs
Land Rover Discovery Sport SE
With a higher top speed, greater power output, and more creature comforts and tech, Land Rover's Discovery Sport LE is a compact SUV that's kicked along by a turbocharged 2.0-liter inline-four engine that can propel the British-built crossover SUV model to a top speed of 140mph and get it from 0-60mph in 7.3 seconds. Features exclusive to the range-topping LE spec include DRL-equipped LED headlights, special 20″ wheels, heated 12-way adjustable seats with two-way adjustable headrests that are trimmed in ebony DuoLeather, and a super-advanced driver assist package with traffic sign recognition and an adaptive speed limiter, just to name a few.
Engine: Turbocharged 2.0L Inline-Four
Weight: 4,105LBs
Horsepower: 246HP
Torque: 269FT-LBs
Ford Mustang Mach-E Premium
With the comfort and cargo space of an SUV and the low stance and performance of a sports car, Ford's Mustang Mach-E offers what many would consider to be the best of both worlds. Armed with a range of over 300 miles on a single charge and a 0-60mph time of only 4.8 seconds, the Premium spec Mustang Mach-E utilizes an eAWD system, an advanced safety suite and tech package, and an ultra-premium ten-speaker Bang & Olufsen sound system.
Engine: 258kW Dual Electric Motors
Weight: 4,394LBs
Horsepower: 346HP
Torque: 428FT-LBs
Ford Bronco Wildtrak
A high-end version of Ford's revived, retro-inspired Bronco, the Wildtrak boasts a slew of factory options all as standard including a HOSS 2.0 suspension system with Bilstein PSDs, hill-start assist, a reverse sensing system, an advanced 4×4 setup with automatic on-demand engagement, DRL-equipped LED headlights supplemented via LED foglights, tow hooks front and aft, a manual swing gate with a 150-degree swing, and removable doors and soft-top. In addition to the available Sasquatch package, this car is also offered with an enormous range of off-road upgrades including full-length skid plates, a heavy-duty front bumper, a brush guard, and roof rails, among others.
Engine: Turbocharged 2.3L Inline-Four
Weight: 4,749LBs
Horsepower: 275HP
Torque: 309FT-LBs
Mercedes-AMG GLB 35 SUV
Equipped with the same 302-hp turbocharged inline-four engine as the AMG CLA 35 Coupe above, the AMG GLB 35 is a compact luxury SUV that squeaks in just below the $50,000 mark. In addition to its AMG-enhanced engine, this model gets an AMG SPEEDSHIFT DCT eight-speed dual-clutch transmission, AMG Performance 4MATIC all-wheel drive, four-wheel independent suspension, AMG RIDE CONTROL sport suspension with three-stage damping, an AMG sport exhaust system, an AMG high-performance braking system, electromechanical power steering, a three-stage electronic stability program, and ESP dynamic cornering assist.
Engine: Turbocharged 2.0L Inline-Four
Weight: 3,869LBs
Horsepower: 302HP
Torque: 295FT-LBs
Pickup Trucks
Four-Wheeled Workhorses
ROUSH Ford Ranger
A high-performance package starting at only $13,250 above the base model pickup's $25,715 MSRP, the ROUSH Ranger offers a massive upgrade over the donor at a surprisingly affordable price. This package includes a ROUSH performance suspension system, a ROUSH dual-tip performance cat-back exhaust system with ROUSH-etched stainless-steel tips, a signature ROUSH Grille with dual LED light bars, painted fender flares with integrated lighting, 18" satin black ROUSH wheels shod in 32" General Tire Grabber ATX all-terrain tires, and a revised interior with ROUSH-embroidered diamond-quilted seats, a serialized plaque, ROUSH WeatherTech floor mats, and a ROUSH gauge cluster.
Engine: Turbocharged 2.3L Inline-Four
Weight: N/A
Horsepower: 270HP
Torque: 310FT-LBs
Tesla Cybertruck Single-Motor RWD
Unequivocally one of the most controversial and talked-about vehicle releases of the last decade, the Tesla Cybertruck is an extremely idiosyncratic retro-futuristic wedge-shaped EV that's constructed around an ultra-rugged exoskeleton crafted from insanely-hard 30X cold-rolled stainless steel before being adorned in ultra-strong glass and polymer-layered composite windows and bodywork. The entry-level version of this angular offering is powered by a single 298-kilowatt electric motor that generates an even 400hp. Tesla also produces much higher-specced versions of this fully-electric pickup with up to a 500-mile range and a 0-60mph time of as little as 2.9 seconds. The Cybertruck's pricing seems aggressive — because it is — and while we expect it to be higher than its initially-announced sub-$40K price tag once it finally gets to market, we don't expect a jump of over $10K.
Engine: 298kW Single Electric Motor
Weight: 5,732LBs
Horsepower: 400HP
Torque: N/A
Ford F-150 Lightning
An electrified version of America's longtime favorite pickup truck, the F-150 Lightning maintains the appearance of the Blue Oval's latest generation workhorse while boasting some remarkable performance figures such as a 0-60mph time in the mid-four-seconds, a maximum towing capacity of around 10,000lbs, a targeted payload capacity of 2,000lbs, and a range of 320 miles per charge. With a massive onboard battery and infrastructure, the F-150 Lightning can also act as a mobile power station to keep power tools juiced up, or to power your entire home in the event of an emergency.
Engine: 317kW Dual Electric Motors
Weight: 6,171LBs
Horsepower: 426HP
Torque: 775FT-LBs
Chevrolet Colorado ZR2
A high-performance truck available straight off of the showroom floor, Chevy's Colorado ZR2 boasts a roughly $44,000 MSRP that gets you a ZR2 off-road suspension package and appearance kit, a factory-installed lift kit of up to 48mm, five hot-stamped Boron steel skid plates, rock sliders, segment-exclusive Multimatic shocks with a DSSV damping system, front winch provisions, red tow hooks, rear recovery points, and custom bumpers front and back courtesy of AEV. This model also makes for a stellar starting point for an even more hardcore off-road or overland project.
Engine: 3.6L V6
Weight: 4,533LBs
Horsepower: 308HP
Torque: 275FT-LBs
Toyota Tacoma TRD Pro
Offered in a double cab configuration with a 5' bed, Toyota's top-of-the-line TRD Pro-spec Tacoma is another high-performance pickup that comes straight from the factory with a lengthy list of noteworthy upgrades. Powered by a 278-hp 3.5-liter V6, this popular pickup truck also gets LED headlights supplemented by DRLs and Rigid Industries fog lights, dynamic navigation, a TRD Pro cat-back exhaust, FOX Internal Bypass shocks, a deck rail system, TRD Pro skid plates, an electronically locking rear differential, a factory lift kit, Multi-Terrain Select, Crawl Control, black sport bezels, a Premium JBL audio system, a camera-equipped Multi-Terrain Monitor, TRD Pro-trimmed 10-way adjustable power seats, and an integrated color-keyed tailgate spoiler — all as standard fare.
Engine: 3.5L V6
Weight: 4,465LBs
Horsepower: 278HP
Torque: 265FT-LBs
Honorable Mention
An Obtainable Supercar
Factory Five Racing GTM Supercar
Capable of going toe-to-toe with a great many supercars while costing a fraction of the price, Factory Five's GTM Supercar is a kit car that was designed to allow for world-class performance in a package that could be fully built out for no more than $50,000 all told, including parts and labor. The kit utilizes the 400-hp 6.0-liter V8 powertrain and transaxle from a C5 Corvette, as well as the C5's front and rear control arms, suspension, brakes, and fuel cell. Using an advanced aluminum chassis set under an aero-kit-equipped fiberglass body that takes inspiration from Le Mans racers, the GTM Supercar is good for three-second 0-60mph runs, a top speed of 190mph, and some incredibly sharp and planted cornering. All in all, you'd be hardpressed to find more performance in a $50,000 budget.
Engine: 6.0L V8
Weight: 2,435LBs
Horsepower: 400HP
Torque: 400FT-LBs
The Most Powerful Production Cars To Buy Under $50,000
Interested in checking out an additional list of late-model vehicles that can be had for $50,000 or less? Then be sure to head over to our guide to the most powerful production cars to buy under $50,000 for high-performance models that are accessible to your average driver.