As guys, we love our outerwear. Whether it's the jacket that we've been wearing for years, our favorite pair of jeans, or a t-shirt that'll never lose its charm, we place a huge emphasis on our outward experience, without worrying about the stuff that's going on just below. That's right, we're talking about undergarments — and more specifically, underwear. It's true that this minuscule part of our everyday regimen might be overlooked, but if we're being honest, it's one of the most important parts of our getup. Not only do boxers and briefs provide adequate support for you and the boys throughout the day, but they're also the friction-less layer between your sensitive skin and the rough fabrics that make up many of our preferred jeans/trousers.
The truth is, underwear is a huge part of our ability to stay comfortable and capable throughout the day; so why not act like it? Instead of settling for a pair of underwhelming boxers, you should treat yourself. So head to the nearest clothing store, pull some off the rack, and go about your day. It's not that easy, is it? Instead, we've decided to provide you guys with some great entry-level offerings when it comes to boxers and briefs, setting the standard for what you wear moving forward. Below, you'll find a handful of our favorite undergarment offerings, split into two different sections, and elaborated upon for further insight. Don't go another day without the most adaptive and comfortable offerings around. After all, you and your guys deserve it.
Briefs
The Form-Fitting Essential
Calvin Klein Microfiber Low-Rise
Calvin Klein's undergarments are world-renowned due to their iconic lineage, their history within the world of fashion, and their association with the industry's most notable figures. Over the years, they've served as a cultural staple, adorning the midsections of celebrities and commoners, alike. The Microfiber Low-Rise is a prime example of why that is. It boasts a quick-dry design, a trunk-like silhouette, and an ultra-soft microfiber construction, keeping in in-line with the brand's alternative undergarments. Plus, they've even got a contoured pouch for bespoke fitment below, helping to keep you comfortable and flexible throughout the day.
Uniqlo Men's Airism
Uniqlo doesn't confine itself to the creation of men's outerwear. In fact, they make some of the most comfortable undergarments around, and the Men's Airism is a perfect representation of that. These lightweight offerings boast a cool touch component to keep them aerated and breezy throughout any period of wear, as well as an anti-microbial, odor-controlling architecture to help you stay fresh. Top that off with a comfortable, ultra-stretchy silhouette, and you've got the perfect recipe for a top-rated men's brief.
Mack Weldon 18-Hour Jersey
Mack Weldon's 18-Hour Jersey doesn't have any overly complicated technologies or design additions. Instead, it relies on the tried and true fitment of the genre's classics, catering to a more retrospective man. But that doesn't mean that it can't hold its own. The brief's cotton, modal, and spandex construction helps to keep the 18-hour Jersey as soft as its competition, while a variety of attractive, eye-popping hues make way for some creative color combinations.
Rhone Boxer Brief
Rhone's Boxer Brief is an athletically-charged variant that introduces some cutting-edge features for the modern guy. They're made with an ultra-soft Pima cotton, and come complete with a bespoke "rocket pocket" to ensure frictionless wear throughout the day. But that isn't all. If you're looking for underwear that's versatile, airy, and lightweight, you'll be pleasantly surprised to find that Rhone's unique boxer was served a heaping helping of its featherlight fabric, giving it a "zero gravity" feel that's similar to a second skin.
Lululemon 'License To Train'
Lululemon might be one of the biggest names in athleisure, but that doesn't mean that they can't rock the men's underwear world. Since they've got the science behind comfortable undergarments down pat, it was a natural parallel to draw. The company's "License To Train" line is an all-encompassing suite of interesting, athletically-focused garments, but the collection's boxer briefs are a gift to mankind. Each pair is created with sweat-wicking fabrics, targeted support, and reinforced areas that will help to keep your precious assets secure whenever there's a jostle.
SAXX Underwear Co. Men's Platinum Boxer
SAXX has made a name for itself in recent years, and not because of its ridiculous name. Once you get past the amazing inuendos, marketable names, and interesting characters, the company's underwear proves its worth, thanks to its unique design, advanced support technologies, and ultralight demeanor. Each friction-free variant calls upon anti-microbial/anti-odor implementations to keep you fresh throughout the day, while moisture-wicking fabrics, attractive designs, and a bespoke pouch provide adequate protection. But if you're one for traditional colors or designs, don't worry — the brand also has a plentiful selection of muted colors and common hues.
Boxers
The Laid-Back Layer
J.Crew Woven Boxer
J.Crew's propensity for the creation of stylish menswear is undeniable, and that ethos transitions directly into its underwear line. The company's Woven Boxer isn't your average, run-of-the-mill variant. It's attractive, classic, and features an assortment of interesting patterns/colors to keep your wardrobe looking as fresh as ever. Each cotton example boasts an extra-comfortable construction, brushed waistband, and timeless architecture that'll spurn your full-fledged transition toward a drawer bursting at the seams with J.Crew items.
Nice Laundry Slim-Fit Boxer
NIce Luandry's Slim-Fit Boxer is an artisanal offering that sets itself apart from the competition due to its refinement. Not only does the boxer take on a slim silhouette that gives it an aesthetically-pleasing look when worn alone, but it calls upon various high-end tailoring techniques to give it a leg up on the industry's most notable examples, thanks, in large part, to its ultra-comfortable Pima cotton construction. If you're looking for the perfect pair of underwear to throw on with a pair of skinny jeans, this is the right example for you.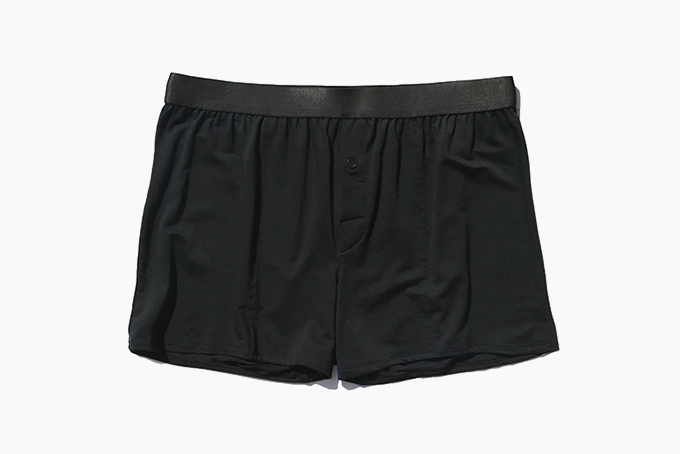 CDLP Boxer Short
CDLP's Boxer Short is a testament to stylish men's undergarments. Calling upon a trunk-like aesthetic, a loose, tailored drape, and a traced thigh, these unique boxer offerings take the traditional fitment of men's boxers and turns it on its head, opting instead for an updated architecture that harkens back to the vintage swimmers of old. They've even got a signature waistband, an eco-friendly Lyocell fabric construction, and a tagless construction, ensuring that you won't be shifting and scratching for relief throughout the day.
Handvaerk Pima-Cotton Jersey Boxer
Handvaerk's Pima-Cotton Jersey Boxer is as lavish as it sounds. Inspired by designer Dieter Rams' "less-is-more" ethos, these ultra-comfortable boxers are as simplistic as they come, focusing almost exclusively on adequate protection, and nothing else. You might think that, due to their minimalistic nature, they'd be difficult to define in an industry saturated with cutting-edge garments, but thanks to their classic design, simple persona, and intuitive, elasticated waistband, they've become one of our favorites — probably due to their unyielding commitment to the basics.
Sunspel Striped Cotton Boxer
Sunspel's Striped Cotton Boxers bring a bit of fun to our list, breaking free of the solid color blocking that we've become so accustomed to, thus far. These classic variants boast enhanced coverage areas, helping to differentiate them for the more form-fitting brief, while also deviating from the "baggy" nature of other relaxed offerings. Instead, they strike the perfect balance between the two, thanks to their lightweight cotton construction, breathable openings, and stitched/paneled seams, ensuring that you'll be able to move in any direction you want without feeling too confined.
Tom Ford Grosgrain-Trimmed Cotton Boxer
Tom Ford prides itself on the creation of a complete suite for men: clothing, accessories, scents, grooming items, and of course, underwear. The company's Grosgrain-Trimmed Cotton Boxer rounds out our list in the most eloquent way possible, calling upon its Italian-made silhouette, breathable cotton, and a flexible grosgrain waistband to keep you as mobile as possible. Instead of the enclosed leg areas that you'll find on other offerings, Ford's unique undergarments boast side slits to keep them equally as viable under tighter trousers, allowing wearers to shift the underwear into the most comfortable position possible. And they look good, to boot.
The 20 Best Men's Style Basics
When it comes to fleshing out your wardrobe, your underwear is only the first step. Put together the rest of yours by picking through our list of the best men's style basics.