Each year, the U.S. experiences well-over 150,000 car crashes due to snowy or icy road conditions, though considering 70% of American roads are located in snowy regions, and that these conditions increase braking distances by nearly tenfold, this really isn't all that surprising. And while this may only account for approximately 17% of America's wrecks, it nonetheless results in more than 1,800 annual fatalities. On top of limited visibility, the single greatest determining factor in these accidents is compromised traction.
Fortunately, snow chains have long been utilized to remedy this exact issue, affording drivers with the grip needed to steer, accelerate, and brake with complete control. Because tire chains have been on the market for so long, the segment has been treated to a surprising number of innovations that make for markedly more effective items that are also substantially easier to use/install. And, with winter just around the corner, we figured now is the perfect time to break down this sector, explore the pros and cons of the various existing snow chain models, and deliver our picks for the best snow tire chains.
Links & Traction
The Purpose Of Snow Tire Chains
Not unlike pretty much any other product or piece of gear, buying snow chains requires at least a tenuous understanding of how these systems function. Snow tire chains are essentially comprised of linked-together sections of (typically alloy-constructed) chain links that can be wrapped around the exterior of a tire. In short, tire chains afford a car's wheels with added grip and traction when traversing icy and or snowy roads.
This bolstered level of grip is made possible by the chain-wrapped tires boasting a design that effectively sinks into the layer of compacted ice or snow lining the top of the road, thereby making a barrier of sorts between the tarmac and the tire chains. The chains, in essence, play the role of acting as exaggerated tread blocks (or "knobbies") that can "dig" into snow and ice to achieve substantially more grip than a regular winter tire's siping or tread pattern could hope to. There are different types of modern snow chains—such as "Snow Socks" (aka "Tire Socks" or "Auto Socks")—though they all sport a similar purpose and function.
Cold Weather Car Shoes
What To Look For When Shopping For Snow Chains
Now that you're armed with a cursory knowledge of the utility and function of snow chains, let's explore some of the key areas that should be taken into consideration when in the market for winter tire chains.
Traction: Traction is the name of the game when discussing snow chains, as this is the primary area that these chains are designed to help improve on, enabling a car to accelerate, corner, and brake with full control. Different tire chain models afford varying levels of grip in order to accommodate different types of sizes of cars or trucks.
Materials: Considering that tire chains have to bear the weight of the entire vehicle pressing down against the rough tarmac, they need to be manufactured from some extremely durable, high-strength materials. This typically takes the form of hardened steels and alloys, though there are some newer models constructed from elastomer-backed synthetic woven fabrics.
Ease Of Installation: Another hugely important factor to consider is a tire chain's means of installation. Different manufacturers employ different means of securing chains around the wheel, with some requiring markedly more time, below grease, and effort than others. And, because these are typically installed on the side of the road in cold weather conditions, the faster and easier a chain is to install, the better.
Sizing: Sizing is an enormously important area to take into account when buying snow chains. Improperly-Fitting chains can not only become dislodged, but can also get wrapped around a vehicle's axle, and even brake lines—presenting a very serious safety hazard. And, while this area may appear intimidating, all you're really doing here is following your tire's sizing chart to determine what model of chain will fit your tire. It's also worth touching on the fact many snow chain models are manufactured in various sizes.
Power Delivery: Seeing as snow chains are designed to afford grip in snow and prevent a car's wheels from spinning under acceleration, one only really needs to equip their vehicle with chains around tires that are being driven by the engine. On a rear-wheel-drive vehicle, this means one only has to outfit the back wheels with chains or just the front tires for FWD cars. This also means four-wheel-drive machines should have all four wheels adorned in chains.
Price: There's a pretty wide spectrum in terms of snow chain pricing, with some models selling for as little as around $50 while others have MSRPs exceeding the $500 mark. The reality is, when it comes to snow chains, you really do get what you pay for, with the more costly, premium models offering better performance, a longer lifetime, and often, markedly easier installation.
Chains & The Law
A Brief Word On The Legality Of Tire Chains
It's also worth mentioning the legality of snow chains. In some regions, tire chains are legally required to travel on public roads in the winter—for what should be obvious reasons. It's also worth point out, however, that some areas have banned the use of snow chains, as the metal can wreak havoc on paved surfaces, slowly degrading the roadways over time. In a nutshell, it never hurts to do some research into the requirements and legalities surrounding snow chains for the specific locale(s) you plan on visiting this winter.
SOYOND Snow Chains
Sold in packs of six (the number required to full-equip a single tire), the SOYOND snow chains are a modern alternative to traditional chain-link items. Rather than having to align, and wrap a single-piece chain around the whole tire, this product utilizes a half-dozen smaller sections that can easily be installed using its steel plate inner buckle. Made from a rugged reinforced thermoplastic polyurethane with a non-slip texture, this offering sports alloy hardware, a polypropylene ribbon, and is lined with supplementary spiral steel studs that afford extra grip when driving on icy roads. This item is also sold with a storage bag, work gloves, an installation tool, and a one-year warranty.
Quality Chain Cobra Cables
Manufactured in nine different wheel sizes, the Quality Chain Cobra is a cable-style model that offers solid grip in winter driving conditions at an exceedingly fair price. This no-frills offering is conveniently sold in packs of two and features a galvanized steel construction that affords ample grip relative to its low-profile design. This not only makes for a smoother ride but also one with markedly less road noise and vibration. There are obviously more effective, easier-to-install tire chain models out there, though for under $60, you can't do much better than the Quality Cobra Chain cables. It is, however, worth noting that the rubber adjusters used to tighten or loosen this tire chain model is sold separately, though it can be purchased at any O'Reilly's or AutoZone for under $10.
Peerless Auto-Trac Tire Chains
A traditional set of tire chains with a contemporary twist, this item from American brand, Peerless, features a diamond pattern cross chain setup that's guaranteed a perfect fit at all times thanks to the use of self-tightening ratchets that automatically center the chains around the wheel. Capable of being installed (or removed) in mere minutes, the Auto-Trac Tire Chains also come with color-coded sections of chain, making it abundantly clear which part of the system goes around which part of the tire. This item is also sold in two-packs.
ISSE Snow Socks
Another modern alternative to classic cable-based tire chains, this snow sock is made from a fibrous textile material that effectively penetrates the thin film or snow, ice, or water on a road's surface, thereby giving the tire a direct contact patch with the tarmac for traction—versus normal tire chains that dig into the compressed top layer of snow and ice. Completely impervious to tangling, these snow socks—which are also sold in packs of two—don't create any vibration whatsoever, and require very little clearance to install, with an elasticized rim cuff that easily slips over the tire. And, should this product be installed incorrectly, there's zero chance of damaging the vehicle or its wheels or tires.
Security Chain Company Super Z6
When shopping for tire chains at under $100, it really doesn't get much better than the Security Chain Company's Super Z6 model. Immensely versatile, fitting on most cars, SUVs, and pickup trucks, the Super Z6 sports an integrated rubber tightener that automatically keeps the chain in place during travel. The use of alloy rings wrapped around the main cables allows for high levels of grip in ice or snow. And, on top of boasting markedly better traction than traditional cable-style chains, these also offer better compatibility with modern vehicle electronics systems such as ABS, traction control, and AWD systems. Even more impressive is the fact installation only requires 0.25" of ground clearance, and can be performed without moving the car at all.
TerraGrips Tire Chains
One of the most hardcore tire chain options, designed to take on practically any weather conditions, the TerraGrips Tire Chains are comprised of a ladder-style set of chains mated together via ten multi-ply rubber slats that essentially transform your average tire into an ATV or tractor-wheeled machine. Reinforced with plated steel components, this item is just as conducive to mudding and off-roading applications as it is to use on winter roads. Made in America using recycled rubber, the TerraGrips' rubber base prevents them from damaging roadways. This product is also offered in a wide range of sizes to fit a host of different makes, models, and vehicle types.
König XB-16
Founded in 1966 in the Italian Alps (before being acquired by Swedish company, THULE in 2004), König is one of the world's leaders in premium tire chains, solely focusing only on this one sector for the last 54-years. The company's XB-16 model is a high-end take on a traditional manually-tightened snow chain configuration, with closed shortening hooks, 16mm of clearance inside and on the tread, and a special locking device with built-in shields to protect the car's wheel from any possible damage. It may be a bit more expensive at around $150 per pair, but, like all König chains, the XB-16 is built to last.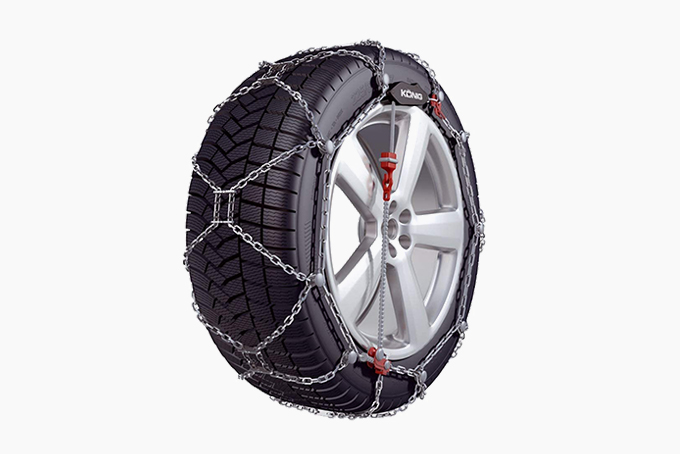 König XG-12 Pro
Another top-shelf set of tire chains from König, the XG-12 Pro is quite possibly the very best tire chain for SUVs, trucks, motorhomes, and large commercial vehicles. Maximum traction is provided by the chain's pattern design, which also features welded double-traction plates and a patented alloy wheel protection system. The XG-12 Pro sports one of the most advanced self-tensioning systems, with a patented micro-regulation system that atomically makes minor adjustments as needed to ensure a precise fit at all times. And, despite the intricacies of this model, its installation is remarkably easy to accomplish.
König K-SUMMIT K33
Touted by König as "the smartest external chain for passenger cars," the brand's K-Summit model fits perfectly onto stock wheels, with an innovative self-ratchet system. The design also doesn't leave any clearance behind the wheel for snow to build up in and includes folding arms that make for super convenient storage when not being used. Class-leading levels of grip are afforded while driving through snow or ice thanks to the chains boasting an alternating pattern of special injection-molded plastic plates, hard metal studs, and a special steel chain. Sold with a myriad of included adapters and a carrying case, this thoroughly top-shelf item features welded bars, as well for added durability.
Spikes-Spider SPXL Sport Series
Ticking just about every box one could hope for in a set of tire chains, Spikes-Spider's SPXL Sport Series is unequivocally one of the finest snow chain alternatives that money can buy. Designed to operate in up to 8" of snow or ice, this high-end offering features arms constructed from a permanently elastic, wear-resistant polymer, while genuine tungsten carbide studs afford ample traction on ice. This Swiss-made offering also packs central steel hubs that its "traction elements" can easily be installed or removed from depending on changing weather or road conditions. An ultra-easy-to-use clicking ring system also makes achieving a snug fit a breeze.
How To Fix A Flat Tire
Interested in doing some further reading on automotive roadside preparedness? Our definitive guide on how to fix a flat tire tells you everything you need to know about the intricacies of swapping compromised rubber.