Back in 1965, one of the co-founders of Intel introduced Moore's Law, a concept that posits that the number of transistors on a microchip will double every other year, along with the computer's general speed and capability. And while Moore's Law mostly rings true today, getting your hands on the latest and greatest tech offerings usually comes at a steep price. There are, however, noteworthy exceptions to this rule, with various technological wares that manage to not only offer cutting-edge performance but also supply significant bang-for-your-buck features.
From charging cables to stands to other accessories and peripherals, there are some stellar tech deals out there — so long as you know where to look. To save you the trouble this holiday season, we've searched far and wide for the season's 15 Best Tech Gifts Under $50.
Apple Lightning To HDMI Adapter
Quite possibly one of the most undercooked accessories on the market, an HDMI to Lightning cable allows whatever is happening on your iPhones screen to be beamed onto your TV. This negates the need for a Roku, cable box, or any other device. Simply run a streaming app like Netflix or Youtube on your phone and plug into the TV and voila. Because of its compact size, it's also a great gadget to take on the road when traveling.
TG Plasma Lighter
A contemporary take on the classic lighter, this pocket torch replaces the traditional flint, wick, and fuel arrangement for a USB-powered, electric dual-arc Plasma setup. Its waterproof case also makes it conducive to camping and other outdoor activities, too — a fact furthered along by its loop which is made to accept a 550 paracord.
Anker Wireless Charging Stand
This smartphone stand from Anker provides a stable platform to set your phone on, while simultaneously doubling as a state-of-the-art wireless charger. Fully Qi-compatible, this stand-meets-power bank can charge phones markedly faster than the standard 5W wireless charging unit. On top of an 18-month warranty, this offering also comes with a 3-foot micro USB cable.
Nomad Lightning Key
Never get caught without a phone charger again with the Lightning Nomad Key. Boasting Bayer Polycarbonate and Dupont TPE rubber construction, this 2.6" L, 7g, Apple MFi-certified keychain is compatible with iPhone 5 and up.
Tile Slim Tracking Device
One of the newest offerings from Tile, the Tile Slim is designed to be slipped into a wallet or passport to help locate the item from up to 200-feet away via its Bluetooth connection. Like other wares from Northern California company, the Tile Slim comes loaded with the "Ring Your Things" feature, as well as the community find amenity.
Wyze Smart Cam
Featuring two-way audio, Google assistant and Alexa compatible, a night vision mode, and the ability to pan, tilt and zoom, this 1080p HD camera is loaded with features and functionality despite its shockingly reasonable price point, objectively making it one of the greatest values in smart home tech at under $40.
3rd Generation Chrome Cast
The thirds and latest generation of Google's wildly simple and minimalistic streaming device, this Chromecast plugs directly into a TV's HDMI input and can connect to more than 2,000 apps including the most popular streaming platforms like Youtube, Netflix, HBO Now, and Prime Video.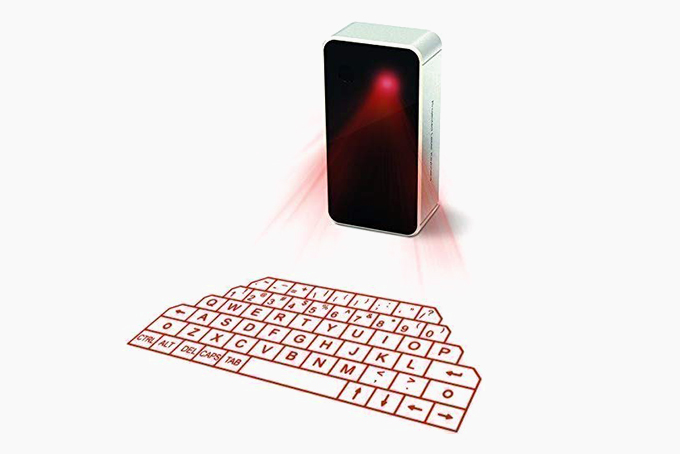 AGS Laser Keyboard
A bonafide example of technology from the future made available today, this laser-projected keyboard links to smart devices via Bluetooth and projects onto a flat surface and provides a full QWERTY-layout keyboard that can be used almost anywhere. It's compact design at just 4.7L x 2.8W x 2D" makes it perfect for tossing in your pocket or bag.
AIDEAZ Wireless 20,000mAh Power bank
This 20,000mAh wireless power bank and charger has more than enough juice to charge your smartphone several times over. Plus, its LCD screen displays the exact battery life, instead of the traditional LED light setup. The device also comes with a USB-C cable and storage bag.
UV Smartphone Sanitizer
Considering the frequency at which we press our phones to our face, it's rather bothersome how infrequently most smartphone users actually clean, let alone sanitize their iPhone or Android. Utilizing a UV cleaning light, this nifty little apparatus is sold in one of ten different colors and includes a built-in universal charger, soo phones can be juiced up while being cleaned.
Cargo Works EDC Tech Kit
A modern tech carry-all inspired by contemporary military designs, the EDC Tech Kit boasts a 1050D nylon exterior supplemented by a 4X5 MOLLE grid front and back. With internal elastic webbing, a trio of mesh pockets, and a single zippered pocket, the case's 420D nylon-lined interior makes for a rugged mobile home for all your smart devices and cables.
AKG K240 Studio headphones
For almost four-and-a-half-decades, AKG's K240 Studio Headphones have become the industry standard for professional recording, mixing, and mastering. Featuring a semi-open design, leather and metal construction, and a replaceable 3m cable, this updated version of the fan-favorite shells — which were initially released in 1975 — offers improved clarity and a more dynamic frequency range, even when reaching higher decibel levels.
Shure SE112-GR Earbuds
A surprisingly-affordable set of wired earphones from a highly-trusted brand, the Shure SE112-GR feature sound-isolating/noise-canceling technology capable of drowning out up to 37dB of noise and are powered by a single driver with a range of 25Hz to 17kHz. Offering rich, deep levels of bass and crisp clear highs, the SE112 can also be turned into wireless earphones with an additional Bluetooth-enabled cable (sold separately).
Olight S1 Baton Flashlight
Measuring under 2.5" in length and under 1" in diameter, the S1 Baton flashlight is a highly-compact beam that packs quite the punch, putting out as many as 500 lumens with a maximum beam distance of over 360-feet. You'd be hard-pressed to find a more powerful and compact flashlight than this stainless steel-bodied item, especially at this kind of price point.
Crosley Bluetooth Radio
Designed to resemble a vintage portable AM/FM radio, this Crosley Bluetooth speaker provides modern amenities (including an auxiliary-in) in an old-school-flavored package. Adorned in (faux) leather and featuring a matte white face and circular, analog dial, this stereo is sold with a power cord, though can also run on a Lithium-ion 18650 battery (sold separately).
The Wishlist: 20 Best Gifts For The Media Junkie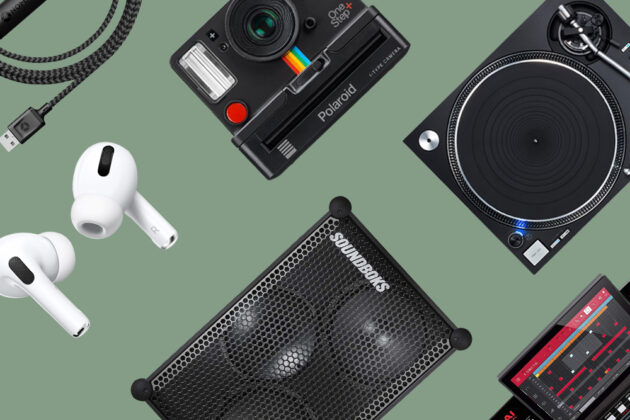 Looking for more potential tech finds that aren't limited to under the $50 mark? Our media junkie gift guide is loaded with cutting-edge offerings for the modern, media-obsessed man.