If you're in the military, law enforcement, or you're a modern pioneer always looking for adventure, you'll need the appropriate pair of boots to trek through rough terrain. Sure, you might think that getting any old pair of boots will suffice since they'll suffer from the harsh conditions you'll face, but investing in a sturdy pair of tactical combat boots makes a world of difference. The proper footwear will fuel your confidence in covering any playing field, so you can focus on the mission.
There are plenty of tactical boots to choose from, making it difficult to track down the perfect pair for your feet. You'll want to invest in footwear with comfortable padding, snug support, ample protection, and excellent flexibility to stay mobile on the field. We've created a list of the best tactical combat boots on the market for your convenience. Whether you need sufficient foot protection for hiking, evading insurgents, or chasing down perps, we've got you covered.
Choosing The Right Pair Of Boots
Comfort Above All
It's ideal to try on footwear before you commit to them, but with online shopping that can be a challenge. Even though a pair of boots have all the bells and whistles, in addition to excellent reviews, they could still be incompatible for your feet. Make your best judgment when picking out a pair online, but try them on and walk around in them to test out the comfort. If your feet aren't comfy, send them back and try again.
When looking for tactical combat boots, make sure they have reliable traction. Grippy outsoles are important when you're out in the field, as it helps you to keep your balance on the terrain when you walk, run, or jump. Looking for boots with superior shock absorption and water-resistant properties is also a plus. Take note of the specifications of each tactical footwear and take the time to compare and contrast before making a final decision.
Rothco G.I. Type Sierra Sole Tactical Boots
These may be the most affordable on the list, but that doesn't make them any less rugged. Rothco's tactical boots are made with Sierra lug outsoles for efficient traction and nylon and suede uppers for durability. They also have midsole heat barriers and removable cushion insoles for comfort 24/7. The all-purpose military-style boots stay on your feet securely with Speedhook and eyelet lacing.
Maelstrom Mil Lite Combat Boots
Maelstrom'sMil Lite Combat Boots are lightweight military sole protectors that meet the AR-670-1 requirement for Optional Wear. They are made with breathable and flexible cow suede and 1,000D nylon for a professional aesthetic and superior protection. Their midsoles feature EVA for flexibility and excellent energy return. And they have footbeds that provide amazing shock absorption, making them ready for any mission on any terrain.
Under Armour Valsetz RTS 1.5 Tactical Boots
It makes perfect sense that the company that makes some of the best sports gear also makes an impressive pair of tactical combat boots. Under Armour's Valsetz RTS 1.5 Tactical Boots are built with synthetic leather and textile uppers, waterproof boot liners, and TPU toe caps for extra protection. To improve your performance on the field, they feature UA ClutchFit ankle support, ultralight Micro G EVA midsoles, and high-traction rubber lug outsoles to grip just about anything.
Viktos Trife Warfighter Boots
Engineered for speed and mobility, the Trife Warfighter Boots feature shock-absorbing foam and multi-durometer rubber outsoles for resiliency and stability on the battlefield. They have a lightweight 600D nylon chassis, split-grain leather overlays, reinforced toe boxes, and swim fin heel catches. They are AR670-1 compliant and are designed and developed by U.S. veterans. Get a boost of confidence on the field when you slip on these rugged tactical combat boots.
5.11 A.T.A.C 2.0 Shield Boots
The A.T.A.C. 2.0 Shield Boots are a sleek pair of shoes that gives you some serious protection when you're on the job. These waterproof tactical boots have blood-borne pathogen-resistant membranes, ASTM/CSA puncture-resistant boards, and CARBON-TAC toes. For a comfortable stride, they have Ortholite full-length dual-density insoles with an extra layer of Ortholite foam for unrivaled comfort. And their midsoles and outsoles utilize a shock mitigation system.
Nike SFB Gen 2 Gore-Tex
The lightweight Nike SFB Gen 2 Gore-Tex boots are built for speed and flexibility in harsh conditions. They feature waterproof Gore-Tex inner sleeves, polishable synthetic leather, nylon canvas for superior airflow, dual-zone lacing for a secure fit, and foam midsoles to alleviate your feet during long hikes. The SFB collection, which includes these field-proven boots, pays tribute to Nike co-founder Bill Bowerman and his service in World War II.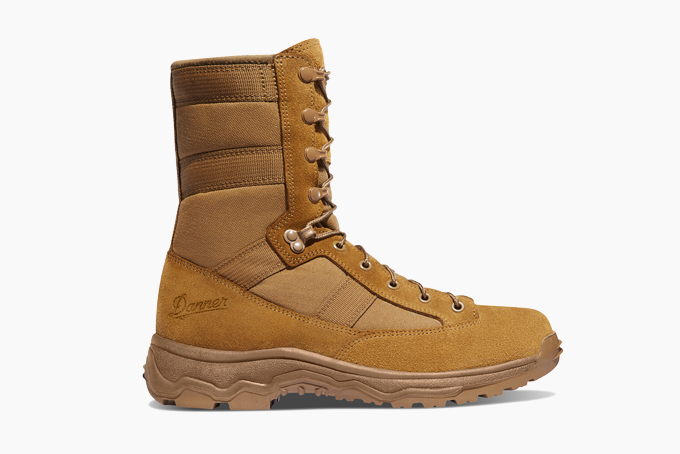 Danner R851 Coyote NMT Boots
On the battlefield where every detail matters, the Danner NMT wastes no real estate on superfluous parts. Made with sueded leather, moisture-wicking air mesh lining, abrasion-resistant nylon, these boots are meant for action. They meet the US Army AR 670-1 requirements for optional wear and provide you with electrical hazard protection.
Danner Striker Bolt
Danner's Striker Bolt combat tactical boots are the complete package. Past their intimidating, aggressive aesthetic, they perform like a dedicated soldier on the field. The waterproof boots utilize Vibram Striker Bolt outsoles, unified fit boards, polyurethane-coated leather and nylon for amazing protection and comfort. They have an athletic fit, allowing you to maneuver the terrain with ease, and they boast an updated shank system that provides incredible arch support and torsion control.
Bates Terrax3 Boots
These heavy-duty Berry-compliant boots are made with abrasion-resistant flesh-out cattle hide leather and Cordura. They are built to meet military specifications with their moisture-wicking Dri-Lex lining, proprietary Vibram Trident rubber outsoles, and polyurethane cushioned midsoles. Not to mention, the slip-resistant boots are made in the USA.
Rocky S2V Flight Boots
Everything you need in tactical combat footwear can be found right here in the Rocky S2V Flight Boots. The waterproof boots are constructed with water-resistant leather, proprietary high-walled Vibram soles, PU midsoles, and perforated Air-Port cushion footbeds. They benefit from durable triple-stitched construction and have fiberglass shanks, ensuring protection for years to come. The boots also have Roll-Stop ankle stability and PTFE coating for flame-resistance. And they're made right here in the USA.
The Ultimate Guide To Mil-Spec Outdoor Gear
While there is plenty of gear that looks tactical, appearances do not make something ready for combat usage. Find out all you need to know about the ins and outs on our complete guide to mil-spec outdoor gear.