Jan 24, 2019
Category: Gear
Few denizens of the winter-born wilds can deny the necessity of dependable, trustworthy outerwear — a banality that's been passed off as one of the many unattractive things regarding the colder months. Perhaps it's the realization that a significant portion of your summertime wardrobe will be stashed away, becoming an underutilized pile of stagnant cloth for the next four months — or maybe it's the endorphin-riddled feeling you get when you set your alarm clock an hour early each morning, so you can remove the copious amounts of snow from your driveway just to get to work.
Whatever the case may be, the most deplorable things about wintertime can always be remedied — spend a little more time indoors, enjoy your coffee a little longer, learn how to craft origami cranes until your car heats up, or focus on the most attractive resolution of all — a substantial investment into the synthetic jacket space. The beauty of synthetic outerwear cannot be stated within one simple, adjective-filled summation — so to make things easier, we've compiled 20 of the best synthetic down jackets for men from well-known brands like Patagonia, Columbia, and The North Face, all the way to technical juggernauts like Arc'Teryx, Outdoor Research, and Rab. Soon, you'll understand that winter doesn't have to be something that you associate with cognitive disdain — in fact, you might even find that winter's distinct landscape can serve as the perfect backdrop for an entirely new collection of memories. So take the first step toward cold-weather autonomy, grab a piece of outerwear that will protect you in the world's harshest climates, and see what the snow-capped environments hold — you'll never know until you brave those wondrous wilds.
The Basics
What You Need To Know
We don't want you to dive headfirst into this list without knowing the basics of synthetic outerwear — after all, there are a number of winter activities and applications that warrant the use of specific garments over their less-advised alternatives. From prolonged hikes and slope-slaying ski sessions, critical climbing endeavors to technical ascents, and even those tangentially-tame urban commutes, there isn't a definitive piece of outerwear that will fare well in every situation. Below, we'll outline what you need to look for when picking up your next synthetic jacket — and hopefully, it'll help to steer you in the right direction when it comes to a future purchase.
Traditional Vs. Synthetic Down
What's Best For You?
What most people don't realize is that, aside from preference, synthetic and traditional down are often the determining factors when it comes to the weight, warming ability, weather resistance (and most importantly, the price) of their next jacket. While traditional down will provide a higher warmth-to-weight ratio, higher compressibility, and tested durability over synthetic, it's not optimal for use in garments that are built for prolonged movement and intense use, thanks to a lack of breathability and the inability to alleviate high body temperatures.
To understand the relationship between the two fill types, we need to get to the bottom of what a traditional "down" actually means. While most individuals believe that down is a byproduct of birds' feathers, it's actually a soft, fluffy plumage that's predominately found beneath the exterior feathers of waterfowl. Ducks and geese are often the primary proprietors of this filament, and while traditional down often utilizes a more dense fill rating than its synthetic counterpart, it suffers from exposure to adverse conditions such as wet weather, it's not hypoallergenic, and it's far more expensive due to the manufacturing process.
On the other hand, synthetic jackets remedy the shortcomings of their down-filled competitors (while picking up a few of their own). In the event of inclement weather, synthetic offerings will retain most of their high-performance attributes, dry far quicker than down, and utilize a simplified manufacturing process that allows pricing to remain relatively low. The downfall of synthetic fill is that, due to the materials and manufacturing practices being used, it can often outweigh traditional plumage, it's less durable than its counterpart, and as a result, it loses a significant amount of its warmth-to-weight ratio over time. However, adaptability and innovations throughout the manufacturing space have allowed synthetic garments to utilize proprietary construction to circumvent the heat retention issues often associated with traditional down — using vented closures and reinforced stress points to make the articles of clothing more breathable. That being said, the oversaturation of prospective garments utilizing synthetic construction (and jackets, in particular) makes it difficult to discern what's worth the time and what isn't. Let's break down what you should look for when you buy a traditional down alternative.
Continuous Vs. Short Staple Filament
What's Best For You?
There are two different types of synthetic insulators that are used by outerwear companies around the globe, and it's a good idea to understand what each one entails.
Short-staple is the first of the two synthetic insulators — utilizing short strands of ultra fine-denier filament that's been packed together in an effort to minimize heat loss, promote heat retention, and allow for greater compressibility. As a byproduct of the manufacturing process, these offerings are less durable than the second synthetic insulation type on our list, continuous filament.
A continuous filament is almost exactly what the name implies — utilizing a thick continuous filament that's far more durable than its short staple counterpart. It features a lofty, stiff feel that's less compressible than short-staple garments, but retains its distinct heating capabilities due to a tightly packed filament that results in less space for the garment's insulation to migrate away from high-stress areas.
Now that you know what to look for when it comes to synthetic down offerings, let's dive headfirst into our list.
The Best Synthetic Down Jackets
Our Top Picks
Carhartt Gilliam Jacket
Carhartt needs no introduction — as a proprietor of quality outdoor gear and workwear, the brands Gilliam jacket holds its own against an endless flow of competitors. A 1.75-ounce, 100% nylon Cordura fabric shell, and Cordura fabric tear, scuff, and abrasion resistance ensure that this jacket can take a beating, while a quilted nylon lining allows for easy on and off wear. On top of the comfort factor, 100-g polyester insulation and Rain Defender durable water repellent allows for use in a number of wet and cold climates.
Columbia Norwester II Jacket
Columbia has always been focused on the next big adventure and their Norwester II jacket is built to achieve the most epic journey possible. An Omni-heat advanced reflective fabric outfitted with Storm-Lite DP II 100% Polyester, Thermarator 100% Polyester insulation, and a waterproof, critically seam sealed silhouette allows the wearer to negotiate any cold-weather climate. Alongside the jacket's exceptional build, a drawcord adjustable hood, center front zipper, and faux anorak join forces to provide the ultimate in comfort and purposeful wear.
Black Diamond Access Jacket
Black Diamond is a mainstay in snow and ski wear, and their Access jacket is aimed at the avid explorer who hits the slopes more than they care to admit. Built with a migration-resistant PrimaLoft Gold Insulation, underarm gussets for an extensive range of motion, climbing-helmet-compatible hood, and a two-way harness-compatible zipper with lightweight stretch cuffs. Better yet, the primary fabric is Bluesign approved, which means you can feel extra good about your sustainable purchase.
KUHL Firefly Jacket
The KUHL Firefly has been proven to last through extensive testing in the world's harshest climates and utilizes a Primaloft Gold 100% Polyester insulation, a lightweight 20-denier body fabric, and a well-designed crest zipper pull. Alongside the jacket's sturdy composition, side panels under the sleeve, yoke, and elbow are insulated to keep the wearer protected in areas often neglected by other manufacturers. A meta luxe center front zipper, reverse coil hand and chest pockets, and a custom reflective ribbon provide quality of life upgrades that straddle the line when it comes to safety and utility.
The North Face Ventrix Hooded Jacket
The North Face is an iconic outdoor brand that provides their athletes with the best gear available, and the Ventrix Hooded Jacket is no different. The water-resistant hoodie is constructed with dynamic-venting insulation, designed solely for use in highly aerobic activity throughout different weather conditions. With air-permeable fabrics, higher-denier fabric for increased durability, and an 80-g 100% Polyester Ventrix Stretch Synthetic Insulation, this jacket is prepared to take you to the edge of the world and back.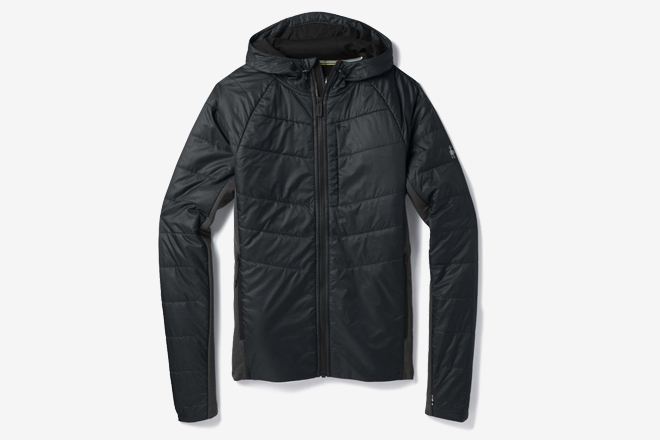 Smartwool Smartloft 60 Hooded Jacket
Smartwool prides themselves on providing consumers with the best eco-friendly alternatives around, and their Smartloft 60 synthetic jacket is the perfect testament to their life-long mission. Made with a 50% recycled insulation, DWR finish, wind-resistant panels, and lined in the finest Merino for sweat and odor management, this 100% nylon shell knit garment provides the perfect piece of outerwear for those who are environmentally conscious.
Patagonia Men's Nano-Air Hoodie
Patagonia makes a trademark appearance on every outdoor list and that's not a coincidence — they make some of the best synthetic jackets known to man. The Men's Nano-Air Hoodie adds to the brand's prestigious lineup, featuring a 100% Nylon ripstop shell and plain-weave lining, a DWR finish, and 60-g FullRange insulation to keep you warm when the going gets tough. Above average air permeability (40CFM), as well as articulating quilting and durability provide a solid foundation for one of Patagonia's most well-designed jackets to date.
Marmot Avant Featherless Hoodie
Marmot loves to pair classic design principles with modern tech, and their Avant Featherless hoodie is an exercise in true synthetic pedigree. The jacket is made with a 20-denier woven baffle construction, 3M Thinsulate featherless insulation, and an attached hood that utilizes a significant amount of elastic binding for extra reinforcement. Zippered pockets, elastic-bound cuffs, and an angel-wing movement serve to round out this piece of flexible outerwear.
Norrona Roldal Insulated Hooded Jacket
Norrona's Roldal jacket is a technical piece of outerwear that utilizes a windproof, recycled polyester hood and PrimaLoft Silver ECO 60g/m2 insulation to keep the wearer fully protected from the elements. A Pertex Quantum fabric, articulated elbows, asymmetric back cut, cuffs with integrated hand gaiters, and hand-warming pockets round out one of the best-looking minimalist offerings we've seen in quite a while.
Rab Xenon X Jacket
Rab has been on the up and up when it comes to technical wear, and their Xenon X jacket is helping to catapult the brand to new heights. Made with a Pertex Quantum outer fabric, 100% nylon ripstop lining, and PrimaLoft Gold Insulation, the jacket sets itself apart from the rest of the pack with its intricate design and lifestyle focus. It also features an under helmet hood, a Lycra bound 2-way opening, and a YKK VISLON front zip with YKK zipped hand-warmer pockets, elasticated cuffs, and a hem drawcord to ensure a perfect weather-weary seal.
Helly Hansen Odin Stretch Hooded Insulator Jacket
Helly Hansen is the hottest name on the slopes right now and the Odin Stretch Hooded Insulator jacket shines an even greater spotlight on the brand. Constructed with a lightweight 30D fabric, 4-way full stretch lining, PFC-free DWR, and industry renowned Primaloft Gold Active 80g stretch insulation, the Odin sets itself apart as a technically adaptable jacket with a great design, to boot.
Outdoor Research Ascendant Hoodie
Outdoor Research is one of those trusted brands that influence the direction of outerwear, whether they know it or not. Their Ascendant hoodie is a culmination of industry defining mainstays — made with a Pertex Microlight 100% nylon 20D ripstop stretch-woven shell, Polartec Alpha Direct 100% polyester insulation, and a water-resistant, wind-resistant outer that's built to stand up to the toughest conditions known to man.
Haglofs Essens Mimic Insulated Jacket
Haglofs is a force to be reckoned with in the realm of outdoor lifestyle and sustainability, and their Mimic jacket encompasses all of those time-earned qualities. The garment is constructed with an insulated high-loft QuadFusion Mimic, which utilizes the best of wet-weather resistance and high-quality down — combining them into one sweet package. Recycled and fluorocarbon free materials pair with a lightweight 30D tear and wind-resistant fabric treated with Pertex DWR, while articulated sleeves and an adjustable hem join forces for the ultimate in comfort and heat retention.
Arc'Teryx Atom LT Hoodie
Arc'Teryx is a brand that's got their hands in everything outdoors, producing top-of-the-line gear for every excursion. Their ultra light Atom LT Hoodie is made with a soft Tyono 20 for the best breathability in the business and features a durable water repellent (DWR) treatment, Coreloft 60 synthetic insulation, and smooth-faced fleece stretch side panels. An insulated, adjustable low-profile StormHood adorns the top of the garment for extra protection when things get a little slippery.
Patagonia Micro Puff HoodY
Patagonia's Micro Puff Hoody is another testament to the brand's dominance in outdoor wear, utilizing an ultralight nylon ripstop Pertex Quantum shell that's water-resistant, windproof, and treated with a high-quality DWR. The garment's 65-g PlumaFill keeps the wearer warm in virtually any climate, while a 100% polyester, innovative quilting construction ensures the ultimate in durability and long-term wear.
Houdini Wisp Jacket
Houdini is a preferential choice for outdoor enthusiasts everywhere, and their Wisp jacket features the best selection of materials to ensure a worry-free outdoor excursion — at least when it comes to essential warmth. Constructed with a durable C9 ripstop fabric, Polartec Alpha synthetic insulation, a fluorocarbon-free DWR, and a layer-friendly silhouette, the Wisp builds upon the simplest offerings in the space with a 2-way front-zipper and abrasion panels at key high-stress areas.
Mountain Equipment Citadel Jacket
Mountain Equipment is a well-known name in the outerwear world and their Citadel jacket combines some of the brand's best innovations into one solid package. A DRILITE Loft 30D outer fabric pairs with the garment's windproof and highly water-resistant outer shell alongside a PrimaLoft GOLD synthetic insulation (200-g body and 170-g in the arms/hood) to keep you going strong in harsh climates. The Super Alpine HC insulated hood utilizes a wired visor for stable protection while a Shoulder Shield construction and two-way YKK molded center front zipper ensure a tight seal. An EXL system is incorporated into the hood and back of the jacket, featuring a DRILITE Loft 30D inner hem and hood lining to keep your ears warm no matter the circumstance.
Bight Swelter Jacket
Bight might be relatively new to the outdoor scene, but they've quickly built a loyal consumer base that praises the brand's variety of offerings. After taking a look at their synthetic Swelter jacket, you'll definitely see why — a 100-g Polartec Power Fill and 80% post-consumer recycled construction allow this weather-resistant garment to confront a variety of obstacles. It's built with ripstop fabric, a one hand adjustable hood, brushed tricot lined hand warmer pockets, and Polartec Power Stretch Pro stretch cuffs to seal in all the warmth you'll ever need.
BLACKYAK Yakutian Jacket
BLACKYAK is a tried and true outdoor brand that utilizes the best building practices in the industry, and their Yakutian jacket doesn't fall short of the brand's meticulous attention to detail. Built as a technical mid-layer for outdoor enthusiasts, the jacket's synthetic shell features a weather-resistant form and Polartec Alpha insulation for a warm, lightweight and functional piece of outerwear. Outfitted with a number of pockets to stash a menagerie of goods, perforated vents to keep you light and airy on your uphill climb, and tested durability that will carry you all the way to the top, the Yakutian jacket is a quintessential piece of gear for your next adventure.
Fjallraven Ovik Stretch Padded Jacket
Fjallraven is at it again with their Ovik Stretch Padded jacket, a utilitarian offering with a hardwearing G-1000 Eco and stretch fabric that combines ease of movement with a bold, wind, water, and weather-resistant silhouette. Alongside the numerous weatherization qualities of the garment, fleece-lined pockets and a Supreme Microloft Stretch fabric on the back and sleeves provide wearers with the ultimate in all-around comfort.
The 15 Best Puffer Jackets For Men
Now that you've stumbled into the realm of synthetic down jackets, take a look at our in-depth guide revolving around traditional down, the insulation that started it all, with the 15 best puffer jackets for men.
HiConsumption is reader-supported. When you buy through links on our site, we may earn an affiliate commission. Learn more