If you're a fan of Southern California culture, chances are that you've dreamt of the day when you could cut through the face of your very first wave. Don't worry, you're not alone; more than a few people have thought about taking the plunge into the deep world of surf. Everyone was a beginner at one point, navigating the waters of gear, techniques, and board choice for the first time. While some unlucky individuals might have gone in blind, you're taking the correct steps by researching the best surfboards for beginners beforehand — and for that, we applaud you.
If you haven't noticed by now, finding the perfect beginner board to kick off your masterful quiver isn't as easy as it sounds. There are more than a handful of renowned surfboard shapers out there who charge top dollar for the most refined shapes, tails, rails, and volumes. But what does any of that even mean? As a beginner, the promise of catching your first wave might seem like it's slipping further away, especially as you dive deeper into the technical aspects of board choice, rider technique, and situational style. But we're here to tell you that things don't need to be so difficult. Below, we'll outline the best surfboards for the amateur surfer. Whether you're looking for an affordable, entry-level board to get your toes wet and see if the sport is for you, or a top-end soft-top that'll keep you in the water for years to come, we've got your best interests in mind. But first, let's talk about what to look for when picking up your first board.
The Basics
What To Look For
As a beginner, you're going to be subjected to a handful of terms that might seem entirely foreign, and that's ok. Shopping for a surfboard is a game of complex figures, but for the amateur, things like volume, length, and width can be summed up with one important adage: bigger is better. The more volume you have, the easier it will be to catch waves. You'll paddle faster, get to the line quicker, and be able to position yourself in the best possible location for the next break. Luckily, the volume of a board is often directly correlated with its length and width and is influenced by the type of core used.
The volume — or buoyancy — of a surfboard is measured in liters (L). For beginners, you're looking for a board who's liter-count is almost directly in-line with your body weight in kilograms (KG). For example, if you weigh 70KG (or 154 pounds), you'll want a board with a volume of around 70 liters. As you become more experienced, you'll be able to cut down the volume of your deck by thirds, until you're able to surf boards that are roughly 35% – 40% of your body weight in volume. When it comes to length and width, anything above an eight-foot length and two-foot diameter should be relatively easy to use. The more space you have on the deck, the easier it will be to plant your feet, giving you a forgiving platform where muscle memory, correct foot placement, and weight distribution can come naturally. Below, we've hand-selected some of the largest, most voluminous boards available, so you won't have to go out of your way to do so.
Our Picks
A Well-Rounded Quiver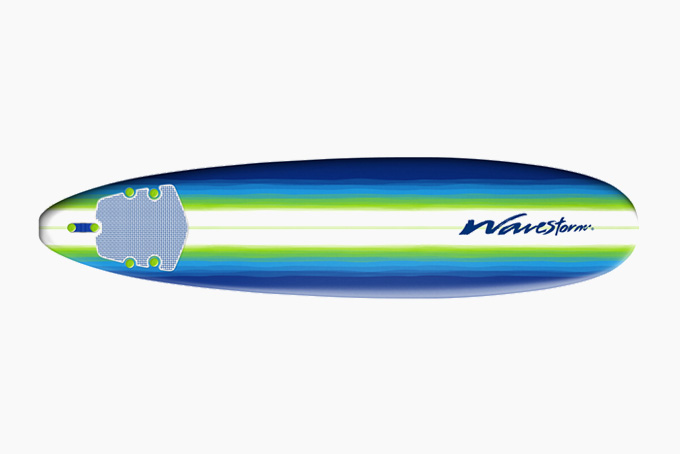 Wavestorm 8′ Classic Pinline
Wavestorm is, perhaps, the best-known company for beginner surfboards. In southern California, you can head out to the beach break on any given day and find at least a small percentage of surfers with their boards. The 8' Classic Pinline is the brand's flagship offering, boasting a large silhouette that's as stable as they come, helping to keep inexperienced surfers on their feet throughout the life of the wave. As the name suggests, this eight-foot behemoth has more than enough volume to keep riders with a bodyweight of up to 200-pounds buoyant and quick, cutting through the chop as they head into the next lineup. The Wavestorm's two-foot width and high-density foam composition provide the perfect foundation for younger surfers who are learning the ropes, or those who are interested in affordable entry to the sport. Its smooth top is less prone to damage than a traditional board, and thanks to interchangeable fins, an included ankle leash, and a traction pad, the Classic Pinline might just be the quintessential offering for the beginning surfer.
California Board Company Fish
California Board Company's Fish is another well-rounded beginner board; but, unlike the Wavestorm, it features a custom-molded shape that lends itself to high-performance surfing. At just 6'2, this soft-top surfboard land squarely within the realm of amateur and moderately experienced surfers, providing a fun platform for days when conditions aren't necessarily the best. The Fish is crafted with three different laminated wood stringers, each with their own waterproof resin coating, and features a high-density EPS core for enhanced buoyancy. A heat-laminated polyethylene bottom ensures that the board's shape will remain relatively true throughout the season, allowing surfers to spend more time focusing on knowledge and form, rather than expensive repair costs. On the board's bottom, you'll find a traditional tri-fin system, nylon screws, and a rail-saver to keep your deck safe from unwarranted leash damage — which is something you won't find on the other boards on this list. Thanks to the Fish's durable IXPE/XPE deck, it can support riders weighing up to 190-pounds with ease, making it a valuable addition to any beginning surfer's quiver.
BIC Sport DURA-TEC Malibu
BIC makes a lot of interesting everyday essentials, from pens, razors, and office items, all the way to SUP and surfboards. The company's Sport division is up-to-date on all of the industry's latest innovations, making the DURA-TEC Malibu longboard an attractive proposition for the beginning surfer. Not only does the 7'9 Malibu boast a watertight plastic outer shell, but it also features a buoyant foam core for enhanced stability throughout the wave, a handful of different sizes, volumes, and widths, and even a protective noseguard to keep your board (and others) protected. Unlike the other surfboards that we've touched on in this list, the DURA-TEC Malibu is relatively hard, meaning that those who are prone to injury might need to pay a bit more attention while they're out on the water. However, this is also a positive; the board's stiff nature ensures that even after you've become comfortable with paddling, standing, and shifting the deck in the direction you want to go, you'll still have a well-rounded board for less-than-exemplary days, especially as you look to expand your quiver.
South Bay Board Co. Heritage
South Bay Board Co. is another well-known name in the beginner surfboard community, and the company's 8'8 Heritage deck is a gigantic contributor within the entry-level bracket. This 86-liter deck is extremely voluminous, helping riders weighing up to 220-pounds in their mission to paddle into waves with ease, while also offering a modern, aesthetically-pleasing design that isn't as relaxed as other options in this price range. The result? A durable, intuitive board that's relatively agile for an eight-foot model, while also boasting a range of safety-oriented design principles, like a reinforced HDPE double concave hull, removable tri-fin set up, and a waterproof EPS foam core that compliments the Heritage's three-stringer build. If you're looking for a fast-paddling board that's perfect for that mushy 1-2 foot day at your favorite beach break, the South Bay Board Co. Heritage might be the perfect alternative to round out your collection.
Surftech NSP P2 Soft Top
Surftech has the knowledge and expertise to create some of the industry's best surfboards, and their expansive catalog of longboards, performance shortboards, and dynamic shapes exemplifies that. The NSP P2 Soft Top is yet another offering from the brand that brings quality, composure, and capability to the forefront, offering beginning surfers a tailored experience that's at the top of the industry's buoyancy charts. At 94-liters of volume, the NSP P2 is essentially a cheat board, offering uncompromising stability, strength, and speed to surfers who are interested in the higher-end of amateur platforms. Surftech's P2 is so trusted, in fact, that it's recognized as one of the most utilized boards when it comes to surf schools and training camps, making it ideal for students of every discipline. Whether you're a full-fledged beginner or an intermediate surfer who's looking to throw some stylish moves on a relaxed day, the NSP P2 is more than capable of creating some lifelong memories on the water.
Surftech 8′ Soft Top
If you're on the search for a long-lasting board that has no issues blowing the competition out of the water, look no further than the Surftech 8' LTS Softop. This all-encompassing board is the epitome of a beginner's surfboard, offering riders an extremely lightweight, but robust construction, protective rubber bumpers at the front and rear of the deck, and a forgiving soft-top to avert injury, should you fall in an awkward manner. Models are available in sizes from 7'6", all the way to a luxurious 12', 147-liter behemoth that's similar to driving a large, boat-like SUV in down the face of a wave. A micro-veneer, EPS/Epoxy construction, and durable thermal-formed EVA deck pad keep the board in-shape regardless of the forces exerted by beginning surfers, making it the perfect, all-around choice for riders who are serious about learning how to catch waves but want a board they can come back to when everything is said and done.
The 8 Best Surfboard Bags For Travel
Now that you've found the perfect board to spend your summer out on the water, head over to our guide on the best surfboard bags for travel to ensure that your quiver arrives at the beach in one piece.