Summertime is associated with a lot of things: making memories with friends, long afternoons poolside, cold drinks, barbeques, and of course, days at the beach. If there's an image that conjures up nostalgic memories of the summertime sun, it's that of an individual sitting atop his board, waiting patiently for the next set of waves to roll in. Since its conception, surfing has acted as a catalyst for friends, family, and complete strangers, to perform the ritual of the sea, setting the perfect stage for both inter (and intra-)personal relationships to thrive. For many, it's more than a pastime, a sport, or an identity — it's a connection that we all share, a lifestyle that's been formed on foundations of salt and seawater.
But heading out to the beach with a board and a dream might not always result in the most revelatory experience. Like anything, you need to be prepared for the task at hand. Having a plan can make your experience a million times better, and without the right gear, accessories, and peripherals, the sport might leave a bad taste in your mouth. To remedy this, we've put together a guide on some of the essential items that you're going to need before you head out for your daily baptism, including apparel, multitools, waxes, and other accessories that should become a staple in your pre-surf kit. So, without further adieu, let's (duck)dive right into our guide on the best surfing essentials for summer.
Mr. Zogs Cold-Water Surf Wax
If you're heading out into water that's colder than 64-degrees Fahrenheit, you're going to need to bring a wax that can handle a significant drop in temperature. Alongside Mrs. Palmers, Mr. Zogs' surf wax is world-class — renowned among the masses for its long-running influence within the industry, and its dependability within surfing's different ecosystems. It's been around since the 1970s, so naturally, it has large followership within the surfing community, making it one of the most recommended items around for virtually any temperature. But when it comes to cold water, the brand's 'X-Cold To Cold' variant works wonders, helping to provide a sticky (but soft) coat and keep you on-board.
Mrs. Palmers Warm-Water Surf Wax
Now that we've taken a look at Mr. Zogs' Cold-WAter Surf Wax, we're jumping to the other end of the spectrum with Mrs. Palmers' Warm-Water variant. Since 1988, the company has been crafting one of the finest surf waxes in the industry, catering to a wide range of styles, techniques, and temperatures. If you're headed to a locale where the temperature is above 64-degrees Fahrenheit, you'll love the brand's warm-water example, which keeps things sticky during high temperatures, without melting, smearing, or moving around on the board.
RAEN Wax Comb
Now that you've got the perfect top-side solution for your area, it's time to scrape off that old layer of worn wax. Using conventional methods might not be the most intuitive, or effective, so you're going to want to pick up a wax comb — trust us, it makes life a lot easier. Instead of using a less-than-advisable method to get your board's current wax buildup off its surface, do it right with RAEN's aesthetically-pleasing comb — a premium acetate model that boasts teeth for texturing, and a straight edge for removal. When you're done, throw it back into the truck for your next surf mission, or attach it to your bag via its carrying cord so that it's always nearby.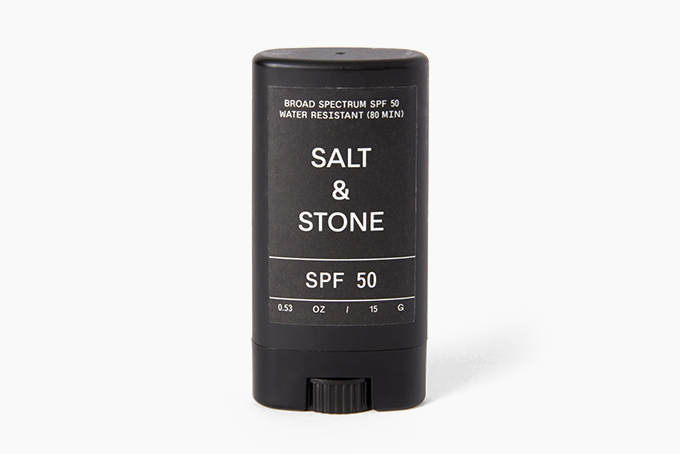 Salt & Stone Sunscreen Face Stick
The beach isn't always fun and games. If you spend too much time in the sun, it can lead to severe issues, including dehydration, skin damage, and in some cases, cancer. To deter UV rays from penetrating your precious exterior, Salt & Stone has devised an easy-to-apply face stick, providing wearers with an all-natural, water-resistant formula for those days when SPF 50 seems like the best option. Every time you apply, you'll be protected for up to 80 minutes, protecting yourself, and your surroundings, thanks to reef-safe ingredients. And the best part? It's not chalky, greasy, or noticeable, giving you peace of mind and promoting comfort while on the water.
FixMFG Kraken Surf Tool
Surfing isn't always as simple as you might think. Sometimes, complications with your gear can arise, including, but not limited to, fin swaps, last-minute repairs, or tightening. Luckily, FixMFG has your back with the Kraken Surf Tool — a complete multitool with 10 different uses. If you're swapping out fins for a different type of surf, the Kraken boasts a suite of several screwdrivers, an easy-out, re-threader, and a hex key for tightening. There's even a wax comb, scraper, and bottle opener, supplying you with the perfect all-around accessory to keep your days at the beach as pleasurable as possible. Plus, each example is finished with black oxide, helping to keep it in working order when exposed to saltwater.
LEUS Lucas Beaufort Beach Towel
LEUS' Lucas Beaufort Beach Towel is an eye-catching accessory that'll make your life at the beach a whole lot easier. Not only does it bring traditional drying qualities to the table for any surfing adventure, but it's also large enough to cover your body when you're swapping out your wetsuit for a more comfortable leg option. Each example is crafted from ultra-soft premium cotton and boasts a terry-cloth loop for quick drying. And with Lucas Beaufort's recognizable colors, creatures, and creations adorning the towel's exterior, it's sure to garner some appreciative glances from your inner circle.
Pyzel Traction Pad
Pyzel has enjoyed a long and illustrious career in the surfing industry, and aside from the brand's world-class board shapes, they're also a notable name when it comes to gear. Regardless of the type of board that you're rocking for the day, you'll want a stable area to put your rear foot during those hard drives. That's where the company's Traction Pad comes in. Not only does it hold true to the brand's commitment to quality, but it's also one of the more aesthetically-adept pads on the market, offering surfers a three-piece set, diamond tread, and various cutouts to keep weight to a minimum. It's also easy to apply, thanks to its dependable and intuitive 3M adhesive.
Patagonia Men's RØ Rash Guard
If you're surfing in warmer water, you might not want to spend valuable time donning your cumbersome wetsuit. For days when things are a bit balmier, a rash guard is a perfect option to keep you cool and protected. Luckily, Patagonia's got you covered with its RØ variant, which adopts a long-sleeve silhouette, a fast-drying recycled-polyester/spandex construction, and an antimicrobial finish to keep odor at an absolute minimum. Even if you aren't planning to throw on any sunblock due to the guard's long sleeves, you'll still be protected, thanks to its 50+ UPF sun protection rating and reliable wind-breaking qualities. Plus, it boasts a four-way stretch fabric, meaning that it's as malleable as they come.
DAKINE Kaimana Team Leash
DAKINE's influence within the world of surfing is undeniable, and although the brand boasts a wide range of different gear pieces and accessories, its leashes are always a great addition to your kit. Instead of adopting a high-profile fit, the Kaimana Team Leash offers surfers a smaller, more compact footprint, giving them the security of a larger clasp and leash, without any of the drawbacks. It's been built to take on areas where a two-foot overhead is common, but can be utilized in virtually any type of surf due to its durable, drag-reducing cord. If you're looking for something that's slimmer, smaller, and more intuitive than a traditional surf leash, but don't want to sacrifice quality and dependability, DAKINE's Kaimana is for you.
Rainbow Men's Premier Leather Sandal
If you're heading to the beach and you find that it's a bit farther than you bare feet can handle, a great pair of stylish sandals will always do the trick. Rainbow's Men's Premier Leather, for example, is an iconic variant that provides everything you could ever want in a sleek, low-profile footwear offering, including a double stitched construction, nylon toe piece, and single-layer arch, ensuring that you'll revel in comfort, capability, and contentment. Better yet, Rainbow's embossed iconography is present on both the sandal's footbed and its upper strap, so people will know that you mean business as you head down to the sand.
SurfEars 3.0
Surfing can be a relaxing escape from everyday life, but there are also some downsides to the water-loving lifestyle. If you're in the ocean on a daily basis, your ears are exposed to a number of different inhibitors, including salts, minerals, cold temperatures, and more. To ensure that you maintain your inner-ear canal, and aren't a victim of hearing loss, you'll need to pick up a pair of SurfEars. These discreet earplugs allow you to hear what's going on around you while protecting your inner ear from penetrating water. They even come with interchangeable parts, allowing you to tailor them to your ear's specific size and stature. Whether you're a whitewater kayaker, a diver, or a surfer, these little guys are an essential part of any on-water kit, ensuring that you'll be able to enjoy your time, and maintain your hearing, for years to come.
FCS II Performer PC Fins
FCS' II Performer PC Fins aren't for everyone, but if you're looking for the perfect middle ground between speed, flow, and responsiveness while in the water, you can't go wrong with a pair of these guys. Not only are they suitable for virtually any surfing condition, but they're also proportioned for high-performance surfing, making them a go-to recommendation for everyone from beginner to professional surfers. As you begin to learn what works and what doesn't, you'll be able to swap them out for a more focused fin, but for many, the Performer PC is a sweet spot that's hard to leave behind.
Channel Islands Cx2 Double Surfboard Bag
Strapping your board to the rack on your car is all well and good, but when you're in for a longer distance, it's not always recommended. If you're heading to a distant location to surf for the day, or you're flying to the other side of the world for a week in a different locale, you're going to want to transport your board in something more protective. That's where Channel Island's Cx2 Double Surfboard Bag comes in. This 100% polyester tote boasts 10mm padding on its exterior, as well as a heavy-duty zipper, and 420D ripstop nylon construction, helping to keep your boards protected from knicks, scrapes, abrasions, and blunt forces as they're being transported from one place to the next.
Matuse Dante Hydrasilk Wetsuit
Earlier, we talked about the need for a rash guard on the balmier days of the year. Now, we're talking about the tried and true wetsuit. For many surfers, this is a key component of any gear setup and can make or break your surfing session, depending on its thickness, weight, and rigidity. Matuse's Dante Hydrasik Wetsuit, on the other hand, is an interesting model that's worth its weight in gold. As one of the industry's more reputable models, this suit boasts a limestone-based Geoflex rubber construction, giving it unparalleled flexibility, without utilizing ingredients and components that are harsh on mother nature. Inside, a next-gen nylon hydra silk acts as a hydrophobic barrier, minimizing the amount of water that's absorbed as you take on the surf. Each model is crafted with petroleum-free materials and takes on recycled neoprene, reclaimed rubber, and water-based glue to give it an edge on its less-sustainable counterparts.
Almond Surfboards Quadkumber
Board choice is a huge factor in any surfer's kit, but there are options out there that can provide a great "all-around" experience. Almond Surfboards' Quadkumber is one such model. To keep it viable in fast sections, as well as on laid-back days, the Quadkumber utilizes a comfortable hybridization of the ever-popular "fish" tail and its more performance-focused counterparts. As a result, it boasts silky-smooth paddle-ability, as well as an aggressive orientation that can be pushed farther than other models in its size (and weight) range. If you're an amateur who's just getting into surfing or a professional who's looking for a board to take out on those more relaxed days, Almond's Quadkumber is a comfortable offering that'll help you to round out your quiver.
The 12 Best Surfboards For Summer
Now that you've got all your gear in order, it might be worth it to check out a handful of different board styles and sizes for your next big outing. Head over to our guide on the best surfboards for summer to get the low-down on some of the industry's finest models.