With the 10 year anniversary of Marvel's Cinematic Universe at our backs, it seems like there have never been more superhero films worth watching than there are right now. And while some people might be feeling a bit of super-fatigue, we're still loving how much the world has embraced what was once relegated strictly to "geek" culture.
Seeing our comic book heroes represented on the big screen by A-list talent is a dream come true for a lot of people. But there's also a lot to choose from in regards to what's available for viewing, and that can make picking a movie worth watching a bit more grueling than some people want. To cut through the fat and get down to the nitty gritty, we've rounded up the 30 best superhero movies of all time on the following list. For reference, we've added both the audience and critics' Rotten Tomatoes scores to each pick and, while they're not definitive as to the quality of the movies from a personal standpoint, they certainly help bolster the argument in some cases.
Ant-Man
Written by a combination of Edgar Wright (Shaun of the Dead), Joe Cornish (Attack the Block), Adam McKay (Step Brothers), and the star of the film himself, Paul Rudd – Ant-Man was as unexpected in the Marvel Cinematic Universe as it was fun and clever. While there are characters that have appeared in the comics of the same name, this film marked a fairly large departure from the source materials, while still remaining true to its finer points – both making for an excellent execution of what was admittedly a risky adaptation.
Year Released: 2015
Critics Score: 82%
Audience Score: 86%
The Avengers
Also billed as Marvel's The Avengers and Marvel's Avengers Assemble, this was the first time the main gallery of heroes in the MCU all met up on screen together. And that came with huge expectations. Luckily, director Joss Whedon managed to create a story that was just as high-stakes and otherworldly as it was balanced and relatable – no easy feat when dealing with superheroes. This flick also changed the face of superhero cinema as we knew it – raising expectations even higher than they already were.
Year Released: 2012
Critics Score: 92%
Audience Score: 92%
Avengers: Infinity War
It took ten years for the Marvel Cinematic Universe to reach this point. And while there were certainly pitfalls along the way, Infinity War is proof that all of that world building has paid off in a major way. Definitely the newest release on its list, this flick has nonetheless earned its spot – thanks largely to the impressive, sprawling and dramatic storyline and performance by Josh Brolin as The Mad Titan, Thanos. There's been wild speculation as to where the MCU will head after this flick, but one thing is for certain: there's plenty of reason to get back in the theater when the sequel drops.
Year Released: 2018
Critics Score: 83%
Audience Score: 91%
Batman
For a long time, the only on-screen representation of Batman we had was Adam West's comically absurd TV version. And while there's definitely something to be said for that classic campy show, it took the work of Tim Burton to first show us what the Dark Knight could really be. Michael Keaton, alongside Jack Nicholson as The Joker, will always hold a special place in the hearts of comic book fans that grew up with the grittier version of the caped crusader. For the record, Batman Returns – this movie's follow-up – perhaps shows a more realized version of Burton's Gotham, but it doesn't beat out the original, in our opinion.
Year Released: 1989
Critics Score: 72%
Audience Score: 84%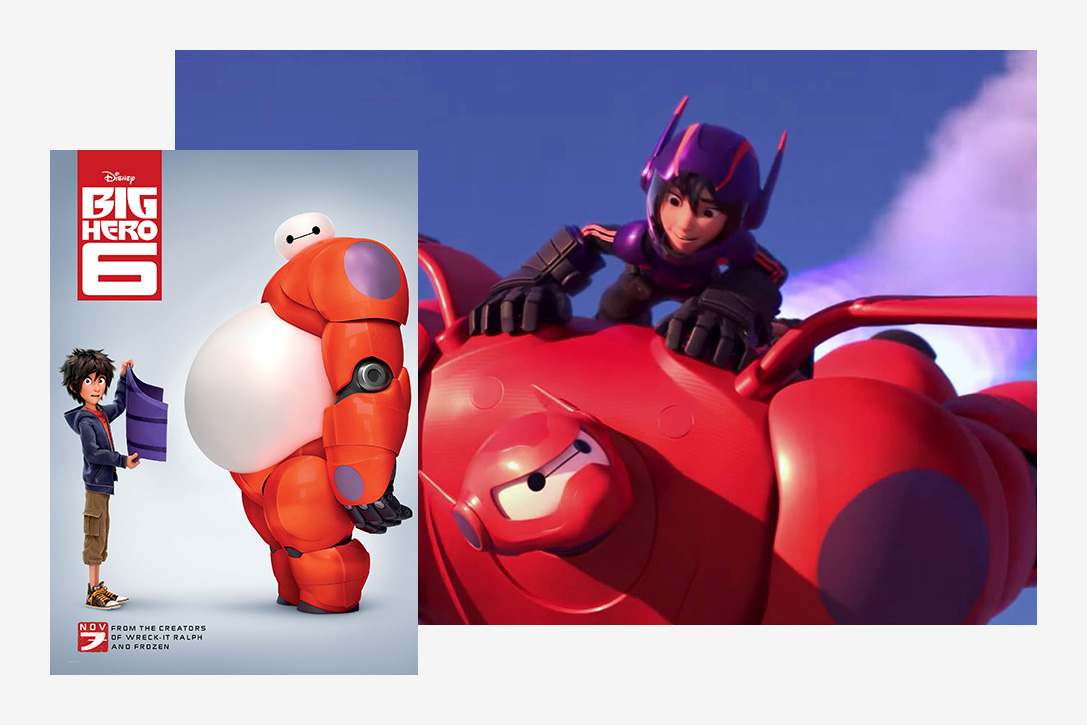 Big Hero 6
Disney-Pixar had already had major success with their first superhero flick, The Incredibles, back in 2004. But it took them until 2014 to revisit a comic-inspired story. The wait was worth it, however, as Big Hero 6 was as beautiful and heartwarming as it was unique and enthralling. The angle is certainly different from that of The Incredibles, but the story is still touchingly human, all the same. Having parlayed the universe into a TV series, it's unlikely we'll get a sequel anytime soon, but there's definitely still a chance we'll get to see Baymax on the big screen again – as the studio has apparently been talking about the potential of a follow-up.
Year Released: 2014
Critics Score: 89%
Audience Score: 91%
Black Panther
There are so many reasons to consider Black Panther one of the most important films of the last decade – the biggest of which, of course, being its inclusiveness. And that alone is enough to earn it a spot on this list. But it helps, too, that it offered one of the greatest and most fun tales in all of Marvel's Cinematic Universe. And while there's certainly something to be said for the heroes of this particular superhero movie, our biggest highlight was seeing Michal B. Jordan redeem himself in a new Marvel property as the begrudgingly relatable Killmonger – especially when so many other MCU villains have been so one-dimensional by comparison.
Year Released: 2018
Critics Score: 97%
Audience Score: 79%
Blade: Trinity
One of the more divisive films on our list – just look at the Rotten Tomatoes scores – we'd be remiss in our duties if we didn't recognize the Blade Franchise – especially because Wesley Snipes' character technically qualifies as the first black Marvel movie hero. Sure, there's an argument to be made that the first or second movie might be better from a cinematic standpoint, but the third flick offers the highest stakes (hunting down Dracula, himself), the most fully-realized style, and the best supporting cast – Jessica Biel, Kris Kristofferson, Patton Oswalt, and our first look at Ryan Reynolds as a fast-talking, weapon-wielding vigilante – like a glimpse into the future.
Year Released: 2004
Critics Score: 25%
Audience Score: 59%
Captain America: Civil War
Admittedly, we were worried about how the Civil War comic book storyline was going to fit into the MCU, as the comics had a lot more time and material dedicated to building up to it. But we're happy to say that this particular sub-franchise flick more than delivered on its promise. For the first time, we got to see our favorite heroes go toe-to-toe with one another – making for some epic fight scenes and a moral quandary as to who we wanted to see win. For a non-Avengers movie, this picture had an incredibly deep cast and kudos to the Russo brothers for paring that into an easily digested, yet still deep movie.
Year Released: 2016
Critics Score: 91%
Audience Score: 89%
The Crow
Probably the film most surrounded by real-life mystery on this list, The Crow is a cult classic for its dark atmosphere, anti-heroic main character, and the creative choice to leave one of the film's pivotal scenes in the movie after an on-set accident. That last bit is notable because, while filming, Brandon Lee (son of Bruce Lee) was actually shot and killed. So the story goes, it was a defective blank that mortally wounded him – though there is fan speculation of a more sinister motive. Whatever the case, The Crow is both dark and brooding, as well as surprisingly human. And, while it hasn't aged as well as some other flicks, it's still an enjoyable watch.
Year Released: 1994
Critics Score: 81%
Audience Score: 90%
The Dark Knight
For anyone who has seen it, there will be no doubts as to why this movie is on our list. In fact, it would be seated squarely near the top, if we were ranking them. A big part of that is because of Christopher Nolan's vision of the Batman-versus-Joker storyline, but we'd be doing the late actor a disservice if we didn't recognize the performance of Heath Ledger as probably the biggest highlight of this particular picture. The perfect foil to Christian Bale's Batman, Ledger's Joker is undoubtedly the best on-screen version of this character of all time – sorry Jack Nicholson, Cesar Romero, and Mark Hamill.
Year Released: 2008
Critics Score: 94%
Audience Score: 94%
Deadpool
While Infinity War is impressive for its decade-long buildup, Deadpool has a similarly long story, though not on-screen so much as in development. You see, the film also took a decade to be made, due to a whopping number of pit falls – not the least of which being fan backlash against Ryan Reynolds and the character's portrayal in the critically-panned Wolverine: Origins movie. Thankfully, Reynolds never gave up his dream of doing the Rob Liefeld-created character justice and we ended up with one of the most unexpected, violent, and fun superhero movies ever made. Fun fact: Deadpool holds the record for the best financially-performing rated-R movie ever made – followed closely by its sequel.
Year Released: 2016
Critics Score: 83%
Audience Score: 90%
Doctor Strange
Up until the release of Doctor Strange, the Marvel Cinematic Universe hinged almost entirely on science-fiction and stayed fairly far away from anything mystical or fantasy-related. And while that meant a bit of a more grounded world, it also meant we were missing out on some of the biggest potential. Thankfully, however, Marvel tapped into that with this Benedict Cumberbatch-starring flick. With the kind of mind-bendingly intricate action only seen in the likes of Inception and anime-flick Paprika, this particular movie is a visual masterpiece, to say the least.
Year Released: 2016
Critics Score: 89%
Audience Score: 86%
Guardians of the Galaxy
When Chris Pratt was cast as Peter Quill (AKA Star-Lord), he was still only really known as the chubby guy from Parks & Recreation. That paired with the fact that he was to star alongside a talking raccoon and a living tree made a lot of non-comic book savvy folks scratch their heads. Even the studio wasn't sure the film would be a success. Then, it came out and it shattered all expectations of what a superhero movie could be. It was laugh-out-loud funny, tear-jerking, and packed full of action. And the second movie was more of the same – which is a very good thing. There's a third entry in the works, too, which is exciting.
Year Released: 2014
Critics Score: 91%
Audience Score: 92%
Hellboy
When it comes to the mysterious and fantastical, few directors have the same expert eye and grasp as Guillermo Del Toro. And that's abundantly apparent in his adaptation of Hellboy. Starring Ron Perlman, Selma Blair, John Hurt, and more – this movie is a swirling tale of the supernatural on a grand scale, yet it still has the little human bits to keep it relatable, witty, and funny. It's worth noting that this series is set to see a darker reboot in the next year or two, but we'll be the first to tell you that it's got a lot to live up to if it's going to compete with the original film.
Year Released: 2004
Critics Score: 81%
Audience Score: 65%
The Incredible Hulk
Bruce Banner is kind of like Marvel's version of Superman, in that he's seen a depressing number of sub-par onscreen adaptations. And that makes the appeal of the character hard to see for many folks, which is what we think happened with this movie. Made just a couple of years after Ang Lee's disaster of a Hulk movie, The Incredible Hulk was a far superior adaptation and Ed Norton is great as Bruce Banner. Not to mention Tim Roth as the villain, Abomination. If you, like many others, didn't give this flick a fair shake when it came out, we definitely suggest giving it another try, as it's the best non-ensemble Hulk movie we may ever get.
Year Released: 2008
Critics Score: 67%
Audience Score: 71%
The Incredibles
You might think that Disney took a gamble when they tried to make a family-friendly superhero movie, but – based on the movie's performance and reception – we're pretty sure they had all their ducks in a row. And while it definitely earns a spot on this list, it will definitely go down as one of the best Pixar movies of all time – perhaps second only to Toy Story. Gorgeously rendered and with a story that people of all ages can enjoy, this animated family film is a stunning achievement.
Year Released: 2004
Critics Score: 97%
Audience Score: 75%
Iron Man
Ten years ago, Iron Man was released as the first film in what would become Marvel's Cinematic Universe. And while nobody knew back then that it would catapult the MCU into what it has become today, we're all certainly glad it did. One of the most human and relatable characters in the entirety of Marvel's lineup, the casting of Robert Downey Jr. as Tony Stark is undeniably perfect – both for his acting chops and his own personal phoenix-from-the-ashes story. Jeff Bridges as Iron Monger/Obadiah Stane was also an excellent casting choice – and the villain plays a perfect foil and counterpoint to RDJ's Tony Stark.
Year Released: 2008
Critics Score: 94%
Audience Score: 91%
Kick-Ass
When it emerged into the comic book world, Kick-Ass did an excellent job of lampooning the superhero genre whilst still conveying a meaningful message regarding the violence of our world. The first film adaptation of that series did an excellent job of remaining true to that original message – in spite of worries that it might be too heavy handed or not receive its due diligence in regards to message. It was also the film that helped Chloe Grace Moretz break into the acting world. And her character's relationship with Nicholas Cage's is definitely a highlight of this ultra-violent movie.
Year Released: 2010
Critics Score: 75%
Audience Score: 81%
Logan
It has been a wild ride to watch Hugh Jackman play everyone's favorite X-Man. And while not all the movies were very good, Jackman has always been great as Logan. And that all culminated in this film. Equal parts superhero movie and western, this movie wraps up Jackman's tenure as the claw-swinging Canadian very nicely and was a welcome surprise in Fox's mutant-themed offerings. We have to give some of the credit to Deadpool, as it showed the studio that rated-R comic book movies can succeed, but kudos are certainly owed to everyone that worked on this movie.
Year Released: 2017
Critics Score: 93%
Audience Score: 90%
Man of Steel
Superman has had a rough go of things cinematically. Back in the 80s, the character saw success in Christopher Reeve, but the movies just don't hold up. And the reboot, Superman Returns (starring Brandon Routh and Kevin Spacey), was far too long for its own good and lacked much in the way of panache. Man of Steel, on the other hand, gave us our first look at Henry Cavill as the caped hero – who is arguably the best actor to play him, perhaps ever (yes, even when compared to Reeve). Following the classic Zod storyline, this is definitely a darker Superman, but it was a pleasure to watch – even if its follow-up was embarrassingly dismal.
Year Released: 2013
Critics Score: 55%
Audience Score: 75%
Mystery Men
Mystery Men is a divisive film in that it lampooned traditional superhero movies at a time when they were already so few and far between – and that maybe didn't appeal to an audience that didn't have the benefit of being exposed to comic book characters on the same level as today. Shoot the same script in the present day and you'd probably see more success. But that's no reason to dog this side-splitting comedy – which stars the likes of Ben Stiller, Janeane Garofalo, Hank Azaria, William H. Macy, Geoffrey Rush, Paul Reubens, Greg Kinnear, and more.
Year Released: 1999
Critics Score: 60%
Audience Score: 57%
The Rocketeer
Though some might think that The Incredibles was Disney's first real foray into the world of superheroes, that mantle actually belongs to this much older film. Based on a graphic novel of the same name, this movie follows the exploits of a WWII-era pilot after he stumbles upon a jetpack that allows him to become a high-flying hero. The film stars Billy Campbell alongside Jennifer Connelly, Alan Arkin, and Timothy Dalton – and while it certainly has camp in spades, it has also held up surprisingly well – probably thanks to the fact that it was already a period piece when it was first filmed.
Year Released: 1991
Critics Score: 63%
Audience Score: 65%
Spawn
As far as anti-heroes go, Spawn is one of the absolute all-time best. After all, it doesn't get much more anti-hero than a deceased man with the powers of Hell who, instead, decides to use his newfound abilities for good. Of course, his methods are questionable at best, but the character still gets major points for style – what with his devilish cape and Venom-esque visage. Even grittier than The Crow, this is a hard movie for some to stomach, as it's extremely brooding and the effects haven't aged well, but Michael Jai White as the title character was an inspired choice, as was the unexpected portrayal of Clown – a diminutive and overweight painted-face demon – by none other than John Leguizamo.
Year Released: 1997
Critics Score: 18%
Audience Score: 36%
Spider-Man: Homecoming
Tobey Maguire was great as both Peter Parker and Spider-Man (and we can excuse that third entry, even with Topher Grace's Eddie Brock). Andrew Garfield, however, not so much. But both pale as relatable representations of the character when compared to Tom Holland's youthful and naive portrayal. It helps, too, that this movie benefits from the near decade's worth of MCU movies up until this point. Plus, a fresh take on a classic villain, as played by Michael Keaton, and the surprise inclusion of Miles Morales make this a flick worth returning to – and rewatch-ability definitely scores big points.
Year Released: 2017
Critics Score: 92%
Audience Score: 88%
Superman II
For those of us born in the 1980s (or fans of the time period), Christopher Reeve is our Superman. No, his appearances as the Kryptonian superhero maybe haven't held up that well as technology has advanced, but they're still classics for what they managed to accomplish at the time. If you've seen Man of Steel, then you should know that the film's villan, General Zod, and his cronies actually first appeared onscreen in Superman II. Yes, this movie is campy, but it's also a lot more fun than later DC superhero movies.
Year Released: 1981
Critics Score: 85%
Audience Score: 75%
Thor: Ragnarok
While the first Thor movie was pretty good, the second one was largely regarded as middling, at best. This third installment, however, was a revelation – thanks in large part to the direction of Taika Waititi (who also voices Korg, arguably the best new character of the franchise). That, plus the lighter treatment of the universe, psychedelic imagery (especially in that Valkyrie scene), and the fact that this is about the closest thing to an on-screen adaptation of the Planet Hulk storyline make this one of the most refreshing Marvel movies to date.
Year Released: 2017
Critics Score: 92%
Audience Score: 87%
Unbreakable
M. Night Shyamalan's Unbreakable is unique in that it is a superhero film that didn't present itself as one. In fact, moviegoers didn't really know what they were in for until they were already watching it. It was a novel take on the genre, to say the least, and did a great job of showing the writer/director's range outside of the horror genre as a follow-up to The Sixth Sense. Yes, it still features his signature "twist," if in perhaps a slightly different form, but that's hardly a valid complaint considering the overall value of the film as a whole. This is a superhero movie for people who might not think they like superhero movies.
Year Released: 2000
Critics Score: 69%
Audience Score: 77%
Watchmen
Alan Moore – creator of V for Vendetta, The League of Extraordinary Gentlemen, and Watchmen – is an institution of comic book greatness. And Zak Snyder's adaptation of this particular work is one of the best we've ever seen. Originally intended to include actual DC superheroes, this story shows a darker side of comic characters – both in regards to their actions and deeper intents. It's a deep world to dive into and that translates to a film that's over two hours in length (three and a half if you watch the director's cut), but the payoff is worth it for superhero fans and film buffs. And while the alteration of the ending has been called controversial, we believe it works to the film's benefit as a means to distinguish it as a unique work.
Year Released: 2009
Critics Score: 64%
Audience Score: 71%
Wonder Woman
With the exception of Christopher Nolan's Batman trilogy, DC's superhero movies have been widely panned by both critics and fans, alike. From their lackluster storylines to their drab and dark cinematography, people just haven't responded well to them. That is, with one shining exception: Patty Jenkins' Wonder Woman. A prime example of everything that the DC universe could be, this movie was moving, beautifully presented, and perfectly balanced the human experience with the otherworldly powers of its title heroine. Needless to say, we're excited to see what Jenkins can do with the upcoming sequel.
Year Released: 2017
Critics Score: 92%
Audience Score: 88%
X-Men: First Class
The first Fox-produced X-Men movie was a valiant attempt at bringing Marvel's mutants to the big screen, but the second, third, and Wolverine: Origins kind of fell off the rails, much to the chagrin of fans. Luckily, that ship was mostly righted in X-Men: First Class. This look back at the beginning of Charles Xavier's School for Gifted Youngsters was a shot of life compared to the previous installments and nicely set up the film's excellent sequel, as well. Plus, the performances of James McAvoy, Michael Fassbender, Jennifer Lawrence, and the rest were all superb.
Year Released: 2011
Critics Score: 86%
Audience Score: 87%
20 Best Graphic Novels
If you enjoy superhero movies, there's a pretty good chance you'll like their source material, as well. You can find some of the greatest on our list of the 20 best graphic novels of all time.