Finding a good pair of sunglasses isn't too difficult, but finding one for an affordable price gets tricky. Don't be mistaken, we're not glossing over the intricacies that go into crafting high-quality eyewear, as there is a very thorough process behind it. In addition to that, some companies use better materials than others, be it Italian-made acetate or glistening beta titanium. On the contrary, though, some people just want to protect their pupils, which is the quintessential element behind picking up a pair of sunglasses — even cheap ones.
While finding a pair of sunglasses you love for under $100 might be easier said than done, that's no excuse to go about without some shades in the summer sun. As a matter of fact, we decided it would only be fair to lend a helping hand in helping you to figure out not only which budget-friendly sunglasses look good, but provide the protection you need to keep your eyes safe from the sun's damaging UV rays. So go ahead and take a look at our widespread guide to the best men's sunglasses under $100 currently on the market.
Knockaround Pasa Robles
Knockaround's stylish Pasa Robles silhouette has no excuse for being as affordable as it is, leaving us no choice but to appreciate the brand's accessibility. The square-shaped sunglasses feature glossy tortoise frames, polarized amber lenses, and a glistening gold logo. As an added note, the UV-protective shades garner inspiration from their titular lax central California city, a place that knows the sun as well as anyone.
Huckberry Cruisers
As one of our favorite online retailers, Huckberry typically knows what it takes to manufacture something worth buying. The brand's in-house lightweight shades come equipped with polarized lenses to diminish glare and reflections, all the while maximizing clarity and colors. The Cruisers are rounded out with protective temples and come available in a wide variety of colors. Plus, if you're looking to make the most of your purchase, you can buy two pairs for $10 off!
Blenders Eyewear Zero Gravity
This San Diego-bred manufacturer is adept at making impressively affordable sunglasses. Blenders' spacey aviator-shaped shades boast eye-popping, polarized lenses that offer 100% UV protection. The gradient-colored temple tips fade from a light shade of purple to a bright pink hue for an added touch of color to match the lenses, a unique feature that shows thoughtful design and excellent attention to detail.
QUAY Nightfall
QUAY is an Australian brand based around summertime fun and head-turning style, and the NIGHTFALL is a perfect fit no matter what time of day it is. As one of the more fashion-forward choices that you'll find here, it is an extremely unique choice to pick up. The sunglasses boast a one-piece lens and come available in a sprawling ensemble of color schemes, with two polarized options available. The blacked-out choice is our personal favorite, serving as a paparazzi-approved set of eyewear.
Le Specs Bandwagon
Le Specs sunglasses have reached international fandom, having been worn by A-list celebrities around the world, going to show that these are appropriate for the likes of anyone and everyone. Moreover, we're hopping on the bandwagon in celebration of the Bondi Beach-based brand's Bandwagon silhouette. This particular pair boasts vintage-inspired details that look relatively similar to classic Persol silhouettes. The sunglasses are rounded out with a keyhole nose bridge and polarized lenses to diminish any eye fatigue.
Spitfire Cut Forty
Aside from having a cool name, Spitfire happens to make even cooler sunglasses. The UK-based accessory manufacturer's stylish Cut Forty shades boast a square-shaped pair of colorful lenses, available in either orange or dark brown. The acetate-composed frame allows for a secure, sturdy fit and could easily pass for a chic pair of Wayfarers.
J.Crew Ainslie
You may be more familiar with buying closet essentials from J.Crew on your trips to a local shopping center, but the New York-based retailer is also a consummate accessory manufacturer. The Ainslie is one of its latest handcrafted silhouettes, equipped with all the necessities like UV-protective lenses and easy-going spot-cleaning. The summer-appropriate release is available in a trio of chic colors, so tailor it to the rest of your J.Crew attire.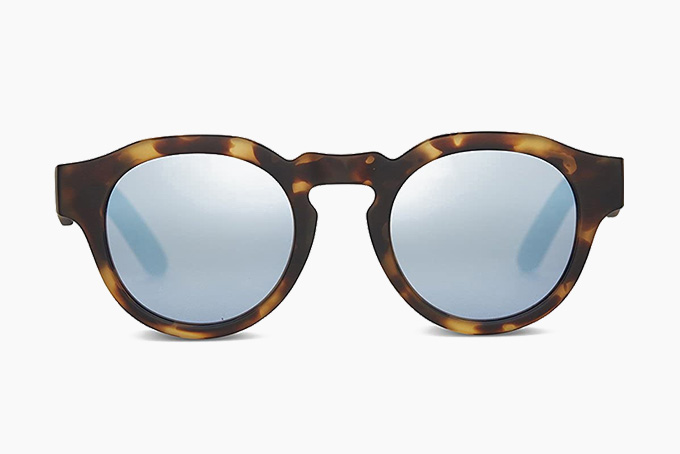 TOMS Bryton
TOMS is well-known for manufacturing quality shoes for the summer, so it comes as no surprise that the Los Angeles-based clothier knows what it takes to release high-quality accessories for the season, too. The Bryton silhouette features a SOLAFLEX makeup for durability's sake and is finished off with a soft, rubberized feel to diminish wear fatigue and allow you to wear them constantly with no pain whatsoever.
Banana Republic Glen
Similar to J.Crew, Banana Republic is a top-tier shopping mall staple, excelling at crafting garments appropriate for anywhere from the office to the beach to, naturally, a safari. The gradient-colored lenses in this Clubmaster-style frame are crafted in Europe and provide full UV protection. Additionally, the shades come rounded out with perfectly-fitting spring hinges and adjustable nose pads, making them highly adaptable to many face shapes.
Shwood CAMP Arrowcrest
CAMP Eyewear's eclectic collection of sunglasses is geared toward the outdoors, going to show that it fully embraces its namesake. The sustainably-crafted Arrowcrest shades boast plant-based bioplastic frames, stainless-steel spring hinges, and genuine walnut inlays. The stylish silhouette is rounded with either CR-39 or TAC polarized lenses, depending on which color you select.
Sunski Treeline
Price aside, these are some of the coolest shades around. Any choice from Sunski would be appropriate here, but its uber-unique Treeline silhouette is one of the sleekest you'll find in this price bracket. Its durable, flexible frames are crafted from recycled polycarbonate and weigh less than a sole ounce. As far as vision is concerned, the polarized lenses reduce any sense of glare, and the shades boast Sunski's proprietary Magni-Snap Sidekicks shields that easily detach when you don't need the additional protection.
Akila x Pleasures Lithium
Akila is another SoCal-based label that knows a thing or two about what it takes to craft high-quality eyewear at an affordable price. The brand's collaboration with Lithium is a '90s-appropriate pair of shades that could easily be mistaken for one of the iconic pairs that most manufacturers label as "Cobain glasses." As a seamless encapsulation of the grunge era, these stylish sunglasses are a surefire way to showcase your love for the Good Decade.
Warby Parker Barkley
The ever-so-cool Warby Parker Barkley silhouette is eerily similar to your average pair of square-shaped specs, but it's the meticulous craftsmanship that sets them apart from the norm. The frames are crafted with hand-polished cellulose acetate and made durable with akulon-coated screws. Lastly, the scratch-resistant CR-39 lenses assist in blocking out every bit of the sun's UV rays.
Arnette AN4293 GTO
Arnette has been delivering on exquisite, sustainably-made sunglass silhouettes for three decades on the dot, and this stylish example is arguably its most notable yet. The GTOs are a pilot-shaped pair of sunglasses with scratch-resistant lenses and tie-dye brown-colored acetate frames for an unabashed sense of fashion-forwardness. By fusing top-tier materials, streetwear-inspired styling, and widespread accessibility, the California-based marque checks all the boxes.
Chimi #007
Chimi's #007 is the perfect blend of stylish and aloof, making for a dapper pair of shades that are appropriate for, say, agent 007 himself. The Swedish eyewear manufacturer prides itself on pumping out quality products without a lofty price point, which is something we can all get behind. This particular handcrafted choice boasts a timeless, Wayfarer-inspired look for everyday wear while offering 100% UV protection. Plus, the #007 is impressively durable as a result of its premium Mazzucchelli cellulose acetate construction and sturdy five-barrel hinges.
The Best Aviator Sunglasses Available
Looking to step up your sunglasses game even more? Then perhaps the best route is to go with a pair of aviators. We've rounded up our favorite pairs on the market in our guide to this iconic silhouette.