If you're a fan of the outdoors, chances are, you spend the vast majority of your free time plotting, and partaking in your next big adventure. Not everyone is cut out for endless days at the work table or sitting in front of an LCD for hours and hours — for some, the prospect of a day in the sun seems far more valuable. But, as with everything that's good, there is actually such a thing as "too much sun," thanks to harmful ultraviolet rays that can do a number on your skin.
To combat the sun's natural influence on our bodies, outdoor companies have determined that treated garments are the key to keeping us happy, healthy, strong, and adventurous. More than a few of the industry's finest proprietors have spent years researching the best methods for keeping our skin safe from detrimental factors, resulting in UPF-rated garments that work in much of the same way as sunblock, relying on a number of treatments, textiles, and even a rating system that can give you a better idea of how protective a peripheral actually is. Below, we've hand-selected a few of our favorite offerings and made sure that regardless of which one you pick up, you'll be able to enjoy your days outdoors with additional peace of mind.
Tasc Performance Carrollton
We're willing to be that the vast majority of your trusted base layers won't protect you from the sun's harmful rays. Luckily, there are a few different companies out there that take your skin's health a bit more seriously, including Tasc. The brand's Performance Carrollton tee gifts wearers with over 50+ UPF sun protection, shielding them from harmful UV rays as they spend their days outdoors, whether it be for work, or for leisure. But that's not all, the garment also features MOSOtech fabric to wick away troublesome moisture as the day marches onward, working alongside an antimicrobial treatment and four-way stretch fabric to promote odorless freedom of movement.
The North Face HyperLayer FlashDry Long-Sleeve
It might not come as a surprise to hear that The North Face has an entire suite of clothing devoted to sun protection, but one of our favorites just so happens to be this HyperLayer FlashDry long-sleeve. Utilizing the company's innovative Flashdry fabric, which pushes moisture to the surface of the garment for quick-drying, the HyperLayer was quite literally built for the outdoors. As such, the implementation of UPF 50+ sun protection, heat transfer characteristics, and a standard fit that'll keep you comfortable, dry, and productive throughout the day, make the shirt an essential staple for those who are looking to protect themselves in style.
KUHL Response
KUHL's Response button-up tee was crafted to take on the day in style. As one of the dressier, more formal shirts on our list, this great-looking offering might portray itself as a different specimen among other outdoor tees and long-sleeves; however, that couldn't be farther from the truth. The Response features a UPF 30 sun protection rating, moisture-wicking polyester fabric that's been woven with silver ions to dissuade odor-causing bacteria and keep it at bay, and a wrinkle-resistant orientation that's been adorned in various fastens and metal buttons, giving it all the gumption it needs to take on daily tasks.
Outdoor Research Astroman Sun Shirt
Outdoor Research trades in some of the industry's finest outdoor offerings, and the Astroman Sun Shirt is no different. This unique variant has adventure in its blood, thanks to a silhouette that was inspired by El Capitan — one of the hardest, and most renowned free climbs in Yosemite Valley. This makes the shirt perfect for climbers who spend long hours in the sun, but with a UPF 50+ sun protection rating, it's also viable for virtually any outdoorsman. Unlike other offerings on this list, the Astroman also boasts a Sun Snap Collar, allowing you to protect your neck from the sun's harmful rays with a secure, but comfortable additional button.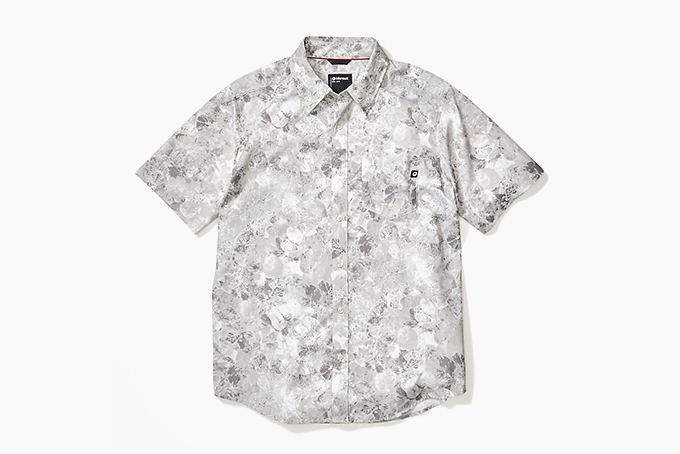 Marmot Men's Bennet Peak
Marmot's Bennet Peak short-sleeve is a surefire style piece that just so happens to have UPF 50 sun protection built-in. While other offerings might be inherently tailored to long hours of wear in the sun-drenched expanses, the Bennet Peak is an urbanite's alternative, calling upon an abrasion-resistant Supplex nylon, moisture-wicking fabric, and breathability that's unparalleled by many semi-formal shirts. But that doesn't mean that it'll underperform on the trail. A shirttail hem built to stay put while carrying a pack, and a compact, foldable orientation make the Bennet Peak a must-have peripheral for anyone who's looking to make a steady transition from the rock wall to the local tavern.
Sherpa Adventure Gear Tamang
Sherpa Adventure Gear's Tamang can't be more transparent about its outdoor viability, but we're going to fill you in on its redeeming qualities anyway. Calling upon a purpose-built shirttail hem to provide adequate coverage, bespoke shoulder seam placement that minimizes chafing while in use alongside various daypacks, and an engineered stripe pattern that was inspired by Nepali textiles, this one-of-a-kind top layer is sure to turn some heads, and perform equally as well. But you're here for its protective qualities, right? Rest assured, the Tamang boasts a capable UPF 50+ fabric shield to keep harmful UV rays from penetrating your precious skin.
Smartwool Merino 250 Baselayer
Smartwool's innovative garments have made a few waves within the clothing industry, as of late, and the company's Merino 250 Baselayer follows suit. Crafted from the outfit's comfortable, but functional Merino wool, the 250 boasts sculpted side panels to give it one of the best fits in the industry, while falling back on bespoke shoulder panels and rear body seams to improve comfort and control chafing while on the trail. Bulky seams are also tossed to the wayside for a more low-profile flatlock stitch, helping to eliminate abrasion and improve wearability. And the best part? Unlike less-refined wool garments, the UPF 50+ protective Merino 250 doesn't shrink or itch, making it an attractive proposition to round out your sun-savvy collection.
Icebreaker Tech Lite Crew
Icebreaker's Tech Lite Crew is a great-looking shirt from any perspective, but the fact that it's been built with outdoor protection in mind makes it all-the-more viable. Featuring core-spun fibers, offset shoulder seams, and a durable overall stature, the Tech Lite takes on virtually any adventurous occasion with ease, while eliminating chafing. The most interesting aspect of the UPF 20 garment is its construction, which utilizes traditional, hard-wearing nylon fibers that have been wrapped in merino wool to enhance longevity and protection from more than the sun's harmful UV rays.
Black Diamond Alpenglow Hoodie
Black Diamond's outdoor garments are second to none, and when it comes to the lightweight Alpenglow Hoodie, the standard for protective outer layers has been set. Calling upon the company's BD.cool mineral-based in-fiber cooling tech, which reflects 71% of near-infrared rays, and promotes a reduction in overall body temperature, this versatile garment makes a case for sweaters in the summer. UPF 50+ sun protection is just a start; the unique Alpenglow also brings range-enhancing underarm gussets, Polygiene odor control, and a high-alpine-inspired style that works effortlessly alongside climbing gear, to the forefront, making it one of the most formidable offerings on our list.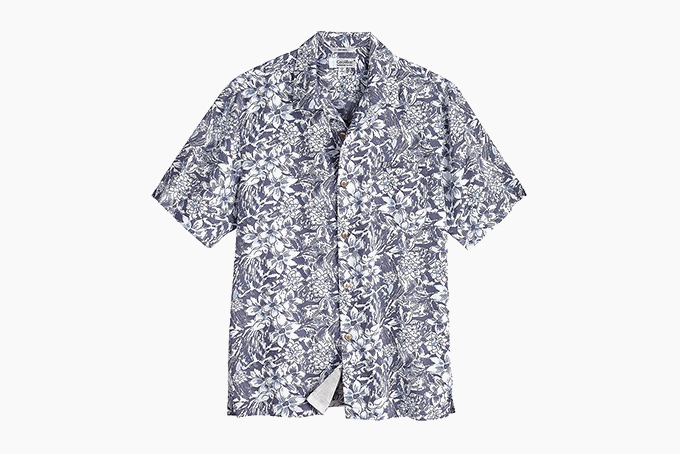 Coolibar Men's Safari Camp
Coolibar's Safari Camp shirt is a formal, relaxed button-up that features an array of interesting color options to give it a well-rounded persona alongside your collection's most-worn garments. It features a one-piece collar, side seam vents, a straight hem, and a suite of coconut buttons to promote an effortless, laidback look for those balmy summer days while calling upon the company's 3Ddri moisture-wicking fabric to remain light, breathable, and efficient. If you aren't convinced that the Safari Camp is a great choice for a day spent on the boat, or at the brewery, look no further than its UPF 50+ sun protection rating, which ranks among the industry's best when it comes to actual UV regulation.
Orvis Tech Chambray
Orvis' Tech Chambray might be a bit less outdoorsy when compared to the company's more technical offerings, but we can respect its vision. Combining technical performance and casual styling, this laid-back garment features intricate cream-colored triple-needle stitching, a hidden button-down collar, underarm air holes, and even a sunglass cleaner hidden on its hem, making it a quintessential pick for the beach-faring wearer. Aside from its relaxed persona, the Tech Chambray also makes light work of heavy characteristics and moisture management, thanks to its lightweight orientation, sweat-wicking qualities, UPF 30+ sun protection, and mechanical stretch, allowing wearers to partake in the day's extravagances without worrying about harmful heat and UV rays.
Arc'teryx Elaho Shirt
Arc'teryx's Elaho Shirt is a far cry from the brand's technical outerwear, but it's actually refreshing to see a garment that can be utilized in many different ways, without being tied down to its traditional ethos. Calling upon a lightweight, aerated Alatorre fabric, gusseted underarms, and roll-up sleeves, the brand has opted to take the formal button-up in an entirely new direction. The result? Quick-drying qualities and additional abrasion resistance for those who want to look a bit more formal on the trail, while also being able to wear the same shirt to a business or board meeting. We're willing to bet that you won't be too worried about the shirt's UPF 20 protective rating if you're spending your entire day indoors, though.
Fjallraven Abisko Hike
Fjallraven's Abisko Hike shirt is a formidable garment that blends the worlds of technical outerwear and semi-formal workwear. As a collared variant that boasts various qualities of an in-office button-up, the Abisko is surprisingly resilient, calling upon moisture-wicking nylon fabric, a ventilated back yoke to release heat, and a zippered chest pocket to complement the shirt's UPF 30 sun protection. Whether you're wearing the Abisko for a day on the lake, or a day reminiscing last night's game at the water cooler, Fjallraven's Abisko is a surefire selection to supplement your well-rounded getup.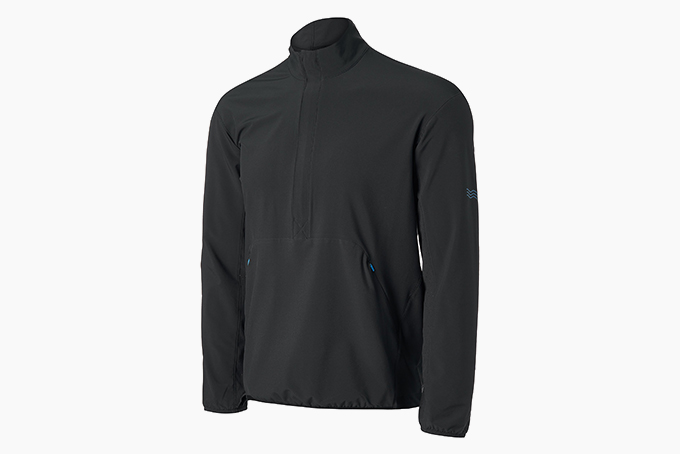 Janji Transit Tech Zip
The Janji Transit Tech Zip is a lightweight model that can take on anything from running to rain, and look good while doing it. Thanks to the garment's soft-shell fabric composition and DWR treatment, you'll be able to confront inclement weather with ease; but if you're out for a leisurely stroll during a sunny day, you'll find that this handsome half-zip is still a viable companion, thanks, in large part, to its UPF 30 protection. Moisture-wicking qualities ensure that perspiration is never an issue, while four-way-stretch fabric helps wearers to partake in an unparalleled range of motion for more athletic endeavors. Inside, a double-weave looped interior helps the jacket to stay free of sweaty skin, while perforated underarm gussets and pocket linings promote adequate venting for additional airflow.
Outerknown Blanket Shirt
Outerknown's Blanket Shirt sticks true to the company's ethical approach to clothing, making it even more attractive for buyers who love the outdoors and want to do everything in their power to preserve their favorite locations. Crafted from a 100% organically-grown cotton and boasting a sturdy twill construction, the Blanket is, quite literally, as comfortable as your favorite bedtime accessory. A suite of purposeful chest pockets and button-closure flaps complement the shirt's corozo buttons, giving its UPF 20+ protective rating a firm backdrop for everyday outdoor wear.
The 20 Best Beach Towns In America
Now that you've found the perfect UPF-rated shirt for a day outdoors, head over to our guide on the best beach towns in America to put it through its paces.