When it comes to filling up our living spaces with stylish furniture, there are a few big-ticket items that tend to receive the lion's share of our interior design attention. Your leather sofas, your designer accent chairs, your beautiful coffee tables adorned with, naturally, beautiful coffee table books, etc. But one piece of furniture that routinely gets overlooked is the humble bench. Long an afterthought for many amateur home decorators, we say it's high time this versatile piece of furniture got the attention it deserves, which is why we've come up with this guide to the best stylish benches for your home.
A bench can be one of the most used pieces of furniture in a home. Benches can be used as extra seating, as a table, or as a display for decoration, all while doubling as an additional storage space in some cases. And while you may think the term "stylish bench" is an oxymoron, well, that's just because you haven't yet perused the stunning lineup of benches we've gathered below. So pull up a chair (or, better yet, a bench) and have a look at the best-looking benches currently on the market.
Indoor Benches
Versatility, Thy Name Is Bench
Urban Outfitters Woven Bench
Crafted in India exclusively for Urban Outfitters and looking the part thanks to the materials used, the Woven Bench features a frame made from natural finish mango wood and a seat woven from strips of jute. Simple in its design and clever in its construction, the Woven Bench is an affordable way to add a bit of eastern-inspired boho style to your space while also offering up an added dose of functionality.
Article Level
As one of the internet's favorite online furniture stores, Article routinely churns out stellar affordable pieces for nearly every room in your home. So it stands to reason that they would make an excellent bench, and that's exactly what we have here in the Level. Sporting a minimalist but interesting aesthetic with a tufted seat atop asymmetrical powder-coated bent steel legs, the Level has the innate ability to elevate any room it's placed in.
Burrow Carta Bench
Can't decide whether you want to use your bench as additional seating or as a table? Well, why not do both simultaneously? That's the route the versatile Carta Bench from Burrow takes, and we're decidedly in favor of it. With 2/3 of the top covered by a comfy moveable cushion and the rest occupied by a lipped hardwood tabletop, you get the best of both worlds. And since this is a guide to stylish benches, you're also getting a handsome set of mid-century modern-inspired hairpin legs.
West Elm Mid-Century Storage Bench
In the same vein as the Carta Bench above but taking things a step further, we have this offering from West Elm. With classic, crowd-pleasing mid-century modern styling and responsibly sourced, fair trade-certified solid eucalyptus wood construction, this bench has a lot going for it right out of the box. But once you get to its symbiotic combination of two-drawer storage, a small smooth tabletop, and cushioned upholstered seating, then you're really cooking with gas.
HAY Pyramid Bench
Since Danish designer favorite HAY has only been around for two decades, you'd think their catalog was lacking in authentic mid-century modern classics. But you'd be wrong. Working alongside Ahrend, HAY resurrected that brand's Pyramid Bench from the 1950s. Originally designed by Wim Rietveld, it's an exercise in elegant simplicity, with an unadorned straight solid oak top balancing atop a powder-coated steel-sheet frame.
Arhaus Panta Bench
This guide is hardly lacking in statement pieces, with classic designer icons and unconventional contemporary offerings all vying for your attention. But sometimes, all a space calls for is a simple and understated accent piece, and that's how we'd classify the Panta. Forgoing any embellishments, materials-mixing, or modernist flair, the Panta lets its natural hardwood and old-school, artisan construction methods speak for themselves.
CB2 Tiro Rattan Storage Bench
One of the tenets of the modernist movement that arose in mid-century furniture design was the mixing of materials in new and innovative ways. And while this handy storage bench designed by Mermelada Estudio for CB2 isn't nearly so old, it's a masterclass in contrasts thanks to its combination of a natural rattan reed facade with a linen-blended lid. Its geometric design makes for a striking presence in any room, and its generous interior storage adds a good deal of utility, too.
RH Solano Concrete & Teak Bench
RH is well known for their industrial designs, and the Solano is certainly no exception. Inspired by Germany's Bauhaus movement of a century ago, which prioritized function and eschewed emotion, this simple but imposing bench juxtaposes a bold and cold polished concrete top with a warm and inviting reclaimed teak wood base. Due to its handmade artisanal construction and the imperfections present in the reclaimed wood, no two Solano benches are alike.
Herman Miller Nelson Platform Bench
If you know anything at all about benches, then this was likely the first thing that popped into your mind when you read the phrase "stylish benches." A mid-century modern icon designed for Herman Miller by the legendary George Nelson, whose other works include the Ball Clock, Bubble Lamp, and Coconut Chair, Nelson's Platform Bench is arguably the most iconic bench in existence. Its slatted solid wood top is instantly recognizable, and the way it sits atop its continuous geometric legs is a masterclass in merging form with function.
DWR Line Storage Bench
DWR stands for "Design Within Reach," and while the latter part of that sentiment is relative given their relatively high prices, there is no debating the retailer's commitment to design. One of their in-house offerings is this beautiful storage bench from their Line, er, line. Marked by a striking louvered facade and crafted from your choice of oak or walnut, this bench features plenty of storage that's accessed by way of a lift-up top complete with lid-stay hardware.
Crate&Barrel Garde Bench
A lot of the style trends from the '70s haven't aged well, as we're not terribly interested in seeing feathered hair or Malaise-Era cars make a comeback. But not every aesthetic from the "'Me' Decade" was bad, as evidenced by this gorgeous '70s-inspired bench from Crate&Barrel. Blending a hardwood walnut base with tan saddle leather and white linen-like fabric seating, this is a color palette that would've been right at home on Sonny & Cher — but will be just as at home in your home.
Knoll Bertoia Bench
Harry Bertoia is one of the biggest names in mid-century modern furniture designs, known mainly for his groundbreaking work with bent metal rods, as seen in both his artwork and his famous consumer pieces like the Diamond Chair. His trademark imprint is clearly visible on his namesake bench thanks to its thin, bent-metal legs that gracefully support its slatted wood seat. Airy and effervescent like much of Bertoia's work, this 72-year-old design still looks fresh today.
ARTIFOX Bench
One of the newest brands on our list, ARTIFOX is all about crafting contemporary minimalist furniture that's intelligent, functional, beautiful, and made to last. And we can say with the utmost confidence that their simply-named Bench exhibits those qualities to a T. Crafted from a sturdy blend of solid hardwood, aluminum, and steel, this bench is made for 21st-century living. Its multiple storage solutions include a canvas scroll for a laptop, a removable steel tray for small tech devices, and even a place to hide unsightly cables.
Muuto Oslo Bench
While all of the benches on this list are pleasant to look at, a lot of them aren't the comfiest things in the world to sit on (in some cases, like with the Nelson Platform Bench, that's by design). But the Oslo from Muuto is an exception. Illustrating the brand's typical Scandinavian design language, the Oslo ups the ante by being as cozy as it is beautiful, featuring an upholstered soft seat supported with Nozag springs.
Cassina 057 Civil Bench
Originally designed by Pierre Jeanneret for the Indian city of Chandigarh, where he worked as an architect with his cousin, the legendary designer Le Corbusier, this classic bench features three separated cane seats atop a solid oak frame with inverted "V" legs. It's a timeless and worldly design that has looked great for well over half a century, and that's not going to change any time soon.
Hervet Manufacturier Esprit
If you're looking for a bench that will really turn heads, allow us to point you to this design house founded by Daft Punk's former creative director, Cédric Hervet, and his cousin, Nicolas Hervet. The brand's space age-futurist designs are wholly original and unbelievably striking, and we especially love their bench offering. The Esprit is modeled after the wedge sports cars of the '70s and '80s (like its Lotus namesake), and the French-made model is limited to just 12 pieces, ensuring that it's rarer than most exotic autos whose likeness it shares.
Geology Block Bench
Like the idea of a classic wood bench but craving something a bit more… inventive? Then have a look at this innovative offering from Geology. Handmade in Detroit and featuring a design by Adam Friedman that's backed by a U.S. patent, the Block Bench combines the comfort of an upholstered chair with the durability and cleanliness of wood. Its seat is crafted from individual wooden blocks that compress when sat upon, cradling and supporting the body while also offering up a striking visual. This revolutionary design doesn't come cheap, however, as the Block Bench's price is only available on request.
Outdoor Benches
Take It Outside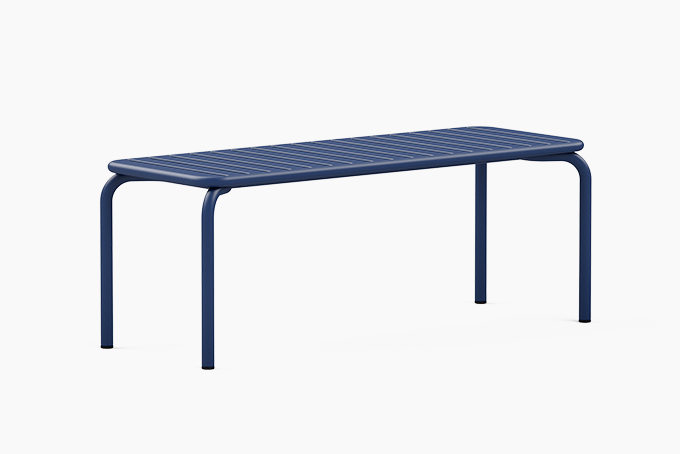 Floyd The Outdoor Bench
At home by a garden, on a porch, or as additional seating at an outdoor dining table, Floyd's aptly named bench is utilitarian and durable while remaining attractive. Crafted from lightweight and sturdy powder-coated aluminum and available in an array of uplifting color options, The Outdoor Bench is a great stylish budget option for anyone who isn't interested in going the designer route for an outdoor bench.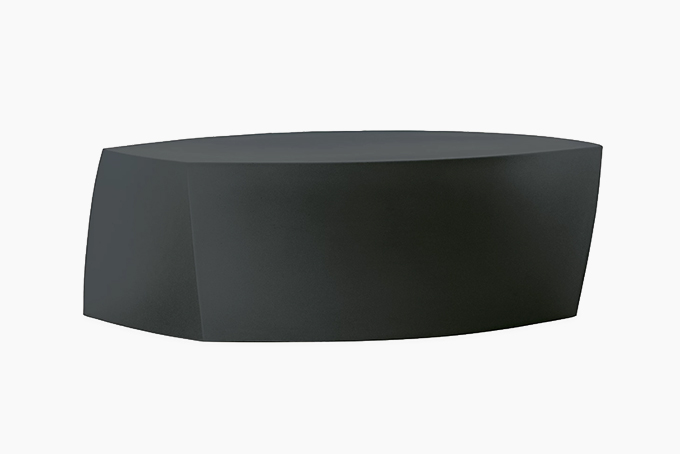 Gehry Bench
Designed by Frank Gehry — arguably the world's greatest living architect, responsible for the likes of L.A.'s Walt Disney Concert Hall and Spain's Guggenheim Museum Bilbao — this bench exudes the designer's trademark post-modernist style. A statement piece that's also one of the more affordable ways to get a legitimate piece of designer furniture into (or outside of) your home, this indoor/outdoor bench is constructed from UV-protected polyethylene, giving it robust protection from the elements.
Magis Folly Bench
Stretching the idea of what a bench can be is this flowing, wave-like design from Ron Arad. Made in Italy from rotational-molded polyethylene, this is technically an indoor/outdoor bench — but given its absolutely massive size (it's close to four feet tall and almost twelve feet wide), you're almost certainly putting this thing outside. The Folly's undulating form invites you to sit in a myriad of ways, with all of them being surprisingly comfortable.
The 12 Best Stylish Recliners For Your Home
Interested in another piece of furniture whose aesthetic qualities are often overlooked? Then head on over to our guide to the best stylish recliners for a dozen chairs that make kicking back look good.