Presented by
Shopping for the stylish guy is always a difficult endeavor. Whether you're looking for a reputable skincare regimen, the most sought-after accessories, and peripherals, or a great-looking shirt that'll fare well in a variety of situations, there are almost too many products to choose from, let alone research.
This holiday season, we're here to help you find the perfect gift for the fashionable man in your family. Below, we've outlined a number of the industry's best style-oriented items, creating a well-rounded list of essential items to accent any guy's tasteful wardrobe. From grooming, hygiene, and accessorization, all the way to wristwear and garments, we're positive that you'll find the perfect peripheral to show your appreciation. And the best part? Everything that we've included here is under $50 — meaning you won't have to worry about breaking the bank as we head into the new year.
The Steel Shop Italian Leather Bracelet
The true difference between a fashionable guy and his less-stylish counterparts lies in accessorization. As such, The Steel Shop's Italian Leather Bracelet is a subtle, but bombastic addition to any man's arsenal, offering a great-looking matte black leather, I.P. steel clasp, and braided silhouette for stacking, layering, or solo wear alongside your favorite outfits.
Blind Barber 90-Proof Pomade
One of the most important facets of a stylish ensemble is your personal grooming practice, and thanks to Blind Barber's 90-Proof Pomade, it's easier than ever to keep your hair healthy and in-line. As one of the company's strongest holds, the 90-Proof boasts a matte finish that looks and feels great, thanks to a paraben-, sulfate-, and dye-free manufacturing process.
Best Made Japanese Cotton & Cordura Socks
With as bad a rap as socks get during the holiday season, it's no surprise that any fashionable guy might cringe at the thought of department store knits. Fortunately, Best Made's Japanese Cotton & Cordura Socks are here to change your mind about seasonal gifting, calling upon a blend of high-quality woven cotton and Cordura nylon to keep your feet protected, comfortable, and warm throughout the day.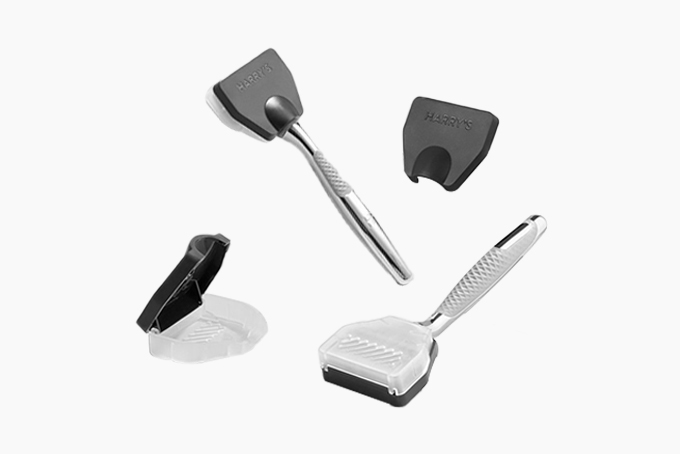 Harry's Winston Shaving Set
No stylish guy should be caught dead without a well-rounded shaving kit, and thanks to Harry's Winston Shaving Set, keeping the perfect selection of high-end grooming essentials within arm's reach has never been easier. Each pack comes with a premium-quality die-cast zinc and polished chrome handle, three German-engineered blade cartridges, a refreshing foaming shave gel, and a compact travel cover for all of your on-the-go needs.
Bradley Mountain Key Fob
Carrying your keys in a conventional way has never been touted as a stylish option. Luckily, Bradley Mountain's Key Fob is here to save the day, thanks to its functional key ring, opening-clasp, and heritage-imbued brass hardware. Each accessory is made by hand in San Diego, California, and comes with a hard-wearing construction, genuine bridle leather, and a generous patina that'll only get better with age.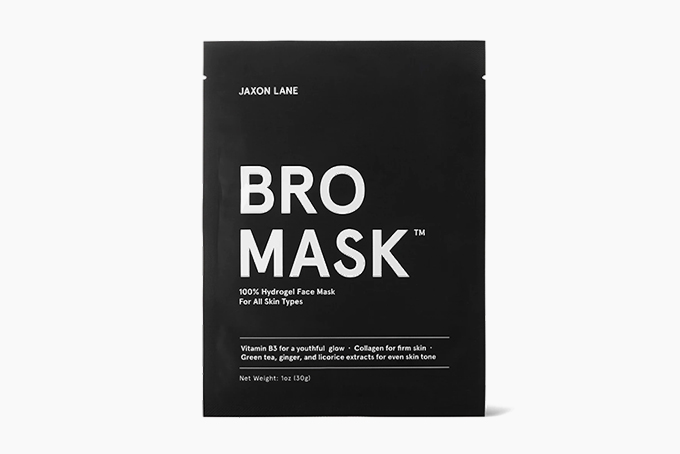 Jaxon Lane Bro Sheet Mask
Jaxon Lane's Bro Sheet Mask has your best interests in mind when it comes to an active skincare regimen. To battle the thicker, oilier, and more acne-prone skin that guys have to endure, this all-encompassing sheet mask is packed with Vitamin B3, plant extract, and Collagen to keep your skin firm and protected, while also hydrating and repairing your body's most important organ. Better yet, each example is free from parabens, sulfates, mineral oils, and dyes, meaning that you'll be nurturing your complexion with trusted ingredients that won't cause damage to your skin.
Ezra Arthur Leather Notebook
There's nothing worse than a stroke of genius that's left unattended. Next time you're inspired with the next big idea, turn to Ezra Arthur's Leather Notebook — a stylish companion that's been built to accompany your most fashionable ensemble. Each hand-stitched notebook boasts a luxurious Horween leather construction, 128 pages of high-quality Tomoe River paper, and an ultra-thin, 52 GSM, acid-free/bleed-resistant orientation that ensures accurate jotting, scribbling, or writing without all of the hassles associated with traditional paper. And once you run out of space, you'll be able to grab refills and have the notebook rebound through the company, helping to cut back on unwarranted waste.
Filson Tree Badge Zippo Lighter
Filson's Tree Badge Zippo Lighter is an attractive offering that's been a staple of every stylish outdoorsman's arsenal for over 80 years. Each heritage-imbued example is crafted right here in the USA and features a reliable flame, steel construction, and graphic that's been tried and tested in the world's most inclement conditions.
The Carhartt WIP Archives
Carhartt's lineage as one of menswear's finest companies wasn't achieved overnight. In the brand's latest book, The Carhartt WIP Archives, you'll be provided with a behind the scenes look at the brand's rise to stardom as one of today's most influential streetwear companies, as well as its early work from almost 40 years ago, telling the story of denim's domestic takeover, and how WIP rebelled against the onslaught.
Timex Southview Watch
Normally, sub $50 wristwear wouldn't fare too well on a list of stylish offerings, but when it comes to the Timex Southview, the company has found a way to strike a subtle balance between premium style and precision craftsmanship, without garnering a gargantuan price tag. Each example is outfitted with an attractive blue dial and luminous hands to complement its silver-tone case and tan leather strap, helping to bridge the gap between stylish accessorization and affordable, reliable function.
Aesop Petitgrain Reviving Body Gel
Aesop's entire catalog of premium skincare offerings was created to keep you looking and feeling your best, while still providing a firm foundation for your body's future health. The company's Petitgrain Reviving Body Gel, for example, provides a plethora of after-sun nutrients, like Petitgrain, Grapefruit, and Lemon to keep your skin cool and taut, while additives like Panthenol and Aloe Vera provide nourishing hydration throughout the day.
Izola Stainless Steel Flask
Sometimes, a sip of your favorite spirit is just what you need to push through. With Izola's Stainless Steel Flask, you'll be able to store your favorite beverage in a compact, form-fitting six-ounce container that doesn't compromise when it comes to durable design. Each handsome example features a leak-proof screw-top closure, a robust, food-safe stainless steel construction, and a canvas sleeve to keep it both stylish, and protected during your daily routine.
Buck Mason Pima Henley
When it comes to style, simplicity is always appreciated. As such, Buck Mason's Pima Henley stays true to the old adage, providing wearers with a sophisticated sports shirt that's both casual and composed. Each example is crafted with a lightweight Pima cotton, a handsome four-button collar, and a confident cut that exudes an aura of fashionable masculinity, without any busy patterns or graphics.
Allsaints Thermal Beanie
Allsaints' Thermal Beanie is more than a head-bound warmer, it's a stylish peripheral that's sure to accent even your most fashionable attire. Unlike many of the other skull caps on the market, this warm offering is made with a visually-appealing ribbed cuff, waffle stitch, and leather patch to give it a stylish, discernable silhouette, while tried and true thermal properties help to keep in heat during the coldest days outside.
Hitch And Timber Flat Jacket Wallet
As minimal as they might seem, wallets are an important accessory in any guy's elaborate wardrobe. If you're looking for a simplistic variant that places an emphasis on classic styling, Hitch and Timber's Flat Jacket Wallet might be just what you seek, thanks to a durable five-ounce American leather construction, slim card, and cash carrier, and a center-stash pocket to keep your important paper protected and secure.
United By Blue Travel Case
You don't have to cut corners on a stylish lifestyle just because you're always on the road. Thanks to United By Blue's capable Travel Case, you'll be able to store all of your most important grooming, skincare, and hygiene essentials in one all-encompassing Dopp kit, courtesy of a perfectly-sized, five-liter volume, and internal/external zippered pockets to keep things organized. Better yet, each example is built from a water-repellant waxed organic cotton and comes complete with vegetable-tanned leather accents and solid brass hardware to keep the case functional — even when the going gets tough.
The 30 Men's Fall Style Essentials
Now that you've got some of those fashionable stocking stuffers out of the way, head over to our guide on the best men's fall style essentials to complete the cozy look.