Mar 2, 2018
Category: Entertainment
Everybody loves a good sports story. Hell, we're willing to put money down that, even if someone you know doesn't like baseball, they can probably spout off a line from the '90s movie, The Sandlot. We think that's because, at their core, sports stories aren't only about the game – they're about humanity. Whether it's triumph against all odds or the story of a fallen icon trying to get back on their feet, these tales are relatable because they're about what makes us what we are.
It probably says a lot that sports are ubiquitous across all forms of media. They're in everything from television shows, to film, to radio, even to video games. And while the visual mediums are likely the most common, there's still something to be said about the printed page. The raw unadulterated details of all the things not shown on screen can still be found in books. Which means there is a multitude of really excellent published works on everything from golf, to boxing, to the Olympics, and so much more. But how does one distinguish the good ones from the bad? Well, that's why we've put together the following list. Whether you're an athlete looking for inspiration or you're just a curious fan, these are the 30 greatest sports books of all time.
Harvey Penick's Little Red Book
By Harvey Penick
Golf is a strange game – one in which those who get it are head over heels in love and those that don't are left wondering what all the fuss is about. If you're a member of the former group, then you're the exact target market for Harvey Penick's Little Red Book. This pocketable tome is one written with an intense admiration for a complicated game and whether you're a novice or a green jacket-wearing pro, this is a must-read.
Fever Pitch
By Nick Hornby
You may remember a middling romantic comedy, called Fever Pitch, starring Drew Barrymore and Jimmy Fallon. If you do, forget it. This book – which is about soccer (football) and not baseball – is the far superior original written by esteemed author Nick Hornby. You may remember him as the writer of comedy film, High Fidelity, but in England, he's a famous soccer writer and massive fan. And that's what makes this book special – it's not about the life of an athlete; it's about the people watching.
Semi Tough
By Dan Jenkins
It's a fairly well-known fact that the sports world has, at times, been riddled with less-than-noble exploits. This fictional tale of a football star documenting his escapades during a cross-country trip to the Super Bowl takes a look at the lascivious side of things, except it does so through rose-colored comedic glasses. Semi Tough is a hilarious, if not a bit politically incorrect, take on the world of football and still serves to drum up laughs to this day.
Moneyball
By Michael Lewis
The Oakland Athletics are not what anyone would call (apart from perhaps a few misguided fanatics) the best team in baseball. And they never have been. But, for a time during the 2002 season, they started inexplicably winning game after game after game. In fact, under the tutelage of their general manager, Billy Beane, they challenged the record for consecutive wins in the American League. How that happened is, perhaps, an even stranger story – one that Michael Lewis tells brilliantly in the pages of this book.
Open: An Autobiography
By Andre Agassi
For two full decades, Andre Agassi was one of the greatest players to ever grace the tennis court. In fact, he won a total of eight Grand Slam titles, was the only man in history to have won GS titles on all three playing surfaces, and even took home Olympic Gold in that time. By all accounts he is an impressive athlete and, with over $60 million raised for charity by his foundation, a good man. Get an insight into what made Agassi one of the greats in this autobiography.
North Dallas Forty
By Peter Gent
If Semi Tough is a look into the lasciviousness of football through rose-colored lenses, then North Dallas Forty is a sobering glance at exactly how messed up the world of professional sports can actually be. It's not all dark and scary, there are a few laughs along the way, but this look at both the violence of football as a sport and the violence stitched into American culture itself might make you consider things a little bit differently – and that's not a bad thing.
Eddie The Eagle: My Story
By E.J. Edwards
Now a major motion picture starring Taron Egerton (from spy film Kingsman) and Hugh Jackman, Eddie the Eagle was an Olympic ski jumper who competed in 1988 for Great Britain. He was an incredible underdog, as he did not come from a sporting background of any kind and completely self-funded his training. Even his equipment didn't properly fit. Still, he made it to the Olympics – where he (spoiler alert!) didn't do very well at all. Still, his story is a touching look at the determination of the human spirit.
Seabiscuit: An American Legend
By Laura Hillenbrand
As proof positive that not all great sporting stories are about humans, Seabiscuit: An American Legend tells the tale of one of the most awe-inspiring underdogs in the history of sports. Once a crooked-leg loser of a horse, through determination, a bit of knowhow, and a whole lot of chance, Seabiscuit was turned into a champion by his owner, trainer, and jockey – the three of which were unlikely winners themselves. Even if you've seen the drama film of the same name, this book is worth a read.
Loose Balls
By Terry Pluto
Founded in 1967, the ABA (American Basketball Association) was created to rival the more-established NBA. As you can probably guess, the ABA lost that fight and was absorbed into the NBA in 1976. Still, the lesser league was hugely influential on what basketball is today – including an emphasis on flashy moves, individual play, and the introduction of the 3-point shot. Loose Balls chronicles the history of that league in all its bizarre, hilarious, wacky glory.
Garnering a rating from Sports Illustrated as one of the 10 best sports books of all time, The Game is one no hockey fan should skip. It helps, too, that it was penned by Ken Dryden, one of the greatest goalies ever to have graced the ice. And if you wanted a look at more than just what happens on the ice, this book also gives the reader an in-depth look at everything between games, too. This isn't just a great hockey book; it's a great book, period.
Eight Men Out
By Eliot Asinof
The 1919 fix of the World Series and the subsequent attempt at a cover-up was one of the most foul blunders in all of sporting history. Still, it makes for a really interesting and entertaining story – especially as reconstructed by author Eliot Asinof. Everything from the event itself to the fallout following is examined in intense and harrowing detail worthy of a motion picture – which probably explains why they turned it into a movie in the '80s.
Ben Hogan's Five Lessons
By Ben Hogan
Beh Hogan was one of the greatest golfers ever to get on the green. He was also a massive perfectionist – never quite satisfied with his skills as a player. And that makes his insights in this book incredibly valuable, not just for people who enjoy a good 18-holes every now and again, but for anyone looking to improve themselves in anything they do. Of course, if you are just looking to better your golf game, this book is loaded with valuable information.
The Blind Side
By Michael Lewis
There's a pretty good chance many of you have seen the film version of this book based on the life of Michael Oher. As it turns out, Oher wasn't too happy with the way he was portrayed in the film. The book, however, is a much longer and – arguably – better story. Penned by Michael Lewis (yes, the same Michael Lewis that wrote Moneyball), this in-depth look at the life of a football player, college recruiting, and the NFL itself makes for an excellent and informative read.
Summerland
By Michael Chabon
Perhaps best known for his pulitzer prize-winning fictional book, The Amazing Adventures of Kavalier & Klay, or his NYT bestseller, The Yiddish Policeman's Union, Michael Chabon brilliantly intertwines this coming-of-age story with fantasy and folklore – and he ties the whole thing together with America's pastime: baseball. This is certainly one of the more esoteric books on our list, but it is certainly a well-written one and doesn't skimp on the sport it's so heavily wrapped around.
The Boys of Summer
By Roger Kahn
In similar fashion to Nick Hornby's Fever Pitch, The Boys of Summer by Roger Kahn isn't so much a book about sports, as it is about growing up around them. This one tells the tale of a boy who came of age near Ebbets Field – home of the Brooklyn Dodgers – to become a bonafide sports writer (yes, it's about Kahn, himself). It's also about the rise of the Dodgers, their breaking of the color barrier with Jackie Robinson, and all the greats that played for the team in that time.
Life on the Run
By Bill Bradley
United States senator Bill Bradley didn't start off his life in politics. In fact, for a long while, he wanted to be a professional basketball player. He even made it onto the New York Knicks – for a grand total of 20 days. And while that might not seem like enough time to turn his story into a book, the richness of the details, the intelligence of the writing, and the strange dichotomy of life as a professional athlete is more than enough to fill the pages without getting even remotely boring.
Shoeless Joe
By W.P. Kinsella
There are a lot of stories that show just how powerful sports can be as a method for bringing people together. None, however, are perhaps as powerful as Shoeless Joe. Adapted into the hugely popular dramatic film, Field of Dreams, Shoeless Joe is a tale of American values, the bond between father and son, and what it means to come home. If you don't mind a bit of a tear-jerker, this fantasy fiction is an excellent read.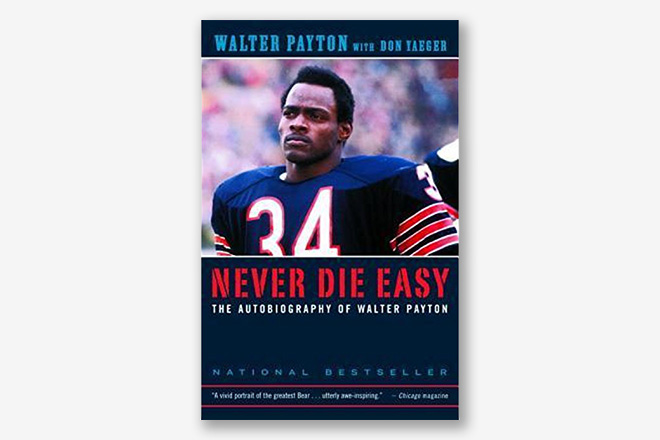 Never Die Easy
By Walter Payton
Walter Payton may go down in the history books as the greatest running back to ever play the sport of football. And this autobiography gives some really great insights as to what made him so good – from his sheer force of will, to his dedication, and to his natural physical prowess. What started, for him, as a way to pick up girls matured into a passionate and incredible career, the likes of which we may never see again – on or off the field.
Babe: The Legend Comes To Life
By Robert W. Creamer
Babe Ruth is undoubtedly the most famous player to have ever graced the diamond. But, for most folks, his swing-big-or-go-home playing style is about all they know of the man. In actuality, he was a far more complicated person than his larger-than-life persona makes him out to be, both good and bad. This book by Robert W. Creamer does an excellent job of deconstructing the legend and showing us what Babe Ruth was really like as a person and not just a figurehead of United States culture.
A Great and Glorious Game
By A. Bartlett Giammati
To most younger folks, Paul Giamatti is a well-known actor. But, to an older crowd and sports fans, he's the son of the late and great A. Bartlett Giamatti, former MLB commissioner and president of Yale university. Sadly, his tenure as commissioner only lasted five months, as he suffered a heart attack that ended his life. Before that, however, he was an outspoken and active powerhouse in the world of baseball – including having negotiated a deal banning Pete Rose from the sport for his gambling addiction. He also wrote extensively on baseball, and those writing are collected in this book.
Paper Lion
By George Plimpton
George Plimpton is an interesting writer, to be certain; more for his methods than anything else. What we mean is, he didn't simply write about sports – he embroiled himself in them. Take Paper Lion, for instance. To write this hilarious tome, Plimpton actually took part in the Detroit Lions training camp, talking himself into a position as third-string quarterback for the team. It's worth noting that, in no way, is Plimpton to be considered an athlete, and so this book does a marvelous job of showing just how absurd it is for an everyman to think he can play amongst the elite of any sport.
King of the World
By David Remnick
What Babe Ruth was to baseball, Muhammed Ali (formerly Cassius Clay) was to boxing. But, like Ruth, the larger-than-life Ali was also only human, as illustrated in this book about his life. From his youth spent in the gyms of Louisville, Kentucky to his astronomical rise to the top of the boxing world, this tale shows that his life wasn't all floating and stinging, but rather a much richer tapestry of who Ali was as a man, what he meant to the sport of boxing, and how he impacted the culture of the world as a whole.
The Mechanic's Tale
By Steve Matchett
If you watch most car movies about the sport of racing, you'll notice that they focus heavily on the drivers. But, if you want a real human insight into the world of racing, you're probably better off talking not to the celebrities, but to the people that make up the pit crews. And that's exactly what Steve Matchett's book has to offer. This former racing mechanic tells the story of racing not from the heroes' or the fans' point of view, but rather as an intrinsically involved observer. This may be the best book about car racing ever penned.
Iceman: My Fighting Life
By Chuck Liddell
When most folks think of Chuck Liddell, they likely imagine a mean-looking man who got paid to punch people in the face for a living. And that's accurate, from a generalized standpoint. But, the former face of the sport of MMA is a much more multi-faceted character than for which he is given credit. For instance, Liddell attended CAL Poly for accounting before he ever stepped into the octagon. He's also pretty well spoken, as evidenced by the writing in this book. Neither too jumbled with jargon nor too casual, this intimate look into the life of a mixed martial arts star is one worth reading.
String Theory
By David Foster Wallace
If you've ever heard of David Foster Wallace, it's probably because of his books Infinite Jest or Brief Interviews With Hideous Men. You may also know that he tragically took his own life at the age of 46. What you may not know, however, is that he was absolutely obsessed with tennis – to the point at which he wrote on it extensively enough to craft and curate this collection of four long-form essays on the sport. And it is masterfully penned.
You Know Me Al
By Ring Lardner
Once published as a series of nationally syndicated comic strips, this curious fiction is told through the perspective of a self-absorbed, gullible, headstrong, uneducated rube named Jack Keefe writing practically illiterate letters to his friend Al back home as he gets accepted into the big leagues as a pitcher for the Chicago White Socks. While baseball, in this book, is more of a vehicle than the point of the story, this is still widely believed to be one of the best sports books of all time.
The Secret Race
By Tyler Hamilton & Daniel Coyle
For a long time, the Tour De France was the most prestigious event in cycling to the point that just about no other race really mattered to the general public. And while it was initially a boon for the sport, everything changed when it was revealed that the sport's golden boy, Lance Armstrong, had been using performance enhancing drugs. This book illuminates the true depths of that scandal, as well as the impact illegal drug use has played across the entirety of cycling as activity.
Heaven is a Playground
By Rick Telander
For two summers, photojournalist Rick Telander spent his time at Foster Park in the Flatbush district of Brooklyn, New York. While there, he embroiled himself in the world of urban basketball, going so far as to actually sleep on the floor of the apartment of a park regular and, eventually, actually coach a group of ragtag teenagers on the sport. This true tale of a distinctly American phenomenon is simultaneously heartwarming and heartbreaking, but serves well to illustrate why our culture is so obsessed with sports.
The Fight
By Normal Mailer
In 1974, Muhammed Ali and George Forman faced off in the World Heavyweight Championship of boxing. Known as "The Rumble in the Jungle," this fight in Zaire, Africa would go down as one of the greatest sporting events of all time. And it was covered in excruciating detail by Norman Mailer – the brilliant novelist-turned-journalist behind works such as The Executioner's Song, The Armies of the Night, and more. The author's unique and literary style of non-fiction storytelling perfectly encapsulates the pageantry and larger-than-life atmosphere surrounding the event. Fans of boxing and excellent storytelling should certainly read this one.
The Cubs Way
By Tom Verducci
It took 107 years for the Cubs to end their drought in Game 7 of the World Series. And the shattering of the curse didn't happen by chance. It took a lot of hard work both from the members of the team and the support staff surrounding them. This book chronicles the journey of Theo Epstein and Joe Maddon as they put together, led, and inspired the team to the greatness necessary to end the longest championship drought in the history of sports.
Best Gifts For The Sports Lover
Whether you're shopping for yourself or you've got a hardcore fanatic in your life, you'll be able to find something worth picking up on our list of the best gifts for the sports lover.
HiConsumption is reader-supported. When you buy through links on our site, we may earn an affiliate commission. Learn more