Modern TVs and displays have experienced enormous technological leaps in recent years, with leading tech outfits routinely pushing the envelope in terms of picture quality, clarity, and contrast, all while producing these screens in increasingly thin and compact packages. Unfortunately, audio quality has largely taken a back seat to picture quality, and as TVs continue to get thinner and bezel size shrinks, manufacturers have less and less physical room in a TV's housing to accommodate drivers, amplifiers, and other key audio components. In an effort to offer immersive audio that's on par with contemporary screen's cutting-edge quality, various companies have developed soundbars.
Markedly easier to set up and typically considerably more affordable than traditional multi-speaker surround sound systems, soundbars deliver rich and robust sound from an all-in-one unit, punching well above their weight considering their size. What's more, a slew of today's latest and greatest soundbars are able to accurately recreate the auditory experience of a multi-channel speaker configuration through the use of some innovative and fairly groundbreaking technologies. Below, we'll be counting down our picks for the best soundbars currently on the market, as well as delving into what to consider when shopping around for a new soundbar.
Single-Piece Surround Systems
What Exactly Is A Soundbar?
More than just rectangular-shaped speakers, soundbars are almost always comprised of long, horizontal housings that have been outfitted with a number of drivers, tweeters, and woofers. These incredibly-calculated systems manage to offer audio quality that's far superior to speakers that come built-into televisions sets. In addition to projecting stellar sound, soundbars also feature sleek industrial designs that are penned specifically to pair flawlessly with existing flat screens, almost always sitting or being mounted just below the bottom of the display.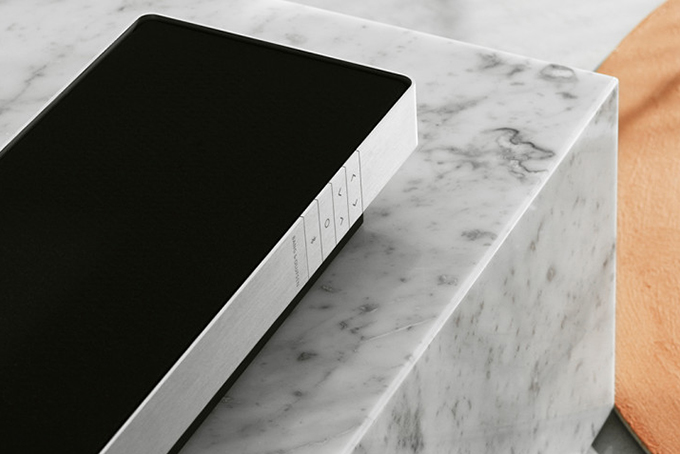 Auditory Upgrades
What To Consider When Shopping For A Soundbar
While there are dozens of specs and metrics that ultimately determine the overall quality of a soundbar, there are a handful of traits that trump all others in regards to importance. Without going too far into the weeds, below we'll touch on each of those elements to help you wrap your head around which soundbar is right for you.
Transducers: There are components such as onboard amplifiers that do have a hand in a soundbar's overall audio quality, though more than anything else, this area ultimately boils down to a soundbar's transducers. Because sound comes directly from a system's transducers, the size, wattage, type, technologies and materials used, and the number of woofers, drivers, and tweeters used arguably play the most pivotal role in a soundbar's acoustics and audio quality.
Audio Technology: Though a soundbar's transducers are extremely important, their sound can be taken to new heights–quite literally—through the implementation of immersive sound tech, one of the latest and most popular of which is Dolby Atmos. Originally utilized in movie theaters before finding its way into home theater systems, Atmos uses what are called "height channels" (upward-firing drivers) to create a more dynamic listening experience in which sound reaches the listener from all directions. With their limited and fixed speaker setup, soundbars hugely benefit from the use of technologies like Dolby Atmos—though there are also competing systems like Sony 360 Reality Audio and DTS:X.
Connectivity: The vast majority of today's soundbars are wired to TV's via HDMI cables, though in recent times it's becoming increasingly commonplace to see the more premium models on the market receive WiFi and Bluetooth connectivity, allowing soundbars to connect to and be controlled through apps on smartphones or tablets.
Onboard Devices: In addition to connectivity to smartphones, a great many soundbars now come straight from the factory loaded up with apps and streaming services, not unlike a modern smart TV. What's more, virtual assistants like Amazon's Alexa have also be appearing on soundbars, as have apps like Apple AirPlay 2 and Spotify Connect—the latter two of which can be used to stream Hi-Fi music on several premium soundbars.
Supplementary Speakers: The whole concept behind a soundbar is to deliver a rich immersive listening experience in a compact, user-friendly package. Unfortunately, the somewhat limited size of soundbars can make achieving deep bass and lower frequencies incredibly difficult, which is why some soundbar models come paired with included freestanding subwoofers. There are also soundbars that can be upgraded via optional extra speakers or subs, though it is worth noting that several of the most high-end soundbars are capable of delivering wildly impressive bass all by themselves.
Size: In theory, you can pair any soundbar with any TV, though setting up a massive soundbar next to a small TV (or vis versa) looks incredibly awkward. Most people prefer their soundbar's width to be within a few inches of their TV's width. Knowing this, many retailers even divide soundbars up by size, making it ridiculously easy to find an appropriately-sized soundbar relative to your TV's dimensions.
Price: The reality is that you don't have to spend a fortune to acquire a genuinely capable soundbar, as there are plenty of models that offer excellent sound for only a few hundred dollars. The more premium, top-shelf units do admittedly afford superior sound than their more affordably-priced counterparts, though you'll typically be shelling out a lot of extra money for what isn't all that noticeable of a difference, at least to the average listener. You can also always considering going back and supplementing your soundbar with a subwoofer or some extra speaker channels.
Aesthetic Design: For the first few years that soundbars were on the market, the lion's share of models looked extremely similar, consisting of black or dark gray rectangular boxes. In a bid to distinguish their offerings from those of competitors, several of the more top-shelf units have been treated to unique and striking aesthetic designs, with today's more elite end of the market boasting everything from geometric-themed units to wood and fabric-clad soundbars with an unmistakably Scandinavian industrial design.
Brand: Even the most detailed spec sheet can only really tell you so much about a soundbar's audio quality, and when purchasing online, you don't have the option to actually hear a particular model until you've bought it and it's arrived at your home. One fairly surefire way to get around this issue and ensure you're getting a fantastic-sounding soundbar is to go with a brand with a proven reputation and track record for producing top-notch offerings. Going this route does usually come at a steeper price, though you can rest assured knowing you're getting one of the best sounding systems money can buy.
VIZIO 5.1.2-Channel Soundbar System
VIZIO's 5.1.2-channel soundbar system offers an immersive listening experience with decent audio quality, all at an astonishingly fair price. The system consists of a main multi-channel soundbar that comes paired with a 6" Bluetooth-enabled wireless subwoofer, as well as an additional pair of rear-placement upward-firing speakers, affording the system Dolby Atmos compatibility. This soundbar system also links to the VIZIO SmartCast Mobile app, plus it's compatible with Google Assistant and can stream music from a smartphone via any Chromecast-enabled audio apps such as Spotify, iHeartRadio, or Pandora.
Yamaha YAS-209
Dollar for dollar, the Yamaha YAS-209 very well may offer the best bang for your buck out of any soundbar currently on the market. Utilizing DTS Virtual:X virtual surround 3D surround sound technology, the Japanese brand has bestowed the YAS-209 with a pair of 1" dome tweeters and four 1.75" drivers that are helped along via a 100w Bluetooth-connected wireless 16" x 16" x 7.5" subwoofer with a 6.5" cone. The integration of Amazon's Alexa allows the device to be controlled through voice commands, and, aside from the exception of multi-room music and a few streaming apps, the YAS-209 can perform all the same functions as an Amazon Echo.
Klipsch Cinema 600
Though it costs a bit more and it lacks some of the app and Wifi-Connectivity of the first two models, the Klipsch Cinema 600 offers a major step up in sound quality. Part of the American audio outfits horn-loaded Cinema Series range, the 600 model achieves unmistakable true high-fidelity sound thanks to three linear travel suspension tweeters and quad fiber cone composite woofers providing crisp and clear mid and high frequencies while deep booming bass comes from a massive class-leading wireless Bluetooth subwoofer with a 10" cone. The main soundbar's drivers not only enormously benefit from the use of proprietary 90° X 90° Tractrix Horn technology, but, like the subwoofer, is also encased in a housing made from genuine wood finished with a black stain.
SONOS Arc
Harnessing Dolby Atmos virtual surround sound technology and sporting several upward-firing transducers, this decidedly premium speaker uses eleven high-performance drivers that have been expertly tuned by Oscar-winning sound engineers, and as such offers absolutely stellar sound. Capable of being controlled through an app, an included remote, Apple AirPlay 2, or via voice commands, the Arc features built-in Google Assistant and/or Amazon Alexa, turning the soundbar into a smart assistant. The Tuneplay feature allows the device to scan a room's acoustics to automatically adjust and optimize EQ levels. For an additional $700 (or $600 when purchased with the soundbar), SONOS also sells a matching wirelessly-connected subwoofer with two Class-D amplifiers, inward-facing force-canceling drivers, dual acoustic ports, and a frequency response of as low as 25Hz.
Bose Soundbar 700
The Bose Soundbar 700 is another premium device that achieves superb sound, though it accomplishes this by implementing some interesting proprietary technology. Ultra-dynamic sound is made possible by PhaseGuide technology enabling a myriad of tiny drivers to relay beams of multi-directional sound, and despite the diminutive size of the transducers, the soundbar's recessed ports are fitted with a resistant screen to mitigate noise while simultaneously forcing more sound through a smaller opening, thereby hugely reducing low-end distortion. Furthermore, ADAPTiQ audio calibration system detects the speaker's surroundings and acoustics to automatically adjust the EQ upon setup, while Wi-Fi, Bluetooth, and Apple AirPlay 2-connectivity allow you to stream just about any music streaming service or app in existence.
Harmon Kardon Enchant 1300
An elite, do-it-all soundbar that's perfect for everything from movies to music to gaming, the Enchant 1300 boasts a 13-channel setup with 10 2" subs, a pair of 1" drivers, and a 0.75" tweeter. What makes this soundbar shines, however, is its onboard technology, including a proprietary automatic audio calibration and H/K's MultiBeam technology which allows the lone soundbar to mimic the auditory experience of a multi-speaker surround sound home theater system and afford a 70Hz to 20kHz frequency response. Partially adorned in a multi-knit textile cover, the Enchant 1300 also features a built-in Google Chromecast. Lastly, there's also an optional $800 matching Enchant Subwoofer to take the soundbar's audio quality to the next level.
Yamaha YSP-5600
More than just a soundbar, Yamaha's YSP-5600 is a full-on digital sound projector, with an absolutely unparalleled 32 1.5" beam drivers, a dozen tweeters, and two generously-sized 4.5" self-contained woofers, all coming together to generate what can only be described as theatre-grade sound. Weighing in at more than 25 lbs, the 7.1.2-channel YSP-5600 supports both Dolby Atmos and DTS:X, and comes from the factory with a trio of preset TV audio moves, three music modes, and four movie-watching modes. At 43.25" x 8.375" x 3.625", it's definitely a bit larger than most other modern soundbars on the market, though it more than makes up for its ample size with its game-changing audio experience.
Bang & Olufsen Beosound Stage
Combining truly world-class sound with sleek, award-winning Scandinavian design language, Bang & Olufsen's Beosound Stage Soundbar was engineered from the ground up to offer the booming bass and 3D surround experience of a multi-speaker home theater system, in a compact and thoroughly modern package. Designed by NORM Architects, the Beosound Stage is produced in four color options, with housings made from bare or bronze-tone aluminum, and smoked oak wood, adorned in one of several KVADRAT-made fabrics. Inside hides four 50w bass driver amps, 4 50w full range amps, and a trio of 50w amplifiers for the tweeters powering 4.4" woofers, 4.15" mid-range drivers, and 3.75" tweeters. The Swedish three-channel soundbar is also equipped with Dolby Atmos tech, Apple AirPlay 2 and Bluetooth-Connectivity, and a built-in Chromecast for quick-access to video streaming services.
Bowers & Wilkins Formation Bar
One of the most respected names in the high-fidelity sound realm, Bowers & Wilkins produces unequivocally stellar speakers and hardware, and the British brand's Formation Soundbar manages to deliver B&W's signature top-notch sound in a uniquely styled and compact unit. Sound comes from nine highly-optimized drivers and the integration of WiFi, Apple AirPlay 2, Spotify Connect, Roon, and Bluetooth compatibility, not only allows the soundbar to stream music, but it can do so with an astounding 96/24 bit audio resolution. The Formation Bar's idiosyncratic "rolling geometric" industrial design also adds a dose of style to any living home or bedroom.
Sennheiser AMBEO
If price is no object and you simply want the very best-sounding soundbar that money can buy, then let us introduce you to Sennheiser's absolutely bonkers AMBEO model. While a slew of other entries on this list offers genuinely impressive surround-sound replication, the AMBEO's combination of Dolby Atmos (or DTS:X) and Upmix technology collectively cranks this ability up several notches to, what from the listener's perspective, seems like a physics-defying extent. Good for a 30Hz to 20kHz frequency response, the German brand's latest system's cutting-edge sound technology is beamed through a baker's dozen transducers comprised of six 4" cellulose sandwich cone long-throw woofers, a pair of 3.5" top-firing full-range drivers, and five 1" aluminum dome tweeters—all of which are automatically calibrated and optimized for sound relative to the soundbar's environment.
The 12 Best Floor Standing Tower Speakers
Interested in more booming, robust sound that simply can't be achieved through even the most cutting edge soundbar? Then our guide to the best tower speakers has got you covered with a dozen of today's finest floor standing speaker units.