The acquisition of one's first home, apartment, or living space acts as a defining moment in the journey of life, bringing with it the promise of new memories, new opportunities, and a new outlook on your surroundings. Alongside the "change of pace" that you often associate with your next big move, the procurement of furnishings, instruments, and appliances often comes as an afterthought — but one thing's for certain, a well-designed interior can transition a dwelling from a drab, disgruntled experience into an emotionally-defining nook in a heartbeat — giving you the perfect place to retreat to after a long day.
As the centerpiece of your home's primary living area, the sofa has served one, historically-driven purpose for as long as it's been around: providing the perfect comfortable surface for socialization, reading, and reminisce. Undeniably, it's often the most-used piece of furniture in the abode, and as such, it deserves a little more attention than the rest of your interior adornments. That being said, we've decided to compile a list of our favorite quintessential sofas, covering everything from the traditional loveseat, all the way to the expansive sectional. We understand that the search for the perfect couch might be daunting, but at the end of the day, you'll thank yourself for establishing the biggest piece of your interior design endeavor — so sit back, relax (on whatever makeshift article of furniture you're currently using), and let's discuss some of the industry's finest offerings.
Target Cologne Tufted Track Arm Sofa
Target might not be the first name you think of when it comes to contemporary furniture, but in recent years, the retailer has made calculated strides to break into the world of interior design. The Cologne Tufted Track Arm Sofa is a perfect representation of the company's commitment to providing consumers with well-crafted adornments, sporting a sophisticated look that's accentuated by gray linen and velvet-like blue upholstery. The Tufted Track gives a reassuring nod toward the age-old style of the classic Chesterfield design, providing distinguished detailing on the seat, back, and arms of the couch, succeeding in bringing timeless design principles into the modern-day home. This exceptionally-built sofa boasts tasteful brass (or black metal) legs and comfortably seats up to four people.
IKEA Landskrona
IKEA has become something of a household name over the past decade, bringing its affinity for modular (and affordable) Swedish furniture to the North American market. While the company has become one of the premier furniture retailers the world over, their consumer-oriented practices haven't changed — something that the Landskrona sofa illustrates perfectly. The contemporary offering boasts a simplified look that bridges the gap between modern and classic design, allowing for a non-invasive seating area that complements the look of your home, without becoming an eye-catching centerpiece. A soft finish, supporting seat cushions, and removable armrests make the adaptable piece of furniture a do-all-be-all solution for smaller living areas, while still providing an immaculate centerpiece for a larger collection.
Article Sven Birch Ivory Sofa
Article is a one-stop-shop for everything home related — whether you're looking for furnishings, storage, or outdoor decor. But don't let the number of the company's offerings fool you; each piece is still crafted with care, including the most popular sofa in its catalog, the Sven Birch Ivory. The Sven pulls its design inspiration from mid-century classics, adapting them into a modern-day offering that boasts comfortable back cushions, a tufted bench seat, and an angular presence. A durable, blocked wooden frame ensures that you won't have to worry about the sofa following a minor mishap (or two), while high-density foam, polyester filling, and Pirelli webbing provide even more deterrents to traditional wear and tear. If you're looking for a piece of long-lasting, aesthetically-pleasing furniture that won't break the bank, the Sven Birch Ivory Sofa is probably right up your alley.
Burrow Original Sofa
Burrow provides an expansive catalog of all-encompassing furniture, but amidst their top-of-the-line offerings, the company's aptly (and ironically) named Original Sofa stands out like a sore thumb. The established living-area accessory boasts the same classic design that "you know and love," while integrating subtle hints of modern-day influence to make it a surefire winner. It comes in a number of handsome colorways, providing the perfect contrast no matter your home's orientation. Better yet, the sofa comes complete with reversible cushions, a reversible chaise, scratch- and stain-resistant fabrics, and even a built-in USB charger for all the technophiles out there. In the spirit of socialization, the furniture can comfortably seat up to three people, with tufted (or solid) cushions, depending on your preference.
West Elm Carlo Mid-Century 2-Piece Chaise
West Elm has come a long way since their introduction to the furniture space in 2001, and with the company's comfortable Mid-Century 2-Piece Chaise arriving as a product of their extensive knowledge, it goes without saying that the adaptable living-room adornment is a tried-and-true value. The "Carlo" boasts an exceedingly powerful silhouette, bringing an expressive profile to any room in the home. It references some of the best attributes of mid-century Italian design, including a pitched backrest, ultra-soft cushions, and angled arms, while keeping things minimal in the process. Solid pine and engineered hardwood join together to create the 2-Piece's durable frame, while cast-metal legs, webbed seat (and back) support, and fiber-wrapped seat cushions provide exemplary resistances against common inhibitors. With a classic design that's sure to please, the Carlo is a safe bet for any socialization-oriented area in the home.
Industry West Loom Modular Sofa
Industry West is known for its unique take on modern-day furniture, and the company's Loom Modular Sofa looks like it was built with a fashionable New York flat in mind. Crafted from the most durable fabrics and upholstery, this transitionary piece of furniture is actually comprised of a number of adaptive pieces, allowing you to mix, match, and augment the sofa any way you see fit. Depending on your living situation, the Loom can add or subtract various pieces from its overall set, including corners, mids, and ottomans — leaving the constant worry of unexpandable furniture "at the door." In fact, Industry West's modular sofa promotes the idea of change, allowing denizens to purchase separate pieces in order to outfit their home as they transition into different stages of life.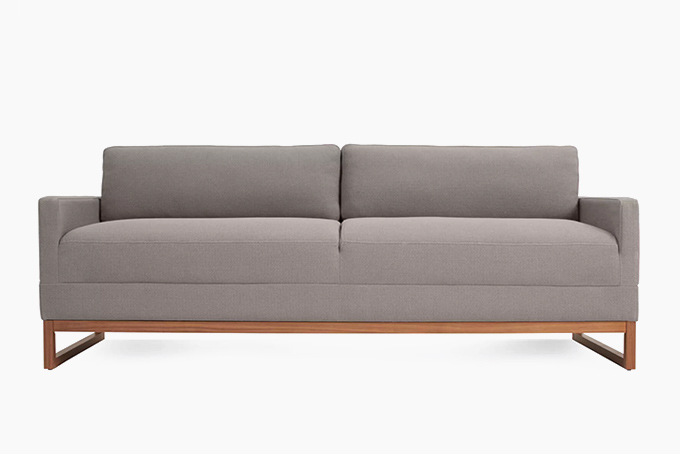 BluDot Diplomat Sleeper Sofa
BluDot's Diplomat Sleeper Sofa might look like a traditionally manufactured piece of furniture, but it's actually a double agent, transitioning from a comfortably inviting sofa that can seat up to four people into a queen-size mattress area on a whim. This dual-purpose adornment isn't just a Rennaissance man, however — it also boasts an ultra-durable plywood (and hardwood) frame, plain-sliced walnut veneer, and an expansive 80-inch resting surface. To keep in line with the company's commitment to durable construction, both the Diplomat's styles (Condit Dusk and Packwood Charcoal) are curated using hard-wearing polyester fabric — with the latter introducing a unique linen basket weave. For those who are looking to appease their need for a piece of dual-purpose furniture, look no further — you've just found the most tasteful sleeper sofa around.
Joybird Liam Leather Sofa
Joybird is a proprietor of some of the finest furniture to ever grace the industry, and the company's most recent introduction to the luxurious home accessory space, the Liam Leather Sofa, has served to propel the brand into the spotlight once more. The Liam is an exercise in lavish furnishings, bringing a diamond-tufted Chesterfield style sofa to market alongside the promise of buttery-soft leather that exudes fashionable taste. Constructed atop a Kiln-dried hardwood frame that's been made using responsibly-sourced products, this aesthetically-pleasing staple brings 2.8-pound high-density polyurethane foam and poly webbing into the mix, providing durable resistances that will keep your sofa looking (and feeling) great for years to come. Better yet, Joybird guarantees the quality and comfort of their products, giving you peace-of-mind when purchasing the next big centerpiece for your primary living area.
CB2 Forte Channeled Saddle Leather Sofa
CB2's Forte Channeled Saddle Leather Sofa (designed by Mermelada Estudio) is the ultimate exercise in fashionable originality, bringing an alternative style, construction, and design to the forefront of modern-day furniture. While the Forte might look like an interesting take on the classic styles of old, the implementation of high-quality channeled saddle leather, a deep orientation, and dark walnut stain bring this aesthetically-pleasing sofa into the realm of the upscale. Drawing upon some of Italy's finest modern principles, the sofa's 100% buffalo aniline-dyed leather, wood frame, and firm characteristics provide the perfect foundation for placement in a classier home — bringing a taste of high-end luxury to the table for prospective buyers.
TRNK Angle Sofa
TRNK has a rich history in practical design, and while the company has set out to refine its elegant taste through standout furniture pieces like the Angle Sofa, it's safe to say that "sticking to the template" has certainly worked in their favor. Simplicity is the name of the game when it comes to TRNK's latest offering, which boasts a clean, concise orientation that references the minimalist nature of American design principles. A pitched and padded back, varying lengths, and a durable, CAD-developed hardwood frame provide a perfect basis for the Angle Sofa, complementing its own down-wrapped features with angular cushions and a contract-grade sinuous spring system that doesn't detract from the furniture's overall image. Thanks to its conscious design, the Angle is perfect for space-saving denizens who are looking for an attractive solution to their living room woes, without all of the hassle associated with larger variants. Better yet, the TRNK Angle is available with performance fabrics that provide adequate protection against stains and scuffs, and is expertly crafted in the USA on a made-to-order basis.
Restoration Hardware Cloud Two-Seat Sofa
Restoration Hardware is all about configuration, and with their adaptable Cloud Two-Seat Sofa, you'll never have to worry about finding the perfect fit, orientation, or size. Boasting an extensive selection of depths, lengths, fills, and fabrics, the Cloud fulfills many of the needs set forth by the contemporary home, bringing modernist design and laidback styling to the forefront. Harkening back to the most famous designs of the mid-20th century, this two-seat sofa utilizes a Kiln-dried hardwood frame, durable corner-blocked joinery, all-feather fill (or feather-wrapped core fill) cushions, and a slipcovered exterior for protection against liquids, stains, and any other unsavory inhibitors. The tasteful furnishing provides top-of-the-line comfort, style, and poise, without looking overly-produced — allowing consumers to spend more time relaxing and less time worrying about when and where the sofa will look best.
Modernica Papa Bear Loveseat
If you've been paying attention to the long-winded history of furniture design, you'll immediately recognize the Papa Bear Loveseat as a classic offering that's established itself against the test of time. Modernica's own example doesn't disappoint, boasting a comfortable, high-backed furnishing that's earned its name as the rightful king of two-person seating. Crafted with exceptional quality in mind, the Papa Bear utilizes a durable North American walnut wood frame, traditional construction methods, and over 45 differing fabric choices — giving you the pick of the litter when it comes to creating the perfect ambiance in your most adored living areas.
Design Within Reach Outline Sofa
Design Within Reach (or DWR) has spent the last two decades refining their tasteful furniture catalog, bringing a number of modern-day classics, designs, and variants to the table. The company's Outline Sofa serves to add to that all-encompassing list, bringing a high-quality steel and hardwood frame, cold-cured molded foam cushions, and Prescott full-grain, semi-aniline leather upholstery into the mix. Designed as part of Torbjørn Anderssen and Espen Voll's Outline Collection, the aptly named sofa brings a breath of fresh air to its surrounding environment, "changing the way that you perceive the world around you" through the use of elegant linework, slim pillars, and an angular silhouette. This simplistic design is another runaway-hit that's sure to accentuate any socialization area with ease.
Herman Miller Goetz Sofa
Herman Miller is a household name when it comes to well-designed furniture, especially if you have any sort of connection to the history of design, overall. Even with various iconic furnishings to the company's name, the Goetz Sofa is in a league of its own, boasting an impeccably-crafted wood shell that's been molded from the finest materials, creating a dramatic profile, and adding to its conceptual vision as a functional centerpiece. The sofa's wooden veneer shell acts as the perfect foundation for its padding and upholstery, exuding a crisp, clean design orientation, as well as providing ergonomic support for the user.
Purchase: $8,950
Herman Miller Eames Sofa
The last entry on our list comes, again, from the classically established vaults of Herman Miller. Built for the company by the famous design-duo, Charles and Ray Eames, the aptly named Eames Sofa harkens back to the original 1967 design, utilizing the same polished aluminum, leather, and wood construction that made it popular in its heyday. Suited perfectly for the high-class home or office, the Eames Sofa capitalizes on its solid wood frame and back panels (which have been hand-finished with gunstock oil) to house plush foam cushions upholstered in the finest leather. Premium webbing and nylon attributes add to the sofa's hard-wearing silhouette — a testament to the late Charles Eames and the Eames Office — as the last piece to ever be released by the design studio.
Purchase: $13,600
30 Best Online Furniture Shops
If you're still looking for tasteful furniture to outfit your living space, head over to our guide on the best online furniture shops for even more accessible, design-oriented inspiration.