Now more than ever before, it's important that we stay on top of our personal hygiene. For starters, it looks like we'll be living in our "new normal" for some time to come. To make matters worse, we're heading into prime sick season — a gauntlet of germ activity under normal circumstances, and one that could end up being especially trying this year. And while most of us have become certifiable experts in all things handwashing, disinfectants, and face masks, there's one item that often goes overlooked: our smartphones.
And they shouldn't. After all, a chain is only as strong as its weakest link, so even if you're using hand sanitizer almost religiously, you're undoing all of your hard work with one swipe of your screen. Smartphones are nasty little devices, becoming a dumping ground for the dirt and grime that we pick up on our hands throughout the day. And as soon as you touch your face, scratch that itch, or pick up your food, it all gets transferred along with it. But with so much misinformation to sift through, it can make for a real headache come time to find the best smartphone sanitizer. Instead of trying to weed out the noise from the real news, read on to see our picks for the best smartphone sanitizers.
How Do Smartphone Sanitizers Work?
Harnessing The Power Of Light
As early as the 1870s, ultraviolet (UV) light was recognized for its bacteria-killing properties. However, it was only upon Niels Finsen's discovery that it was effective against tuberculosis that it began to see implementation in healthcare applications. In the years following, light therapy garnered widespread support, becoming one of the primary methods of disease prevention. And while UV light therapy has since been replaced by antibiotics for human treatment, it remains one of the best options when it comes to germ-proofing our devices.
Ultraviolet light is actually composed of several types of light of varying wavelengths. However, it's the high energy, short-wavelength UV-C variety that has become known for its germicidal efficacy. Measuring between 200 and 280nm, UV-C has been found to be absorbed in the nucleic acid of microorganisms. In much the same way that UV rays from the sun can damage your skin to the point of sunburn, this short-wavelength light affects microbes on a cellular level, destroying their DNA and killing them in the process.
So while UV light is harmful to germs on residing surfaces such as your smartphone and other everyday carry gear like keys or credit cards, rest assured it won't damage your goods. When harnessed and deployed via a sanitizing case, it thoroughly rids these items of their microbial contamination.
Why Should You Own A Smartphone Sanitizer?
A Case For Keeping Your Carry Clean
Personal Hygiene: Throughout the day, your hands come into contact with countless surfaces, picking up hundreds of thousands of microbes in the process. All it takes is a tap of your screen to transfer it all to your phone. What's more, when combined with a warm environment (like your pocket), your phone becomes an ideal breeding ground for bacteria. In practice, this means that, on average, your smartphone is at least 10 times dirtier than a public toilet seat. And while most of us wouldn't dare touch such a surface more than absolutely necessary, we don't even bat an eye at holding our phones up to our face or scrolling away on them while we eat.
Disease Prevention: In a year in which hand-washing has become an international obsession, we've all become well aware of the importance of disease prevention. Given that smartphones are such a hotbed for microbial activity, there's bound to be a bad apple amongst the bunch. And with it being long-established that our current viral foe thrives on surface transfer, it's in your best interest to give your phone a good clean.
Peace Of Mind: Regardless of whether or not you buy into the statistical research backing the effectiveness of smartphone sanitizers, it pays to have the peace of mind knowing you've done everything possible to protect yourself. Sure, you could take your chances, but if you're already washing your hands to your ABCs and wearing a mask at every outing, what's one more precaution to ensure you've got your bases covered?
Clorox Disinfecting Wipes
Endorsed by both Apple and Google as an effective method of killing bacteria (that's also safe to use on your phone), Clorox wipes are a good bet if you want an all-purpose cleaner. For though they were once a hot commodity, the demand has since settled down and the production has caught up accordingly. Killing up to 99.999% of bacteria and viruses, they're effective against everything from E. Coli, Salmonella, and Strep to human coronavirus and influenza. However, it's worth noting that the user plays a big part in the effectiveness of their wipes. If you want a truly clean phone, you have to be diligent about cleaning every nook and cranny — imperfect application leads to imperfect results.
WHOOSH Screen Shine
Specifically designed for use on your electronics, this spray-on cleaner makes for a quick tech-free alternative to UV sanitizers. It comes with a soft microfiber cloth that's safe on screens and enables easy polishing. What's more, it's free of harmful chemicals such as alcohol and ammonia, so you can use it on high-touch devices without worry of getting it in your skin. Backed by industry-leading biochemist Dr. Curtis White — who boasts 50 years of cleaning product development experience — WHOOSH offers another solid manual cleaner with proven results.
Lambor Multi-Function Sterilizer
Despite its budget-conscious price point, this sanitizer from Lambor Studios punches well above its weight. For instance, it's equipped with four UV-C lights, allowing you to thoroughly clean your smartphone in as little as three minutes. But that's not all — the base of the box also includes a wireless charger compatible with any QI-enabled devices. And with an exterior USB port and Type C port, it can charge up to three devices at the same time. Top it all off with an automatic shutoff function and a port for essential oils, and you have an affordable smartphone sanitizer packing some seriously premium features.
HoMedics UV Clean Phone Sanitizer
With the ability to kill up to 99.9% of bacteria and viruses in just 30 seconds, this sanitizer from HoMedics is one of the fastest on the market. It also features a unique pop-up design that maximizes light coverage in order to thoroughly sanitize your device. So while it only comes with two UV-C LEDs, it makes for a considerably cleaner end result than some of its competition. After use, simply collapse it down and it returns to its original compact size. With the ability to fit virtually any smartphone and holding up to 70 uses per charge, there's no excuse for letting your device go uncleaned.
KeySmart CleanTray
Rated to 10,000 hours of operation or about 5 years (whichever comes first), the CleanTray from KeySmart is one of the longest-lasting smartphone sanitizers you can buy. What's more, it comes with an essential oil diffuser should you want your phone to be smell as fresh as it is clean. Doubling as a sleek valet tray, you can sanitize any of your EDC items in addition to your phone or just stow them when it's not in use. But the best part is that it's incredibly portable, weighing less than a pound and taking up about as much room as a book — the perfect size to take along on a trip or even just to the office.
Lexon Oblio
Easily the best-looking sanitizer on this list, the Lexon Oblio features a design so forward-thinking that it's even sold at MOMA. But don't discount it as a piece that puts looks above function — under the hood, it features tons of capable tech. For instance, it comes with a QI-enabled wireless charger capable of bringing your phone up to full power in just three hours. And thanks to its LED indicator, you'll know right off the bat whether your phone is correctly positioned for a recharge. When it comes to sanitation, the Oblio is designed to hit your device one surface at a time, ensuring a thorough clean with each cycle — simply turn it around for 360° of disinfection. Available in four colors, this is more than just a smartphone sanitizer; it's a design piece to complete your interior decor.
Mophie UV Sanitizer
Mophie comes well-regarded for its smartphone charging accessories, so it only makes sense that they'd make a hard-hitting, germ-killing smartphone sanitizer as well. Killing 99.99% of most common surface bacteria in just five minutes, it's not only effective but also convenient. Like some of these other options, it comes with a wireless QI charger. However, Mophie opted to place it on the exterior, meaning you can charge one device while you're simultaneously cleaning another. And with no loud buzzing or fans, just toss your phone in and forget about it while the sanitizer does its thing.
Monos Cleanpod UVC Sterilizer
Like other manual smartphone sanitizers, wands open up the possibility for user error. However, because this one from Monos isn't restricted to use on your phone, it can clean any number of other items as well. And unlike most UV-C lamps, the CleanPod's LEDs power on immediately without the need to warm up, emitting light at peak germicidal wavelengths. Taking just 30 seconds from start to finish, you can zap any number of surfaces before other sanitizers have even finished their first cycle.
Casetify UV Sanitizer
Casetify's UV Sanitizer comes with six mercury-free lamps for quick and effective disinfecting. Strategically placed so that they hit all surfaces of your device, you can rest easier knowing that your smartphone is completely free of harmful bacteria and viruses. And if the standard three-minute cycle isn't enough to satisfy your germaphobia, there's also a 15-minute intensive sanitization mode for an even deeper clean. Its interior compartment measures 220mm by 115mm by 35mm, so there's ample room for even the largest of smartphones as well as your EDC items.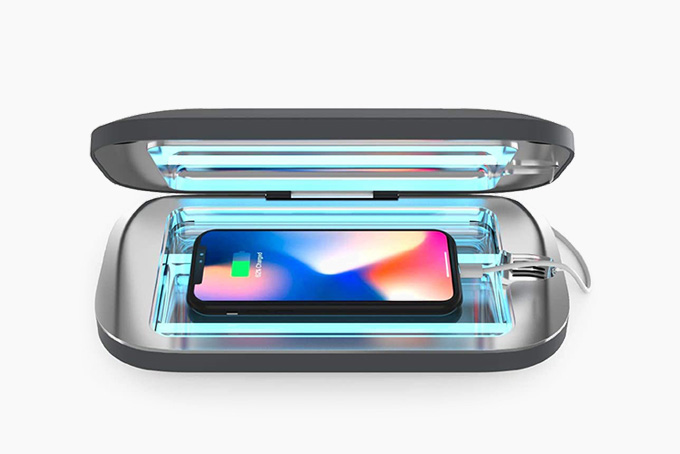 PhoneSoap Pro
Having spent the last 10 years building some of the most effective disinfecting devices on the market, PhoneSoap is well-versed in what it takes to make a capable smartphone sanitizer. An iteration on their classic PhoneSoap design, the Pro model boasts twice the bulbs for half the cleaning time — about five minutes. And unlike their standard sanitizers, the PhoneSoap Pro features automatic cleaning at the close of the lid. Simply pop it open, place your phone inside, and close. Built with suction cup feet for a secure tabletop grip, there's no worry of it getting bumped or knocked to the floor.
59S Multipurpose Sanitizer
Sanitizing bags are exceptionally versatile in that they can be used on pretty much anything that will fit inside them. So in addition to your smartphone, there's room for cards, keys, and any number of other carry essentials. Packing some 24 powerful LED lamps, this one from 59S guarantees total microbial annihilation. As an added bonus, the interior is made from easy to clean PU, meaning it just takes a quick wipe to have it looking as good as new should something spill.
PhoneSoap HomeSoap
Given PhoneSoap's expertise in the smartphone sanitizer space, they've graced our list once again. Big enough for all of your electronic devices — from iPads and other tablets to Nintendo Switches and similar handhelds — there's plenty of room for even the heftiest of smartphones. And while there are other large sanitizers out there, no other option was designed specifically with electronics in mind. With two 2.4A USB ports built into the interior, you gain universal charging capability. Sure, it's not as portable as some of the other options featured on this list, but it more than makes up for it with its superior germ-killing powers.
The 15 Best Washable Face Masks
Smartphone sanitizers are just one way we can ready ourselves for the upcoming sick storm. Given that face masks are here to stay, it helps to have one that can hold up to days of wear. If you're looking to upgrade your PPE, be sure to check out our guide to the best washable face masks.