While security cameras were once primarily reserved for banks, convenience stores, and the abodes of the ultra-wealthy, the advent of the smart home camera has made the sector markedly more accessible to the masses with easy to set up and operate units that are affordable and can be remotely viewed via a tablet or smartphone. As the segment has grown, however, the enormous number of available offerings has made it increasingly difficult to hone in on the smart home camera that best suits your particular wants and needs. So, with this in mind, we've compiled this list of the 10 best smart home cameras currently on the market.
In addition to bolstering home security, smart home cameras afford a general peace of mind, and also give you a glimpse of what your pets get up to when you're out of the house, and the ability to monitor the arrival of packages or mail. Whether you're in the market for an indoor unit or an all-season outdoor smart home cam, want a single camera, or an entire home system, this list has you covered. Below we'll be exploring what distinguishes different smart home cameras, what to look for when shopping, and what amenities and technologies are available, as well as our choices for both the best indoor and outdoor smart home cameras.
Specs & Details
The Areas To Consider When Shopping For A Smart Home Camera
While all home smart cameras perform the same basic function, not all cameras in this segment are created equal, with wildly varying features, specs, and tech. Below are the primary areas that should be taken into consideration when buying a smart home camera.
Lighting: Though this is almost exclusively found on outdoor models, some cameras are equipped with LED spot/floodlights than can illuminate the area the camera is monitoring, enabling the said camera to capture better footage, while also potentially deterring any would-be thieves or trespassers.
Weatherproofing: While this factor obviously doesn't concern indoor models, it's of extreme importance when buying an outdoor camera, as the ability to stand up to the elements is vital for the camera to do its job. Most IP65/67-type ratings will suffice in this realm, assuming you aren't living in a region that experiences otherworldly arctic conditions or frequent tropical monsoons.
Price Because smart home cameras have existed for a handful of years, prices have dropped significantly, and you can now pick up a surprisingly competent smart cam for less than $50. Of course, the more you're willing to spend, the more options and amenities you have to choose from. The best way to determine how much you should spend is to consider what it is you're trying to protect, coupled against your budget.
Image & Resolution: Security cameras have existed for decades, though one area that's seen tremendous strides made is imaging quality and resolution. Despite being fairly compact, today's array of smart home cameras typically offer 1080 (or 4K) definition, which yields much more useful footage than traditional grainy security cameras.
Nightvision & Thermal Imaging: On top of regular recording, some of the more high-end cameras offer supplementary spectrums such as night vision or thermal imaging, both of which provide an added level of security. These amenities can also be great for observing local wildlife at night.
Zooming & Panning: Another area that separates modern security cameras from their predecessors is their ability to tilt, pan, and zoom, giving these cameras a much wider overall possible field of vision.
Field Of Vision: Panning and tilting allow for a better look around, though a wide field of vision will capture more space when the camera is left unattended, thereby increasing its efficacy and worth. This information should be readily available for any smart home camera on the market today.
Two-Way Audio: Most security cameras capture and record audio, however, modern smart home cameras can often support two-way audio, allowing you to hear whatever is going on at your house, while also being able to communicate back, whether that be to ward off a burglar or to tell a delivery driver to leave a package at the door.
Security: Over the last few years there's been an increasing number of news stories about smart baby monitors and home cameras being hacked. With this in mind, a variety of these smart device manufacturers have created products backed by encrypted software, like those used by banks and the military. Some outfits also offer cameras with status lights and even physical shutters.
Battery Life: Using a wireless camera allows for a much greater range of possibilities for placement, though the frequency at which the battery needs to be changed should be taken into account. Luckily, most modern cameras boast battery life that can last u to several years at a time.
AI-Enabled Tech: These are the features that put the "smart" in "smart camera," and use complex cutting-edge algorithms to increase security with functions such as intelligent motion tracking and automatic facial recognition. There are even some cameras that will learn your routine so they can identify any unusual activity, as well as the faces of you, your friends, and family members, as to be able to detect unfamiliar, possibly hostile or ill-meaning faces.
Indoor Cameras
All-Seeing Interior Eyes
Indoor cameras keep a watchful eye on the going-ons within your home. Because these are made for residential indoor use, the cameras don't need to be able to see for great distances and this, coupled with their lack of weather protection, has allowed the indoor camera segment to have some exceedingly accessibly-priced offerings that still boast a host of modern features. So without further adieu, let's dive into our picks for the best indoor cameras.
Wyze Cam Pan
The Wyze Cam Pan is remarkably light on price while being incredibly feature-heavy. This affordable offering shares the same performance and specs as the regular Wyze Cam, only this version has the ability to tilt up and down 92-degrees and pan a full 360-degrees — in addition to sporting a camera with a 120-degree field of view. The ability to tilt, zoom, and pan has been coupled with the option for setting up to four custom "patrol routes" using these functions. At night time, this 1080p full HD camera boasts a night vision mode that can distinguish 18 different shades of gray and an accompanying half-dozen infrared LEDs and afford clear picture from as far as 30 feet away. The Wyze Cam Pan can also voice-control compatible, and offers two-way audio backed by a powerful Class-K amplifier. The camera also comes with 14 days of free cloud storage, though there's also the option to upgrade to an extremely affordable subscription or utilize an 8, 16, or 32GB MicroSD card (which are all sold separately). There is admittedly some sacrifice in quality with this entry, though at under $40, it's nonetheless a stellar value.
Power Source: Cable
Field Of Vission: 120° (+ 360° panning)
Video Resolution: 1080p
Smart Assistant Compatibility: Alexa, Google Assistant, and IFTTT
Storage & Subscription: Rolling 14 Days Of Free Cloud Storage Or $1.49 For A Monthly Subscription
SimpliSafe SimpliCam
The Simplicam is another quality indoor cam that is equipped with an array of modern features like night vision, 120-degree field of vision, high-power infrared LED cut filter, and a variable bit rate compression. This camera also features a complex algorithm that's able to detect the unique heat signature of humans and then raise the alarm. What sets this entry apart however is the immense importance Simplisafe places on privacy and cybersecurity. On top of boasting a camera status light, the Simplicam is outfitted with a stainless steel camera shutter that can audibly be heard opening, so you'll know if you're ever being watched, though that event is unlikely considering Simplicam calls on software that's SSL Security-certified and uses 256-bit Bank-grade encryption and end-to-end encoding. Furthermore, the Simplicam is tremendously easy to set up, you simply open the box, plug it in, connect it to your home's wifi, download the smartphone app, and you're good to go. The Simplicam can also be fitted with an outdoor kit for exterior all-weather use where it can operate in conditions between -4 to 114ºF. This camera is also backed by a limited three-year warranty and the "SimpliSafe 100% Satisfaction Guarantee."
Power Source: Cable
Field Of Vission: 120°
Video Resolution: 720p
Smart Assistant Compatibility: Alexa & Google Assistant
Storage & Subscription: 30 Days Of Cloud Storage Via A $5 monthly Subscription
Canary PRO
Standing at 6", measuring 3" in diameter and weighing less than one pound, the Canary PRO is an all-in-one smart home security and monitoring system. On top of boasting a night vision-equipped 1080p Full HD camera, the Canary PRO also has a built-in tri-axis accelerometer, ambient light sensor, and a capacitive touch sensor that can detect and relay real-time metrics on temperature, humidity, and air quality. And, on top of offering two-way audio (included with Canary's Premium Service), the PRO model packs an earsplitting 90dB alarm, that can be activated automatically or manually. As a point of reference, the sirens on most emergency first responders vehicles ring in at around 110 to 120 decibels. Also offered in white, the Canary PRO uses AI to learn your routine and preferences in order to sense unusual or suspicious situations, as well as AI-powered Person Detection, so you won't get false alarms sent to your phone every time the dog jumps up on the couch. And, not unlike the rest of the company's smart device lineup, the Canary Pro doesn't look like a regular security camera and is designed to seamlessly blend in on shelves or tables amongst art and other accent pieces.
Power Source: Cable
Field Of Vission: 147°
Video Resolution: 1080p
Smart Assistant Compatibility: Alexa & Google Assistant
Storage & Subscription:  $8.25 Per Month For 30 Days Of Storage
Nest Cam Indoor
While not quite as capable as the IQ-spec, the Nest Cam Indoor is another fantastic — and extremely popular — smart home camera that offers great bang for your buck. This camera features an array of standard options on today's cameras like full 1080p HD resolution, eight high-power infrared LED lights, automatic mobile alerts/push notifications, and two-way audio communication. One element that's unique to Nest is the company's camera's three-hour snapshot history, which automatically keeps tabs on your home periodically over the course of the day. And, just like with the Simplicam, setup is incredibly quick, easy, and intuitive, even for the most technologically illiterate of individuals, and with a stand, wall mount, and flexible tripod (the latter two of which are sold separately), the options for placing or mounting the camera around your home are virtually endless. Nest also backs this one with a two-year limited warranty and offers users a free 30 day trial of Nest Aware before subscriptions charging for a regular monthly subscription. It's also worth noting the Nest Cam Indoor boasts 8x zoom capabilities, which is double that of its 4x-toting outdoor counterpart.
Power Source: Cable
Field Of Vission:  147°
Video Resolution: 1080p
Smart Assistant Compatibility: Alexa & Google Assistant
Storage & Subscription: 30 Days Cloud Storage Via A $10 Monthly Subscription
Outdoor Cameras
Weatherproof Property Monitorors
Outdoor cameras survey the grounds surrounding your home, and thus must be able to survive subpar weather conditions. Outdoor cameras are also more frequently available with insanely-potent rechargeable batteries so they don't need to be physically tethered to a wired power source. And while indoor cameras tend to have features more conducive to closer-up views such as facial recognition, outdoor cameras often have amenities geared towards detecting individuals outside such as thermal imaging.
Amcrest ProHD Outdoor 3MP Camera
The ProHD Outdoor 3MP Camera can easily be paired with the rest of Amcrest's robust secure suite — which includes a wide array of video storage and recorders, advanced dedicated thermal imaging cameras, and other thoroughly modern smart devices — and each camera or part of the home can be given a custom sensitivity (priority) rating through the company's Advanced Zone Detection. Amcrest also offers an Intelligent Timeline Playback feature that boasts a wildly simple user interface that makes it a breeze to find specific playback from your history, and all of its cameras are protected by AES and WPA2 encryption and run through SSL Security-certified software. Like its software, the camera's housing is wildly secure, boasting all-metal constriction and an IP67-rating. This camera's infrared LED lights and night vision enable it to see up to 98 feet into the darkness, too. Unfortunately, the "Wired" in this model's name refers to its Wifi connectivity, rather than its power source, though it can impressively transmit some 3MP @ 20FPS. Also offered in white and grey color options, the ProHD Outdoor 3MP Camera is protected by a one year warranty directly through the manufacturer.
Power Source: Cable
Field Of Vission: 100°
Video Resolution: 1080p
Smart Assistant Compatibility: Alexa & Google Assistant
Storage & Subscription: Starts At $6 Per Month For 7 days Of Storage
Blink XT2
Currently on its second generation — which was released in 2019 — the XT2 is Alexa (and IFTTT) compatible, and, unlike its predecessor, the 2-spec X2 is now armed with zone sensitivity (priority) customization and an AI-enabled human detection function. Running off a pair of AA Lithium batteries, the XT2 can operate for an entire two years before needing to have some new Duracells popped in. Sold with an outdoor ball mount, the XT2 is also dust-proof and can stand up to just about any weather conditions. The front of the camera also has a built-in motion sensor, infrared light emitter (earning it night vision capabilities), an integrated microphone, and a blue LED status light. Two-way audio enables you to communicate through your phone or tablet while a built-in electronic thermometer can also give you live weather readings from right outside your front door. Setting up the camera is as simple as downloading the app, creating a Blink account, plug-in the receiver, pop batteries in the camera, mount it, and voila. And while the XT2 is plenty rugged with its IP65-rating, it's also commonly utilized as an indoor camera.
Power Source: Battery
Field Of Vission: 110°
Video Resolution: 1080p
Smart Assistant Compatibility: Alexa and IFTTT
Storage & Subscription: Free Cloud Storage
Ring Spotlight Cam
The Ring Spotlight Cam is something of a cross between a modern wireless smart home security camera and a typical motion-activated spotlight you often see in driveways and above garage doors. Alongside its 1080p camera and infrared LED lights, this battery-powered camera features a motion-activated (or manually-activated) LED floodlight. Ring's Spotlight Cam is also equipped with a tinnitus-inducing 110dB alarm, which, as we mentioned earlier, is the same volume at which most emergency response vehicle's sirens blare at when en-route to a scene. This alarm can be set to go off automatically in response to movement or can be fired off manually. This camera also gets adjustable motion zones and custom scheduling that allows it to stand down while you go about your daily routine and then stand guard while you're asleep, at work, or otherwise out of the house. And, on top of working with Alexa and Google Assistant, this camera also works on pretty much any mobile device, compatible with iOS, Android, Mac, and Windows 10. Also offered in a plug-in, non-wireless version, and in a white color variant, the camera comes with a one-year warranty (on parts), plus Ring offers lifetime theft protection.
Power Source: Battery
Field Of Vission: 140°
Video Resolution: 1080p
Smart Assistant Compatibility: Alexa and Google Assistant
Storage & Subscription: Starts At $3 Per Month
eufy eufyCam2
The eufyCam 2 is a fairly state-of-the-art smart home camera that's designed to work with part of a larger ecosystem of eufy products and other smart devices through its Amazon Alexa, Apple HomeKit, and Google Assistant compatibility. Fully wireless, the eufyCam 2 can be placed in more discrete settings like trees and peeking out of gutters, and thanks to its 365-day battery life, you'll seldom have to worry about swapping out its battery pack. And with an IP67-rating, you'll never have to worry about the camera succumbing to the elements, either. You can also program activity zones near doors, windows, entryways, garage doors, and other areas that are more likely to require a camera. And while most entries on this list are equipped with night vision, the eufyCam 2 packs a cutting-edge Sony sensor that enables it to capture remarkably clear footage in low-light settings. The eufyCam 2 also offers streaming via a secure military-spec 256-bit encrypted connection, as well as built-in AI that lets the camera identify and then automatically zoom in on faces. This feature also prevents false alarms from being raised every time you let the dog out or a raccoon passes by the house.
Power Source: Battery
Field Of Vission: 140°
Video Resolution: 1080p
Smart Assistant Compatibility: Amazon Alexa, Apple HomeKit, & Google Assistant
Storage & Subscription: 30 Days Of Rolling Storage For $3 Per Month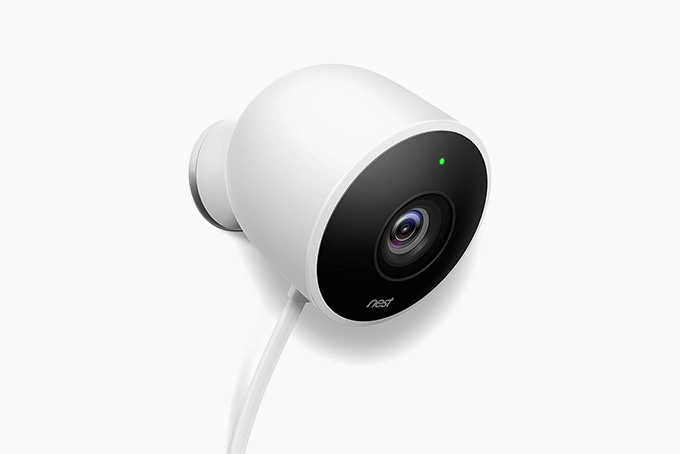 Nest Cam IQ Outdoor
The Nest Cam IQ Outdoor features 1080p resolution like the regular base Nest Cam models, though the IQ variants gain a 4K sensor and Daytime HDR, ultimately affording them what the company calls "Supersight:" aka, the ability to learn and recognize known faces in order to detect when an unfamiliar person is present. If detected, Supersight will automatically zoom in on the individual — using the Nest Cam IQ Outdoor's impressive 12X digital zoom — and pan around to track them while present. Furthermore, this feature also allows the camera to spot potential ne'er-do-wells from as far as 50 feet away, and then automatically send you a picture of their face via a mobile app. In order to unlock access to the aforementioned host of smart features, users are required to get a Nest Aware subscription, though that also includes up to a month of cloud storage to stash and back up your recordings. And, in addition to the camera itself being fully weatherproof, there's also a weatherproof power adapter sold for this camera so it can be plugged in directly outside.
Power Source: Cable
Field Of Vission: 130°
Video Resolution: 1080p
Smart Assistant Compatibility: Alexa & Google Assistant
Storage & Subscription: $10 Per Month Plus $5 A Month Per Camera
Arlo Ultra
The Arlo Ultra is a premium 4K smart home security camera that's equipped with almost every amenity that we've mentioned on this list thus far. Similarly to the above Ring camera, the Ultra is fitted with an LED spotlight, plus there's also two-way audio, enhanced night vision, smart motion-tracking, facial recognition, and a built-in loud siren. And, just like with noise-canceling headphones, Arlo's Ultra Cam uses a built-in microphone and integrated software to detect ambient noises such as wind or traffic, and isolate those specific aspects in order to deliver clear audio without the fuzzy background brought on by most urban environments. With a 180-degree field of view — quite possibly a class-leading spec — the Ultra also offers a genuine wide-angle view, and an advanced de-warping feature allows the panoramic image to come in crystal clear. The Ultra connects to a main central hub unit (that itself connects to your local wifi), which stores recordings and can be used to connect additional camera units (or Arlo smart doorbells, security lights, or any of its other products). The system can also send updates and alerts to smartwatches, as well as tablets and smartphones, plus the manufacturer offers one free year of Arlo Smart (subscription service) with the purchase of an Ultra cam.
Power Source: Battery
Field Of Vission: 180°
Video Resolution: 4K w/ HDR
Smart Assistant Compatibility: Amazon Alexa & Apple HomeKit
Storage & Subscription: One Week Of Free Storage & 30 Days Of Storage For $10 Per Month
The 10 Best Smart Home Devices
Interested in further building out a modern smart home? Well, whether you're in need of smart outlets, appliances, systems, our guide to the best smart home devices has got you covered.
HiConsumption is reader-supported. When you buy through links on our site, we may earn an affiliate commission. Learn more