Everyone knows the names like Jack Daniel's, Jim Beam, Wild Turkey, Maker's Mark, and many are aware of some of the more craft-focused brands like Pappy Van Winkle, Colonel E.H. Taylor Jr, and even Sagamore Spirit. And while there's nothing wrong with picking up an easy-to-come-by bottle of whiskey at your local liquor store — in fact, some of these brands make very well-reviewed, highly-coveted offerings — there's also something to be said about going off-the-beaten-path and finding something a bit rarer or less well-known.
Whether you like bourbon, rye, or any other expression of whiskey, you can find some spectacular examples made all around the world by smaller outfits and in limited quantities (making the hunt so much more enticing and the desirability all-the-more palpable). You just need to know where to look. If you happen to be in the United States, then we've got some good news for you: we've wrangled together a collection of 12 exceptional small-batch whiskey distilleries that should definitely be on your radar — whether to visit or simply to track down a bottle or two. So get your whiskey glassware in hand and take a deep dive below.
What Is Small-Batch Whiskey?
Limited Spirits
There are a lot of somewhat difficult-to-understand bits of jargon inscribed on the pages of the proverbial whiskey dictionary — some that are easy to define and others that are… not so simple to grasp. The phrase "small-batch" sits somewhere in the middle of the spectrum between those two possible outcomes. That is to say, it's a relatively easy concept to understand, but much harder to pin down definitively. This is because, even amongst the whiskey industry, there are not singular agreed-upon guidelines regarding what it means. There also aren't federal laws to reference, like with bottled-in-bond bourbons.
The basic idea is this: a small-batch whiskey must be comprised of the distilled spirits aged within a limited number of barrels. Outside of that broad definition, however, the water gets a bit murky — there are even brands that have their own in-house guidelines that sometimes vary widely from distillery to distillery. For instance, Beam Suntory defines small batch as "approximately 1,000 gallons or less (19 barrels) from a mash bill of around 200 bushels of grain." Similarly, George Dickel considers a whiskey small-batch if it is comprised of 10 barrels or less. And Elijah Craig dictates that their small-batch bourbon comes from no more than 200 barrels.
Perhaps the greater point and purpose of the term is to suggest the limited nature of the spirit. While the number of barrels used isn't agreed upon in any formal way, all of these "small-batch" whiskeys are limited in the scope of their production to a fairly large degree. And while some distilleries choose to toe the line and push those boundaries, it's the greater whiskey world and its loyal fans that help keep this idea in check. In fact, as recently as the mid-2010s, Templeton Rye faced a class-action lawsuit for claiming that their whiskey was both "local" and "small-batch," which they lost — forcing the brand to issue refunds to its customers for false claims. So, maybe the best way to put it is this: small-batch whiskey is hard to define, but you know it when you see it.
Balcones Distilling
Waco, Texas
When most people think of American whiskey, it's the southern States that tend to come to mind — Tennessee and Kentucky in particular. However, if you're willing to head a few-hundred miles eastward at right about the halfway point between Dallas and Austin, you might just stumble upon a hidden gem in the city of Waco, Texas. Founded in 2008, Balcones Distilling shares an obsession with top-quality local ingredients with much of the craft spirit world. However, they have a unique advantage in the form of their location — allowing them to create unique takes on some of the most popular styles of whiskey, including their highly-lauded Baby Blue blue corn whiskey. Of course, they've also got the accolades to prove their prowess. They've won gold medals in just about every spirit competition that matters, including a whopping five from the 2017 Wizards of Whiskey competition, a Double Gold in the 2016 San Francisco World Spirits competition, four Best in Class Gold Medals at the Whiskies of the World Awards in 2016, and so many more.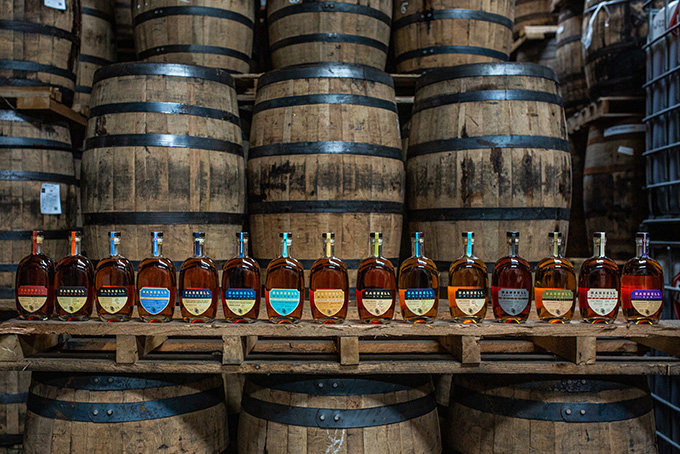 Barrell Craft Spirits
Louisville, Kentucky
When your home is one of the most respected whiskey locales in the world, it can be pretty hard to stand out from the crowded gallery. And that's exactly the case with Barrell Craft Spirits, who were born and are headquartered in Louisville, Kentucky. For reference, Kentucky is home to a whopping 68 distilleries as of 2018 — so, when we say that Barrell is one of the most exceptional stand-outs from that group, we hope you understand the gravity of that statement. And while it would be a simple prospect to let their bourbon whiskey do the talking, they've also got the on-paper accolades to back up their glimmering reputation. That includes things like being named the Best American Whiskey of 2018 by Forbes, winning Best Bourbon twice-over at the San Francisco World Spirits Competition, and so many more. It's also worth noting that, while they specialize in a trio of whiskey styles — whiskey, bourbon, and rye — they also offer an award-winning rum for those who don't quite jive with whiskey.
Breckenridge Distillery
Breckenridge, Colorado
As mentioned previously, most folks' understanding of American whiskey geography centers on the South. However, if you're willing to open up that scope by quite a bit, you might just come to find that some of the best small-batch whiskey distilleries in the world are found in some of the other 50 States. A prime example of proof therein can be found amongst the Colorado Rocky Mountains under the Breckenridge Distillery roof. Touted as the "World's Highest Distillery" (by elevation), this distillery's location is a novelty, but their prowess when it comes to crafting superb small-batch spirits is quite definable and certainly overshadows the fact that Breckenridge Distillery is just a short stumble from one of the world's best ski resorts. Founded in 2008, Breckenridge has racked up numerous awards including four Best American Blended awards at the World Whiskies Awards, Bourbon of the year at the International Wine & Spirits Competition, and 2018's coveted Icons of Whisky award for Brand Innovator of the Year.
Corsair Distillery
Nashville, Tennessee
If definable, measurable accolades are your idea of proof of a distillery's worthiness, then Corsair is definitely going to be a name to keep on the tip of your tongue. After all, they've won a whopping 450 different medals for their range of spirits — including their small-batch whiskeys. Of course, if the awards aren't proof enough — maybe the whiskey "experts" are just blowing smoke — then perhaps business success might be a better measure. In that case, it should be noted that this Nashville distillery, which opened in 2010, was so successful that they opened up a 2nd location — also in Nashville — just a few short years after their founding in 2016. If that's still not enough, perhaps their ethos will entice you. You see, Corsair endeavors to put "Nashville in a bottle" — meaning they source their ingredients from local farms, as well as make use of their own smokehouse and malthouse. Furthermore, if you don't care much for whiskey, they also offer gin and craft beer.
Garrison Brothers
Hye, Texas
Being the first to market does not immediately make a company worth trusting and purchasing from. Luckily for Garrison Brothers — the first legal distillery in the entire State of Texas — they also have a hell of a whiskey lineup that's amongst the best not just in Texas but in the world. Headquartered in Hye, Texas — roughly 70 miles north of the heart of San Antonio — this off-the-beaten-path small-batch whiskey distillery is not one that's easy to get to, but that does make visiting more of an adventure. As it turns out, the unforgiving West Texas landscape is even unforgiving to the folks that call it home, as Garrison Bros. actually lost their first batch of whiskey to a violently hot summer. But they persevered, found a custom barrel maker to craft staves that could withstand the heat, and went on to produce a series of whiskeys that have won dozens of awards — including numerous gold medals in competitions around the world. If you want to try out some spirits that came from true pioneers, this distillery should be toward the top of your list.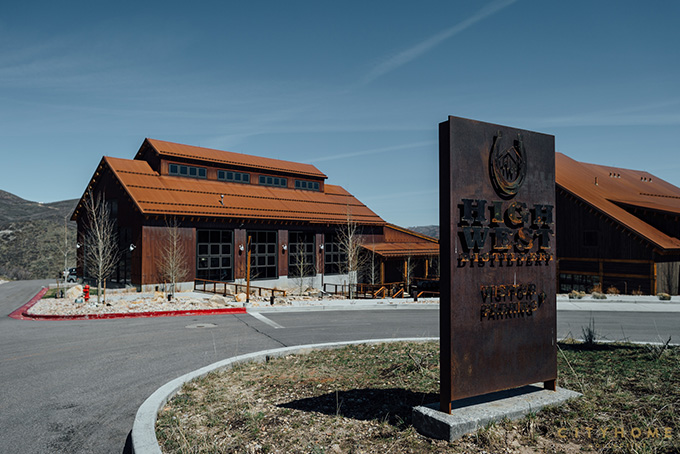 High West Distillery
Park City, Utah
Another distillery in a beloved ski resort town — Park City, Utah this time — the High West Distillery holds the unique honor of being the world's only ski-up distillery in the world. That novelty itself is enough to put this on plenty of whiskey-drinking bucket lists, but it's thankfully not the only worthwhile thing about High West. Hell, it's not even the most exciting fixture of the spirit-making facility. That distinction goes to the brand's quartet of year-round releases and their rarer limited-release counterparts. And it's not just us that thinks their small-batch spirits are spectacular; Whiskey Advocate actually named High West the Distiller of the Year back in 2016 — not an accolade one comes upon by accident. While their western-inspired Prarie Bourbon is fantastic and their duo of ryes are smooth and interesting, our favorite of their yearly releases would probably have to be the aptly-named Campfire whiskey for its distinct, smoky flavor profile. It's unlike anything else out there right now and, so long as you're serious about appreciating whiskey, should make your list of liquor to try before you die.
Leiper's Fork Distillery
Franklin, Tennessee
Leiper's Fork Distillery has not been around for very long. In fact, they've only officially been open since 2016. However, they've excelled at proving their mettle in just about every single way that it counts. Seriously, they have nearly perfect marks across the board on most customer-driven review sites — including things like Trip Advisor and Yelp — from literally hundreds of happy visitors. And that's a pretty big deal when you consider that they're from a place with a long and storied tradition of small-batch whiskey distilling. What that means to you — or what it should mean — is that this isn't hype. Rather it's a collection of definable and reasonable testimonials cultivated by the extreme care put into every single bottle produced in-house — from their Colonel Hunter's Single Barrel Tennessee Bourbon all the way down to the Premier Rye. Founded with the goal of "resurrect[ing] the lost history and heritage of small-batch whiskey production in Williamson County," Leiper's Fork is not a distillery to bypass.
Tuthilltown Spirits Distillery
Gardiner, New York
Proof positive that the southern States are not the only ones that excel at the art of crafting bourbon, Tuthilltown might not be a name you immediately recognize — but, if you're a fan of bourbon, you probably know about their series of Hudson Whiskeys. Unquestionably, the distillery's Hudson Baby Bourbon Whiskey has already earned itself what might be called a legendary reputation amongst bartenders, mixologists, imbibers, and even other distillers. Of course, it's also just one of six different whiskey expressions distilled in-house — all of which are exceptional and worth trying at least once (but probably many times more). And whiskey is just one portion of their business; for those interested, they also make vodka, gin, a cacao liqueur, and even their own in-house bitters — perfect for mixing with their whiskey for a nice Old Fashioned. Perhaps the combination of their dedication to crafting super small-batch spirits has something to do with their multiple Distillery of the Year awards.
Virginia Distillery Co.
Lovingston, Virginia
Adhering to traditional distilling methods and styles might win you plenty of hearts — and there's nothing wrong with that approach at all — but if you want to go down in the annals of history, trying something a bit more unique and outside of your comfort zone isn't a half-bad idea. Or at least that's what we have to assume was at least partially in mind when the Virginia Distilling Co. decided to start making their lineup of American Single Malt Whiskey. Whatever the case, it's clear that this distillery has some avant-garde ideas that are playing out in their favor. It doesn't hurt either that, while they're certainly interested in innovation, they also know the value of keeping it old school — which explains why they proudly use "the highest quality malted barley and fresh spring water fed from the Blue Ridge Mountains" and hand-hammered copper pot stills sourced from the masters of single malt themselves, the Scottish. Actually, if you're paying close enough attention, you might realize that they're not breaking the rules at all, but rather synthesizing even more traditional whiskey-making processes and ideas with the decidedly-newer American approach. And yes, they've won plenty of awards for that approach to back up its validity.
Visit: Virginia Distillery Co.
Westland Distillery
Seattle, Washington
Another example of an innovative American distillery, Westland has certainly lived up to the pioneer spirit of the Pacific Northwest. And while their approach has definitely garnered them some much-deserved attention — including processes like using Sherry wine casks for the maturation of their American single malt whiskey — there are some other things we really love about Westland. Probably the biggest, however, is their transparency. Unlike many other distillers — especially the bigger names on the market — Westland has an easily-accessible and comprehensive pair of charts that unveil the exact source of all their ingredients and the processes used in distillation. That includes the source of their water, the yeast used in fermentation and the time spent in the fermentation tanks, the malts, and even the exact temperature of the water and the size and shape of the equipment used in their distillery. None of this is necessary to create a superb product, of course, but it does illustrate just how full of pride they are — and how unabashed and unafraid they are to share their most intimate details. In a world of two-timers and double-speak, that's an spproach to be respected and revered.
Westward Whiskey
Portland, Oregon
Not to be confused with Westland (mentioned above), Westward Whiskey — headquartered just on the other side of the river from downtown Portland, Oregon — used to be known as House Spirits. While their name has changed, likely to reflect their ethos and approach, the overall quality of their small-batch whiskey has remained consistently fantastic. That approach, by the way, is to craft spirits specifically with the culture, climate, natural ingredients, and people of the PNW in mind. For some, that might seem too non-traditional; but, to us, it sets this brand apart from the huge number of by-the-numbers distillers currently on the market. Of course, it certainly doesn't hurt that they can boast that they make the highest-rated American single malt whiskey around — a fact confirmed by a Double Gold award at the San Francisco World Spirits Competition.
Wyoming Whiskey
Kirby, Wyoming
It might not seem that impressive, at least at first glance, to hear that Wyoming Whiskey endeavors to "produce Wyoming's first premium whiskey, using regional ingredients, through a select process that promotes Wyoming's natural and human resources." After all, how many distilleries are there in Wyoming, the least-populous State in the contiguous U.S, to compete against in the first place? However, this distillery has transcended its physical location to become something much greater: one of the most sought-after producers of small-batch whiskey around the entire globe. In fact, they're held in high esteem by the likes of Esquire, Forbes, Eater, the Whiskey Cast, Paste Magazine, and many more. Furthermore, they've also accumulated numerous awards for their spirits from amongst the top organizations and experts around. Don't let the small-town vibe of this distillery fool you — they're about as serious as distilleries come and you, your palate, and your life will be better for giving them a shot.
The 15 Best Bucket List-Worthy Distilleries In Scotland
If you can figure out a way to get across the pond and you want to continue your journey through the world of distilled spirits, Scotland (the home of scotch) is a veritable mecca of sorts. Of course, the list of distilleries there is also incredibly daunting, which is why we went to the trouble of narrowing it down to the 15 best distilleries in Scotland.