According to the CDC, a number as high as one in three Americans do not get enough sleep every night. And even if you do get the recommended 7-8 hours, that doesn't necessarily mean that it's restful sleep recharging you properly for the following day. Luckily, we now live in a world where there are a lot of options for gear that will help improve your slumber — from its duration to your depth of rest, even to how you're woken up in the morning.
Whether you're just an average joe looking to doze a little smarter or a long-time insomniac willing to try anything to catch some Zs, there is a wide array of options designed to make your bedtime a whole lot more relaxing. From dietary supplements to high-tech gadgets, we've rounded up the fifteen best sleep accessories to make sure that you're not stuck fruitlessly counting sheep when your head hits the pillow for the night.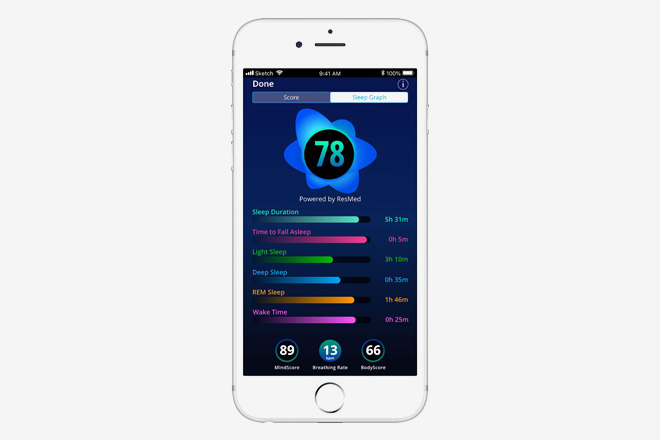 SleepScore App
Touted as the world's most accurate sleep app, SleepScore requires no sensors or components other than the ones found in your smartphone. This is because it uses your phone's microphone and speakers to track and measure your breathing rate and movement to get an accurate insight into your restfulness over the course of the night. Using that information, it will make suggestions to help improve your sleep — like telling you to stop drinking coffee after 2 pm — and will keep track of your progress on at-a-glance charts.
Bucky 40 Blinks Eye Mask
If your biggest struggle when it comes to sleeping is a sensitivity to light — be that from the sun or city lights outside your window — the secret to a better night's sleep might be as simple as wearing an eye mask to bed. Of course, a lot of eye masks have a tendency to put pressure on your eyes, which can cause discomfort while you wear it and blurriness when you take it off. The Bucky 40 Blinks Eye Mask is contoured so it doesn't put pressure on your optics but it still blocks out all ambient light.
Mighty Bright Book Light
Numerous studies have shown that reading before bed can help signal to your body that its time for rest. Of course, you probably don't want to have to get up to turn off the lights after you're done reading, as that will wake you right back up. Instead, clip the Mighty Bright Book Light to your literature of choice and you can just push the off button when you're done. With a number of color options, micro USB charging (with a one-hour charge time and 60 hours of functionality), a 2-10 lumen output range, and a flexible neck, this is a top-tier bedtime reading accessory.
Pure Kana CBD Oil
In case you're not already aware, CBD (cannabidiol) is a cannabis derivative that's completely free of THC (the psychoactive chemical in cannabis that makes you feel "high"). It's also sold in all 50 States, completely legal without putting you at risk of failing a drug test, and shown to help with all sorts of bodily issues from chronic pain to insomnia. CBD made by Pure Kana is some of the best when it comes to quality and purity and, if you're using it to help you doze, it's non-addictive and won't mess with your body chemistry the same way that melatonin does.
IKEA Trippevals Black-Out Blinds
Whether it's from the sun or city lights outside your window, one of the biggest reasons people have trouble sleeping is excessive illumination. And while there are a number of ways you can deal with that, one of our favorites is IKEA's Trippevals black-out blinds. Inspired by bees, these blinds feature a honeycomb structure that not only blocks out all the light on the other side, but it also functions to act as insulation — helping to reduce your overall heating costs. They're also free of unsightly cords or cables, require no electric power, and are super easy to install yourself with just a few hand tools.
Coop Eden Shredded Memory Foam Pillow
It's a shame that more people don't consider just how important your pillow is when it comes to getting a good night's sleep. After all, they are the thing on which you rest your head — which holds your brain. The next time you're in the market for a new one, raise your standards and opt for something like the Coop Eden shredded memory foam pillow. Made in the USA, this headrest is designed to offer superb neck support, cradles your cranium for utmost comfort, and even comes with its own cooling cover — because we all know the coldest side of the pillow is best. It's also hypoallergenic and resistant to dust mites, which are a couple of nice bonuses.
Amazon Echo Dot Smart Speaker
While smart home speakers are extremely helpful to folks in their waking hours — with the ability to play music, set reminders and alarms, function as a digital assistant, and so much more — they can also function beautifully as a sleep accessory. This is because they can pair with your smartphone and function as a bedside white noise machine with a built-in wake-up alarm. And Amazon's Echo Dot is one of the best in this regard. Furthermore, they can also be paired with other smart home devices, like smart plugs or smart bulbs, so you can turn the lights and other electronics on and off with the sound of your voice — saving you from having to get up and do it yourself.
SNOOZ White Noise Sound Machine
One of the simplest and most relaxing ways to get a good night's rest is by having a white noise machine by your bed. Not only will the neutral, non-repeating sound help put your body in a state of relaxation (especially once your brain starts associating the sound with bedtime), but it will also serve to drown out any ambient noise around your sleep space. The SNOOZ you see here is especially excellent because, while there's standard pushbutton functionality, you can also use its included smartphone app. That way, you can put it on a timer, control the volume, and more, all from your mobile device.
Nokia x Withings Sleep Tracking Pad
While Noika and Withings' most famous mashup is probably their exercise-tracking watches, they also offer an excellent sleep accessory in their Withings Sleep tracker pad. This smart device slips between your mattress and box spring and works wonders as a tracking device — monitoring your restfulness, heart rate, movement, REM cycle, and more. But it also functions as a sleep coach — keeping track of your restfulness from night to night, displaying it to you via simple charts and graphs on the included app, and offering suggestions to make your night's sleep even better. It's even Alexa-compatible, so you can use the sound of your voice to ask about your sleep tracking data.
Vitruvi Stone Diffuser
Just like limiting light can help put your body in a relaxed state, so too can certain scents help calm you down. In fact, it's been shown that smells such as lavender can even help reduce your heart rate, making it all the easier for you to fall asleep for a long night of superb rest. Crafted from beautiful stone, this simple and elegant device — which looks a whole lot better than most diffusers on the market — will help fill your home with relaxing scents of your choosing. And it features an auto-timer that will run for three hours straight or at thirty-second intervals for up to seven hours. It will also auto-shutdown when the time is up or if the reservoir runs out of water.
Stadler Form Oskar Humidifier
If you ever find yourself waking up in the middle of the night with a cough even though you're not sick, you might be suffering from a dry throat and/or sinuses. And that does not make for a good night of rest. Lucky for you, it can be dealt with by sleeping with a humidifier in your room, like the Stadler Form Oskar you see before you. Virtually silent and white dust-free, this low-energy device can emit up to 2.4 gallons of water per day as a soothing mist. It's also got a fragrance emitter for use with essential oils, will automatically notify you when the filters need to be replaced, and it looks a good deal better than a lot of others on the market.
Philips Somneo Light Therapy Lamp
Philips appears to have figured out how to deal with one of the most frustrating parts of falling asleep and waking back up again: sudden and jarring illumination. With their Somneo Light Therapy Lamp, you can be slowly lulled to sleep with auto-dimming light and then, at a time of your choosing, woken back up again slowly and gently with light that mimics the appearance of the rising sun. With a built-in alarm clock function, there are two versions available: a standard manual option and one with smartphone connectivity, so you can set everything — from alarms to the time — with your mobile device.
The Gravity Blanket
While your average blanket is pretty good for keeping warm, it won't help you get to sleep outside of that. Weighted blankets, however, have been shown to help create more restful sleep for their users. And there's no better option than the official Gravity Blanket. Designed to be 10% of your body weight, these blankets provide a grounding experience that helps put your body into relaxation mode while remaining warm and comfortable — thanks to the built-in insulation and microfiber duvet exterior. It's a pricey prospect, sure, but how much do you value a good night's sleep?
Bose Noise-Masking Sleepbuds
If you sleep next to someone else who doesn't want to listen to your white noise machine all night or the ambient sounds are just too loud and distracting for a white noise machine to do the trick, Bose has an answer for you in their Noise-Masking Sleepbuds. Made specifically to be comfortable the whole night through, these earbuds don't pipe in music, per se. Rather, they're made to play soothing sounds that drown out any annoying ambient sounds around you — like cars driving by, a stomping upstairs neighbor, or a partner who snores like a bear. They're also rechargeable, provide 16 hours of runtime per charge, and they have Bluetooth smart connectivity.
Dyson Pure Cool Air Purifier Fan
A standing fan is an excellent way to keep cool while you rest, but most of them have a tendency to be loud — which is only exacerbated by the fact that they collect dust. Do away with both of those issues by picking up the Dyson Pure Cool tower fan. This high-tech device is bladeless but still circulates cool air around the room of your choosing and it even doubles as an air purifier — removing 99.97% of allergens and pollutants as small as 0.3 microns. That means pollen, dust, and pet dander don't stand a chance. It also has an oscillation function, 10 airspeed settings, and will automatically shut off if it gets tipped over for any reason.
15 Nightstand Essentials For Men
Prepping for bed is a daily ritual almost all of us go through. In order to do it right, there are a few things you absolutely need to have. Make sure you're all ready for bed each evening with the best nightstand essentials for men.