Winter is finally in full swing and, if you live anywhere near the mountains, you should be seeing plenty of snow. That also means it's finally time to start hitting the slopes on your favorite pair of skis or snowboard. Of course, if you've got gear that's a couple of seasons or more old, it might be time to start looking for some stuff that's a bit fresher and up-to-date.
Impressively, some major leaps and bounds have been made in regards to ski and snowboard gear and tech. So even if you picked up some new stuff last year, you may still want to look into upgrading. Whether you're a newcomer looking to get into these two popular winter sports or you've been around the mountain a few times, you're going to want to check out our collection of the 35 best pieces of gear for skiing and snowboarding.
Pizza & French Fries
Gear For Skiing
Originally used by Scandinavian hunters, warriors, and farmers in the middle ages, skis were popularized for purposes of leisure way back in the mid-1800s. And while its popularity has risen and waned since — thanks especially to the explosion in the popularity of snowboarding — it's still a viable, enjoyable outdoor winter activity. Even if you're a die-hard snowboarder, there's a lot to be learned from trying out skiing and it's a hell of a workout. Whether you're a beginner or a lifelong slope fiend, the following gear is superb for skiing.
Fits Light Ski Sock
While you could probably get away with hitting the slopes in a pair of regular tube socks or even hiking socks, you'll be much better off if you slide into a pair of Fits Light Ski Socks, as they're made specifically for the impact on your feet caused by skiing. Not only are they comfy and warm, but they have padding in all the right places, a toe cap that conforms to your foot, and a heel bed that will help prevent blisters. There's a reason these socks are Fits' best seller.
Black Diamond Carbon Ski Poles
Even though most ski poles look alike, there are certainly big differences in quality. And these ones from Black Diamond are some of the best. Crafted from lightweight, ultra-strong carbon fiber with a Kevlar-reinforced lower, these performance poles will serve you brilliantly on any part of any mountain — whether you're skiing down groomed slopes, through powder, or cross-country.
Marmot Ultimate Ski Gloves
Technically, these gloves would suit you well whether you're a skier or snowboarder, but Marmot did originally intend for them to be used by skiers — hence the carabiner attachment that's perfect for your poles or hanging your gloves out of the way when you're not wearing them. They also boast Primaloft gold insulation, a GORE-TEX waterproof insert, and a drawcord to keep the snow out.
The North Face Powder Guide Vest
When The North Face first made this vest, they designed it to meet the rigorous standards of hardworking ski patrollers — you know, the folks who tool around the mountain making sure visitors are all safe and sound. So they built it from bombproof ballistic nylon for toughness, durability, and water-resistance. They also included a Recco avalanche rescue reflector, equipped it with snowboard/ski straps, and gave it pockets for everything from your goggles to parts of an avalanche shovel. Best of all, they're so confident in its performance that they've given it a lifetime warranty.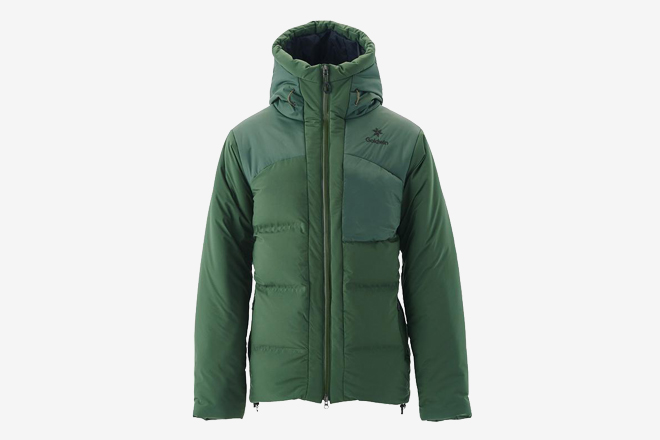 Goldwin Thebe Hybrid Down Jacket
Yes, you could wear Goldwin's Thebe jacket for snowboarding, but they definitely put it together with skiing in mind. This urban-styled puffy down jacket boasts a water-resistant exterior — complete with a water-repellent wax coating on the upper portion. It also features Kodenshi down and Primaloft insulation to keep you warm in any weather — paired with bonded baffles to help protect against water penetration, and so much more.
Line Skis Sakana
While he's certainly a man of many talents, one of Eric Pollard's biggest contributions is in the world of freeskiing — both when it comes to the activity itself and in helping design some of the best gear for freeskiing. Take, for instance, the Line Sakana skis, which he shaped and hand-drew personally. Designed to mimic the shape of a fish (Sakana is actually the Japanese word for fish), these all-mountain skis are some of the best ever made. They're so good, in fact, they've taken home a bundle of "best of" awards.
Head Kore 1 Ski Boot
Made from a synthetic proprietary material called Grilflex — renowned for its strength and durability — these aggressively-styled ski boots were actually designed to perform perfectly on downhill slopes and in the backcountry, making them a must-have for anyone looking to keep their winter adventure options open. They also offer an ultra-stiff 130 flex, but come with the ability to switch into "walk mode" for easier ambling when not in your skis. They also have an interior that will mold to your foot shape as you wear them, amongst a long list of other top-tier features.
10 Best Skis For Every Rider
If you french fry when you're supposed to pizza, you're gonna have a bad time. But you won't be able to do either unless you have a pair of skis. Lucky for you, you can find the perfect pair on our list of the 10 best skis for every rider.
Falling Leaf
Gear For Snowboarding
Back in 1965, a man by the name of Sherman Poppen, an engineer out of Michigan, took a pair of skis and attached them together, unknowingly creating what would go down in history as the first snowboard. Since then, the sport has become a worldwide phenomenon, eclipsing more traditional skiing in popularity. Today, you can travel to any mountain around the world — even some only accessible by helicopter — and you'll likely find more snowboarders than skiers (though the fight for mountain superiority has plateaued a bit). It's an exhilarating way to careen down the side of a snowy mountain, especially if you've got some of the following gear to help you on your way.
686 Surplus Snow Tool Belt
The 686 Snow Tool Belt has been around for some time now, but we are especially fond of this one, made with both high-grain leather and nylon. What's really special about it, however, is that it doubles as an on-the-go snowboarding multi-tool. That way, if you find yourself with a problem with your bindings while out on the slopes, you can perform several different kinds of maintenance without having to hoof your way down to a board shop. Including drivers, a hex wrench, and even a bottle opener, this belt is a lifesaver.
686 Smarty 3-In-1 Cargo Pants
Borrowing the concept of a 3-in-1 construction from winter jackets, these high-end snowboarding cargo pants boast a waterproof polyester interior but also have a removable layer of polyester stretch fleece — which can be taken out for warmer days or used on their own with different bottoms. The pants also feature taped seams to keep the moisture out, vents that can be opened to let your legs breathe, a connector system to mate it to a jacket, and a Boa-compatible boot gaiter.
Vans Blake Paul Verse Snowboard Boot
Though normal laces are decent at keeping your snowboarding boots tight on your feet, the revolutionary Boa system is far more effective and efficient — which is why Vans and Blake Paul incorporated it into their Verse snowboard boots. These boots also feature a new zip-up shroud to keep their lower portion protected from snow, ice, and debris, as well as custom heat-moldable liners for a perfect fit, the brand's Ultimate Waffle outsole for lighter weight but better support, and so much more.
Burton Step On Bindings
In the past, step-in bindings seemed good in theory but couldn't hold up too well in practice. That all changed once Burton took up the task — resulting in their revolutionary Step On Bindings. Sold as a set along with a pair of ultra-comfortable heat-molding Boa-equipped boots, these bindings are intuitive, secure, quick, and they look pretty damn good. Even better, they're universally compatible with all standard binding mounting systems.
Franco Custom Snowboards
There are a lot of different snowboard brands that offer a wide array of shapes and styles. The truth is, however, if you want the perfect board, you need one that's custom made. That's where Franco Custom Snowboards come into play. Mikey Franco, owner-operator of the brand, is an expert board maker. The holy grail of his business, though, is his custom program. You see, Mr. Franco will actually spend a day with you on the slopes, learning your style and preferences, and he'll take that information and build a board specifically customized to you and only you. It's pricey, but this level of customization is unheard of elsewhere.
10 Best Snowboards For Every Rider
Planning to hit the slopes on a board but don't have the scratch for the custom ones above? Well, there are still plenty of options on our list of the 10 best snowboards for every rider.
All Mountain
Crossover Gear
With obvious exception given to things like skis, boards, bindings, and poles — most winter sports gear is versatile enough that it can be used for both skiing and snowboarding. In fact, some pieces of gear that were originally designed for one activity or the other function exactly the same whether your feet are attached to a single plank or a pair. As such, the following gear is good for everyone on any slope on any mountain — even if you're just sledding with the kids.
Slopes Ski & Snowboard App
Nowadays, it seems like there's an app for everything — so it should come as no surprise that there's one for skiing and snowboarding, as well. And, honestly, it's something every skier and snowboarder should have on his smartphone and/or smartwatch, as it's an ultra-useful tool to give you information on just about any mountain and it will even track your activity throughout the day — including average speed, altitude changes, and more. Best of all, it's totally free.
Black Diamond Binding Buddy Multi-Tool
In an ideal world, you'll never have to perform maintenance on your gear while out on the slopes. This is not, however, an ideal world. To stay prepared to do field maintenance, you should include the Black Diamond Binding Buddy multi-tool in your gear — whether you ski or snowboard. That way, if something seems afoul or needs adjustment, you can make it happen in moments and get back to shredding that fresh powder.
Demon Hyper X Wax
Ask experts and they'll tell you that there's no such thing as a universal board and ski wax — but this is about as close as it comes. Designed to work in any temperature, this proprietary wax blend will help you blitz down the mountain at almost scary speeds. As an added bonus, it also smells great and it's made in California.
Topo Designs Watch Cap
It's a common misconception to think that all beanies are the same. But if you try out the American-made Topo Designs Watch Cap, you'll realize that's simply not true. Crafted from soft acrylic yarn, this cap will keep your head warm on even the coldest of days, but it won't suffocate you if you wear it all day long.
Zippo Rechargeable Hand Warmer
Unless you're skiing or snowboarding in the Arctic, you probably don't need to use hand warmers on the slopes. But, in the time between runs, you might get a little chilly and need something to help warm up your digits. That's where the Zippo Rechargeable Hand Warmers come into play. These USB-rechargeable devices have five different heat levels, can be turned off and on with the push of a button, and can run for six hours straight.
Skibonez Mask
One of the big issues with traditional ski masks, besides the fact that they make you look like a bank robber, is that they hug your face so tightly they also collect moisture from your breath, making them pretty unsanitary after a full day on the slopes. The Skibonez Mask fixes that problem with the inclusion of an internal frame that ensures your face stays warm without suffocating you and eases the flow of oxygen.
FNDN Flask Gloves
Though not for everyone, we like to have a stiff drink or two between runs when we go snowboarding or skiing. But having to stop at the lodge can mess up our rhythm. Thankfully, the FNDN Flask Gloves exist. They're warm and waterproof, making them perfect for winter sports, but they also have a hidden pocket that holds a collapsible 10-ounce flask. You could fill them with water, but we prefer scotch or bourbon whiskey.
Under Armour Ua Base 4.0 Leggings
Warmth can be hard to come by in the winter, and that's a definite factor worth considering when you're headed up to the mountains for any reason, but especially if skiing or snowboarding is involved. If you've got Under Armour's Ua Base 4.0 Leggings, however, it's as simple as putting them on and then forgetting about it, because they'll keep you warm and comfortable all day long.
DMOS Stealth Shovel
Chances are, if you're headed to a ski resort, you aren't going to need something like the DMOS Stealth Shovel. But if you're the type to tread off-the-beaten-path to get the freshest powder around, it's almost must-have gear. This collapsible shovel is remarkably packable but also super strong when put together. Whether you're using it to clear away ice to create the perfect run, building a kicker to get that extra height, or carrying it as an emergency avalanche preparedness tool, it won't let you down.
Bonx Grip Group Talk System
Between the wind and snow, communicating with your buddies while you're out on the slopes can be a tough prospect. That is, of course, unless you've got the Bonx Grip Group Talk System. Think of Bonx like a set of walkie-talkies, except they fit in your ear like a hands-free Bluetooth headset, work with up to 10 people at the same time, and can even keep you cued in when your signal is weak or fading. Stay in touch on any mountain with these handy headsets.
Smith Maze MIPS Snow Helmet
There was a time when we wouldn't have advocated for helmets because they didn't look "cool." Turns out, safety has become a much higher priority, because we value our craniums these days. That's why we trust in the Smith Maze MIPS Snow Helmet. This highly advanced helmet will keep your brain safe from impact and rotational motion, but it's also breathable, lightweight, and compatible with Skullcandy's audio systems.
Vollebak Condition Black Ceramic Baselayer
Vollebak makes some of the most technically advanced apparel in the world, and their Condition Black Ceramic Baselayer is no exception. Applied to apparel for the first time ever here, ceramics have been used in things like jet engines and missile nose cones for years. Embedded with over 100,000 ceramic particles, this might just be the toughest baselayer out there — and, yes, it will definitely keep you warm, no matter the weather.
Osprey Kamber 42 Ski Pack
Don't let the name fool you — this backpack was designed to carry either skis or a snowboard, depending on your preference. It's also got the room for 42 liters of gear, making it excellent for hauling around any other gear you might want with you, an ultralight backpacking haul, or just some snacks to get you through a long day on the slopes. It's also worth mentioning that this bag's construction is water-resistant, comes with a padded hip-belt and contoured shoulder straps, and it's compatible with hydration bladders.
Spy Doom Snow Goggles
Spy Optics' Doom Snow Goggles have one of the largest fields of vision of any on the market, which means you can take in all the unobstructed sights as you speed down the mountain. That's bolstered by the anti-fog tech built into the lenses and the fingerprint-free Lock Steady quick change system. Truly, these are some of the best snow goggles on the market — try them out and find out for yourself.
The Db Ski Bag
Designed to fit a couple pairs of skis and poles or a couple of snowboards, The Db Ski Bag is one of the best travel ski bags available on the market. Which is all the truer when you consider that, when you're not using it, you can collapse it down into a much smaller roll for simple storage. It expands to fit a huge amount of gear, has wheels for easier transport around, say, the airpot, and it's built from rugged water-resistant material.
Electric Electron Goggles
The problem with most goggles is that, if the conditions in the sky change while you're out on the mountain — from sunny to overcast or vice versa — you need to swap out lenses to make sure you can see properly and that you're protecting your vision from things like snow blindness. Electric's Electron Goggles solve that issue by offering up tint that changes between three settings and the push of a button. All you have to do is keep them charged and you'll never have to change your lenses ever again.
Mammut Barryvox Avalanche Beacon
Even at well-groomed resorts, there's always the looming chance that an avalanche could occur, putting you and everyone you're with in danger. And while we hope that never happens, it's always better to be prepared — especially if you frequent the backcountry. That's why we suggest bringing along the Mammut Barryvox Avalanche Beacon, which boasts a 70-meter digital range, allowing emergency responders to find you in the critical moments following the natural disaster.
Somewear Global Hotspot
If you like to travel with friends or family, but you don't necessarily want to ride the same slopes as them, you might want to stay in touch via text messaging. The problem? A lot of mountains are not exactly ideal in regards to cell coverage. But, if you keep the Somewear Global Hotspot on your person, you can access satellite two-way texting, weather reports, location tracking, and more — all outside of normal cell coverage.
GoPro Hero7 Black Action Camera
With each new iteration, GoPro manages to further solidify themselves as the king of action cameras. And the cream of the crop is this year's top-tier release: the Hero7 Black. With the ability to capture 4K video and 12MP stills, built-in image stabilization, waterproofing without any additional housing, voice control, and so much more — there's really not a reason to get any other camera if you want to capture your outdoor adventures.
686 GLCR HydraStash Jacket
Staying hydrated during any outdoor activity is a tough prospect, but it's all the more difficult doing extreme sports, like skiing and snowboarding. The fact is, water bottles are tough to carry around a mountain. Luckily, the folks at 686 built the GLCR HydraStash Jacket. It gives you everything you'd want out of a winter shell, including GORE-TEX waterproofing, a roomy hood, plenty of pockets, and a wide array of other features. But it also has a handy hidden bonus: a built-in hydration pack.
Patagonia PowSlayer Bibs
A solid pair of snowboarding pants will get you through most days, but you might end up with some snow down your backside. That is, of course, unless you're wearing Patagonia's PowSlayer Bibs. Perfect for both snowboarding and skiing, these waterproof overalls ride high enough that you won't end up with chills down your spine. They're also made with 100% recycled nylon face fabric, a GORE-TEX membrane, attachment points for your jacket, and even a concealed RECCO reflector for avalanche safety.
TOBE Outerwear Rex Mono Suit V2
The holy grail of winter sportswear, TOBE's Rex Mono Suit V2 will keep you warm and dry, even in the harshest of blizzards. This jumpsuit boasts Kevlar-reinforced knees and ankles to keep you safe from abrasions during a spill — even the zippers are completely waterproof. It has an adjustable and removable hood, wrist gaiters to keep the snow out, a wealth of pockets, and way more than we could reasonably list.
Arc'teryx Voltair 30 Avalanche Airbag Pack
Carrying a backpack when you're out in the backcountry is a good idea, because it gives you the ability to haul things like water, snacks, any electronics or survival gear you might want to carry, and more. And while that's all well and good, there's one other thing they can do. Or rather, there's another feature built into this particular bag: an avalanche airbag. Designed to inflate on impact, this backpack boasts an airbag that will help you float to the top of an avalanche, increasing your chances of survival tenfold. You probably don't need something this intense unless you ski or board far from civilization, but it's absolutely worth consideration if avalanche safety is one of your concerns.
20 Winter Survival Essentials
Whether you live at the mountain or you're just visiting, there's a bit of danger to be had in the colder months of the year. You can circumvent a lot of the pitfalls of traveling to and from the slopes if you keep these 20 winter survival essentials on hand.