Although side tables usually play second fiddle to other more prominent pieces of furniture, that's not to say they're any less important to your room's overall design scheme. On the contrary, for you see, side tables invite a sense of balance by offering a visual accompaniment to your seating arrangement — be it a couch, a lounger, or even a couple of chairs. And without some sort of resting place to hold your drinks and books, you'll find that the room will feel noticeably incomplete. What's more, side tables are highly useful in that they often feature an in-built organizational system. Whether that takes the form of a simple shelf or a set of sliding drawers, it makes for a great way to declutter your things and free up some space.
Nevertheless, buying the best table for your needs isn't as simple as choosing the first one you find — not hardly. These days, the furniture industry is massive and there are hundreds of designs from which you can choose. On the one hand, the variety means that there's an option perfect for you, no matter if you're buying it for a screen porch, a lounge area, or even a man cave. But let's face it. The number of available options can be overwhelming — especially given our present living situation where opportunities for in-person showings are few and far between. Lucky for you, we've got you covered. Having dove head-first into the plethora of pieces on the market, we've since curated our favorites in the form of this handy guide. Read on to see what we've picked for the best side tables for every budget.
Ikea Gladom Tray Table
As the agent of affordable furniture designs, Ikea is a brand perfect for those who want to fill in their living space without emptying their wallet. The Gladom Tray Table is a case in point, coming at a price that almost seems too good to be true whilst also boasting a solid build quality. Its lightweight steel construction makes it easy to rearrange come time to host, and because it features a removable tray top, you can even serve your guests straight from the table.
Boraam Leonardo End Table
If the above option from Ikea isn't rustic enough for your particular tastes, this Leonardo End Table from Boraam is one piece that's well worth a look. Crafted from a combination of weathered fir wood and iron, it's oozing with industrial style. And since it has a wide footprint, there's ample room beneath it to hide magazines, blankets, and other various items. But the best part is that thanks to its collapsible design, you can even fold away the legs when not in use.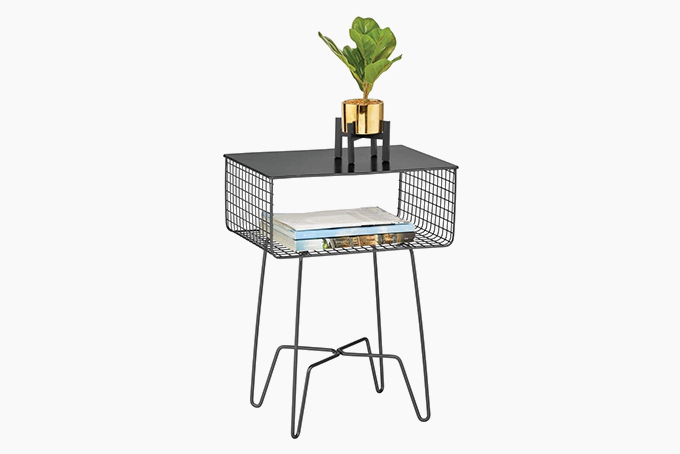 mDesign Modern Farmhouse Side Table
One of the biggest benefits of side tables is their added ability to store things that would otherwise clutter up the rest of your room. For instance, mDesign's Modern Farmhouse Side Table comes with a flat top and a caged center console, allowing you to set your drink down on the upper surface and shelve things like books and laptops below. What's more, it features a modern design with a set of hairpin legs, a combination that looks great no matter what you pair it with — even more traditional decor.
Christopher Knight Home Sidney Indoor Accent Side Table
Just because a side table is a smaller piece of furniture doesn't mean that it has to skimp on sturdiness. In the case of this Sidney Indoor Accent Side Table by Christopher Knight Home, you'll find that a lightweight concrete construction and a cylindrical drum shape ensure that it's as solid as a rock. Arguably more impressive, however, is its versatility. Equally at home tucked away in a corner with a plant or next to your couch with a lamp, you can't go wrong with this one.
Yamazaki Rolling Side Table Wagon
While reorganizing your furniture is a great way to revitalize your living space, it usually proves to be quite an undertaking. Luckily, Yamazaki's Rolling Side Table Wagon comes with a set of caster wheels, allowing it to double as both a mobile table and a handy cart. Made from 100% steel, it sports a minimalist design complete with a pair of built-in compartments for small essentials as well as a spacious lower rack for larger items like books and nick-nacks.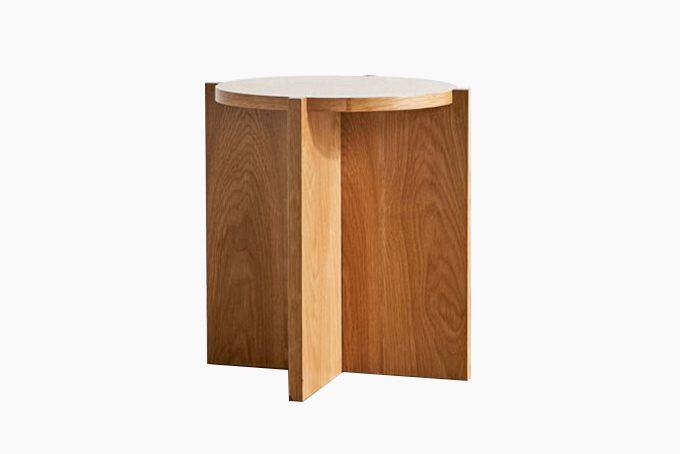 Urban Outfitters Astrid Round Side Table
Urban Outfitters may be best known for its trendy fits and kitschy decor, but the brand also happens to make some solid furniture — as evidenced by the Astrid Round Side Table we've featured here. Offering a truly modern take on an accent piece, it comes with a rounded top and an intersecting x-base. With its light brown ash wood veneer, you'll find that it's an easy way to brighten up any room.
Dims Rove Table
This little side table comes courtesy of renowned Taiwanese furniture designer Kenyon Yeh, and it shows in its simple yet utilitarian form factor. For starters, it includes a recessed handle built into the base, enabling convenient carry from room to room. And because the tray itself is built with a lipped edge, it's ideal for keeping drinks and other breakables from being knocked to the floor. Whether you decide to place this piece indoors or out, it's sure to add some functionality to your furnishings.
Floyd The Side Table
When you're after an American-made alternative to some of our previously listed budget picks, it doesn't get much better than Floyd. Based in Detroit, the brand prides itself on building sustainable, long-lasting furniture in spite of a market awash with disposable offerings. When it comes to The Side Table, this means that you get a trio of robust 11-gauge steel legs set against a classy American walnut veneer top. Available in both small and large sizes, you can even assemble it without tools.
EQ3 Verre End Table
Although wood and metal are most often the materials of choice, there are times when they command too much presence, in which case glass makes for an ideal alternative. Just take the Verre End Table from EQ3, for example. With its contemporary design and 12mm tempered glass construction, it offers a great way to mix up the rest of your room with a bit of transparency. And because it comes in three different colors — including clear, brown, and grey — it's super easy to match it to your existing color pallet.
Hay Rebar Side Table
Since 2002, Denmark-based furniture design house Hay has made it its mission to produce high-quality, thoughtfully-created pieces at a more accessible cost. With this Rebar Side Table designed by Sylvain Willenz, you'll find that the combination of a reinforced steel bar frame paired with a black marble top offers a balance typically not found in furniture at this price point. Add to that some classy black powder-coating and a Nero Marquina finish and the result is a side table perfect for both lighter and darker decorating schemes alike.
DWR Mag Table
The designer behind the Mag table (Eric Pfeiffer) has been working on functional plywood furniture since the 8th grade, so it goes without saying that it'd be all-but unmatched in terms of its utility. In practice, it's something of a jack of all trades, equally capable as a side table, a stool, or even a laptop stand. And that's not all — it also comes with a handy cutout that can be used to store magazines. Top it off with a built-in handle for easy rearrangement, and the result is a piece that is a piece that really gives meaning to the saying "form follows function."
CB2 White Marble Table
A block of marble is a great way to add some elegance to your room without complicating the rest of your decor. We especially like this one from CB2 because its triangular shape ensures that it stands out in a sea of otherwise squared-off options. Designed by VUUE, it measures 16″ high by 11.5″ wide by 10″ deep, making it the perfect size to set against a couch or between two chairs. Should you want to pair it with a second table, there's even a grey marble and a polished variant — perfect choices for providing some balance.
West Elm Industrial Concrete Side Table
But for those who are after a more industrial aesthetic, you'll be better suited with something made from concrete like this side table from West Elm. Because each piece is hand-cast, no two are alike, meaning that you effectively get some bespoke furniture at a much more reasonable price. And since it comes with a built-in iron shelf, it not only looks the part; it also provides some practical storage provisions. In short: this is one table ideal for more brutalist interiors.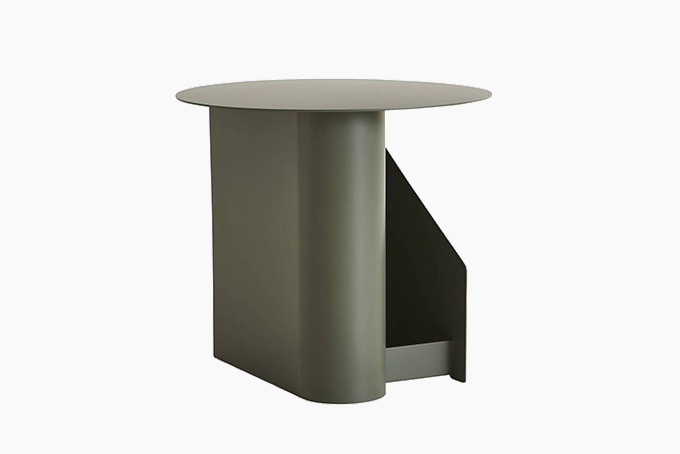 Woud × Maximilian Schmahl & Fabian Schnippering Sentrum Side Table
Designed by Norway's Maximilian Schmahl and Fabian Schnippering, the Sentrum side table embodies functional simplicity to a tee. So, in addition to providing an eye-catching aesthetic, its unique S-shaped construction also allows for a bit of built-in utility, with plenty of room to hide coffee table books in each of its two compartments. Available in everything from black to burnt orange, this painted metal table is sure to brighten up your room with a pop of color.
Anthropologie Kalle Sculptural Oak Side Table
It's not for nothing that Anthropologie has long occupied the upper echelons of interior design — their furniture is consistently a cut above the rest, and it shows with this Kalle Sculptural side table. For starters, it's crafted from real American oak wood, meaning that despite its fluid, organic shape, it's surprisingly sturdy. But that's not all — with two distinct finishes to choose from — Natural or Black — as well as Anthropologie's complimentary home styling services, it's also incredibly easy to get the best look for your living room.
Schoolhouse Andy Side Table
Oregon-based Schoolhouse is a brand that's built a name for itself based on its reinterpretation of classic American staples with a timeless minimalism that proves just how impactful simplicity can be. The Andy is one such side table, for underneath its earthy, satin finish you'll find a design based on an original Thinline piece.. Made from aluminum and plywood, there are plenty of applications in which we could see this working — just check out the included gallery at the link below.
TRNK Rivet Box
As rugged as it is refined, TRNK's Rivet Box offers a crash course in the merits of embracing raw industrialism. That's because everything about it Jonas Tramedach designed with necessity in mind — from the hand hammering for the side panels to the riveting technique for its assembly. As is the case with each of the Frama furniture studio's pieces, this is one that toes the line between classical and cutting-edge.
Industry West Cane Nightstand
No matter how smart of a shopper you are, buying furniture online can be a bit of a gamble, what with the potential for variations in finish colors and the likelihood that the piece won't even fit. Thankfully, Industry West offers a complimentary swatch program with each of its pieces, allowing you to preview this Cane Nightstand in each of its available colors. But with its contemporary ash construction and inlayed woven cane, you can't go wrong with any of them, whether you go for natural, black, or even cactus green.
Artifox Side
From minimalist bike racks to modern standing desks, Artifox is a brand that consistently strikes the right balance between simplicity in form and utility in function. And their aptly dubbed 'Side' side table is no exception. Up top, it's been given some subtle dock storage for your phone, whereas underneath there's room to hide cables and other charging accessories. And when you consider that it even comes with a drawer deep enough for file cabinet capabilities or everyday clutter, this is one offering that can't be beaten.
Trace Side Table
If you're looking for a piece that'll scratch your itch for contemporary design, this Trace Side Table from Naughtone should do just the ticket. With its continuous lines, inset glass surface, and minimalist legs, it just screams modern. But don't think that it's just an aesthetic piece — all looks and no substance. Rather, because it's made from a single piece of handmade mild steel (with a hard-wearing powder coating), this is one side table that'll be with you for years to come.
The 15 Best Places To Buy Houseplants Online
Now that you're well-versed in the merits of a solid side table, it's time to finish it off with some decor. If you're looking to put your green thumb to the test from the convenience of your own home, be sure to check out our guide to the best places to buy houseplants online.