Aug 28, 2018
Category: Entertainment
The term "self help" means different things to different people. To some, it means self improvement, honing a skill, winning the game of life, whether that means accruing a financial fortune, gaining influence and social clout, or becoming a skilled and refined gentleman of talent and tact.
To others, self help is less about acquisition and more about inquisition. The other sort of self help book — less of the "how to" sort and more of the "why" — is a vehicle for self exploration, and ultimately self actualization. Some self help books are hybrids of the two kinds, utilizing the instruction of a valuable skill to endow an invaluable truth. All forms of self help books are on our list of the 20 Best Self Help Books For Men.
The Subtle Art of Not Giving a F*ck
A #1 New York Times Bestseller with three million copies sold, this unique book by Mark Manson teaches a philosophy that's somewhat contrary in a world of constant, deliberate (often phony) optimism. His mantra: simply don't give a f*ck. "Let's be honest, shit is f**ked and we have to live with it," writes Manson. The gist of his argument is that life is hard, and our ability to deal with its shittiness — by not getting too wrapped up in it — is the key to our success.
Author: Mark Manson
Published: 2016
Pages: 224
Nature, Man and Woman
Alan Watts is an iconic figure in the American soft-philosophical world. He had massive influence in the 1960s by helping import the teachings of Zen Buddhism, Hinduism, Taoism, and Eastern culture to the United States, where it became part of mainstream culture. His book Nature, Man and Woman is one of his most revered works, which makes use of the teachings of the East to reorient consciousness and help people — especially men — better understand a healthier way with which to relate to women and the natural world, as well as how interacting with the outdoors can reveal much about man's mind.
Author: Alan Watts
Published: 1958
Pages: 224
Thinking Fast And Slow
Thinking, Fast and Slow by Daniel Kahneman was a bestseller when it was published in 2011. Kahneman, a Nobel Prize Winner in Economic Sciences, delves into the secrets of human behavior, applying large-scale patterns to a relatively small scale sample: the stock market. He explains how the mind can be broken down into two forms of thought: fast and slow. Then, he applies the lessons that can be taken from this breakdown to various things, including investing — but also small things, like planning a trip or going to the corner store. A fascinating study of the human mind that can be hugely beneficial for readers.
Author: Daniel Kahneman
Published: 2013
Pages: 499
Think On These Things
Jiddu Krishnamurti, like Ram Dass and Maharishi Mahesh Yogi, is a beloved "guru," whose teachings have helped man. Krishnamurti is much different from other spiritual leaders. He doesn't pontificate or speak with an ecclesiastical flourish or in nebulous spiritual terms. He speaks in simple, concise terms to instill his lessons; he doesn't use loaded terms like "awakening" or "enlightenment" to tantalize his readers. Instead, he guides them toward a deeper understanding of their consciousness with straightforward, comprehensible language.
Author: Jiddu Krishnamurti
Published: 1964
Pages: 272
Wherever You Go, There You Are
Written in 1994, Wherever You Go, There You Are: Mindfulness Meditation in Everyday Life by Jon Kabat-Zinn has sold 750,000 copies worldwide and has been embraced as a beautiful guide to living life in the present moment. Zinn writes: "Mindfulness means paying attention [to the world] in a particular way: on purpose, in the present moment, and nonjudgmentally." Designed to teach stress reduction and inner peace, the book has helped thousands to live a more mindful life.
Author: Jon Kabat-Zinn
Published: 2005
Pages: 304
You Are A Badass
The full title of Jen Sincero's book is You Are A Badass: How to Stop Doubting Your Greatness and Start Living an Awesome Life. In a 27-chapter breakdown, Sincero teaches readers exactly why they are much more awesome than they probably give themselves credit for (why you're probably just as great as your dog thinks you are) and explains just why embracing your own inner-greatness can lead to a better life. This wisdom-filled book is obviously more accessible than the generally stodgy self help book, and it's guaranteed to boost your confidence.
Author: Jen Sincero
Published: 2013
Pages: 256
Rich Dad Poor Dad
If financial gain is the kind of self help you seek, then Rich Dad Poor Dad: What the Rich Teach Their Kids about Money That the Poor and Middle Class Do Not! is the book for you. Written by Robert Kiyosaki, this book first hit shelves in the 1990s and made waves in the financial world. Filled with advice on how to better your situation financially, this is an excellent way to learn how to manage — and acquire — true wealth.
Author: Robert T. Kiyosaki
Published: 2000
Pages: 204
The 7 Habits Of Highly Successful People
Steven Covey's book The 7 Habits of Highly Effective People doesn't stay in a specific lane when it comes to the wisdom it offers. From professional to familial tips, this books shows how highly successful people interact in their day-to-day lives, and helps readers to emulate the same philosophy. Covey focuses on helping readers develop their "proactive muscles" and learn to take life by the horns.
Author: Stephen R. Covey
Published: 1989
Pages: 393
The Four Agreements
Bestselling author Don Miguel Ruiz uses the ancient wisdom of the Toltec people — who flourished in central Mexico from the 10th to the mid-12th centuries — to discuss the problems in thought and belief that rob us of joy. His solution to our toxic and self-limiting patterns of thought is a system of four agreements. They seem simple: be impeccable with your word; don't take anything personally; don't make assumptions; always do your best. But enacting these agreements? Not quite so simple.
Author: Don Miguel Ruiz
Published: 1997
Pages: 160
Things You Should Already Know About Dating, You F*cking Idiot
Let's be honest. Dating can be f*cking hard. Finding the right person and knowing how to move forward is not as simple as TV and movies make it out to be. Thankfully, we have such gracious compendiums of wisdom as Ben Schwarz and Laura Moses's joint effort: Things You Should Already Know About Dating, You F*cking Idiot. This playful and fun read can help the prospective dater escape their destiny of dying alone.
Author: Ben Schwarz & Laura Moses
Published: 2017
Pages: 151
How To Be A Gentleman
For many, this little black book has taught them the decorum needed to be a gentleman. An expansive list, How to Be a Gentleman: A Contemporary Guide to Common Courtesy teaches men of all ages the right way to do things, as dictated by years of tradition. It also paints in broad strokes just what a gentleman is, e.g.: a gentleman considers the weight of his words and the impression he is leaving. Being a gentleman is not about looking refined and holding doors open, it's about making others feel valuable and comfortable in his presence. Learn how with this compact little book.
Author: John Bridges
Published: 2012
Pages: 240
Think And Grow Rich
Napoleon Hill's legendary book from 1937 still holds true today. Though some of the research may be obsolete, the general concepts put forth by the journalist — who interviewed 500 of the most successful people on Earth at the time, including Henry Ford, Thomas Edison, Alexander Graham Bell, John D. Rockefeller, George Eastman, William Wrigley Jr., and Charles M. Schwab — hold true today. This book draws wisdom from some of the people who changed America and the world.
Author: Napoleon Hill
Published: 1937
Pages: 320
How To Win Friends & Influence People
It would be difficult to assemble a list of the best self help books without this classic work by Dale Carnegie. How To Win Friends & Influence People promises to help you navigate life and achieve your dreams. More precisely, it states: "You can go after the job you want—and get it!
You can take the job you have—and improve it! You can take any situation—and make it work for you!" This book offers a huge assortment of tips on how to get people to like you, and therefore, how to get what you want out of them. It's a little Machiavellian but it seems to have worked for many, with over 15 million copies sold.
Author: Dale Carnegie
Published: 1936
Pages: 291
The Art of Persuasion: Winning Without Intimidation
Like Carnegie's timeless tome, this book by Bob Burg offers a tactical guide to social navigation of all kinds. The Art of Persuasion: Winning Without Intimidation offers gentle and indirect ways to manage people effectively. Making use of plenty of euphemisms for "manipulate," Burg's book teaches readers how to persuade and influence people into doing what you want.
Author: Bob Burg
Published: 2011
Pages: 238
The Life-Changing Magic of Tidying Up
Decluttering one's life can change everything about it. Such is the thesis of this #1 New York Times by Marie Kondō, who studies the Japanese traditions of organization and tidiness — in general, simplifying your life — and its effect on the rest of your life.
Author: Marie Kondō
Published: 2014
Pages: 224
Outliers: The Story Of Success
The aberrations, the one in a million, the diamonds in the rough — what makes some people so incredibly successful? Malcolm Gladwell takes on the question of what makes some people succeed where others don't. Gladwell investigates the microcosmic aspects of high achievers' liives, from their upbringings to their attitudes. He tackles broad cultural questions about the achievement of groups of people, and even gets as specific as what made the Beatles the greatest rock band? Throughout, Gladwell's book entertains and edifies.
Author: Malcolm Gladwell
Published: 2008
Pages: 321
The 48 Laws Of Power
Robert Greene's The 48 Laws Of Power falls in the same tonal tradition as Niccolò Machiavelli's The Prince and Sun Tzu's The Art Of War. It is ruthless, greedy, self prioritizing, and amoral. By examining history's last 3,000 years, Greene has distilled the 48 rules for accruing power — it might require you to get your hands dirty. In my assessment, all you really need to know is Law 15: Crush Your Enemy Totally.
Author: Robert Greene
Published: 2000
Pages: 452
The Power Of Habit
Habits create and subsequently govern our lives. In his book The Power of Habit: Why We Do What We Do in Life and Business, Charles Duhigg explores the science behind the patterns we develop in our lives, how they are formed, how they are broken, and whether we control them or they control us.
Author: Charles Duhigg
Published: 2014
Pages: 416
Beyond Anger: A Guide for Men
It's no secret that men sometimes have anger problems. Many of us fly off the handle fairly easily. Fully titled: Beyond Anger: A Guide for Men: How to Free Yourself from the Grip of Anger and Get More Out of Life, Thomas Harbin's book explores anger through various studies, aiming to help men rid their lives of unnecessary anger in order to pursue a more fulfilling, peace-filled life.
Author: Thomas Harbin
Published: 2018
Pages: 304
The Art Of Happiness
I can't really imagine a better person to take advice from on how to be happy than the Dalai Lama. His Holiness has boiled it down for us, graciously, to read in this book comprised of conversations, contemplations, meditations, and mantras. Since it debuted a decade ago, this book has touched innumerable lives.
Author: Dalai Lama
Published: 1994
Pages: 352
The 50 Books Every Man Should Read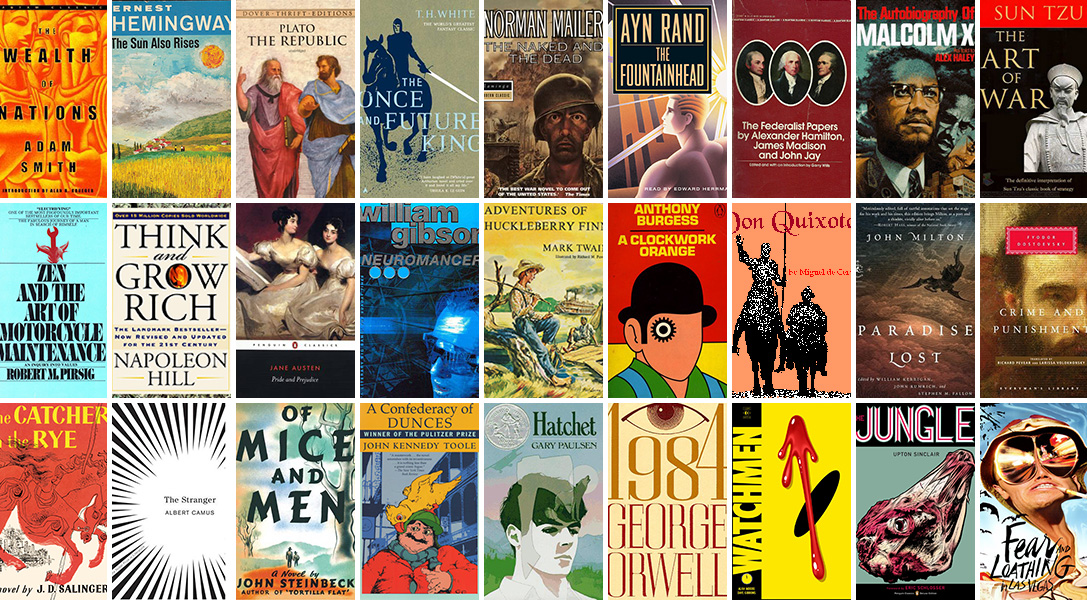 A man is not defined by his net worth, but rather the expansiveness of his mind. Scroll through our curation of the 50 best books for men to enhance your mental library.
HiConsumption is reader-supported. When you buy through links on our site, we may earn an affiliate commission. Learn more