Climbing is a fantastic way to keep your mind and body in tip-top shape. The activity pushes you to use your logic and determination to find a way to conquer the vertical in front of you. Yes, it's a physical workout, but it also mirrors how to succeed in life, which makes the activity even more beneficial and rewarding.
For the novice climber, it would be smart to start in climbing gyms. The sport has become popular enough to allow plenty of man-made verticals to pop up all over the country. Indoor climbing gyms replicate the outdoor climbing experience through the creation of artificial walls, handholds, and footholds. However, if you've grown comfortable with indoor climbing and the three disciplines, bouldering, top roping, and lead climbing, then outdoor climbing is the next natural step. After digging into the many options available, we've compiled a list of the best climbing destinations for beginners while taking into account the difficulty level, views, and established routes.
Safety First
A Quick Disclaimer
Taking your climbing skills to the great outdoors is a big step. All of the safety procedures you practice indoors should be applied outdoors as well. The first thing you need to do is find a professional, proven, and certified guide to show you the ropes on your first outdoor crag. If you're already a member at a climbing gym, there could be a qualified instructor there who may be interested in tagging along on your adventure.
Make sure you triple check all your gear and bring crash pads because even landing from just a few feet off the ground can be unforgiving. Clear communication between you and your spotter is key, so practice your communication for procedures well before you hit your destination. And, this almost goes without saying, but stick to the beginner levels. Even if you're at a beginner level area and the climb looks like it's beyond your skill level, move onto another spot. All of the options below provide areas to climb in the novice and beginner levels of the Yosemite Decimal System (YDS), which is the three-part system used for grading the difficulty of walks, hikes, and climbs in the United States. Anywhere between 5 to 5.8 on the YDS is considered a novice or beginner level.
Boulder Canyon, Colorado
Boulder Canyon is where expert climbers get their start. Novice climbers have plenty of options to choose from here, as there are plenty of beginner routes mixed with the more difficult verticals. There are well over 400 routes graded 5.9 and below and 200 spots to establish a top rope anchor, which is perfect for climbers not ready for sport or traditional (trad) climbing. Many climbers get their first taste of multi-pitch sessions in Boulder Canyon. The 12-mile playground has a crag to climb every tenth of a mile, so you can keep coming back every time you level up.
Costa Brava, Spain
Costa Brava is a tranquil place to climb with plenty of pre-fixed structures in the limestone rocks, such as fixed cables, steel bridges, and fixed metal ladders. There are beautiful areas of limestone and granite, especially in Sadernes and Solius. Sadernes is a sweeping area of limestone formations with a variety of crags to choose from, while Solius provides you with granite grips. Both areas have grades as low as 4. The calming waves of the clear turquoise waters below make for a soothing experience as you maneuver up the verticals.
Frankenjura, Germany
One of the premier sport-climbing havens in Europe, Frankenjura has over 8,000 limestone crag routes from which to choose. The beginner-friendly area in the northern part of Bavaria has close to 400 crags graded 5.8 or below, however, there's only one spot ready for top-rope climbing. Frankenjura is a candy store for climbers who enjoy sport or trad climbing. There are also expert routes all around graded 5.14 or higher. We definitely don't recommend trying to conquer those beasts, but you can crack open a cold beer after your session is over and observe some veteran daredevils tackle the tougher routes. You can even ask the vertical veterans a question or two to elevate your vertical game.
French Alps, France
The French Alps, which include the mighty Matterhorn, can be intimidating for any level of climber. However, there are suitable spots for beginners in the French Alps. Begin testing your mountaineering skills on the smaller glaciers, refining crampon techniques and other skills, and then move your way to an easy climb like Pic du Glacier d'Arsine. There's also the Gran Paradiso, which is a climb that's over 4,000 meters high, yet is still considered suitable for beginners. It's one of the easier peaks of the French Alps, but the view is surreal. There are five peaks for novice mountain climbers to try.
Railay, Thailand
Everywhere you look, Thailand offers you astounding views and Railay is no different. Accessible only by ferry boat, this exotic slice of paradise offers you magnificent cliffs over the cool blue water. There are thousands of routes to be found, and almost half of them are bolted, which is perfect for beginners who aren't comfortable with traditional climbing. The large limestone towers shoot up from the jungle floor toward the clear blue sky. You can clip in and climb or boulder next to the water and jump into the fresh waves when you're done. A town nearby named Krabi has plenty of guide services and there's the Hot Rock Climbing School, which provides half-day to three-day professional instruction with a maximum of three climbers per certified instructor.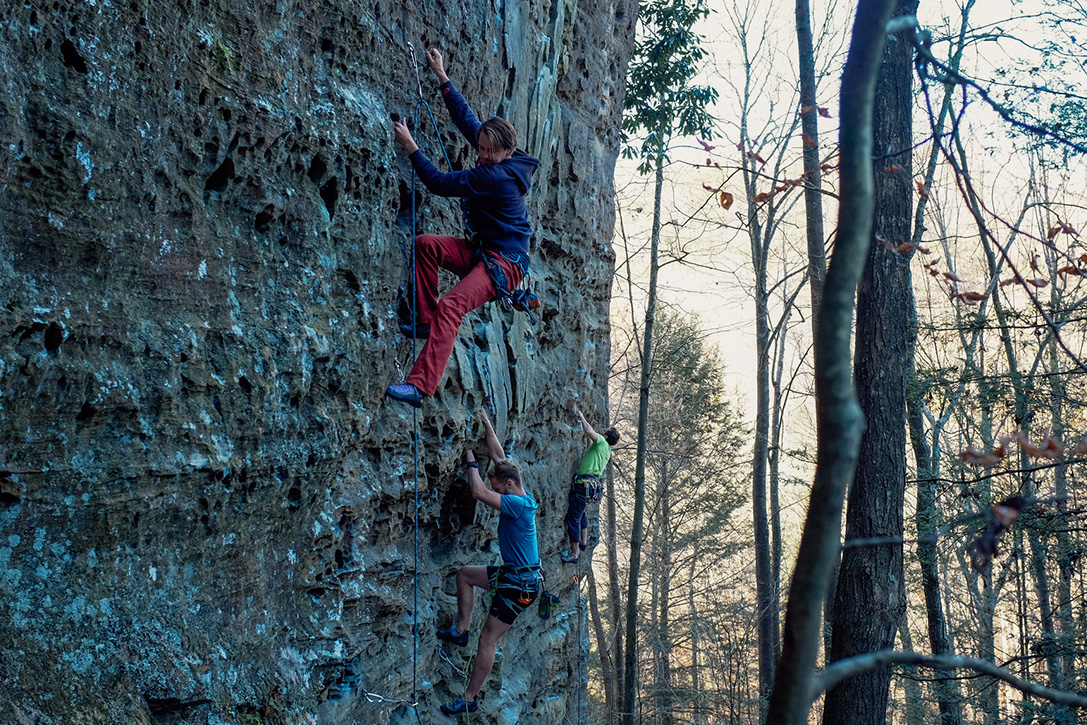 Red River Gorge, Kentucky
Located within the Daniel Boone National Forest, the Red River Gorge is a treat for climbers of all levels. You can bring your outdoor gear or work with one of the professional guides to set you up with all the equipment you need to scale the walls of one of America's best rock climbing destinations. Several of the most popular climbing areas in the world aren't quite for beginners, as they're filled with traditional routes requiring multi-pitch to accomplish. Luckily, Red River Gorge is around two-thirds sport climbing, making it more approachable for those just starting out in rock climbing. Starting in the '90s, many bolts were set up, and the bolted areas continue to grow. You'll run into many dedicated climbers here, but the weekend brings a broad mix of cragsmen.
Shawangunks, New York
Harnessed by a simple loop of hemp rope, famous climber Fritz Weissner scaled the first routes in the Shawagunks in 1935. Since then, it has become a beloved destination for those wanting to scale glorious peaks and be closer to the stars. The Shawagunks contain the Trapps Cliff, which is the three-mile-long heart of the Gunks and a popular destination for beginners and expert climbers. A veteran Gunks climber can help guide you if it's your first time. Novice climbers can also try bouldering at Uberfall for lower climb options. No matter where you climb in the Gunks, you'll find cliffs produced by a luminous white quartz conglomerate, a dense rock made of quartz pebbles cemented together to make handholds shaped perfectly for climbers.
Smith Rock, Oregon
Scaling the red rocks in Oregon feels like you're on Mars examining alien terrain. The volcanic rock cliffs shoot up from the desert ground and sprawl in every direction. Reach the peak and you can feast on breathtaking views of the Crooked River carving the crust below. Smith Rock is a beautiful location with some of the best spots for sport climbing in America. Out of the 1,500 routes, there are 170 graded 5.8 or below and 16 of those are ready to go for top-rope climbing. You can start off with a nice little climb called Kindergarten Crack and end your day watching some of the experts tackle the more advanced routes like Double Time.
Wye Creek, New Zealand
Known as the adventure capital of the world, Queenstown's nearby neighbor, Wye Creek, attracts plenty of adventurers as well. Wye Creek is home to many climbers, as there's an annual climbing festival held there every January. Don't worry if you're still getting your feet wet because there's plenty of areas to climb divided into the black, project, and main walls. The climbs are beginner-friendly and even short climbs will make you feel like you've conquered an epic peak thanks to the views set on a cliff overlooking a sparkling, glacier-fed lake.
Yosemite National Park, California
Not only is Yosemite National Park one of the most majestic wonders of this planet, but it's also a wonderful place for beginners to climb. Once you enter through the park's tunnel, you'll feel like you're in another world filled with enormous domes and incredible cliffs. There are thousands of climbers of all levels who flock Yosemite every year looking to conquer all types verticals the park has to offer. There are some easy climbs for beginners to tackle, but you can also learn by observing the experts scaling the mountains. Starting in the late '60s, the Yosemite Mountaineering School & Guide Service has shown thousands of climbers the ropes. Climbing classes are about seven and a half hours long and take place at the Mountaineering school in Half Dome Village and Tuolumne Meadows.
8 Best Rock Climbing Ropes
Now that you have some beautiful destinations in mind for outdoor climbing, it's time to start thinking about your climbing gear. Take a look at our picks for the 8 best rock climbing ropes available.