Photo: LifeStraw
The trail is getting steeper and the sun is beating down on your skin, draining your energy with each aching step you take. Your head starts to feel cloudy and light, so you take a knee and try to regain your equilibrium. Unfortunately, your throat is dry and you've never felt more thirsty in your entire life. Luckily, you have your purifying water bottle to turn cool stream water into a refreshing drinkable liquid.
Roaming through nature's landscapes is therapeutic, but in order to enjoy the full experience of being unplugged, you have to be prepared for the worst. Getting a standard water bottle isn't enough, especially for longer trips in the backcountry. With a filtration water bottle, you can scoop up a tall drink anywhere there's still or moving water and hydrate without fear of getting sick. It's a simple piece of gear, but it's a must-have if you spend most of your free time outdoors because it can save your life. We've analyzed a heaping number of decontamination containers and filtered out the mediocre offerings to build this list of the best purifying water bottles available.
Primer
Clean Water Anywhere
The obvious reason to get a purifying water bottle is to have the convenience of turning dirty water into healthy, drinkable water for your adventure. In addition, it's also beneficial for the environment. With a purifying water bottle in your hiking backpack, you won't need to purchase cases of plastic water bottles, helping to preserve our environment. And you'll also benefit financially so you can invest your money in more EDC treats for your loadout. If you're a pure adventurer who practically lives outdoors, or a weekend warrior addicted to getting your fix of backcountry exploration, a filtration water bottle is a must-have item.
How It Works
Before we get to the list, we'll briefly go over how purifying water bottles work. The water decontaminating bottle has its own built-in filter system. A typical purifying bottle will utilize a filter made with activated charcoal with an electro-positive charge. When the water passes through the filter system, it removes bacteria, chlorine, metals, and also any weird tastes for your convenience. The design of water bottle filters varies, as some will remove the contaminants from the water as you're drinking it and others will filter the liquid as it enters the container.
There are also water bottle filtration systems that remove undesirable substances and sediment, but do not work well for backcountry use. Although these types of water bottles will remove certain contaminants, they are not built to remove bacteria and viruses, so they shouldn't be used for filtering open source water. We have included some filtration water bottles made just for tap water to provide you with further options for your convenience. Think about which type aligns with your preferences before committing to a particular model.
Thermos Tritan Water Filtration Bottle
The transparent Thermos Tritan Water Filtration Bottle is NSF/ANSI 53 certified to reduce contaminants in tap water, including chloramine, aesthetic chlorine, atrazine, and class V contaminants. It has a push-button lid for one-handed operation to keep you mobile on your journey, a 22-ounce capacity to keep you hydrated throughout the day, and a sleek design. The reliable gravity-fed filtration system will ensure contaminants do not seep through the filter. For your convenience, it has an open spout for an amazing flow rate to quench your thirst so you won't have to spend too much time hydrating. One water filter for this bottle will last 20 gallons before needing to be replaced.
KOR Nava Water Bottle and Filter
When you want to make tap water taste amazing, the KOR Nava Water Bottle and Filter are ready to keep you cool under the blazing sun. Every coconut filter built for this container will provide you with 40 gallons of clean water and save 300 disposable water bottles from piling up in landfills. It has a hygienic spout, no-worry cap that opens with the press of a button, and utilizes EasyFlow technology to eliminate squeezing or biting, so you can sip your water as you would with a straw.
Sawyer Mini Water Filter
Instead of buying a whole new water bottle, you can turn your current container into a purifying machine with the Sawyer Mini Water Filter. The device weighs just 2 oz and can fit in the palm of your hand. It's made with a hollow-fiber membrane for a high flow rate and can be used to drink straight from a stream if you happen to lose your bottle on a hike. The filter removes nearly all bacteria, including cholera and salmonella, and all protozoa, such as Cryptosporidium and Giardia. It fits the threads of most water bottles, but it can also be used with the included 16 oz reusable pouch.
OKO Original Water Bottle
Initially designed for the NASA ISS, the OKO Original water bottle is built with 100% FDA-compliant materials. The lightweight water bottle is capable of turning polluted water from over 140 countries into clean H20. It has a filter capacity of 100 gallons and its level-2 filter is tested to remove 99.9999% of Giardia lamblia and Cryptosporidium, which are the most common contaminants in open water. The BPA-free water bottle is constructed using ultra-light polypropylene and has a high-temperature resistance. It also comes with an O-ring carabiner so you can hook the bottle onto your hiking backpack.
Survimate Personal Water Filter Bottle
For those who hike, camp, or travel frequently, the Survimate Personal Water Filter Bottle ensures you have a cleansed drink to keep you functioning properly. The bottle's filter is made with high-precision ultrafiltration membranes and coconut shell carbon to get rid of nearly all common bacteria while softening the water. Whether you're filling up your bottle with rainwater, well water, lake water, or river water, you can be confident this container will eliminate all pollutants from your sample. And this BPA-free water bottle has a solid flow rate so you don't have to struggle to wet your whistle.
Brita Premium Filtering Water Bottle
We're sure you've heard of Brita water filters for your home, but Brita also makes an efficient filtration water bottle. The 20 oz bottle will help in diluting the odor and taste of chlorine, in addition to getting rid of everyday contaminants found in tap water. The filter replaces up to 1,500 plastic bottles every year so you can enjoy water anywhere while helping to preserve our planet's health. It also has a double-walled construction to keep your water cold up for up to 24 hours and a leak-proof lid.
FIT Bottle
The state-of-the-art FIT Bottle is built to vanquish over 99.9% of all viruses, bacteria, Fluoride, chlorine, and heavy metals. FIT's BPA-free 20 oz water bottle is leakproof and comes with an easy-to-sip flip straw so you can keep the spout clean. It works with Activ-Flo technology, which is made up of tiny pores built via nano-technology initially developed by NASA. By using nano alumina, 33% carbon, as well as other filtration ingredients, this bottle will provide you with clean, refreshing water during your camping trip.
LifeStraw Go Water Bottle
Drink from freshwater sources with confidence when you're using the LifeStraw Go Water Bottle. Protecting you from parasites, microplastics, organic chemical matter, chlorine, and bacteria, this outdoor H20 container will keep you hydrated throughout your arduous journey. The microbiological filter housed inside the bottle is made to provide you with five years of drinkable water. It will even get rid of any bad odor or taste from the contaminated water you scoop up for your enjoyment. The leakproof, BPA-free bottle is the ultimate outdoor companion for those who love camping, hiking, and international travel.
Grayl Ultralight Purifier
Made for global use, the Grayl Ultralight Purifier can turn any sample from a freshwater source into drinkable H20 with its 15-second press. It will protect you from pesticide, waterborne pathogens, including viruses, bacteria, protozoan cysts, and heavy metals. The replaceable purifier cartridge will be efficient for 300 cycles or a total of 40 gallons. With a simple design, the purifying water bottle will fit most backpacking packs so you can keep it close when you're out in the wild. And it's tested to NSF Standards 42+53 to ensure high-quality performance.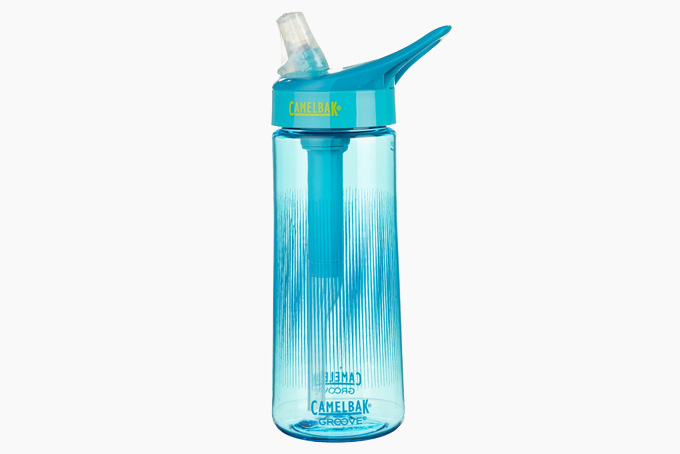 Camelback Groove
Camelbak is a trusted brand when it comes to outdoor gear and their Groove purifying water bottle is a solid choice to filter tap water. The 100% BPA-free bottle that filters water as you drink is spill-proof, durable for any terrain, and comes equipped with a loop handle so you can attach it to a carabiner with ease. It's made with Eastman Tritan Co-polyester and has a valve made from medical-grade silicone. Not to mention, it comes with a lifetime warranty.
MSR MiniWorks EX Microfilter
The MSR MiniWorks EX Microfilter isn't a water bottle, but it can be used to easily fill up the current water bottles you carry. This device meets NSF protocol P231 for removal of 99.9999% of bacteria and 99.9% of protozoa from "worst-case" water. It utilizes the AirSpring Accumulator to filter 1-liter per minute and has a carbon core to remove any foul taste and odors. The device can be cleaned repeatedly with no EDC tools required for easy maintenance.
Lifesaver Liberty Water Purifier Bottle
Combining a water bottle with an inline pump, the Liberty Water Purifier Bottle is a lightweight lifesaver for those who frequent the great outdoors. It removes 99.99999% of bacteria, viruses, and cysts to keep you healthy and hydrated throughout your adventure with a fast flow rate of 1.2 liters per minute. The replaceable cartridge will serve you well for 2,000 liters before needing to be swapped out.
The Ultimate Guide To Start Backpacking
Purifying water bottles are perfect for backpacking adventures. Now that you've identified the ideal H20 filtration device, gain some knowledge with the ultimate guide to start backpacking and spend more time in nature.