When it comes to completing an outfit, the right pair of shades can help you achieve a red carpet-worthy look. But sunglasses that are both dapper and functional are ideal. Protecting your eyes from the damaging effects of the sun's ultraviolet rays and ensuring a clear view of the world around you are the benefits of choosing polarized sunglasses. You may have glanced over the option before, but polarized lenses do make a difference. For most people, it's style over substance when it comes to shades, but why not enjoy both?
Once you lock in on the design for which you're looking, the next feature you should seek out is a polarized lens. There's a vast array of models with the polarized lens option, so searching for the perfect pair of polarized sunglasses can be daunting. We've scoured the offerings of the expert sunglass brands to stack our list with the best polarized sunglasses for men available. Our picks contain everything from classic silhouettes from beloved brands to modern pairs for those who love bold, statement-making shades. Protect your eyes in style with a pair of sunglasses from our carefully curated lineup.
Benefits Of Polarized Lenses
Preserve Your Vision
Although the sun makes life possible on our planet, it also emits ultraviolet rays that are damaging to your corneas, which can potentially hinder your vision. Without proper eye protection, you are more susceptible to eye issues, such as cataracts and glaucoma. Outside of UV rays, you also have to worry about glare. The blinding light of the sun typically scatters as it bounces off uneven surfaces. But, if it hits a smooth surface, such as water or metal, the light reflects at one angle, blasting right into your eyes, which you experience as glare. To combat daily glare, sunglasses are modified with a polarization technique to mitigate the harmful effects.
How It Works
Polarized sunglasses have a special chemical applied to their lenses so they can filter light. As a result, polarized sunglasses are slightly darker, yet they provide you with increased clarity for a pristine picture of your surrounding environment. You benefit from wearing polarized sunglasses the most when you're outside for an extended period of time. Since they reduce glare, the sunglasses will keep your eyes feeling fresh throughout the day. If you're out on a fishing boat for half the day, playing baseball, golfing, or doing any other outdoor activity, polarized sunglasses are highly recommended. The only downside of polarized sunglasses is that they make LCD screens somewhat difficult to read.
Sunski Singlefin
The Sunski Singlefin sunglasses in a pleasant tortoise forest colorway are perfect if you need everyday casual city shades that will protect you from the penetrating UV rays of the sun. They have a circular design for a relaxed look and polarized green tint lenses to keep your vision clear. Made for the outdoors, these shades are a stylish pair that don't skimp on quality, yet won't break the bank either. And because they're backed by Sunski's forever warranty, they'll be covered for a lifetime of use.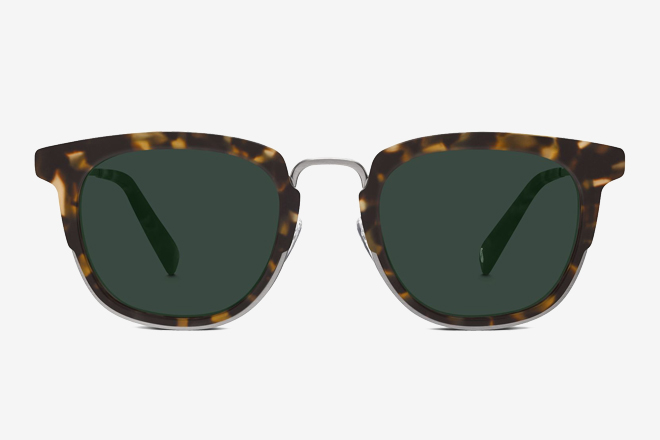 Warby Parker Avery
With a subtle cutaway design and a contemporary take on the original wayfarer model, the Warby Parker Avery sunglasses are a dapper choice for any fashion-forward individual. The 48mm polarized sunglasses have retro hazelnut tortoise matte acetate frames, a stainless steel brow bar, and scratch-resistant lenses. The cool green-gray lenses block 100% of UVA and UVB rays to preserve the health of your eyes, and the stainless steel used is hypoallergenic for added comfort. For extra swagger, the ends of the arms are wrapped in a tortoiseshell colorway.
Persol 649
Originally crafted in 1957, the Persol 649 sunglasses have stood the test of time. When they first came out, they were meant for Turin tram-drivers but became more popular when Marcello Mastroianni donned them in the classic film Divorce, Italian Style. They feature polarized crystal lenses, acetate frames, and a flexible stem system found in all Persol shades called 'Meflecto' technology for a snug but comfy fit. The Persol 649 model oozes style appropriate for formal events, casual days, or anything in between.
Costa Pescador
Made from 100% recycled fishing nets, these square-shaped sunglasses update the classic wayfarer design. The Costa Pescador has 'PLUSfoam' recyclable nose and temple pads for comfort, ridged frames for a distinct look, and scratch-proof encapsulated mirrors. The polarized lenses are 20% thinner and 22% lighter when compared with the standard polarized glass, so they'll feel comfier on your face. Made for fisherman but ready for any outdoor scene, the Costa Pescador is unique eyewear to add to your collection.
Raen Mason
For a modern vibe, these Mason polarized sunglasses by Raen have Windsor rim frames for a bold look to quietly steal the show. They're a luxury pair destined to be a classic silhouette, featuring an acetate frame and temples, monoblock hinges, and Japanese gold alloy. To protect your vision, the four base curve green CR-39 lenses block 100% UVA and UVB rays. Sport a pair of these modern sun blockers and all eyes will definitely be on you when you stroll down the sidewalk.
Ray-Ban Clubmaster
Ray-Ban has produced some of the best eyewear on the planet, and the Clubmaster is one of their most popular designs. Made famous in Quentin Tarantino's Reservoir Dogs, these shades were originally made for military use, offering a high-quality level of comfort and clarity for those in the service. Taking cues from fashion in the '50s, the Clubmaster polarized sunglasses are the right choice no matter what outfit you decide to wear, although, they look particularly sharp when paired with a black suit and tie.
Oliver Peoples Gregory Peck Sun
Inspired by a style made famous by Gregory Peck in the classic film To Kill A Mockingbird, these retro round sunglasses will garner attention no matter what event you're headed to. Made in collaboration with the Peck Estate, these sunglasses are crafted from custom designed acetate and feature polarized glass lenses to dilute reflective glare and increase clarity. They are also capable of shielding your eyes from 100% UVA and UVB, preserving your sight to keep everything sharp in the long run.
Ray-Ban Outdoorsman Craft
Inspired by outdoor enthusiasts, these Ray-Ban shades take the classic aviator design to another level. They're made with handcrafted touches, such as a hand-stitched deer leather brow bar and leather temple pads. The shades also feature polarized green classic G-15 lenses, which were initially developed for military use, offering immaculate clarity and protection. And, the lenses absorb 85% of visible light, blocking out harmful blue light and providing you with natural vision.
Vuarnet Legend 03 The Dude
When The Dude donned the Vuarnet Legend 03 sunglasses in The Big Lebowski, they catapulted into stardom. Entering the scene in the '60s, these polarized sunglasses provide 100% UV protection, 90% infra-red protection, and 89% blue light protection. They are designed specifically for sea lovers with hydrophobic and glare reduction properties. However, it doesn't matter if you're on the open sea or strolling down a busy city street, as you will look stunning behind a pair of these shades.
Dom Vetro F-34 Dark Tortoise
The racing-inspired F-34 sunglasses borrow some design aspects from Persol, yet they have a more slender frame and subtle detailing for a contemporary look. These lightweight polarized sunglasses fit snug on your mug, feeling comfortable even if you wear them for hours. Hand-made in Los Angeles with imported Italian acetate and mineral glass lenses, these sun blockers are a quality pair you can count on. The F-34 shades also come in several custom sizes to fit different face shapes.
Randolph Aviator
Built for the U.S. military, the Randolph Aviators are classic battle-tested shades. Since 1978, these military-spec sunglasses have been standard issue gear that have also become a popular silhouette in the fashion world. These polarized sunglasses have solder joint strength and a corrosion-resistant coating, allowing them to survive the everyday grind and then some. Handcrafted in America, they have self-adjusting cushioned nose pads and the option for signature bayonet or standard temples.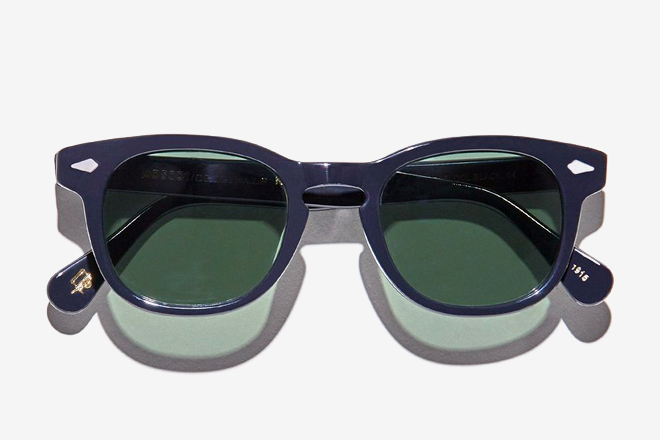 Moscot Gelt
Using an updated wayfarer design with round lenses, the Moscot Gelt provides a bigger, bolder look. These sunglasses are handcrafted with Italian acetate, have a five-barrel hinge, a comfy keyhole nose bridge, polarized G-15 lenses, and diamond rivets. If you want to protect your eyes and look great doing it, these well-crafted sun shields have style to spare. They come in several different colorways, including sage and dark Havana.
Tom Ford Laurent
Borrowing the retro brow-line style of frames the likes of Malcolm X wore, the Tom Ford Laurent provides an undeniably fearless design. These Italian-made polarized sunglasses offer 100% UV protection and a sophisticated look that will give you an extra boost of confidence. These 51mm shades will keep you looking fresh under the blazing heat of the sun and enhance your vision when glare strikes.
Persol PO3225S
Worn by Tom Cruise in one of his earlier movies entitled Cocktail, the Persol PO3225S shades are an '80s classic, unlike the film. The 56mm polarized sunglasses are made with acetate frames and utilize 'Meflecto' technology, which is Persol's patented flexible stem system to keep sunglasses snug on your head, but not tight enough to leave a mark. They have more squared-silhouette compared to other Persol models, making them look far more tenacious.
Salt Aether Explorer
Built for the touring motorcyclist, the Salt Aether Explorer sunglasses are made from durable titanium. The 56mm polarized black shades play with the original square aviator silhouette, making them rounder and adding side guards to block the sun and keep your focus on what's straight ahead. The Aether Explorer sunglasses are a unique blend of vintage styling with contemporary functionality.
Primer: How To Clean Your Sunglasses
Now that you've picked up a pair of glare-reducing shades, it's time to learn how to keep them pristine. Check out our guide on how to clean your sunglasses to keep them looking sharp.