Partially spurred on by the health benefits and partially motivated by cultural factors, wine has been steadily growing in popularity year after year in the western world, resulting in the United States becoming the world's biggest consumer of the vino in 2014 — a distinction the country has held onto ever since. The influx in popularity of wine in the US — which was already the seventh most popular and commonly consumed beverage-type on earth — coupled with the proliferation of online retail has ultimately resulted in a competitive online wine retail space with an ever-increasing number of reputable players.
From personalized subscription boxes to sommelier-suggested bottles to old-school brick-and-mortar wine shops that have launched an online retail division, online wine stores are now more popular than ever — no doubt at least partially owed to the COVID-19 pandemic and the lack of access to bars that came with it — putting literally tens of thousands of bottles available at your fingertips with a few clicks of the mouse. So, without further adieu, let's dive into our picks for the best places to buy wine online.
Online Vino-Buying 101
How To Find The Web-Based Wine Shop That's Right For You
Wine represents one of mankind's first-ever alcoholic beverages, with evidence of the earliest fermented rice and grape-based concoctions found in China and dating all the way back to 7,000 BC. Having now existed in one form or another for several thousand years, wine is now available in a massive array of varieties and types, from affordable bodega-bought bottles of plonk to rare and elite vintages. One of the many benefits of purchasing wine over the internet is that it opens the door to an unparalleled number of reputable online retailers, giving you access to just about any type or brand ever bottled.
And while there's admittedly no shortage of reputable retailers, there is a handful that objectively stand above the rest due to their selection, custom-service, oenophilic expertise, or calculated, scientifically-backed personalized suggestions. To help you sort out which online wine store is right for your personal wants and needs, we've compiled this condensed guide to the eight most important factors to consider when browsing the various available options.
Selection: One of the biggest benefits offered by purchasing online over browsing the wine aisle of your local grocery store is the broad selection, as online retailers tend to boast vastly more abundant inventories that can at times even put dedicated brick-and-mortar wine shops to shame. This ultimately gives you the ability to find the perfect bottle for every occasion, rather than simply settling for whatever happens to be on the shelf of your local bodega or supermarket.
Pricing: In addition to boasting a markedly wider selection, another way online wine retailers are often superior to traditional brick-and-mortar locations is through their extremely competitive pricing. Without having to cover over-head expenses stemming from rent, paying a cashier and cleaner, or the litany of fees for permits and operating licenses faced by physical retail locations, online outfits can operatively more efficiently, ultimately allowing them to pass the savings onto the customer.
Shipping: On top of how the bottles are priced, shipping is another fairly important aspect to take into consideration when looking for an online wine store. Your average bottle of wine tips the scales at roughly 3.3 pounds — though some of the more high-end bottles can clock in at more than 4.5lbs — so it's frankly unsurprising that shipping costs can add up quickly, especially when ordering multiple bottles at once. The good news is that there are plenty of online outfits that offer 100% free shipping on orders exceeding a certain dollar value or number of bottles.
Specialties: Whether it's in a bid to differentiate themselves from the competition or adding actual value, a great many online wine retailers boast specific specialties or focus, whether that be a proclivity or expertise in a certain type (or region) of wine, sourcing from local (and/or organic, sustainable, or eco-friendly) wineries. There are even outfits that trade in sending out small, single-glass (5oz) servings of wine, allowing you to try an enormous array of top-shelf vintages without burning a massive hole in your pocket.
Expert Suggestions: While this is admittedly just another specialty, expert suggestion can be particularly valuable when it comes to wine, as several of these outfits give you access to the thoughts, opinions, and suggestions of some of the world's most renowned sommeliers — an experience that's more often than not reserved for the uber-elite fine dining establishments.
Personalization: Another noteworthy specialty offered by some of today's online wine retailers — and another significant advantage over buying wine through grocery stores or brick-and-mortar wine shops — is highly personalized recommendations. Some websites ask users to fill out scientifically calculated taste tests in order to determine which bottles will best jive with your unique pallet. What's more, there are also outfits that employ Netflix algorithm-style setups that will make suggestions for you based on the previous bottles you've ordered and how you've reacted to (i.e. rated) them.
Subscription Services: Just like with high-end whiskey, beer, or prime cuts of meat, wines sold online can be purchased regularly or through renewable subscription models that typically give the customer the option of selecting shipping frequencies, the number of bottles, and of course preferred type(s). If you plan on regularly putting in orders, wine subscription services are a stellar route to consider, plus they're fantastic for learning about new or lesser-known bottles and brands.
Educational Services: For the uninitiated, it can be rather intimidating trying to immerse yourself in the world of oenophiles. Recognizing this reality, a myriad of different online wine stores have created education centers and web pages to help get you privy to the finer points of vino appreciation and consumption. And, even if you already fancy yourself a fairly knowledgable wine aficionado, numerous educational pages on websites offer training for more refined and experienced pallets and drinkers, meaning no matter your level of expertise, you can almost certainly learn a thing or two from one of these resources.
Uvas Deorum
The Best Places To Purchase Wine On The Internet
Now that you've got a basic understanding of the advantages offered through purchasing wine online and what types of available companies exist in the space, let's delve into our choices for the best places to buy wine online.
Astor Wines
East coast oenophiles will likely already be familiar with Astor Wines, a renowned New York-based brick-and-mortar wine shop founded in 1946 and specializing in high-end Italian and French bottles. Astor Wines also carries a decent selection of more affordable French and Italian wines that have been hand-picked by its immensely knowledgeable and passionate staff, along with sake and an array of different liquors.
Bright Cellars
Operating via a monthly subscription model, Bright Cellars is a popular wine delivery service that relies on an advanced algorithm to generate suggestions based on your own unique taste. The site requires users to take a taste test to determine your pallet, asking questions like what's your favorite fruit juice? Do you prefer dark or milk chocolate? And how do you like your tea? Using this information — and your feedback after the fact —the company ships four bottles to your door each month.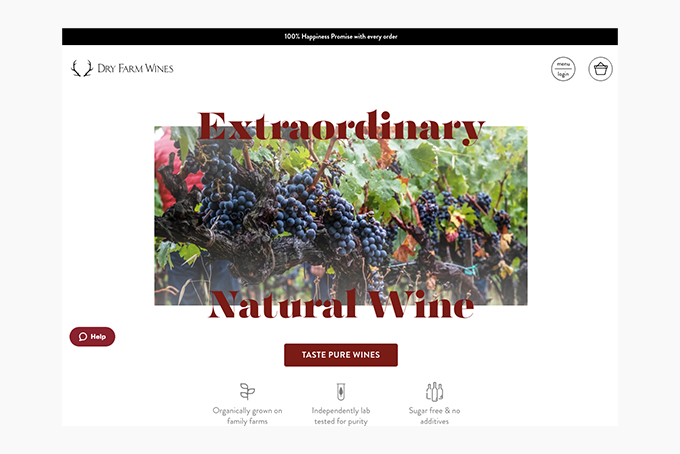 Dry Farm Wines
Although not a winery themselves, Dry Farm Wines is a Napa-based outfit that exclusively trades in organic, sustainably cultivated, all-natural wines purchased from small family farms. What's more, Dry Farm's organic and eco-friendly wines are also completely devoid of added sugars or dyes and are all independently lab tested to verify these properties — as only 0.01% of all wines produced on the planet meet these stringent standards.
K&L Wines
First established in 1976, K&L is one of the West Coast's most eminent wine purveyors, now boasting a trio of California brick-and-mortar locations in San Francisco, Los Angeles, and Redwood City. The company boasts an absolutely enormous selection of wine — as well as liquor and beer — that's well organized and can be searched by type, region, or sub-region. K&L also holds auctions selling off more prestigious and seldom-seen vintages and possesses multiple wine clubs, including one with a monthly subscription program.
Last Bottle Wines
Last Bottle is a small outfit in Nappa that's comprised of diehard oenophiles and targets a like-minded demographic. Available online or through a dedicated mobile app, the company offers customers a single bottle of wine every day, all of which are wonderfully curated and are at times offered at some pretty significant discounts. The business operates on a first-come, first-serve basis, and whoever purchases the "Last Bottle" of each daily sale is treated to a free $25 credit.
Matthiasson Wine Club
Founded by Jill and Steve Matthiasson in 2003, Matthiasson Wines is a highly-celebrated family-run Napa winery that now offers a wine club that sends out 6 or 12 bottles of objectively premium wines twice a year (in April and October), with pricing starting at a little over $300. On top of savings of up to 15%, this club also gives members access to member-only and limited production wines, and in-person (or virtual) tastings at its winery and invitations to other events on-site.
Naked Wines
Naked Wines can probably be best described as a Kickstarter or Indiegogo platform to help fund up-and-coming artisan winemakers. This does mean paying upfront in advance, though it affords you access to some of the world's finest small-batch, independently-produced wines, and it does so at up to 60% off the wines' eventual market price. Now backed by more than 300,000 members and supporters, Naked has already given way to an enormous slew of acclaimed wines, 150 of which have earned gold medals.
SommSelect Wine Club
SommSelect's wine clubs consist of four different 4 or 6 bottle subscriptions that are all curated by master sommelier, Ian Cauble of Netflix's documentary, Somm. Offering different types of bundles aimed at different tastes, SommSelect's clubs start from just $99 a month (plus taxes and $20 for flat-rate shipping), though even the most expensive two options top out at $220 per month, ultimately making keeping a well-stocked cabinet or cellar surprisingly affordable.
Sotheby's Wine
The esteemed auction house's dedicated wine division, Sotheby's Wine is a multifaceted operation, trading online, as well as through physical brick-and-mortar locations in Hong Kong, London, and New York. As one would expect, this company frequently holds elite and rare wine auctions, though Sotheby's Wine also offers regular (set-pricing) retail purchases, an advisory service from some of the planet's most respected sommeliers, and secure, temperature-controlled, fully insured, professional storage for your most coveted bottles.
VineBox
For those interested in refining their pallet or sampling as many high-end wines as possible, Vinebox is an unbeatable option. Rather than shipping out bottles. this incredibly unique service sends out a selection of 3.4oz vials, each containing just enough for a single glass. With up to 120 different wines offered each year from up to 50 small European wineries, there really isn't anything else like Vinebox if you simply want to try as many premium wines as possible without burning a massive hole in your pocket.
Winc
Since its inception in 2012, Winc has been on a mission to make truly great wine more accessible to the average enthusiast. Just like with Bright Cellars, Winc employs a scientifically-based taste test system that it uses to make personalized suggestions. Competitive prices, a wide selection, solid customer service, and an easy-to-navigate and intuitive interface have collectively made Winc one of the most popular online wine retailers currently in operation.
Wine.com
Originally launched in 1994 under the banner of "Virtual Vineyards," Wine[dot]com is one of, if not the most established player in the online wine retail world with stellar customer service, a highly knowledgeable staff, and a genuinely unparalleled selection with more than 10,000 different wines from across 50 varieties that are available every year. In addition to boasting a mobile app, Wine[dot]com also features an education center, now sells whiskey, bourbon, vodka, and other spirits, routinely holds some pretty noteworthy sales, and offers a personalized "wine club" subscription.
The 12 Best Alcohol Delivery Services
Interested in checking out a selection of reputable mail-order booze, beer, and spirit purveyors? Then be sure to head over to our guide to the best alcohol delivery services for a dozen of the finest options for having your drink of choice sent straight to your front door.