Plants and people are meant to coexist with one another, and that's an objective truth. Without them, our surroundings would be devoid of color, character, and wildlife — they even contribute to the very air that we breathe. While their presence in the world is the definition of natural, their existence within our homes is a bit more contrived. Depending on where you live, what your climate is like, and of course, your own personal preferences, selecting your first (or hundredth) photosynthetic friend can be difficult, especially when you're looking for the perfect piece to complement your home's aesthetic.
While heading to the nursery is a quick and easy fix for most people, there are a handful of buyers who take to the online marketplace to get their foliage fix. This way, they'll never have to leave the comfort of their own home, brave the traffic, weather, or masses, or run the risk of finding items that might not be in stock at the local establishment. The evolution of online shopping has also helped to cultivate an entirely new generation of online nurseries, specializing in direct-to-consumer and business-to-consumer plant acquisition, making it easier than ever to find your next living purchase. Below, we've outlined a few of our favorites.
Amazon
Depending on the time of year, online plant stores have a very limited stock of items. Whether you're looking for a perennial, succulent, shrub, or annual, the search can be difficult if you're confined to a local nursery or region of the world. That's why Amazon's vast network of plant providers is so convenient. At any time of the year, you'll be able to order out-of-season variants that might not be available elsewhere, as well as an array of essential items like pots, fertilizer, tools, and seeds from the industry's most trusted growers/brands.
Bloomscape
Bloomscape wants to give our home its own aesthetic presence, and thanks to indoor and edible options aplenty, it's easier than ever to create your very own live-in forest. A well-curated (and beautifully-photographed) selection of indoor plants can be found within, including small Norfolk pines, Bamboo Palms, Zenzis, and different variations of succulents, allowing you to bring a lush, tropical feel to your living area. And when you're ready to branch out into the larger and more complex outdoor genre, they've got your back there, too.
The Bouqs
The Bouqs is a boutique brand that takes pride in its direct-to-consumer business model, but small, compact houseplants have become a staple of the company's ever-growing collection. To allow for quick shipping times and customer satisfaction, the brand has implemented a series of gift, recommendation, and care guides to ensure that you're always making a well-informed choice prior to purchasing. From there, it's as simple as checking out, paying the flat shipping fee, and basking in the presence of some of the industry's finest greenery. If you're a bit of a fanatic, Bouqs also offers a subscription plan for $36 a month, allowing you to forgo shipping costs, get 30% off each order, and receive a $10 credit for monthly purchases.
Breck's
If you've been raising plants for any amount of time, you'll know how finicky they can be. Neglect your research beforehand, and something as simple as a temperature change can make your healthy, jovial companion transition into a bout of spiraling depression. That's why Breck's is so special. Not only does this brand offers one of the largest (and oldest) selections of plants in the industry, but it also boasts a lifetime guarantee, meaning that it'll replace your dwindling friend with an entirely new specimen, should it die. This also applies to overall customer satisfaction, making Breck's one of the more user/consumer-friendly sites in the sphere.
Cactus Store
Los Angeles' Cactus Store is a haven for succulent lovers of every taste and type. Not only does this unique website boast a substantial selection of cacti, but it's also one of the most culturally-aware, soliciting a large array of branded items alongside its top-tier plants. If you're interested in showing your adoration for succulents while out and about, a number of handsomely-designed t-shirts, hoodies, and gardening garments can be obtained through the brand's online store.
Costa Farms
Costa Farms is one of the most trusted plant providers in the world — so trusted, in fact, that Amazon utilizes them as a source for many of its orderable plant products. If you're interested in purchasing your next green companion but don't a vast knowledge of what you'd like, Costa's website is full of information on the different types of plants that are available. While Costa Farms isn't a traditional online shop, it's one of the foremost growers in the industry and features a well-curated library that will prove invaluable during your next search.
Etsy
Etsy is one of the world's most lauded marketplaces, allowing creatives, craftsmen, and small, boutique shops to market their products and services with ease. But did you know that it's also a great place to shop for plants? Thanks to Etsy's unique network, you'll be able to support local growers from miles, states, and countries away, helping the world of independent nurseries while bringing in some much-needed color to your living quarter.
Floom
Floom takes a similar approach to Etsy, focusing primarily on small-time growers, nurseries, and plant providers. Where it differs, however, is in its immediacy. Instead of acquiring its goods from all over the world, Floom aggregates growers from your local area, acting as a database of sorts. In a few short clicks, you'll be able to find all of the partners in your area, set up a delivery window, and receive your newest photosynthetic counterpart.
Garden Goods Direct
Garden Goods Direct is a straightforward site that allows you to order everything from perennials, trees, and shrubs, all the way to pre-potted indoor plants that have been primed for use in an office/living environment. Whether you're looking for a variant that will thrive in low light, something that's pet-safe, or clean-air examples that are great for the beginning parent, you'll find it here. Pair that with the brand's ever-expanding collection of greenery, and we're willing to bet that you'll find the next addition to your plant family through GGD.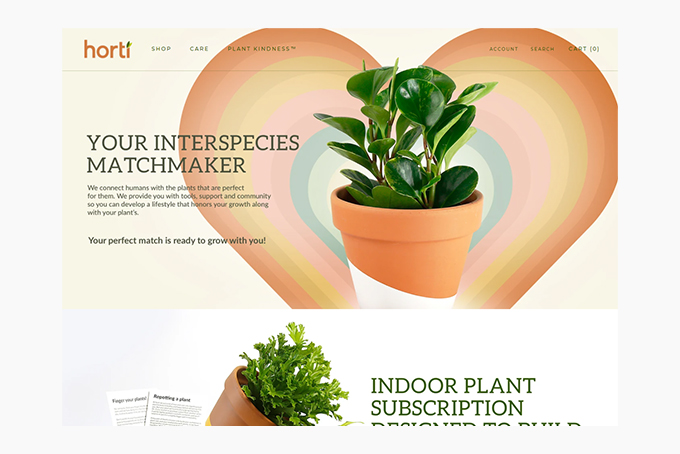 Horti
As odd as it may seem, Hori is one of the internet's premiere plant "matchmakers." This interesting take on the world of horticulture capitalizes on one of the most robust collections of plants in the space and offers a handful of different subscription options for those who are interested in monthly deliveries. Many of the company's plants are delivered to your doorstep in a timely manner and feature a hand-painted terracotta pot for a truly personal touch.
Leon & George
Leon & George takes a more artisanal approach to plant propriety, offering buyers premium variants at competitive prices. In an effort to reconnect city-dwellers with nature, this handy outfit features some of the best customer service in the industry, as well as a mission to support local communities and the environment. That's why each and every plant is responsibly sourced from its native climate in the U.S., potted in a premium planter (or stand), and delivered with care alongside top-tier personalized support from the company's "plant doctors, " should something go awry.
Nature Hills
Nature Hills claims to be the largest online nursery in America, and while we can't confirm or deny whether that's true, we're sure that you'll be pleasantly surprised with its immaculate collection of houseplants. While its indoor collection isn't as expansive as the others on this list, it's certainly one of the most well-rounded, boasting zebra, snake, fern, and succulent offerings that are sure to enliven any drab indoor area. You'll even be able to shop over the phone, where you'll receive personalized support for your own specific needs.
The Sill
The Sill is one of the plant sphere's most popular online stores, and while their robust selection is one of the finest around, its popularity can lead to a quick rotation of in-stock items. With an emphasis on aesthetics, this handsomely-tailored site features a complete user experience that's catered toward both faux and live houseplants, as well as various workshops that educate aspiring growers on the intricacies of plant parenthood. If you're interested in a specific item, you should act fast — it's likely that it won't be available when you decide to revisit.
Terrain
Terrain has an upscale aesthetic that can't be put into words. It makes a bit more sense when you learn that the brand is owned and operated by the same company that runs Anthropologie and Urban Outfitters, lending itself to premium, high-tier options that are expertly curated, photographed, and designed. If you're looking for an online store that boasts everything from everyday, run-of-the-mill offerings, all the way to specially-crafted seasonal collections, this is the option for you.
UrbanStems
UrbanStems has a large network that can ship and deliver your favorite flower and bouquet in a day's time. Since it specializes in smaller plants, you won't find any large, potted options here. Instead, the brand brings compact, pint-sized offerings into your home, providing you with the perfect accent pieces for any desk or countertop area. While many of the other inclusions on this list focus on a wide array of small, medium, and large plants, UrbanStems finds solace in the simplicity of plant ownership, boasting a healthy selection of flowers, small succulents, ferns, and snake plants.
The 21 Best Plant Accessories
Now that you've found the perfect place to order your next photosynthetic companion, head over to our guide on the best plant accessories, where you'll be able to find everything you need to keep your new living accent at the top of its game.