As springtime draws to a close and summer makes its presence known, more and more individuals are going to be spending time on their decks, patios, and outdoor living areas. But, if you're anything like us, your aforementioned living area might look a bit bland, especially since the acquisition of stylish, comfortable furniture isn't always at the top of everyone's grocery list. As a result, we went on a revelatory journey throughout outdoor furniture space to find some exemplary pieces for the upcoming season.
We quickly found, however, that searching for the perfect piece of outdoor furniture takes time, patience, and know-how. Like any other style-focused medium, an expansive understanding of the genre's designers, under-the-radar outfits, and essential silhouettes was all vital. So, instead of spending hours combing through the archives of our favorite nation-wide furniture chain, we decided to dive a bit deeper into the industry's intricate catalog, so you wouldn't have to. Below, we've outlined our favorite outdoor sofas, sectionals, chairs, and tables, while also gifting some valuable insight surrounding the mainstay companies and designers behind each piece.
IKEA ÄPPLARÖ
IKEA's affordable furniture options are always a solid bet when you're outfitting your living room on a budget, especially since they don't skimp when it comes to inherent quality. While the Swedish outfit specializes in the interior of the home more than anything else, you'd be remiss to believe that its outdoor offerings are lacking. Take the ÄPPLARÖ line, for example. This sleek, sophisticated collection features everything you'll need for your outdoor area, including reclining chairs, benches, tables, chaises, and sofas, including the one pictured here.
Hay Palissade
Like IKEA, Hay is yet another outfit that specializes in the acquisition and sale of affordable, but well-designed outdoor furniture. The company's Palissade Collection is a hidden gem, bringing over 13 different items together to create the perfect outdoor socialization area, courtesy of their bulky, but elegant designs. And since the entire collection was created by the renowned Parisian designers, Ronan and Erwan Bouroullec, you can rest assured that both you and your guests will find redeeming qualities throughout.
Loll Designs Lollygagger
Duluth, Minnesota's Loll Designs isn't a pushover when it comes to the design of all-encompassing outdoor furniture products, but their unique shapes, sizes, and colors are just the beginning. To set themselves apart from the rest of the pack, the company has opted to create their entire line up out of recycled materials, including plastics from single-use milk jugs. As a result, the brand's all-weather outdoor furniture, including the Lollygagger that you see here, is both conscious of its manufacturing principles, as well as inherently elegant. Head over to the company's website to outfit your outdoor living area with bar carts, end tables, chaises, lounge chairs, rockers, and benches from the innovative line.
DWR Sculptura
Design Within Reach has a knack for acquiring the best furniture collections around, and for their outdoor segment, there are few that can measure up to Woodward Furniture Co's Sculptura line. Whether you decide to pick up the capsule's ottoman, bench, or occasional chair, you'll be doing yourself a favor, thanks to their handcrafted iron wire mesh construction, eclectic design, and historic relevance, seeing as they've been around for well over 60 years. If you're looking for a timeless furnishing to give your outdoor area an air of nostalgia and poise, this is the line for you.
West Elm Huron Woven
Like DWR, West Elm is also in the business of creating/acquiring the best furniture collections on the market. The company's Huron Woven line is, quite possibly, one of the most attractive selections out there, boasting an artfully-crafted, all-weather architecture, rust-resistant aluminum frames, and comfortable cushions that'll make you think twice about heading back inside. Thankfully, the Huron Woven line introduces everything you'll need to keep your outdoor area looking prim and proper, including a large, angular sofa, a more relaxed lounge chair, and an ottoman for those nights where putting your feet up is all that matters.
Target Bangor 3-Piece
Surprisingly enough, Target isn't confined to the purchase and sale of fashion, electronic, and food items. They've also got one of the best in-house furniture selections around, including its very own Project 62 collection. The three-piece 'Bangor' outdoor furniture collection that you see here is a part of that overarching capsule and introduces a handful of sturdy, rust-resistant chairs, an accent table, and comfortable, all-season cushioning to make your porch area the highlight of the home. Each piece calls upon a heavy-duty steel frame, metal mesh, and faux wood to create an ample atmosphere for design-minded individuals, as well as to pay homage to the company's 1962-inspired Modernist furniture.
Innit Acapulco Rocker
Innit's Acapulco was already a legendary design piece among outdoor furniture lovers, so when the company decided to turn it into a rock-able variant, it caught the attention of enthusiasts looking to bring some swanky, upper-class color to their socialization areas. Like its progenitor, it features a durable powder-coated steel frame, as well as 18 different colorfast UV-resistant woven vinyl cord colors, allowing buyers to customize their outdoor area to their heart's content. As a result, the weatherproof icon has become one of the most sought-after furniture items on the market, and for good reason, considering they'll last far longer than traditional outdoor offerings due to their e-coated exterior.
Restoration Hardware Caicos
We're huge fans of Restoration Hardware's work, and their outdoor-focused Caicos collection is artistry in its finest form. For the more fashionable, design-minded folks out there, this is the ultimate in subdued, minimalist furniture, offering up an intricate palette of an ottoman, chaise, sofa, sectional, table, and chair to give any patio area an aura of refinement. Inspired by the International Style movement of the 1950s, the entire collection calls upon premium teak foundations, modular components, and a suite of customizable, special-order fabrics to make it the centerpiece of your outdoor area; and if you're asking us, it does so in an effortless fashion.
Magis Spun Chair
Herman Miller never ceases to amaze us with its furniture offerings/selections, and this ultra-unique Spun Chair, designed and conceptualized by Thomas Heatherwick for Magis, had us baffled from the very beginning. Regardless of its seemingly-unstable architecture, there's no denying that the odd offering will bring an air of playfulness to your outdoor living area, making it perfect for high-contrast styles and colorful design palettes. If you're worried about their actual capability, however, don't fret — they're still amazingly comfortable, conscious, and adaptable, meaning that you'll be able to utilize them as actual chairs and not singular design accents.
Bend Goods Bistro Table
Like many outdoor furniture options, the use of tight-knit wire and mesh is abundant in Bend Goods' Bistro Table. In an effort to strike the perfect balance between elegance and durable use, the company went out of its way to pair the table's all-metal top with a durable wire foundation — an interesting accumulation of recyclable iron — as a testament to its sustainable manufacturing principles. Each piece has been powder coated to stand up against the outdoor elements, inclement weather, and everything in between, deterring corrosion and rust for a lifetime of satisfactory use.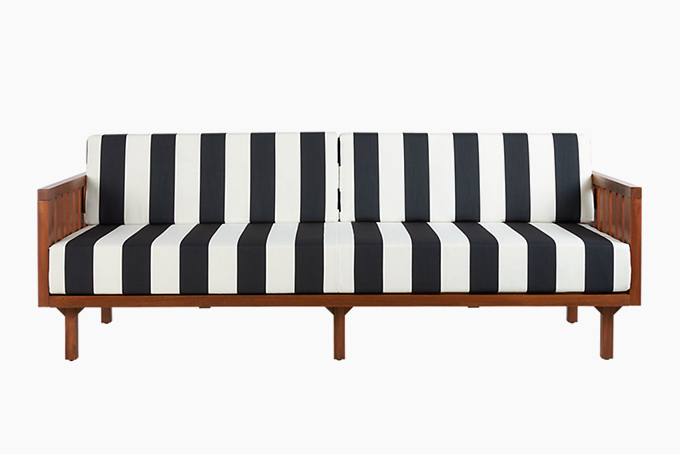 CB2 Tropez Sofa
If you spent a week in the French Riviera, you'd expect to see something like CB2's Tropez Sofa. As a modern iteration of the Cote D'Azur, courtesy of Cici Thompson, buyers will be treated to a classic unison of black and white, with a striped, weather-resistant polyester cushion as the sofa's centerpiece. Of course, that wouldn't mean much without a sufficient foundation. Below, amazing-looking natural mahogany provides a warm contrast to the Tropez's upper section, lightening in color over time due to elemental exposure, and resulting in a preferable patina that'll give the sofa more character, years down the road.
Modernica Case Study Solid Wood Lounge Chair
Modernica is one of the furniture world's most precious gems, and with offerings like the Case Study Solid Wood Lounge Chair, we can see why. Not only does the streamlined offering boast one of the most sophisticated silhouettes we've seen in quite some time, but it's also no slouch in the construction department, calling upon a solid Sepellé hardwood (African Mahogany), an oiled, hand-built frame, and Sunbrella fabric upholstery to do its bidding. To give it even more gall while facing the outdoor world, each example can also be acquired with Aqualon covers, helping you to shield them from inclement weather.
CB2 Cana Outdoor 3-Piece
CB2 struck gold when they acquired Mermelada Estudio's Cana Outdoor 3-Piece furniture set. Below the example's hand-woven resin wicker exterior, a durable aluminum tube frame provides the perfect foundation for years of trusted use, helping the sectional to stand up against natural deterioration and inclement weather — although, it's not recommended that you leave it out in the rain. When it's nice and sunny, however, it's the perfect three-piece sofa for any social engagement, offering guests a comfortable place to sit, courtesy of poly-foam cushions, and a manageable, compact footprint that won't take up precious acreage in your backyard.
Eames Aluminum Group Lounge Chair
Charles and Ray Eames have designed some of the furniture industry's most lauded interior furnishings, but that didn't stop them from branching into the world of outdoor architecture, as well. The Aluminum Group Lounge Chair that you see here is a perfect example. As a centerpiece of the pair's 1957 Aluminum Group collection, it takes on a weather-resistant finish and outdoor weave, while remaining undeniably true to their recognizable design terminology. Simple, rounded linework, an office-inspired silhouette, and a tasteful four-leg base serve as the linchpins for the Lounge Chair's understated style.
RODA Spinnaker 034 Table
To round out our list, we're placing the spotlight on RODA's Spinnaker 034 Table. This beautifully-built centerpiece references strong design principles and expressive power, placing an emphasis on its solid teak slat top, geometric shapes, and metal legs to create an elegant but raw representation of iconic outdoor furniture. Each example features material that has been specially selected for its resistance to atmospheric agents and utilizes a unique tip-up opening mechanism that will allow you to extend (or retract) the table's expandable areas for even more accommodation. If you're looking for a subdued design piece that'll do its job as the primary facet of your backyard getaway, this is it.
The 30 Best Online Furniture Shops
Now that you've dove into our guide on the best outdoor furniture pieces, head over to our writeup on the best online furniture shops, where we give you the rundown on the best places to shop, style, and find your next big interior-design inspiration.