Though many of us are currently relegated to our house or apartment due to the ongoing global pandemic, the ability to connect to the internet is an utter game-changer, providing an avenue to all manner of instantly-accessible services, information, and forms of entertainment. And while the increased downtown afforded by the current quarantine period makes for a great time to catch up on your favorite TV shows or podcasts, it also provides the perfect opportunity to arm yourself with a new skill, understanding or ability, which is where online learning schools and platforms come into play.
Whether you want to learn about standup comedy, cooking, coding, or anything in between, there's almost certainly an existing free or paid platform that's ready to educate you in your particular area(s) of interest, though, with hundreds of outfits out there, it can be difficult determining which organizations offer the best classes. So, to help cut down on time researching and get you straight into learning, we've scoured the web to bring you this condensed guide to the 15 best online courses for learning new skills.
Steps To Becoming A Better You
Why Online Learning Platforms Are A Worthy Investment Of Your Time & Money
The massive variety of available classes online makes it incredibly easy to add a new skill to your repertoire. This includes recreational pursuits like classes on painting/drawing, photography, acting, or cooking, as well as more-career focused skills such as learning to code, use photo or video editing software, or bolster your project management skills. And, in addition to online platforms that teach foreign languages, there's also a bevy of college-level courses that are taught online, enabling you to brush up on anything from WW2 history to astrophysics. Furthermore, there are even online programs that train your brain to be sharper, more efficient, and better at problem-solving.
While it may not be quite as fun as binging your favorite TV show, we'd argue learning a new skill is a much better use of one's time. Taking in a new ability can increase your value in the workplace, improve efficiency, and make you overall more of an asset. The right classes can even realistically lead to a new and better job. So, if you put in the time and effort, by the time this is all over, you can reemerge into the world armed with a more impressive resume and a few new tricks up your sleeve.
Adobe TV
The Adobe Creative Cloud (formerly known as the "Adobe Creative Suite") constitutes some of the most trusted and commonly-utilized computer applications in the professional graphic design, video editing, photography, and web development fields. This online platform is run by the San Jose-based software giant themselves and teaches members how to use the near-omnipresent programs. On top of offering comprehensive and thorough tutorials on the most commonly utilized software in the Adobe Creative Cloud like Photoshop, InDesign, Illustrator, and After Effects, this platform has easily-digestible lessons for novice-to-advanced users across the entire Adobe Creative Cloud, including Dreamweaver, Audition, SpeedGrade, Prelude, Lightroom, Fireworks, Bridge, Encore, Premiere Pro, Flash, and Flash Builder. Furthermore, this platform teaches classes for the mobile versions of Adobe apps, in addition to its regular desktop versions.
Babbel
Whether you're looking to bolster your business resume, brush up on a different tongue for European travel, or just more efficiently navigate regions of the country like Southern California where Spanish is common, learning a new language opens the door to a host of new possibilities and experiences in your personal and/or professional life. Currently offering lessons in 14 different languages (Dutch; Danish; English; French; German; Indonesian; Italian; Norwegian; Polish; Brazilian Portuguese; Russian; Swedish; Spanish; and Turkish), Babbel forgoes traditional individual sentence structure language learning in favor of a more natural dialogue-based technique. Of course, Babbel also teaches reading and writing, on top of speaking and listening, and is particularly effective at teaching new students the basic fundamentals of a foreign language.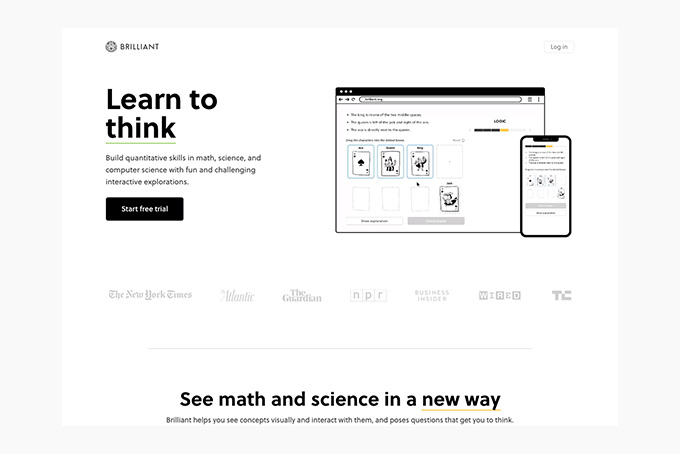 Brilliant.org
Like every other entry on this list, Brilliant offers online classes that primarily explore the math and science realms ((including specialization in computer science and machine learning). What separates this particular organization from other competitors on the market is that in addition to teaching classes on these subjects, Brilliant also boasts lessons and exercises that actually improve the neural pathways and processing centers in the brain to improve logic, reasoning, and general day-to-day problem-solving abilities. Even cooler is the fact that Brilliant allows its users to select the exercises that they find most compelling, thereby making the experience as engaging as possible, and the platform boasts a very large, very active, and very passionate user base that's quick to give help or feedback (or simply share some of its unbridled enthusiasm).
Codecademy
As the modern age trudges onward, and software, the internet, and smart tech, in general, continues to become an increasingly pivotal aspect of our everyday lives. there's been a major influx in the demand for skilled coders and programmers. Codecademy teaches users all manner of coding, from web design to data analysis. The site uses a basic test to determine your skill level and understanding before suggesting classes that offer real-world experience, or as Codecademy calls it, "learning by doing." To ensure you're on the right track and not developing bad (or objectively wrong) habits, Codecademy tests your code after you submit it, essentially providing instant feedback while the subject is still fresh in your mind. And while Codecademy isn't your best bet for high-level advanced classes — though it does offer "Pro Path" courses — it's an absolutely incredible way to learn the basics of coding, especially for those with limited time and/or financial resources.
Coursera
Partnering with over 200 leading companies like Google and IBM and elite academic institutions like Stanford, Duke, and Penn State, Coursera offers more than 3,900 online classes ranging in subject from art, to mechanical engineering, to coding — all with an academic focus/style. On top of giving you new skills or abilities, Coursera's classes are accredited, meaning you'll walk away with official credentials in the form of a certificate or degree. And, while Coursera previously offered a mix of free and paid classes, the platform has since introduced a bevy of supplementary free learning materials since the COVID-19 outbreak began. This outfit's success/efficacy rate speaks for itself, too, with 87% of users (learning for professional development) reporting tangible career benefits after taking Coursera classes such as a new job, raise, or promotion.
Khan Academy
In the early 2000s, Salman Khan — an MIT and Harvard Business School graduate, and former hedge fund analyst — was asked to tutor his cousin in math. He did this through recording video lessons, which were so successful that it prompted others to seek Khan's tutoring for their kids. More videos were made, and eventually in 2008 Khan Academy was formed. The platform now aims to provide free learning to anyone with an internet connection, boasting more than 6,500 video classes across basic middle and high school-level subjects like math, science, and history. A non-profit organization primarily funded through private donations, Khan Academy is one of the oldest and most respected online learning platforms in existence, and though the bulk of its lessons are taught in English, the company does offer some content in as many as 30 other languages.
LearnSmart
It can be exceedingly difficult to advance your career and get a higher education whilst fulfilling the responsibilities of everyday life and working a full-time job. RedVector's LearnSmart is well aware of this, and consequently, it seeks to provide a platform where users can take lessons to bolster their resume and further their career on their own schedule — whether you've got 20 hours of spare time each week, or only 20 minutes. This takes the form of career-oriented courses that primarily cater to growing (mostly-tech-focused) fields like cybersecurity and IT, while also offerings more general lessons in subjects such as project management. Courses can be purchased as subscriptions, in packages, or individually, too. And, on top of offering certification for its training, this outfit also has some unique online lessons such as Ethical Hacking.
LinkedIn Learning
Originally known as Lynda, before being acquired by LinkedIn and rebranded as "LinkedIn Learning," this online learning platform consists of over 4,000 video lessons. This includes introductory to advanced-level courses in primarily career-focused areas such as software and web development, business, marketing, though LinkedIn Learning also has a multitude of stellar photography and design classes as well. And, with the parent company's utterly enormous amount of available data pertaining to the job market, this outfit is able to consistently offer lessons that teach the latest, most cutting-edge — and most-needed – skills, techniques, and practices. What's more, said lessons are taught by some of the best and brightest minds in their fields, with instructors that include Harvard Law School Fellows, executive chairmen, founders, CEOs, and COOs of fortune 500 companies.
Master Class
Similarly to LinkedIn Learning, Masterclass offers a bevy of courses taught by what are, without a doubt, some of the most respected individuals in their fields, though instead of being mostly career-focused, Masterclass's videos are of the more hobby-based, recreational variety. Want acting classes from Samuel L Jackson or Jodi Foster? Cooking lessons from Gordon Ramsay? Music production with Timbaland or deadmau5? Film making from Martin Scorsese or David Lynch? Scientific thinking with Neil deGrasse Tyson? Masterclass has got you covered. There are also fantastic lessons from non-A-list celebrities that are equally engaging, such as a class on how to negotiate taught by the former head of the New York City FBI Crisis Negotiation Team, or poker lessons from six-time WSOP winner (and two-time WPT champ), Daniel Negreanu. And while Masterclass does place a premium on quality over quantity (at least compared to some of the other options with video libraries that are thousands of entries deep), it still boasts days of legitimately fantastic content.
Harvard Extension School
Whether or not you're the scholarly or academic type, chances are you've heard of a little Cambridge, Massachusetts-based university called Harvard. And while its lecture halls, labs, and classrooms are reserved for 20,000 or so under and post-grad students, the Ivy League's world-class lessons can still be absorbed by anyone via its online platform. The Harvard Extension School teaches more than 900 paid, free, and low-cost classes in a diverse number of areas including arts, literature, and media, business and management, education and teaching, global studies, life sciences, social and cultural sciences, sustainability and the environment, and technology. Obviously taught by some amazing professors, this American institution's classes can be used to beef up your knowledge or expertise in a single specific area or can be utilized to gain a bachelor's or master's degree.
SkillShare
SkillShare is one of the largest and most modern online learning platforms in existence. While its thousands of classes aren't accredited, they're nonetheless taught by renowned experts in their respective fields, both in professional and recreational areas. This means career-oriented lessons for budding entrepreneurs like "how to build and brand a freelance company," "how to start an e-commerce store," and "SEO tactics and strategy," as well as more hobby-focused video classes on everything from drawing and painting, to design and photography, to how to make a Youtube channel or podcast. And, while Skillshare operates on a subscription model, it does also have a bevy of free video lessons on its expansive site. Pro tip: you don't have to look for to find a promo code for a free month of Skillshare.
Stanford Online
Not at all unlike the Harvard Extension School, this online platform brings the world-renowned educational resources of Stanford University to the screen of your computer or mobile device. Offering an absolutely enormous body of online classes, Stanford online allows its students to take whatever path bests fits their wants and needs, with options ranging from undergrad and master's degrees, professional education, and even custom programs. As you might expect, supplementary to the classes themselves there's a huge amount of helpful resources for students, whether that's access to an endless catalog of data sets and information or feedback and help from trained professors. And, while the majority of its classes are paid, Stanford does have a decent number of free courses, too.
TED-Ed
TED Conferences LLC is without a doubt best known for its wildly-popular TED Talk YouTube videos, though not as many people know that the technology and entertainment firm also have a side-project channel that offers a catalog of animated educational videos called Ted-Ed. Available through a host of streaming services, these videos are incredibly-easy to digest, to the point where the majority of them are actually pretty kid/family-friendly, while still conveying vital information or core concepts and ideas. Obviously these videos don't go too into the weeds but are still a great introduction (or explanation) to any number of areas or subjects. This platform also boasts a handful of reputable video hosts and consultants, including our buddy Salman Khan.
Pluralsight
Plural sight is another popular online teaching platform that deals in a very specific area. Rather than being generally-career-focused, Pluralsight offers (paid) courses in the creative tech space, with classes that educate its users in realms such as the use of CAD software, software development, visual FX, video game development, cloud training, mobile app development, and so on. Equipped with more than 7,000 lessons, this platform's courses have been designed in a way to take its students from day-one novices with zero experience, to fully-training professionals ready to apply to jobs in their field of study. And because different teaching styles work for different individuals — especially when it comes to relaying technical ideas that pertain to technology, coding, and software — Pluralsight offers a free ten-day trial, so you can figure out if this is the right program for you without having to invest a dime.
Udemy
No matter what it is that you're looking to learn, there's a very high likelihood that Udemy offers lessons in that area. With well over 150,000 courses — taught in some 65 different languages by over 50,000 instructors — Udemy is not only one of the most robust online learning platforms, but also one of the most accessible, as thoroughly demonstrated by the sites 295 million enrollments (by more than 50 million students) since its inception in 2010. The bulk of Udemy's classes are focused on career-advancing subjects, and as such the company offers technical certificates in a myriad of the areas it teaches in. And while the California-based company's courses vary in price from just under $10 all the way up to $300, the site routinely runs promotions and deals that offer substantial discounts.
The 20 Best Quarantine Activities & Projects
Still looking for novel ways to pass the time while self-isolating? Well our guide to the best quarantine projects and activities is sure to boast a few new ideas to help the hours pass a little faster.