Once you become an adult, it's time to put away your childish things. That doesn't mean you have to give up your video games or LEGO collection — there's no age limit on hobbies, you do you — but it does mean that your living space should reflect an adult lifestyle. That means no piles of dirty laundry on the floor, no Little League trophy displays, and for God's sake no unframed poster-adorned walls. The best way to make your home look more grown-up is to class it up with some art, and we've got the best places to buy art online gathered in one place for you.
Art is a very personal thing, so it's important to figure out what kind of art you like and buy that. Don't worry about whether or not it's popular or if anyone else likes it. Virtually anything in the world can be considered art, and if you find a piece that speaks to you, then you shouldn't hesitate in picking it up. For our guide, we've sought out a wide range of online destinations that specialize in all types of art, from the budget-friendly to the extravagant and from the traditional to the eclectic. We're confident that you'll find some online art you love at the 15 destinations below, so have a look and discover your home's next decorative addition.
20×200
The motto of 20×200 is "It's Art for Everyone." Their goal is to make everyone an art collector, and they strive to break down the traditional barriers that exist in art collecting to make the practice accessible to all. They frequently collaborate with up-and-coming artists on limited-edition collections, and they offer artwork at prices that appeal to everyone from the novice buying something to hang over his sofa to the seasoned collector with his own gallery.
Absolut Art
Founded by the vodka company of the same name, this site offers a ton of art, from abstract works to pop art, and all of it would be right at home on one of Absolut's famously adventurous bottles. And considering the clout the brand possesses, this site also frequently gets a lot of very high-profile artist collaborations — if that's important to you.
Art.com
When you go around with the domain name "art dot com," you'd better be able to back that up with some great art. Thankfully, this site doesn't disappoint, as it's one of the largest art retailers in the world. They have a massive selection of art in every style, and while they trend mainstream with a large array of famous prints, they also have plenty on offer from up-and-coming artists.
Artfinder
As much of a community for artists as it is a store, Artfinder boasts a worldwide network that consists of thousands of independent artists making original, hand-crafted works. You buy art directly from the artisans, meaning more of your dollar goes toward supporting their livelihood as opposed to some faceless corporation. It's a great place to discover a new artist to be "your" artist.
Artspace
Claiming to offer the best contemporary art in the world, Artspace features works from more established artists and has a wider variety of art types compared to most sites. While you'll have no trouble finding items like prints and paintings on most other sites, Artspace mixes it up by also offering things like sculptures and mixed media works alongside the more expected fare. Go here if your tastes steer toward the road less traveled.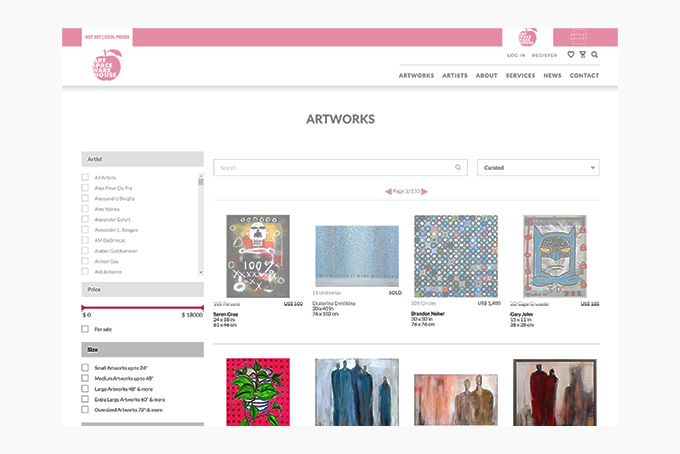 Artspace Warehouse
Not to be confused with the similarly-named site above, Artspace Warehouse is an L.A.-based institution that curates and sells exclusively original works. You'll find no prints or reproductions here, and since the site's focus is largely on emerging artists and (relative) affordability, that means you can pick up an original piece of art from a real-deal artist for less than you might think.
Artsy
If you've got a little more to spend — okay, a lot more — then you may want to have a look at Artsy. Artsy works with esteemed galleries, collectors, and auction houses around the world to bring you museum-quality works from the world's most famous artists. If you're in the market for an original signed Banksy, this is the site for you.
Etsy
We're going to take a stab in the dark and guess that you've heard of Etsy before. The site known for handcrafted wares is, unsurprisingly, a great place to pick up art, too. Given the volume of art on offer, it may take some digging before you find what you're looking for, but having the chance to own something truly unique and support a small-time artist at the same time is worth it.
Limited 100
Limited 100 does just one thing, and they do it exceedingly well. The site works with the best automotive artists and photographers in the world to produce 100-piece limited runs of car-themed art. The work they offer up is absolutely gorgeous, and thanks to the limited runs, it's also guaranteed to be exclusive. If you're a car guy, there's no better decor destination than this.
Minted
If we had to come up with one word to describe Minted, it's trendy. We don't mean that in a bad way, it's just that the site's curated collections of limited prints by independent artists tend to lean into the Instagram-ready, HGTV-influenced decorative style of today. It's an attractive look, and since experts are putting in the legwork for you, Minted is a great way to make your home look awesome even if you have zero design sense of your own.
MoMA Design Store
The Museum of Modern Art is arguably the best-known modern art museum in the world, and its retail section is almost as lauded. Far from the typical museum gift shop, the MoMA Design Store offers some of the best examples of modern design for your home. In addition to wall art, there's also a vast array of decorative modern furniture, lighting, clocks, and other wonderfully designed items that will allow you to make art an even bigger part of your everyday life.
Novica
While several sites offer works from independent artists, Novica takes things a step further by traveling the globe in search of the most talented undiscovered artisans and enables them to sell their handcrafted, often culturally representative creations while earning a fair wage. And with most artisans hailing from rural regions of Africa, South America, and Southeast Asia, your purchase has the potential to make a big difference in their respective communities.
Saatchi Art
Odds are that if you can't find art you love on Saatchi, said art probably doesn't exist. The site claims to be the world's leading online art gallery, and with a curated collection consisting of over 1.4 million original works from nearly 100,000 emerging artists representing more than 110 countries, it's hard to argue with them. Their massive selection can be intimidating, which is why Saatchi employs Art Advisors who can help you find that perfect piece.
Society6
A lot of the art world can be intimidating at best, and elitist at worst. So if some of these other sites seem a little intense or hoity-toity for you, then you may prefer Society6. A much more affordable and mainstream site, Society6 offers loads of mass-produced prints that you won't be afraid to take a chance on. But since they're still a smaller, design-focused retailer, the prints they offer are a good deal more interesting than what you'd find at places like Target or Ikea.
Tappan Collective
While many online art galleries operate under a "one size fits all" mantra, Tappan goes for a more tailored approach. Specializing in contemporary art from emerging artists, Tappan definitely has a type. All of their work is tastefully curated and most of what they offer is original. But don't think this care and attention to detail necessarily translates to big bucks. They offer art at a variety of price points and even have an extensive "$500 and under" section. If their aesthetic matches yours, you're in for a treat.
The 25 Best Style Accessories For Men
All right, you've got your home looking good thanks to some brilliant new art purchases. Well done. Step two on the road to becoming a card-carrying adult is a style overhaul. So if you haven't gone clothes shopping since college, then you definitely should check out our guide to the 25 best style accessories for men.