Had you asked the average person what a neck gaiter was prior to 2020, you'd probably be met with a blank stare and a fumbling response. However, now that masks have become a part of our essential everyday carry, gaiters make for an excellent alternative to skimpy disposable face coverings. First of all, they're far more comfortable to wear during the winter, providing an extra layer of insulation against cold and wind, while keeping in your own body heat at the same time. And that's not all — gaiters are also incredibly versatile garments, offering multiple different configurations in which they can be worn. So, whether you rock one around your neck like a scarf or up on your head like a bandana, it can be quickly be pulled over your mouth to provide some impromptu protection.
And they're not limited in use to pandemic-induced application. On the contrary, neck gaiters can be worn for everything from chilly bike rides to afternoon hikes to days out on the slopes. The possibilities are honestly endless, limited only by your imagination. But how do you find the best neck gaiter for your needs? Well, it's not as simple as buying the first one you find; you have to take into account things like material, fit, and protection. If it sounds like a lot to consider for such an otherwise simple piece of apparel, we understand. But lucky for you, we've done the work so that you don't have to, with a quick explanation breaking important things to look for, followed by our favorites of what's currently out on the market. See below for what we've picked for the best neck gaiters.
Getting The Most Out Of Your Gaiter
Key Features To Look For
Material: In attempting to find the best gaiter for your needs, you should first establish when, where, and how you'll be using it. For instance, if you're just planning on wearing one as an impromptu mask for quick jogs around the block, you can get away with pretty much any weight and fabric type. However, if you'll be testing your gaiter in more critical conditions — such as cold or wet environments — you'll want to roll with one made from heavier wool material. In addition to being naturally moisture-wicking and odor-resistant, it's an incredible insulator, capable of absorbing up to 30% of its weight in water while still being plenty warm enough to keep you comfortable
Fit: Although most neck gaiters are little more than an elasticated tube, they're increasingly coming to feature other means of attachment, including quick-cinch drawcords, moldable nose bridges, and adjustable ear loops.  Such additions undoubtedly improve the overall fit of any given neck gaiter (making them great for when secure coverage is a non-negotiable) but they come at the expense of versatility. That's because the simpler a covering is, the more potential options it poses for wear. Just take any of Buff's offerings, for example. With over 12 different ways in which they can be worn — such as a balaclava, a scarf, or even a headband — they make for an unbeatable value proposition.
Protection: Coverage in and of itself isn't enough — you also have to consider what kind of added protection a neck gaiter brings to the table. The best amongst them will offer some sort of UV resistance, with a UPF 50 rating being more than enough to keep you from catching a burn (at least whatever it's covering). But that's not all — some neck gaiters will also come with such features as built-in odor-resistance and insect repellent, making them a great option for those who plan on wearing them away from the comforts and familiarity of the concrete.
Disclaimer: Although the CDC has found that neck gaiters offer an effective defense against viral transmission, an N95 mask or something of the equivalent is still your best bet. If you do decide to use a gaiter as your primary face covering, be sure to double up the fabric to ensure you have the best protection possible.
Carhartt Cotton Gaiter
Carhartt's Cotton Gaiter may feature a tube shape similar to other neck gaiters, however, it adds a couple of unique features to the mix. For instance, it comes with an adjustable elastic cord with a self-securing flap, allowing you to cinch it down and keep it seated snugly on your face. And should you be after maximum protection, it even includes a built-in front filter pocket to keep you safe and germ-free.
Buff Original
No list of neck gaiters would be complete without Buff, a brand that's established such a reputation that it's become practically eponymous with the product. Made from 95% recycled REPREVE fabric with a 100% seamless construction, their Original model is as comfortable as it gets. Good thing too — with UPF 50 sun protection and 12 different wear configurations, you'll never want to take it off.
Columbia Trail Shaker Gaiter
For those who need to keep their face warm in the absolute coldest of weather, look no further than Columbia's Trail Shaker Gaiter. That's because it's crafted with an interior Omni-Heat silver patterned lining, an addition that improves body heat retention by reflecting it back at you. And thanks to its drawstring construction, it'll stay securely fastened on your face.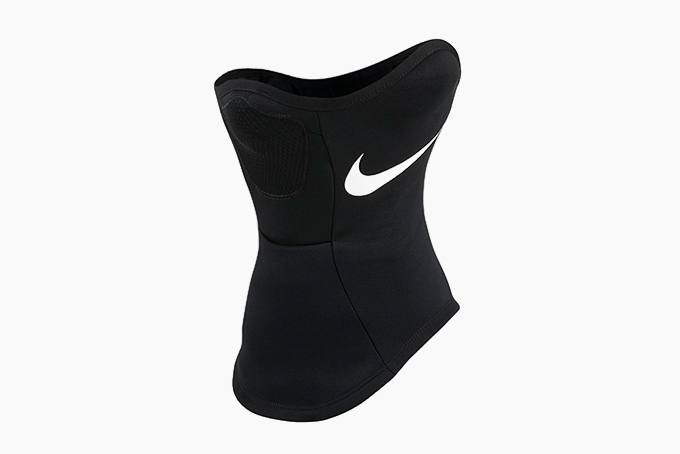 Nike Strike Winter Warrior Snood
All too often, cold weather workout apparel is ill-fitting and cumbersome, making it a minor annoyance on the best of days and a performance inhibitor on the worst of them. Nike's Strike Winter Warrior Snood is an exception to the rule because it's made from lightweight moisture-wicking fleece and it comes with an engineered fit, a pair of ear loops, as well as a locking rear cord to keep it sure.
Rapha Lightweight Snood
Cyclists have it some of the worst compared to other athletes because, once the temperature starts to dip, every ride becomes a bone-chilling challenge. Luckily, Rapha's Lightweight Snood is more than capable of keeping your face feeling toasty on even the windiest of efforts. Made from 100% PrimaLoft insulation, it's warm, breathable, and oh so soft. A perfect option for dedicated pedalers.
Buff Coolnet UV+ Insect Shield
Honestly, Buff has such an extensive lineup that we could make an entire list solely based around their offerings. However, we felt that in addition to the Original, this Coolnet version was another gaiter well worth a gander. Made with Insect Shield Protection, it's capable of repelling all kinds of six-legged annoyances, from mosquitos to ticks to ants and more. If you'll be doing any significant time out in the woods, make sure you have one of these around your neck.
Mack Weldon Silver Active Gaiter
The necessity of masks in our everyday life isn't restricted to trips to the store and other public excursions; it also applies to outdoor exercise. Luckily, Mack Weldon has just the gaiter to get the job done because it's made with Ionic+ silver nylon in a micro-mesh construction — a combination that's incredibly breathable with the added benefit of being antimicrobial. Oh, and it even comes with built-in ear loops to ensure that it stays in place and on your face.
Arc'Teryx Motus Neck Gaiter
While wearing a gaiter out on the slopes might save you from unwanted windburn, you'll end up instead with a face full of frozen snot. That is, unless you have Arc'Teryx's Motus Neck Gaiter, an offering that features Phasic AR II fabric for all but unmatched thermal and moisture management. And thanks to its tapered cut, it contours to your face for a comfortable, flap-free fit.
Helly Hansen Merino Wool Neck Gaiter
When it comes to winter-ready outerwear, Helly Hansen is a name that needs no introduction. And it's for good reason because, with items in their inventory like this neck gaiter, you'll be prepared for the worth the weather has to offer. Crafted from 100% merino wool, it also comes with a double-layer design to ensure that you have maximum protection against the wind and cold.
Mission Workshop Mission Gaiter
San Francisco-based Mission Workshop consistently nails it when it comes to price, quality, and design, and their Mission Gaiter is no exception. For, though it primarily uses 18.9-micron merino wool for its construction, it also comes with some added core nylon for just a bit of extra strength and durability. As with our other wool offerings, it's naturally temperature regulating and incredibly stretchy.
Patagonia Capilene Cool Daily Sun Mask
Patagonia's Capilene Cool Daily fabric is widely regarded as being some of the softest stuff on the market, so it goes without saying that this option would be a cut above other gaiters. In addition to being 100% recycled polyester, it's also 83% Fair Trade Certified sewn, meaning that it's one heck of a sustainable sun mask. It even comes rated to 50+UPF with HeiQ Fresh for an iron-clad defense against odor.
Smartwool Merino 150 Neck Gaiter
If you know Smartwool for their high-quality merino wool socks and base layers, then you'll appreciate everything that this neck gaiter has to offer. For starters, it comes with an extended cut for maximum coverage and it's made from the same soft-yet-durable nylon-cored Merino 150 fabric of their other products. And because it comes with flat-lock seams, it effectively eliminates the potential for uncomfortable chafing.
Under Armour Sportsmask ½ Gaiter
Ever since the pandemic started, Under Armour redoubled its efforts to ensure that athletes have the protection they need in order to keep up a safe and consistent training regimen. The latest in the Sportsmask series, this half gaiter comes with a structured design that sits off your face for a comfortable fit as well as some Iso-Chill fabric for maximal cooling ability. Add to that a PU open-cell foam as well as a water-resistant outer shell and what results is one of the best gaiters around.
lululemon Cold Terrain Run Neckwarmer
While one wants to roll out of bed only to set off on a cold morning run, the least you can do is to wear some gear warm enough to get you through it. Take this Cold Terrain Run Neckwarmer from lululemon, for instance. With its warm-yet-breathable Rulu fabric and four-way stretch construction, it's the perfect covering to keep you training no matter the weather.
Chrome Industries Merino Gaiter
Chrome is a brand that prides itself on function-driven designs, and with their Merino Gaiter you'll find this to be especially true. Not only does it feature a taper from the base of the neck to the top; it also comes with a bit of added length in the front. In practice, this makes it perfect for all and winter riding, because it blocks out wind in all the right places.
The 15 Best Face Masks For Working Out
Although neck gaiters make for great impromptu protection, we'd recognize that they're not for everyone. If you want a covering that's purpose-built for active application, head on over to our guide to the best face masks for working out.