From touring exotic locales to churning out custom builds to premier class racing, there's no shortage of truly noteworthy individuals doing incredible things in today's motorcycle space. And while traditional print and online motorcycle magazines and blogs can at times provide a window into these happenings, no other platform offers such robust access to today's two-wheeled action quite like the online video streaming giant, YouTube.
In the decade and a half since the platform's launch, Youtube has experienced an enormous influx in motorcycle-related content. Simple GoPro-style vlogs have increasingly evolved into professionally-produced programs capable of rivaling anything you'd find on the Velocity Channel. With users watching some two-billion hours of content every day, there's more than enough support to sustain dozens of quality channels, too. So, while there are admittedly quite a few seriously worthwhile moto content creators on the platform, we thought we'd take the time to unpack our picks for the best motorcycle Youtube channels.
Riding A Mile In Their Boots
The Unique Look Offered By Youtube's Motorcycle Content
Though motorcycle-centric videos and shorts are obviously nothing new, Youtube has ushered in a new era when it comes to two-wheeled content. The site's massive audience allows established companies to invest in high-production-value videos, with outfits like Revzilla, 44Teeth, and Fortnine famously setting the standard in the space. And while this is undeniably fantastic motorcycle content, what really makes Youtube's motorcycle videos so special is the exposure the platform affords to the "little guy."
Because action cameras have become so accessibly-priced, pretty much anyone can afford to create moto content on Youtube. As such, the platform has been treated to a slew of wildly-idiosyncratic creators, each with their own unique style of content and delivery, and each giving a glimpse into some incredible experiences. These channels don't always have enormous numbers of followers but are nonetheless more than deserving of a watch. And, considering the motorcycle world is seldom one to take itself too seriously, it's unsurprising that a number of creators have carved out a niche producing motorcycle-based comedy videos.
Two-Wheels & A Camera
The Best Motorcycle Channels On Youtube
There are literally thousands of motorcycle-focused channels on Youtube, all hugely varying in quality and upload frequency. Below, we'll be exploring some of the most popular and established channels, along with a few lesser-known creators that are worthy of far more attention and exposure.
44Teeth
Based in the UK, 44Teeth is a motorcycle channel headed up by sportbike enthusiasts and pals, Alastair Fagan and Baron von Grumble—also known as "Team Lowside." The channel does cover the occasional dirt bike, ADV, or naked model, though its bread and butter is undoubtedly producing content centered around superbikes and track days. In addition to budget bike battles and superbike shootouts, 44Teeth also generates special videos ranging from exploring the dream garage of an owner with multiple Ducati MotoGP prototypes to riding an old-school factory two-stroke race bike. Deep-pocketed sponsors help to ensure high-production-value while the hosts make sure never to take themselves too seriously, making for a particularly fun and engaging viewing experience.
Date Established: Nov 22, 2014
Subscriber Count: 218K
Views: 44,935,310
Specialty: Bike Reviews, Comparisons, & Specials
Baron Von Grumble
Three years before co-founding the 44Teeth channel in late 2014, Baron Von Grumble started his own Youtube channel of vlogs and other moto-focused content, and despite the commitment from co-running 44Teeth, BVG still finds time to upload to his personal channel. With an eclectic stable comprised of a Yamaha R1M, a K7 Gixxer 1000, a KTM 1290 Super Duke R, a BMW R1200GS ADV and the Bavarian brand's HP4 superbike—along with a Datsun 280Z and a VW Transporter—Baron Von Grumble is able to produce a wide variety of two-wheeled content. The channel's success has also afforded its host a myriad of interesting opportunities and experiences including riding on some of the world's most elite tracks, all of which he documents and shares with his followers.
Date Established: Dec 8, 2011
Subscriber Count: 261K
Views: 41,222,821
Specialty: Sportbike & Trackday Reviews & Vlogs
Bikes And Beards
Bikes And Beards is a vlog made by a group of friends that own and operate a motorcycle dealership in Landisville, Pennsylvania. The channel includes videos on bike hacks, tips on purchasing bikes, and other content you'd expect from owners of a dealership, though the crew also gets up to all sorts of other misadventures, including a popular series in which they buy both the cheapest and most expensive motorcycles (mini bikes, electric dirt bikes, etc) off of Amazon for performance and torture test comparisons. As you can probably tell from the photo above, they also partake in some wacky builds and one-off projects. Whether you're into cruisers or sportbikes, there's almost certainly something on this channel that will resonate with you.
Date Established: Jun 19, 2017
Subscriber Count: 541K
Views: 74,616,997
Specialty: Reviews, Projects, & Budget Bike Coverage
Bwokentoof
Bwokentoof is an absolutely incredible channel belonging to hardcore adventure rider, Oliver Solaro. A welder by trade, the Canadian rider routinely travels the ice roads of the Northern Territories on two-wheels and documents his travels and adventures along the way. Otherworldly arctic temperatures, hostile wildlife, and insanely remote locales are all regular aspects of Solaro's trips. Despite the objectively serious nature of what he's doing, Oliver is an unapologetically goofy and lighthearted person, which makes for all the more compelling content. It also doesn't hurt that, on top of the already excellent subject matter, Solaro also happens to be a fantastic storyteller, as evidenced by videos such as the Brokentooth Project parts one and two (or "deux").
Date Established: May 11, 2009
Subscriber Count: N/A
Views: 98,017
Specialty: Ice Road Adventures & Touring
Fortnine
Another seriously stellar channel from our brothers to the north, Fortnine is an immensely popular online motorcycle gear and parts retailer often described as a Canadian equivalent to Revzilla. And like the Philadelphia-based retailer, Fortnine also regularly produces a host of top-notch moto content. The channel features bike reviews, gear reviews, and lists of tips and hacks, though what really makes Fortnine shine is the knowledge and passion of its host, Ryan, who often goes into a complex analysis of various motorcycling topics from road rage to tire pressure. There's also an unparalleled level of honesty presented by Fortnine that makes it an incredibly trust-worthy and reliable source for opinions and information pertaining to motorcycles and riding.
Date Established: Mar 2, 2016
Subscriber Count: 1M
Views: 140,970,503
Specialty: Moto Reviews, Tips, & Edutainment
Marlon Slack
Though Marlon Slack doesn't have the most frequent upload schedule, this hysterical and highly-self-deprecating Aussie more than makes up for it with the immense quality of his content. Working in the emergency services sector by day, Marlon creates his videos as passion projects, poring an enormous amount of effort into the post. The channel includes Slack's signature "Honest Bike Reviews" along with his "Peak Hipster" series—the latter of which has installments with well over a million views—though no matter the video, they all share Slack's unique (and legitimately hilarious) brand of humor. This combined with his robust knowledge of motorcycles, mechanics, and the customs subculture together result in something really special.
Date Established: Jun 10, 2006
Subscriber Count: 22.4K
Views: 2,303,841
Specialty: "Honest Bike Reviews" & Moto Comedy
MotoGeo
Jamie Robinson is an ex-professional Grand Prix motorcycle racer and public figure that now spends his time traveling the world on two-wheels for his MotoGeo program. Best described as National Geographic meets The Long Way Up, Robinson travels to unique and exotic locales to ride the local landscape, and to meet the individuals inhabiting the region, and take part in local activities and traditions. A contagious sense of enthusiasm and Robinson's world-class riding chops make this channel unlike anything else on the streaming platform. Absolutely gorgeous cinematography and camera work are also common features on the channel.
Date Established: Dec 10, 2008
Subscriber Count: 164K
Views: 28,203,930
Specialty: Adventure & Moto Travel Vlogs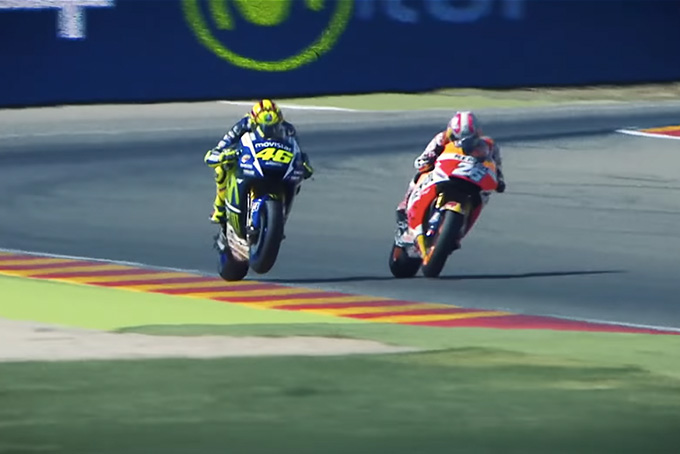 MotoGP
The two-wheeled equivalent to Formula One, MotoGP represents the absolute pinnacle of motorcycle racing, with today's best riders piloting the most advanced and cutting-edge prototype bikes on earth. As such, this channel shows the most talented riders on earth pushing 200hp+ bikes well into 200mph territory. The sheer level of skill on display here is nothing short of astounding, and getting to see certain techniques performed in slow motion is always a treat. And, on top of replays and recaps of recent races, the MotoGP channel also boasts footage from historic races and battles and interviews with top riders and teams, along with in-depth explanations on how certain mechanics, features, or physics work in premier class racing.
Date Established: Oct 7, 2005
Subscriber Count: 3.65M
Views: 1,153,166,858
Specialty: Grand Prix Racing Recaps & Specials
Pol Tarrés
Nephew of Jordi Tarrés, Pol Tarrés is one of the most skilled trials riders on earth, with a long list of trophies and titles to his name. In 2015 Pol bought his first camera and started filming short videos of his riding. Since then, both his video production skills and riding chops have grown at an incredible rate, culminating in the hair-raising stunts that Tarrés now performs on his Youtube channel. Not only is Pol ridiculously talented on a dirt bike, but the Barcelona-born rider also possesses demigod-like abilities on mid and full-size adventure motorcycles—a feat made all the more impressive by the fact Pol is only 5.5" tall.
Date Established: Jan 28, 2012
Subscriber Count: 24.6K
Views: 2,923,654
Specialty: FMX & Adventure Riding
Purpose Built Moto
Based on Australia's Gold Coast, Purpose Built Moto is one of the world's leading custom motorcycle outfits, boasting a deep portfolio of highly-involved professional-grade builds, along with an extensive catalog of custom parts. Rather than merely churning out its one-off works, PBM has been capturing the various phases of its builds via a series of multi-part Youtube videos. These videos provide an interesting behind the scenes look at how the Australian shop plans and executes its builds. Purpose Built's channel also includes various how-to videos, and explanations pertaining to the customs world, as well as the occasional event coverage and first ride review.
Date Established: Dec 16, 2015
Subscriber Count: 7.47K
Views: 998,683
Specialty: Custom Motorcycle Builds
Red Bull Motorsports
As one of the biggest sponsors in motorsport, it's unsurprising that Red Bull has ties and connections to a slew of the world's most talented riders. As such, Red Bull's Youtube channel showcases a host of its sponsored riders, from trials pilots, to FMX champions, to MotoGP riders. The channel includes highly-produced stunt videos, coverage of high-profile competitions, and behind the scenes access and interviews with high-profile riders, though Red Bull Motorsports also generates custom content that can't be seen anywhere else, such as the current MotoGP world champion driving a Formula One car. Additionally, the channel boasts official coverage of race series like the European Drift Masters Championship and the World Enduro Super Series, just to name a few.
Date Established: Jun 7, 2018
Subscriber Count: 720K
Views: 248,358,337
Specialty: Action Sports & Racing
Revzilla
The media division of America's biggest online motorcycle gear and parts retailer, Revzilla's Youtube channel is a beloved institution in the motorcycling world. While Lemmy is no longer with the company, the Pennsylvania outfit has recently brought onboard Zach Courts and Ari Henning of MotorTrend and Motorcyclists fame, resulting in an even more robust and well-rounded group of hosts. In addition to literally thousands of hands-on gear reviews, Revzilla's channel also does first ride reviews, plus it produces a full-length podcast. With a likable and highly knowledgeable cast, it's not hard to see why this channel has gained such a strong following.
Date Established: Jun 5, 2009
Subscriber Count: 876K
Views: 232,904,314
Specialty: Gear & Bike Reviews
RNickeyMouse
Not long after Youtube was started, an amateur photographer and videographer started spending his Sundays at the world-famous "Snake" on Southern California's Mulholland Highway, capturing and documenting the local vehicles on the iconic driving road. With hundreds of hours of footage under his belt, this channel has managed to record some amazing footage over the years, from dragging knees and wheelies to high-sides, low-sides, and full-on crashes. The channel also boasts plenty of footage of exotic cars and other noteworthy vehicles. And, despite the relatively simple and straightforward nature of this channel. it's amassed close to half-a-million followers.
Date Established: Dec 29, 2006
Subscriber Count: 445K
Views: 386,118,909
Specialty: SoCal Canyon Carving & Crashes
TT Races Official
Since 1907, the Isle of Man has played host to what many consider to be the greatest motorsport race on earth. Comprised of a 37.73-mile long circuit with more than 200 turns, the Mountain Course is the ultimate proving ground for hardcore riders, with the circuit lined with brick walls, lamp posts, and other immovable objects that allow for little to no margin of error. As one would expect, watching footage of this race is wildly entertaining, with the high danger levels making an already exhilarating sport all the more compelling.
Date Established: Sep 14, 2018
Subscriber Count: 35.1K
Views: 5,050,111
Specialty: Road Racing Replays & Recaps
Yammy Noob
Over the last five years or so, this channel has become a fan favorite on the popular streaming platform with a lighthearted and unserious take on the motorcycle scene. The channel built its reputation largely on the strength of its listicle and count-down style videos with entries such as "___ Riders You Will Meet" though has since expanded to include a host of build series videos, bike and product giveaways, ride reviews, and video essays. Treated as a full-time job, this channel uploads videos on a daily basis which helps to keep things fresh and current.
Date Established: Jun 14, 2015
Subscriber Count: 766K
Views: 142,422,049
Specialty: Moto Countdown Lists & Vlogs
The 15 Best Automotive YouTube Channels
Haven't quite gotten your fix of motorsport-centric content? Then be sure to check out our accompanying guide to the best automotive Youtube channels for 15 more high-octane options on the online streaming site.