Though motorcycles serve as a means from getting from A-to-B just like any other mode of transportation, we tend to have a much more personal, sentimental relationship with our two-wheelers than we do the other rides in our garage. As such, a great many motorcyclists gravitate towards doing their own maintenance and wrenching on their bikes. Furthermore, unlike cars with spatially-restrictive engine bays, motorcycles afford easy access to the lion's share of their systems and components, making them incredibly conducive to DIY upkeep and labor.
Affording the ability to get up and running again should you breakdown on the side of the road, tool kits can be literal life-savers. Though, with extremely-limited storage space on the majority of most production motorcycle models, it can be tricky picking out a tool kit that's both robust enough to sort out most common mechanical gremlins, and compact enough to lend itself to motorcycle travel. With this in mind, we've generated this handy list of the best motorcycle tool kits currently on the market in which we'll be delving into our picks for the latest and greatest options available, along with what to look for when shopping and tips on how to piece together your own mobile moto tool kit from scratch.
Wrenching Instruments 101
What To Consider When Buying A Motorcycle Tool Kit
No matter your bike, budget, or experience wrenching, there are a few common elements to keep an eye out for when shopping for a moto tool kit. Below, we'll touch on some of the more important elements to take into account when in the market for tools.
Overall Quality: For the uninitiated, reading about toolset specs and descriptions can feel like trying to decipher a foreign language, though even the most novice of wrenches can get a basic understanding of a kit's quality by asking some of the following questions. What material(s) and construction technique(s) were used to manufacture them? Are the tool's moving components sealed and/or guided by ball-bearings? Does the manufacturer stand behind the tools with any kind of warranty?
Functionality: Another enormously important aspect to take into consideration when shopping for a tool kit is the overall function and utility offered by each respective kit. This means thoroughly checking into a given kit's number of included tools and said tools' number of functions.
Overall Value: This area is more or less determined by coupling a kit's function and utility with its price and quality. And there is a wide range of value and quality when it comes to toolsets, with some offering much better bang for your buck than others. For more precise instruments or diagnostic equipment, we don't recommend trying to take the budget route, though, for basic hand-tools and the like, there's nothing wrong with going with a more affordable set.
Metric Vs Standard: Mechanics tools are sold in two basic varieties; standard (also known as "SAE," short for "Society of Automotive Engineers") and metric. Standard tools are measured in sizes using fractions of inches as where metric tools are measured in millimeters. Unsurprisingly, most motorcycles manufactured in the United States are compatible with SAE tools as where most bikes made in Japan, Europe, or anywhere else outside the US typically employ metric sizing. Some bolts can be adjusted using both metric and SAE sockets, though the fit won't be exact and one runs the risk of stripping a bolt. You'll want to figure out which style your bike uses before making your purchase.
On top of knowing whether your bike uses SAE or metric tools, it's also wise to look into the exact tools needed for performing basic maintenance tasks on your exact make and model. As an example, my 2007 GSX-R600 requires a torque wrench for performing oil changes. Because of this, I know to either include one of these in my kit or just be privy to the fact I'll need one for specific jobs.
Custom or Preassembled: Motorcycle tool kits come in two basic varieties; tool tools; and pre-made tool kits. The former is simply a vessel for tools that provides accommodation for a few wrenches and the like while the latter consists of a pre-selected bundle of tools that come sold in a carrying bag or case.
Brand: While most wrenches and tools probably look very similar to the outside observer, anyone that's spent their fair share of time spinning a spanner is likely abundantly aware of the immense difference in quality between a tool from Snap-On and a tool from Harbor Freight. Purchasing a kit from a more reputable brand does admittedly come at a significant financial premium, though the investment really does pay for itself over time, as the more high-end tools on the market really are built to last a lifetime. If you're unfamiliar with this product space, it's well worth your time to read up on some of the more popular brands to get a better sense of where they stand in the industry.
Other Tips: Regardless of what type of bike you ride, its age, make, model, or what kind of tools it's compatible with, there are a few general tricks that can benefit just about every rider. Just like with the actual tool kits themselves, these items enormously increase your ability to remedy most basic maintenance jobs and roadside repairs and should be carried alongside your main tool kit if possible.
This includes products like J.B. Weld, zip-ties, and duct tape. Being armed with a comprehensive manual from Clymer or Haynes is also highly recommended by most seasoned riders, as it clearly conveys how to perform just about any basic roadside maintenance job you could imagine. Lastly, even if you consider yourself to be a generally handy person, wed' still urge you to get aquatinted with your tools in the comfort and safety of your driveway or garage.
Cases For Custom Sets
Motorcycle Tool Kit Rolls
Chances are that nobody knows your bike and its faults better than you. As a result, you can piece together a custom moto tool kit to specifically address the exact problems that your bike is most prone to suffering from suffers from. Each of the tool rolls below provides a stellar means of accommodating a hand-picked selection of tools for your two-wheeled travels.
Carhartt Legacy Tool Roll
This 26" x 13" tool roll from the American workwear brand features 18 tool slots and a trio of small pockets with hook and look closures, an exterior dual buckle closure, and a handy reinforced carrying handle. Also offered in black or gray color options, the roll is constructed from hardwearing synthetic nylon fortified via Carhartt's Rain Defender DWR coating.
Kriega Tool Roll
Backed by a generous 10-year warranty, this ultra-rugged tool roll from renowned off-road and adventure motorcycle outfit, Kriega affords ample organization and storage thanks to a bevy of pockets, elasticized slots, and a zippered pocket. Secured with a leather-based Velcro-closure loop, the entire roll is constructed from 1,000D Cordura and neatly unrolls and folds out from its compact form to allow for easy access to its entire suite of storage.
Velomacchi Speedway Tool Roll
Velomacchi's Speedway Tool Roll is a top-shelf item through and through, boasting a thoroughly reinforced ballistic nylon shell with a quilted front panel, a TPU laminated handle, YKK zippers throughout, and adjustable aluminum webbing straps and aluminum hook closures for closing the roll or securing it to your bike. An embedded magnet also anchors loose nuts, bolts, or other hardware while working, preventing it from "wandering off."
Fuel Tool Roll First Aid Kit
Produced from the same premium denim found in the Spanish shop's Greasy Denim collection, this toll roll is hand-crafted in Barcelona and can also double as an off-road first aid kit. A brass eyelet, a leather strap closure, and Fuel shop batches inside and outside complete this artisan-made item.
Pre-Assembled Sockets & Spanners
Complete Motorcycle Hand Tool Kit Bundles
Having spent decades manufacturing the actual tools themselves, tool manufacturers tend to have a pretty top-notch understanding of what items to bundle together to yield the best, most robust, yet compact kits. These not only include a curated selection of hand tools for performing basic tasks, but are also sold with a convenient case for easy two-wheeled travel. So, whether you require SAE or metric items, the below list of pre-assembled tool kits will almost certainly include a kit that jives with your needs.
Motion Pro MP Tool Metric
Off-road riding opens your bike up to markedly more opportunities for impacts and abuse, which is why it's so crucial to keep a bike multi-tool handy for basic repairs such as this fairly universal metric kit from Motion Pro. Including some of the most common socket, hex, and Allen sizes (plus #2 and #2 Phillips), the kit's tools are treated to a hard-nickel-pewter finish and come sold with an included carrying case.
CruzTOOLS RTM3 RoadTech M3 Tool Kit
Housed in an ultra-rugged Cordura construction roll-up pouch, this Cruz Tools kit is one of the larger items on this list at 3lbs, though it's still more than compact enough to lend itself to just about any two-wheeled applications. The kit contains a plethora of high-end hand tools, plus WD-40, Loctite, a flashlight, tire gauge, and a handful of other helpful items.
CruzTools DMX2 Fender Mount Metric Tool Kit
Sold in a camo carrying case, this robust little kit is comprised of several combination wrenches, a sliding t-driver, 8mm, 10mm, 12mm, and 13mm sockets, 4mm, 5mm, 6mm hex bits, a four-in-one screwdriver, spark plug tools, locking pliers, as well as some other items for Magiviering repair jobs such as electrical tape, cable ties, and mechanics wire.
H-D Snap-On Tool Kit
Manufactured by Snap-On specifically for the American cruiser brand to offer the most utility in the smallest possible package. Protected by a full lifetime warranty, this kit includes more than 20 items in total, allowing for a pretty enormous range of basic maintenance and roadside repairs, and comes sold in a roll-up pouch so it can be tacked onto handlebars or a fender or tucked under a seat or in a pannier.
Craftsman 450-Piece Mechanic's Tool Set
We'd argue that dollar-for-dollar, this Craftsman tool kit offers the best bang for your buck of any mechanics toolset on the market. The 450-piece system is contained in a hard case with multiple drawers and includes more than 190 sockets in all the most common metric and SAE sizes, plus 16 combination wrenches, and a few extension bars, Allen keys, and other mechanic tool staples.
Snap-On 33 pc Motorcycle Tool Set
Snap-On has long been considered the Rolls-Royce of the tool industry, so unsurprisingly this 33-piece kit from the renowned manufacturer comes highly recommended on our list. Made in America and backed by the brand's usual lifetime warranty, the kit is designed to allow for a wide range of jobs using minimal tools. The overall quality and construction of these tools is pretty much second to none, too.
Black Widow Professional Motorcycle Shop Kit
Short of diagnostic equipment, this kit contains pretty much everything needed to run a motorcycle service and repairs shop, with a 1,500 lb. weight capacity hydraulic lift, a tire bead breaker, a wheel balancer and truing stand, a steel motorcycle dolly, a rolling shop seat, a tie-down strap kit, a rechargeable LED work light, and a battery trickle charger, among several small odd and ends.
The Best Motorcycle Upgrades For Beginners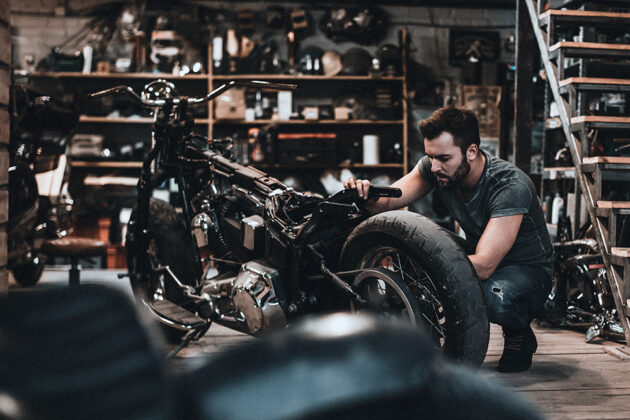 With your moto tool situation now all sorted, you may want to consider checking out a few basic upgrades and aftermarket parts that can be installed using your newly acquired hand tools. Our guide to the best motorcycle upgrades for beginners is just what the doctor ordered.