While motorcycles as a whole have come a tremendously long way since their inception more than a century go, there are nonetheless a variety of areas that can still use improvement. Recognizing this, a number of entrepreneurial individuals and innovative outfits have set out to solve these various issues, and in the process, bolster safety, reliability, convenience, and enjoyment. The exponential rate at which smart technology continues to permeate every facet of our lives has also given way to numerous cutting-edge moto-enhancing items that call on existing Bluetooth and satellite technology, gyroscopes, accelerometers, and other sensors to ameliorate the experience of riding a motorcycle.
From motocrosser and off-road adventure bikes to old school cafe racers to urban commuter models, every genre of scoot can benefit from one or more of today's latest and greatest gadgets. Unfortunately, with these products typically divided up amongst different sections on retailers' websites — from electronics to accessories to protection to parts — it can be hard to even get a sense of what the modern market has to offer. So. to help clue you in and up your riding game, we've compiled this extensive guide to today's best motorcycle gadgets.
Battery Tender USB Charger
While most late-model motorcycles — even budget and beginner-friendly models — are equipped with one or more USB ports for juicing up mobile devices, the same can't be said for vintage specimens (or the vast majority of motorcycles in existence for that matter). This nifty and accessibly-priced little device connects directly to a motorcycle battery's harness (SAE lead) and affords any bike a USB charging port. The gadget not only allows you to recharge a smartphone or tablet, but can also be used to power a motorcycle GPS unit, action camera, or comm system. And while it doesn't boast an official ingress protection rating, the charging port does sport a connected removable cover that shields the electrical components within the port. It is, however, worth noting that this product also requires Battery Tender's SAE Quick Disconnect Harness, though that only costs another $5 or $6. The QD harness also means the USB port can easily be removed, so you don't have to worry about it getting swiped if your bike is left parked overnight on the street.
EatSleepRIDE Crashlight Service
EatSleepRIDE's Crashlight service turns smartphones into digital guardian angels for riders. Using a smartphone's sensors and a complex algorithm that was born out of an enormous amount of testing and R&D, the Crashlight service can automatically detect motorcycle crashes. If a crash is detected and the rider isn't responsive, their coordinates are automatically sent to a predetermined emergency contact(s) who can then summon emergency medical services. While this is a premium feature, it only costs $15 a year, which comes out to less than a nickel per day. And considering that Crashlight has already saved real lives since its launch, we'd argue this is a well-worthwhile investment that every motorcyclist should make, whether they commute on a daily basis or only ride a few times per year. The smartphone app also automatically detects every time you get on a bike to go ride and tracks your journey, recording your GPS route, speed, elevation, and lean angle at any given moment during your ride. Furthermore, you can also share routes with other ESR app users, or checkout rides and routes others have posted — a fantastic resource for discovering some of the best riding roads in existence.
EarPeace Moto Ear Plugs
Wind noise inside of a motorcycle helmet at freeway speeds can easily be as loud as 100db, which can be harmful and lead to permanent hearing loss after as little as half an hour's time. And while traditional earplugs remedy this issue, they hugely lessen situational awareness, not allowing riders to hear vital noises while out on the road. The EarPeace Motorcycle Ear Plugs were conjured up to solve this problem, using a proprietary noise-canceling filter technology that eliminates ambient wind and engine sounds while still letting screeching tires, horns, or other important sounds to be heard so situational awareness won't be compromised. The plugs themselves are made from premium, hypoallergenic, medical-grade silicone. Sold in an aluminum carrying case, each set includes a trio of dual-flange plugs and high-fidelity filters of varying levels of protection: Medium; High; and Max (SNR 17, 20, and 26). And, on top of both on and off-road riding and motorsport applications, the EarPeace Ear Plugs are also great for use at concerts and construction or woodworking, however, it should be noted that they aren't meant to be utilized as ear protection for shooting a firearm.
HelmetLok II Helmet Lock
Because they protect your brain, we'd argue that a premium motorcycle helmet is well worth the investment, though after sinking a decent chunk of cash into a top-notch brain bucket, the last thing you want to do is leave it sitting unattended on your bike when you're away. Enter the Helmetlok II, which is an exceedingly simple and straightforward piece of gear that helps keep your lid from getting swiped. Using a four-digit code, the lock links through a helmet's D-rings (or ratchet), while full aluminum and zinc-alloy construction help to withstand grinders and hacksaws, as well as the elements. This second-generation version of the locking carabiner is designed to fit around a chassis or subframe and is partially-wrapped in a rubber coating that ensures that protecting your helmet doesn't come at the cost of scratching your ride. We do feel compelled to point out that, despite it presumably ruining any (resale) value that a helmet has, we, unfortunately, know firsthand from personal experience that these locks won't stop some thieves from cutting off the portion of the helmet strap that is locked down. It's nonetheless a far more secure option than merely leaving your helmet on the seat, tank, or a handlebar.
Signal Dynamics BackOFF XP Brake Light Modulator
As riders, it's crucial to take proactive measures to lessen the likelihood of an accident or injury while in the saddle, and while that includes donning appropriate gear and arming yourself with proper training, that also means doing what you can to improve your ability to be seen by other drivers while out on the road. And that's the idea behind Signal Dynamics' BackOFF XP Brake Light Modulator. With a bike's stock brake/taillight running through this module, when the front or rear brake is activated, it will repeatedly flash rather than simply lighting up, making you and your bike far more noticeable. Fully weatherproof and packing solid-state electronics, the BackOFF XP module can operate in one of two modes: either flashing three times and then reverting to the steady stock glow; or a triple flash, following by 3.5 seconds of steady glowing, before repeating over and over again for as long as the brake remains activated. Being rear-ending by a car is one of the most dangerous situations a motorcyclist can face, and because this product mitigates the likelihood of that happening by better grabbing drivers' attention, we'd say that alone makes this sub-$50 product worth the investment, especially if you don't live in a region where lane-splitting is legal.
Garmin Zumo Tire Pressure Monitor
Modern tire compounds can afford enormous levels of grip, though they have to be at an ideal temperature in order to deliver optimal traction. To hit these optimal temperatures, tires have to be properly inflated (to the manufacturer's recommended level, usually in the ballpark of 30-35psi). Additionally, properly-inflated tires will yield better mileage, shorter braking distances, and result in more uniform wear. This item from Garmin helps you keep a close eye on your tires' pressure, making it much easier to maintain optimal pressure at all times. Resembling your average valve cap, these smart tire pressure monitoring devices relay information to Garmin's Zumo moto GPS units which can display a live reading. Great for commuting and touring alike, these valve-stem-covering gadgets are powered by tiny replaceable batteries that last around 18 months before needing to be swapped out. This impressive battery life is owed to the product's ability to remain in low-power mode until it senses movement, at which point it wakes up and starts relaying info. Sold individually, Garmin offers these items with clearly labeled numbers (stickers) for easy differentiation.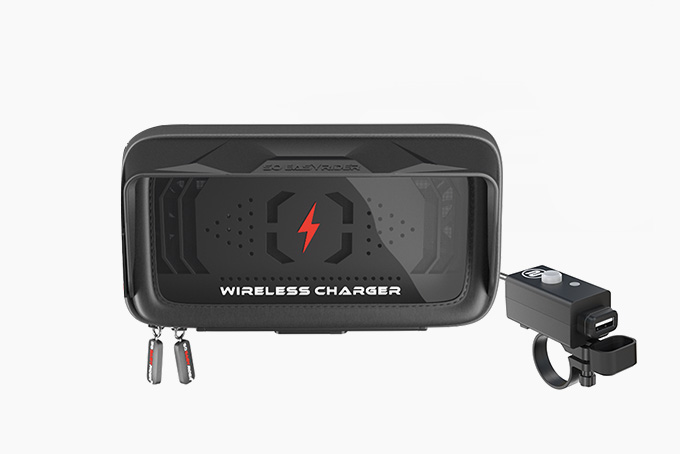 SoEasyRider Wireless Charger
Wireless charging has increasingly become the new standard for smartphones, and the folks over as SoEasyRider don't think motorcycles should an exception. As such, the multinational outfit has created a wireless charging case specifically for motorcycles — though the outfit has been around for over 20 years and was the first to develop a motorcycle GPS mount. Good for accommodating smartphones as big as 6.3", this Qi case features a zippered front with a tactical window and custom zipper pulls. When closed, the phone is completely secure and unable to slip out or go tumbling, even if you go shiny side down. The charger's clear window also lets you use turn-by-turn GPS directions, or preview calls or texts while a device is inside. The device comes with a handlebar-mounted charger and rain protection, though the company also sells a variety of additional ball, arm, and ring mounts that allow the charger to be placed almost anywhere in the cockpit. The kit also includes four different wireless charging adapters — Lightning (iPhone), Type-c, Micro USB, and inverted Micro USB — so it works with practically any smartphone currently in existence.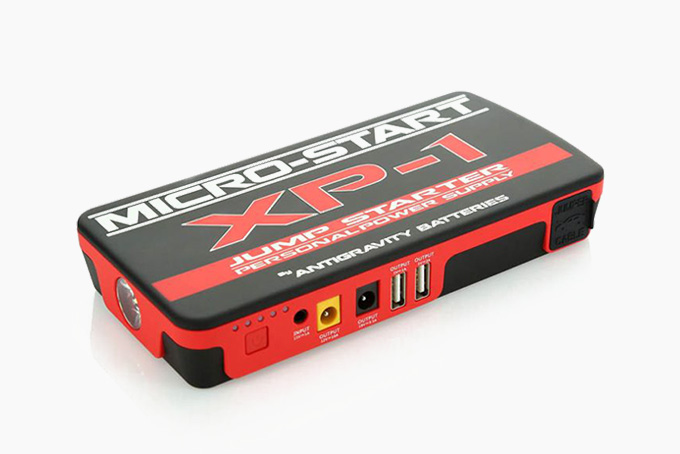 Antigravity Micro-Start XP-1 Power Supply
Motorcycles tend to have pretty small batteries, and while this helps to shave off weight, it can also mean a dead battery when left unused for a few weeks. Leading moto Lithium-ion battery outfit, Antigravity's solution to this is the Micro-Start XP-1 Power Supply, a compact gadget with enough juice to jump a dead bike battery. Measuring 6.75" x 3.25" x 1" and weighing in at less than a pound, the portable power bank packs a 12,000mAh battery with 400 peak amps. On top of being able to jump a dead motorcycle battery, this device also features a standard 12V port, a 19V port for laptops, and multiple USB ports for charging mobile devices. The device also features a five LED battery level indicator, built-in overcharge protection, and an integrated 110-lumen LED flashlight with multiple light modes. The entire kit includes a set of mini jumper clamps, a variety of universal cables, including Micro-USB and Lightning cords, a wall outlet charger, a (12V) cigarette lighter charger, and an organized carrying case that neatly stores everything and easily fits underneath a seat or in a tail compartment.
Motogadget m-Lock RFID Ignition Lock
As the automotive industry has continued to show, keyed ignitions are increasingly becoming a thing of the past, and while this transition has yet to fully take hold in the two-wheeled realm, the moto electronics experts over at Motogadget have jumpstarted the process with its m-Lock RFID Ignition Lock. The product is comprised of a digital RFID-enabled key fob and a small circular receiver. Replacing the standard keyed setup, the unit comes to life when the transponder (within the key fob) is pressed to the receiver (or held within 1.6" of it), which means the receiver can be hidden out of sight, underneath the bodywork. Equipped with tamper-resistant RFID (radio frequency identification) tech, each unit boasts a unique code to maximize security. On top of everything needed to wire the device — including roughly 20" of wiring, a 12V relay, M3 threaded holes for mounting — the set is sold with a single master key fob that cane used to create copies, as well as a secure valley-style key fob. Installation can admittedly be a bit tricky for those who aren't particularly experienced with wrenching or wiring setup, though it can obviously be professionally installed at your local shop.
Scottoiler eSystem Electronic Moto Chain Oiler
One of the most important aspects of motorcycle upkeep is chain maintenance, and though it's not very difficult to perform, it does require regular attention which can be a hassle. The Scottoiler is designed to take over chain-lubing duties, so your final drive system is always perfectly-oiled, without you ever having to lift a finger. Benefitting from numerous software updates and hardware revisions for 2020, the latest generation of the Scottoiler connects to a bike's final drive system with an oil dispenser and reservoir. There's also a digital LED display that mounts in the cockpit and shows current temperature readings and oil-dispersion levels — the latter of which is adjustable on the fly via the display. The latest generation of the product is also self-calibrating, and it remembers any user-establish settings, even if the battery dies or the device is disconnected from the power source. The company also sells a non-electric version, as well as an electric version without the digital display for $50 less. Even when running a Scottoiler, a bike's chain still needs to be regularly adjusted and cleaned, though it's still a great little gadget.
ABUS Granit Detecto SMARTX 8078
Motorcycle security is less about making your bike completely impervious to thieves, and more about simply deterring those targeting your bike by presenting an obstacle or security system that makes them move on to an easier two-wheeled victim. Released in the early summer of 2020, one of the latest tools at your disposal in the fight against motorcycle thievery is German security firm ABUS' all-new Granit Detecto SMARTX 8078 disc lock. Built around hardened steel locking mechanisms and packing a 13.5mm steel bolt, this device clamps down onto a motorcycle's front brake rotor, preventing the wheel from rolling. What sets this model apart from other disc locks is its hidden tech. Pairing with an app, this bike lock features internal movement sensors that can alert you if your bike is moved. The lock also uses a smartphone to open it, and as a result doesn't have a keyhole, thereby eliminating a potential weak link in the device's security. And, on top of informing you through sending an instant push notification, if the lock senses movement while armed, it will blare out a 100dB alarm.
AGV AGVisor
The AGVisor is a motorcycle face-shield that's been outfitted with an electro-chromatic LCD lens that allows riders to instantly toggle between a mild and dark tint at the touch of a button. This works similarly to Transitions brand photochromic lenses, enabling one visor to suit a variety of light settings, albeit battery-powered and entirely user-controlled. Originally unveiled at the SWISS-MOTO Show in 2015, the gadget's battery powers its e-Tint liquid crystal film for around 12 hours, and when the battery runs all the way out, the visor automatically reverts to the light-tint mode, so you never get stuck riding with a tinted visor after dark because the battery dead. Calling on technology that was originally developed for use in fighter jet helmets, the AGVisor is unequivocally one of the most cutting-edge motorcycle gadgets of the last decade, and will likely become common-place on future premium helmet models, alongside with built-in action cameras and HUDs. Compatible with any of AGV's flagship Corsa and Pista models, as well as the older GT Veloce helmets, the AGVisor, unfortunately, isn't pin-lock ready/friendly.
Roame Zeros Riding Shoes
The Roame Zeros are a modern pair of protective motorcycle riding shoes masquerading as a fashion-forward pair of sneakers. The hightop design packs D30 armor-backed ankle protection while a dual Velcro strap arrangement helps to ensure a snug fit, while the lower item also doubles as a toe-shifter pad. There's also additional D30 armor found at the toe. Abrasion-resistant leather comprises the uppers, as well. What sets the San Diego-based startup's sneakers from other stylish riding shoes on the market is the seamlessly integrated bevy of red and yellow LED lights lining the soles of the shoe. The Zeros' built-in LEDs wirelessly link to the motorcycle, and when the brake is used or a turn signal is activated, the shoes will light up, making it easier for other drivers on the road to see you, especially after the sun has gone down. And, unlike the light-toting shoes from our childhoods such as LA Lights, the LEDs built into the side of the Roame shoes aren't visible until they light up.
IASUS Rekon Headset
IASUS Concepts Rekon puts a modern and upscale spin on the traditional motorcycle helmet communication (or "comm system"). Influenced by high-end watch design, the Rekon boasts a tempered glass window that fully displays the gadget's mechanical mechanisms and movement inside. Made from custom-machined, polished aluminum, the Rekon is essentially a trick smartphone controller with a simple, easy-to-use and intuitive interface, even if you're when wearing gloves, or ripping down the road at 60mph. IASUS was actually the first outfit to whip up high-fidelity audio drivers specifically for motorcycle acoustic applications when it did so roughly 15 years ago. Today, the company continues to trade in high-end sound, now on its third generation of XSound3 internal helmet speakers (which are sold with the Rekon system). And while the speakers and microphones are wired, the Reko unit itself is completely wireless, making removing it from the helmet a breeze. Equipped with A2DP and aptX HD audio profiles, the Rekon also boasts the company's equally-advanced helmet EAR3 microphone. The Rekon also utilizes Bluetooth 5.0 connectivity and packs a battery that allows for a generous 250 hours of standby times (and 10 hours of actual use).
Sena 10C Pro Bluetooth Headset & Camera
Sena is undeniably one of, if not the most trusted name in the motorcycle comms system realm, though the outfit's 10C Pro model brings even more functionality to the table, arming the firm's standard comm system with a built-in cutting-edge action camera. The comm system aspect can link up with up to four other riders from a distance as far as a mile away while the camera offers 1440p QHD video (1080p:60fps or 1440p: 30fps) and 3.7MP still shots, and boasts a wide 135-degree field of view, and offers multiple modes such as shot, burst, and time-lapse. A Lithium polymer battery allows for two hours of recording or 17 hours of talk time and can be fully recharged in three hours. The all-in-one gadget's sound capturing benefits from advanced noise control and a built-in SBC Codec. Outfitted with a MicroSD slot as well, the Sena 10C Pro also features a sleek unibody housing and a built-in AM/FM radio with up to ten presets. It's also probably worth pointing out that, on top of the camera itself, the 10C Pro also includes internal microphones and speakers for inside the helmet (for the comms system portion of the device's functionality).
SomeWear Global Hotspot
The invention of the cell phone has made motorcycling markedly safer, providing riders with a connection to emergency medical services and greatly reducing overall response times in the field. If you happen to be traveling somewhere without cell phone service, a global hot spot is a great option for remaining tethered to the rest of the world, and when it comes to motorcycle-specific items, it's hard to beat the SomeWear global hotspot. On top of providing you with a lifeline and connection to civilization, this gadget can also be used as a global GPS tracking device, so your loved ones can keep an eye on your journey as it progresses, and summon help if needed. Furthermore, this compact little device can be used to get weather reports, which can be extremely important in off-grid scenarios. SomeWear also has a smartphone app that lets your phone receive a connection even when out of service range through the global hotspot. And, in order to provide solid and reliable global coverage, SomeWear uses the Iridium satellite network and has also partnered with GEOS Worldwide. This device does require purchasing a data plan, which starts at $8.33 a month (for 10 satellite messages, 75 pin-drops, and unlimited cell and wifi messages) and goes up to $50 a month for unlimited everything.
Eyesights Eyeride Moto HUD
Another technology borrowed from fighter jet cockpits, HUDs (or Head-Up Displays) project a vehicle's instrumentation into the corner of the user's field of vision, so they can keep an eye on these vital metrics without having to look away from the road. This tech has been available in high-end cars for some time, and though the idea is by no means novel in the motorcycle world, there has yet to be a success moto HUD that's been able to stand the test of time (without going under after a few years time as we've seen with outfits like Skully and NuViz). And the latest player to try their luck at making a production moto HUD is Eye-Lights, with its Kickstarter-funded EyeRide HUD. Like a standard moto comm system, this device consists of internal speakers and a microphone, and externally helmet-mounted controller, and of course the HUD itself, which is positioned just above the user's right eye. A fascinating use of augmented reality, the EyeRide HUD can show speed and RPM, though users also have the option of having the device display text and call info, music playback controls, and even turn-by-turn GPS directions digitally shown on the roads.
BrakeBuTT
The transition from driving a car to riding a motorcycle can be a bit tricky at first, as the principles of piloting a single-track vehicle present a very different experience. On top of leaning and shifting, one area that can take some getting used to is braking, especially because — unlike with a car — a motorcycles front and rear brakes are operated independently. And while a bike's front brake admittedly provides most of a motorcycle's stopping power, the rear brake is still an important component. Knowing this, the team at BrakeBuTT has developed a clever system that links a motorbike's front and rear brakes. On top of the brake linking system itself, BrakeBuTT also comes with a cockpit-mounted controller that lets you adjust the front and rear bias. The linked brake system is particularly using on ultra-heavyweight touring models like Honda's Gold Wing and Triumph behemoth Rocket 3. Having said that, this device can also offer some objective benefits in high-performance settings (such as when leaning hard into a righthand corner where you can't access the rear brake lever).
Klim Ai-1 (Smart/Wireless) Airbag Vest
Wireless airbag vests represent a massive step forward in motorcycle safety, though until very recently, the technology wasn't accessible to most riders due to the systems' exorbitant pricing. Previously, having a wireless airbag meant investing over a grand in the vest, before dropping another grand or two on a suit or moto jacket that's compatible with it. Klim is now changing that reality however with the release of the brand's Ai-1 Airbag Vest: a standalone wireless airbag system that can be worn underneath any jacket, thereby providing the pinnacle of protection. Offered in six sizes, the vest uses a complex array of gyroscopes and accelerometers that feed data to a control unit thousands of times per second. If a crash is detected, a replaceable canister deploys a charge that fully inflates the vest in a lightning-fast 60 milliseconds or less — as a point of reference, on average it takes the human eye 100-150 milliseconds to blink. The Ai-1's battery also lasts for around 20 hours, and the airbag's control unit is integrated into the vest's CE Level 2 viscoelastic back protector.
Trail Tech Voyager Pro GPS Kit
Since its inception in 2001, Trail Tech has grown into one of the most respected brands in the off-road and adventure motorcycle space, with a deep catalog of premium dirt-focused products born out of real-world riding experience. Trail Tech's Voyager Pro GPS kit was made specifically for off-road applications, boasting rugged construction, and an IP67-rating. Equipped with a 4" glove-friendly full-color touchscreen TFT display, the device comes preloaded with North American maps and is powered by a 3,100mAh Lithium-ion battery. The GPS unit can also record ride routes, or let the user pick from pre-uploaded rides from other users — all the while tracking speed and elevation up to almost 30,000'. Other highlights include "buddy tracking" which lets you keep an eye on up to 20 other riders (who are also using Voyager Pro GPS units and are without a 1.5-mile range), and an emergency button that activates a GPS SOS beacon. Measuring 5.6″ x 3.5", the GPS unit is sold with a plastic handlebar mounting hardware kit and everything needed to wire and connect the gadget, though Trail Tech also offers a handful of powertrain sensors that enable the display to show real-time RPM, voltage, speed/distance, engine temperature, etc.
The 22 Best Motorcycle Upgrades For Beginners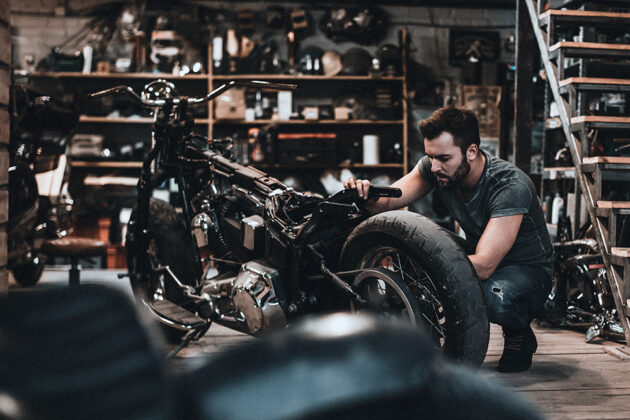 If you want to keep improving and updating your two-wheeled pride and joy, then be sure to give our guide to best motorcycle upgrades for beginners a read for an easy-to-follow look at where to start when up-speccing a scoot, along with 20 of our favorite items to build your dream build.