The modern world can be an incredibly stressful place. Between an uncertain global economy, continuing climate change, an ongoing worldwide pandemic, and one of the most divisive political landscapes in history, there's no shortage of potential catalysts for anxiety, stress, and depression. Furthermore, the omni-connected nature of our jobs, social media accounts, commerce, and a good chunk of our entertainment has made it increasingly difficult to literally or figuratively unplug from the world. And, while it too often takes a back seat to other priorities, maintaining and properly caring for your mental health is hugely important — especially in today's worry-ridden times.
Unfortunately, finding a way to disengage from the stresses of everyday life tends to be much easier said than done. Luckily, a great many experts in the mindfulness and meditation field are acutely aware of this reality, prompting them to join forces with various developers to create apps and other services that are designed to help the average joe detach from the mental rigors of day-to-day life. With so many different offerings within this realm, however, it can start to feel stressful even knowing where to begin, so, to help you decompress and maintain a balanced and healthy mind, we've carefully compiled this guide to the 10 best mindfulness and meditation apps for your mental health.
10% Happier
In 2014 Dan Harris published his wildly successful book, 10% Happier: How I Tamed the Voice in My Head, Reduced Stress Without Losing My Edge, and Found Self-Help That Really Works. The book thoroughly explored the objective benefits of meditation through a scientific lens, eventually becoming a best seller, and prompting Harris to start a successful podcast and an app of the same name. Brimming with useful training materials and updated weekly, the 10% Happier app is similar to the book, in that its largely rooted in neuroscience and forgoes the spiritual elements often involved with meditation, making this the perfect choice for skeptics.
Aura
Aura is a unique platform that essentially uses your mood as a jumping-off point for pairing you up with the best-possible guided micro-meditation for that particular time and emotion, as determined by the app's advanced AI. Another distinctive trait of Aura is that all of its content is just three-minutes long, making it super easy to cram into even the most hectic of schedules. And, in addition to tracking your meditation habits, Aura can also record and track your moods over time, which can actually provide some fascinating insight into your mental state, and highlight what areas could use attention.
Calm
With well over 50,000,000 downloads (not to mention an average 4.8-star rating and numerous awards), Calm is unequivocally one of the biggest and most reputable players in this space. Ranging from 3 to 25 minutes, Calm offers a wide variety of guided meditations primarily focusing on relaxation, though it has some noteworthy supplementary features like mindful walking meditations and breathing exercises, as well as content born out of partnerships with celebrities doing voice-over work like Lebron James and Matthew McConaughey. The app also includes the "Daily Calm" feature which consists of ten-minute sessions designed to help get you in the habit of meditating — and maintaining your mental health in general. The app also includes a number of sleep-aiding elements including "bedtime stories" and soft soothing audio.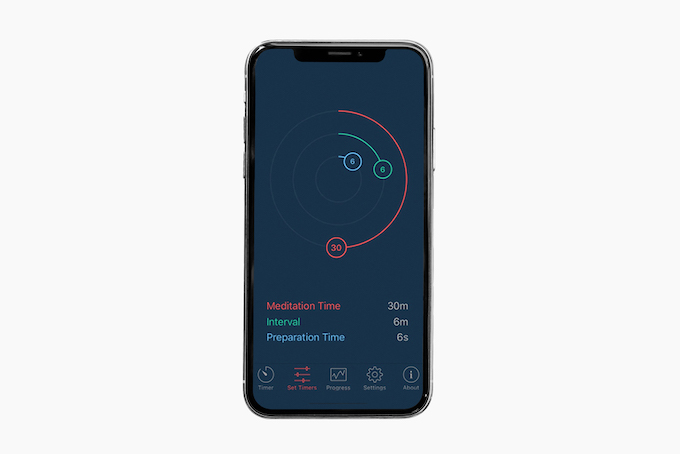 Enso
Enso takes something of a back to basics approach that targets the more-experienced mindfulness and meditation crowd. Rather than being made up of guided meditations and training programs, Enso is simply comprised of a minimalistic meditation timer that lets you keep your mind on what matters, delivering visual and auditory cues as well as an interval bell. The design, layout, and user experience have all been engineered to maximize simplicity. Enso is without a doubt one of the easiest-to-use interfaces out there. This app offers status and progressive reports, should you want to review long-term patterns, or if you simply get curious.
Headspace
Another incredibly popular and highly-rated app, headspace is a well-put-together platform equipped with an enormous number of themed meditations, focusing on reducing stress, and/or improving sleep. Like 10% Happier, headspace tackles this subject from a largely academic, objective, and scientific perspective, albeit while supplementing its sessions with some fun and lighthearted illustrations. headspace is also one of the few apps that rely on findings from numerous existing scientific studies, while also currently performing ongoing research studies with various national institutions that headspace says is likely among the largest mindfulness meditation studies ever undertaken. This app also offers a free "Basics pack" for interested, but not yet totally sold new users, as well as "SOS meditations" for those experiencing severe, panic attack-level stress or anxiety.
Insight Timer
While a decent number of mindfulness and meditation apps offer users free trials or demos, Insight Timer is 100% free. As its name suggests, this app is primarily a meditation timer with some fine-tuning options, and the ability to set an alarm that slowly increases in sound, gently lulling you from your meditation without abruptly and unpleasantly ending your session. It also includes a large library of guided meditations to help get you on your way to doing it alone, solely using the app's timer. It also automatically records and tracks your meditation habits, which are especially fun to review over the first couple of months of practicing.
The Mindfulness App
The Mindfulness App is comparable to a premium version of Insight Timer. While it does contain a generously-sized library of premium guided meditations and courses that hone in on particular areas, it also has customizable sessions that can be created and adjusted to fit your general needs, or whatever situation you have on hand at the moment, with sessions varying in length from 3 minutes up to half an hour. The Mindfulness App's timer also features reminders to help to better keep focused, and it tracks statistics that it uses to help keep you on track.
Portal
Portal is an aptly-named app that takes a different approach to delivering a relaxing user experience. Instead of going the typical guided meditation and timer route, Portal boasts a library of serene and exotic locales ranging from sun-soaked beaches to Swiss mountain tops. The app temporarily transports you to these locations, where you can experience the sights and sounds of this often otherworldly environments through amazing video, enabling you to temporarily get some respite from whatever smoggy city you happen to call home.
Pzizz
Pzizz is another unique app that is centered around sleep: getting you there; helping you stay there; and helping ensure it's restful. This is achieved through an amalgamation of sound effects, soft music, and voice-over artists that are designed to be soothing and to help you unwind. Interestingly, for a sleep-focused app, Pzizz also offers some decidedly engaging "FocuScapes", which are intense sessions where users harness their full concentration for prolonged periods — think of it as a workout for your brain's focus muscles.
Sattva
Sattva offers another incredibly unique approach to the mindfulness and meditation app space, boasting an unparalleled catalog of guided meditations, chants, and mantras, the lion's share of which have been sourced from Sanskrit texts. Sattva also offers something of a community element, where you can partake in what are essentially virtual group chat meditations with friends or family. It even tracks your data and allows you to compete with your friends or just compare user habits. The app can also be paired with heart rate monitoring gadgets, which can make for some really interesting data.
The 15 Best Online Courses For Learning New Skills
Interested in further working towards a better you? Well, be sure to check out our guide to the best online courses for learning new skills whether you're interested in learning Spanish, coding, Photoshop, cooking, or just about any other hobby, trade, or technique.