Jul 18, 2019
Category: Style
With the summer fast approaching, it's time to make the highly-anticipated transition into shorts season. And, while there are enough unique styles to keep your wardrobe bolstered for months to come, it's inevitable that you'll look for the perfect pair of leisurely cotton companions for lounging around at home. However, that doesn't mean that you have to make a sacrifice when it comes to everyday wear.
If you're looking for a pair of multifaceted shorts that you can wear on a jog, at the gym, and in your home, the first image that comes to mind is likely to be the traditional athletic staple. But, what if we were to tell you that, thanks to the world-wide athleisure movement, a refined alternative, crafted from the finest French Terry cotton was available? It's true — when we first heard about the advent the leisurely sweatshort, we were rife with excitement. The promise of a comfortable, everyday variant, without the lightweight (and oftentimes, cheap) composition of traditional athletic shorts, was music to our ears. We were hooked. So, to preach the gospel of these newfound athleisure staples, we've compiled a list of the best examples in the industry. From the simplistic styles of H&M all the way to cultural phenomena known as Lululemon, we'll outline the most prolific sweatshorts that you can buy right now. So do yourself a favor and pick up a pair. After all, your summer wardrobe won't be complete without them.
H&M Raw Edge Sweat Shorts
H&M is every guy's one-stop-shop for the latest styles, variants, and taste-makers, but that doesn't mean that you're out of luck when it comes to classic athletic wear. The brand's Raw Edge Sweat Shorts are a prime example of its commitment to men of every facet, boasting an elasticized drawstring waistband, rolled, raw-edge hems, and a slew of pockets for easy access to your favorite items. From the shorts' contemporary design to their minimalistic properties, the Raw-Edge are as classic as it gets.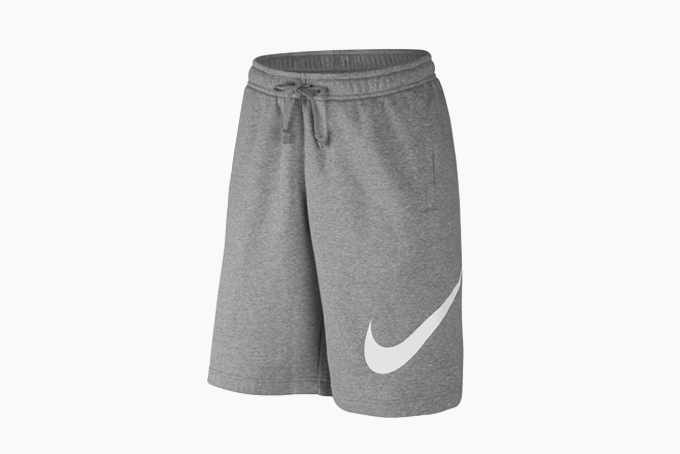 Nike Sportswear Club Fleece
No athletically-inclined list would be complete without the inclusion of Nike. The brand's Sportswear Club Fleece sweat shorts are an illuminary view into why the company has dominated the market for as long as they've been around, utilizing a simplistic, contemporary design that just feels right. These classic shorts boast a comfortable, brushed French Terry cotton and an elasticized waistband for adaptable use. Pair these sweat-inducing variants with a handful of Nike's other athletic offerings, and you'll never feel underprepared again — whether you're out for an afternoon jog, or slamming weights at your local gym.
Adidas BB Sweat Short
Adidas' BB Sweat Shorts are built with premium quality in mind. These modern variants are outfitted with Climalite fabric, a comfortable adjustable waistline, and a back pocket for item storage. Sweat-wicking construction pairs perfectly with materials like cotton and polyester French Terry, providing you with an exceptional pair of athletic shorts for everyday use. An attractive, streamline silhouette ensures that the company's iconic sweat-wear will serve you well, whether you're out playing a game of pick-up with the guys or at home winding down after a long day at the office.
Vans Kress Sweat Short
Vans isn't the first name that comes to mind when thinking of athletically-oriented sweat shorts — after all, the west coast staple is a trademark of the "relax and take it easy" lifestyle. However, Kress, the brand's expressive endeavor into the athleisure realm, are a pair of surefire sweat shorts for the multifaceted wearer. Crafted from a comfortable mixture of cotton and polyester, these lightweight French Terry variants feature an elastic waistband, 20-inch outseam, and a laid-back design that works well in any atmosphere. Whether you're wearing the Kress to a midday surf session, or heading up the street to a meeting with friends, you'll find that Vans' bespoke shorts are the perfect companion for everyday wear.
American Giant Essential Short
American Giant takes pride in its All-American manufacturing process, and with the company's Essential Sweat Short, you'll be hard-pressed to find a better value from a stateside proprietor. A 100% French Terry cotton composition, channeled waistband, and bar-tack front pockets ensure that these athletically-inclined shorts are a "cut above" the rest. Utilizing the brand's casual construction, these comfortable peripherals are built for everything from lounging to sweat-inducing workouts — making them the perfect pair of affordable all-around shorts.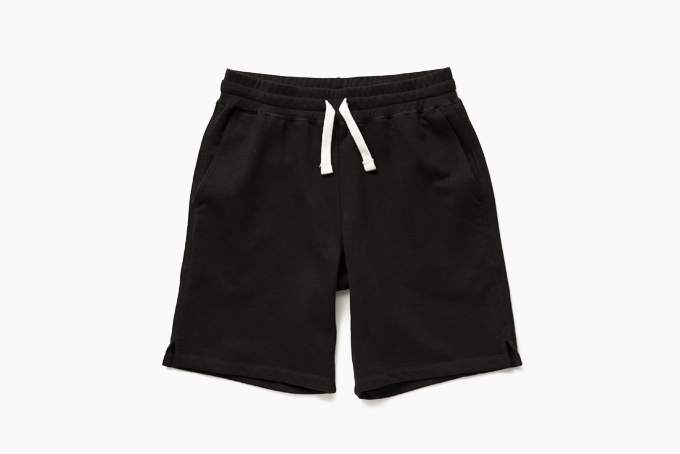 Richer Poorer Men's French Terry
Richer Poorer are the quintessential brand when it comes to men's basics, and now, they've set the bar once again with the French Terry sweat shorts. These minimalistic examples are perfect for jogging, weight sessions, or after-surf adornment, thanks to a gusseted crotch and side slits that promote an enhanced range of movement, comfort, and style. They're made with an exceptional, custom milled French Terry cotton, and boast embroidered eyelets, a twill drawstring, and a pre-washed silhouette that takes the guesswork out of everyday wear. While these sweats are fashioned for conventional wear, you'll be hard-pressed to find a pair that can stand up to athletic use as good as these.
Mack Weldon Ace Short
Mack Weldon prides itself on the creation of staple menswear, and the brand's Ace Sweat Shorts are no different. These summer-savvy variants are tailor-made to provide the wearer with essential comfortability and utilize micro-sanded French Terry for exceptional softness and stretch. An exterior drawcord and soft loopback provide adaptability within arms reach, while a "stealth pocket" orientation gives you options to store, carry, and retrieve your most valuable items while out and about. If you're looking to hit the streets or the gym in style during the warmer months, the Mack Weldon Ace shorts are the perfect opportunity to show off your tasteful, tactile side.
Lululemon City Sweat Short
Lululemon has almost single-handedly changed the face of athleisure, and with the brand's City Sweat Shorts, you'll see why they've become a staple in many guy's wardrobes. As with most entries on this list, the City features a breathable French Terry fabric that's both comfortable and capable, alongside a soft, sweat-wicking composition that's sure to keep you "in the game," no matter where you are. A four-way stretch construction, hidden media and coin pockets, and non-bulky attributes make these top-of-the-line sweats a force to be reckoned with in the short space. So, whether you're looking for a pair of leisurely loafers for everyday lounging, or hitting the gym to brush up on your fitness, LuluLemon's City Sweat Shorts are sure to redefine the way you see athleisure.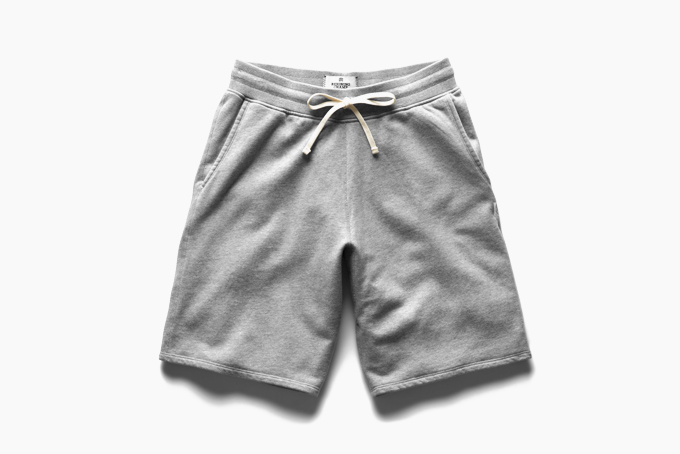 Reigning Champ Men's Sweat Short
If you're an avid follower of Reigning Champ, you've likely noticed that they're one of the industry's leading manufacturers when it comes to athletically-inclined leisurewear. The brand's minimalistic Sweat Short only enhances its already-established image, boasting a formidable midweight Terry cotton construction, flat locked seams, premium rib gusset, and woven drawcord for comfortable wear. Intricacies like jersey-lined pockets, low-abrasion seams, and a durable, zig-zag stitched waist label ensure that the company's flagship sweat-shorts won't let you down during the most trying of exercises. If you're looking to sweat it out with the best quality, construction, and composition around, Reigning Champ's minimalist offerings are right up your alley.
American Rag TS(S) Sweat Shorts
Not every sweat short is built to stand up to the wear and tear of everyday athletic use, and that's completely fine. Enter American Rag's waffle-knit sweats by TS(S), a pair of comfortable, everyday shorts that you won't see on a treadmill at your local gym. These are the perfect illustration of leisure-minded summer wear, boasting a wide drawstring waistband, relaxed, inset hand pockets, and a button-fastened rear pocket for aesthetic purposes. The TS(S) round out our guide as one of the most comfortable variants you'll find. So take a break every once in a while and enjoy everything the world of athleisure has to offer.
20 Best Men's Shorts For Summer
Now that you've brushed up on the best sweatshorts for athleisure-oriented applications, head over to our guide on the best men's shorts for summer to find a more robust list of stylish staples.
HiConsumption is reader-supported. When you buy through links on our site, we may earn an affiliate commission. Learn more