If you're the type of guy that loves to wear shorts, rolled pants, or cuffed chinos in the summer, it's common knowledge that your sneakers, low-cut slip-ons, or boat shoes will steal the spotlight. But, like most guys, you might not like the look of knee-high socks as you strut down the street in your favorite outfit. Luckily, there is a menagerie of companies that want you to look your best. So, in their infinite wisdom, they've created an essential for low-profile summertime wear — the no-show sock.
The no-show sock has quickly become a staple of every self-respecting guy's summer wardrobe, boasting a minimalist style that sits just below the cut of your favorite sneakers. These cotton-embued companions provide wearers with the ultimate in comfort, breathability, and style, while offering the quintessential "athletic" look that so many strive for. Below, we've handpicked a few of our favorites, from Uniqlo's affordable Pile, all the way to industry classics like the Vans No-Show, Stance Gamut 2, and Bombas' Lightweight. So kick off your shoes and throw away your old crew cuts — it's time to slide into our guide on the summer's best no-show socks.
Uniqlo Pile Low Cut
If you're looking for a pair of low-profile socks that won't break the bank, Uniqlo's Pile Low Cut should be right up your alley. These soft and comfortable cotton peripherals are outfitted with a breathable mesh lining, self-deodorizing yarn, and anti-slip polyolefin grips that will keep your feet from sliding around on a variety of surfaces. Added support in the heel of the sock offers exceptional qualities that you won't find in higher-end examples, and with an ultra-short orientation that stays hidden in even the lowest shoes, you'll have peace of mind while wearing them with your favorite low-cut footwear.
Purchase: $10
Vans Classic No Show
Vans' Classic No Show socks are an iconic pair of low-cut variants that were built to pair with the company's classic shoes. With staples like the Classic Slip On and Low-Pro, a pair of no-show socks is a necessity — so, to keep you looking your best, Vans went out of its way to create a pair of thin, breathable nylon/cotton socks for everyday use. Whether you're wearing your favorite pair of sneakers with jeans, shorts, or athletic attire, these classic no-shows set the bar for the industry's lightweight examples — providing a comfortable fit, while keeping things minimal.
Purchase: $13
Lululemon No Sock
Lululemon burst onto the athleisure scene like a freight train, and alongside the company's extensive selection of leggings, shorts, shirts, and peripherals, they also introduced one of the industry's best no-show socks. These low-profile variants boast an attractive, lightweight construction, sweat-wicking yarns for breathability, and a seamless, reduced-bulk orientation that's good for everything from a day at the office, to an international business flight. These athletically-inclined examples provide wearers with a "barefoot look" that's primed for all-day wear.
Purchase: $14
Richer Poorer Ford
Richer Poorer pride themselves on the manufacture of guys' essential items, and with the Ford No Show Sock, you can rest assured that the company's exceptional attention to detail has made its way into every last fiber. These ridiculously simple socks feature an invisible profile, reinforced mesh venting for industry-leading breathability, and arch support for additional protection during everyday endeavors. On top of that, a silicone heel grip and padded footbed provide wearers with the ultimate in comfort, longevity, and durability.
Purchase: $14
Mack Weldon No Show
If you're looking for a pair of classic, low-cut socks that are backed by one of the most prolific companies in menswear, look no further than Mack Weldon's No Show. These combed cotton, spandex, and nylon essentials boast a seamless toe that prevents abrasion, a cushioned bed that helps to support your foot as you step, and a no-slip heel that keeps you stable in (and out) of your shoes. But, if all you're looking for is the perfect pair of low-profile socks to keep your athletic style at the forefront, then Mack Weldon has you covered.
Purchase: $17
Falke Step Invisible
Falke's Step Invisible socks were created with the stylish gentleman in mind, boasting a discreet silhouette and comfortable demeanor that will keep you looking your best throughout the day. Whether you're pairing the Invisible with a pair of your favorite rolled Chinos, loafers, or low-cut shoes, you can rest assured that Falke's anti-slip technology will keep you grounded and stable. These tasteful peripherals are crafted with the finest black cotton and elastane, providing wearers with a comfortable rib-knit, durable composition, and designer attributes at an affordable price point.
Purchase: $18
Stance Gamut
Stance has made quite a name for themselves in the footwear industry, and as one of the world's leading proprietors of comfortable crew socks, it's no surprise that they've branched into the realm of no-show. The company's Gamut 2 socks embody the same high-quality construction elements of their other variants, like a Terry loop in the forefoot and toe for exceptional cushioning as you walk, ultra-light cushioning and arch support, and a silicone gripper on the heel for no-slip wear. Elaborating on the brand's no-show Gamut, these bolstered successors clear up any (and all) qualms that wearers have had with the original pair.
Purchase: $25
Nice Laundry No Show
Nice Laundry is at the top-end of the spectrum when it comes to basic menswear essentials, and when it comes to their take on the classic no-show sock, they've proven, once again, that quality is key. If you're the type that enjoys the athletic, simplified look of low-cut socks but hate the possibility of ruining your shoes with excessive sweat and odor, Laundry's aptly named No Show socks are the perfect alternative to your traditional cotton companions. These low-profile examples pair great with loafers, boat shoes, and any other mid- to low-cut footwear that'll look great without additional fabric.
Purchase: $29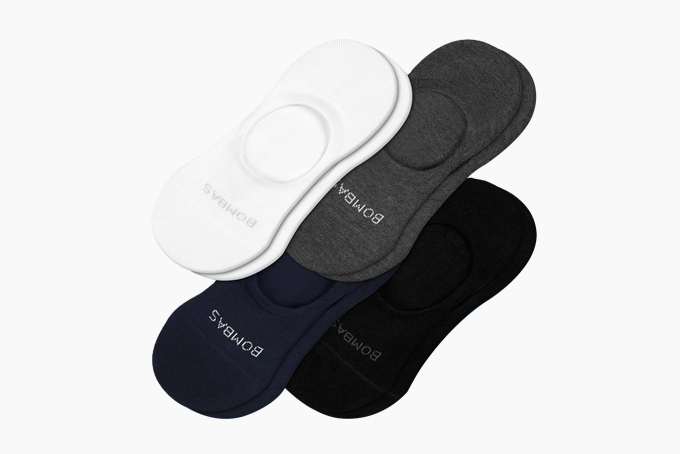 Bombas Men's Lightweight
Bombas' Men's Lightweight socks are an essential piece of everyday kit, and when you finally put a pair on for the first time, you'll see why. Not only are the socks specially engineered to never fall down, they utilize a comfortable, ultralight, fine-gauge cotton, stay-put heel grips, and seamless toe to keep you feeling (and looking) great, all day long. As one of the premiere no-show socks on the market, Bombas' Lightweight socks have successfully set the bar for alternative, low-profile styles.
Purchase: $40
Mr. P Stretch Knit
If you've ever heard of Mr. P, then you know that they pride themselves on the creation of menswear's finest staples. From shirts and coats, all the way to the most minuscule details, they've taken the time to bring you the best clothing options in the industry — socks included. The brand's impeccably-built Stretch Knit no-show sock is the quintessential basic, bringing an elaborate mix of polyester, cotton, and nylon to your everyday wardrobe. These top-of-the-line variants come in a variety of tasteful colors and boast exceptional breathability, moisture management, and comfortability that outclasses even the most expensive examples.
Purchase: $50
The 15 Best Men's Sneakers Under $150
Now that you've brushed up on your no-show sock knowledge, head over to our guide on the best men's sneakers under $150 to get a feel for your next perfect pairing.