An outdoorsy guy is no stranger to strange scents. Not the least of which is the one emitted from his own crevasses after a hard day of hiking, backpacking, or roughing it in the wilderness for weeks at a time without a shower. For that, the mountaineer, explorer, or outdoor enthusiast needs a powerful deodorant to keep him from being offensive to his cabin mates (or surrounding wildlife).
But a synthetic deodorant is not always the healthiest choice. Antiperspirants made from synthetic chemicals can be toxic and damaging — loading your body with things called "parabens," which are preservatives used to congeal those radiant blue and white sticks that most men use to cover their natural musk. Other synthetic deodorants use things like aluminum, triclosan, and phthalate compounds, which can accrue and be deleterious to a wearer's health. A better alternative is an organic or natural deodorant. Not only are they healthier choices for your sweat glands, but natural deodorants made from organic materials can provide a more woodsy musk to gel with your enthusiasm for the outdoors.
Bend Soap The Woodsman
Bend Soap believes in treating your skin right. That means eschewing harmful toxic chemicals, like the preservatives often found in deodorants. Thus, their "The Woodsman" natural deodorant is made from all-natural ingredients, principally: coconut oil, red palm oil, baking soda, arrowroot powder, beeswax, cocoa butter, shea butter and more. Bend promises that their Woodsman antiperspirant offers a masculine, natural scent that isn't too reminiscent of potpourri.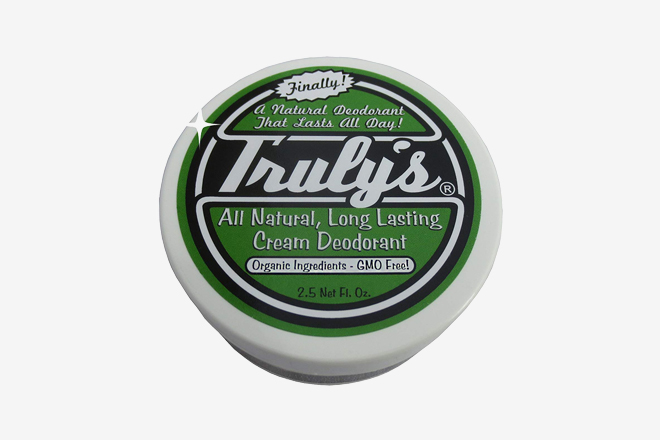 Truly's All Natural, Long Lasting Organic Cream Deodorant
Get creamy with Truly's all natural deodorant, which they guarantee to outlast other, synthetically derived antiperspirants. No parabens, aluminum, or propylene glycol were used to make this creamy concoction, which was formulated to be gentle enough for kids and those with sensitive skin (let alone you, you tough son of a gun). The coconut oil-based deodorant is both antibacterial and antifungal, so you can stay fresh and clean through hours of rigorous exploration in the great outdoors.
Mountaineer Brand All Natural Deodorant
Mountaineer Brand's Lime and Sage concoction for your underarms is composed of antibacterial compounds like neem oil and tea tree oil, arrowroot powder and baking soda to wick away moisture and wetness, vitamin E, coconut oil and shea butter to moisturize skin, and lime oil & clary sage for an intoxicating, natural scent. The perfect outdoor, sweat-resistant organic cosmetic.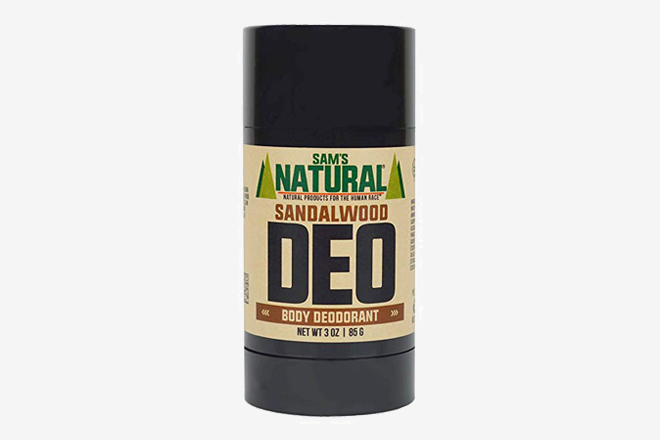 Sam's Natural Deo
Sam's Natural Deo is one of the most long-lasting, hard-working natural deodorants on this list. Available in 17 beautiful scents, Sam's has a stick to appeal to everyone's sense of smell. It's also pretty powerful, as wearer's need just one or two light swipes for a whole day of wear. It's also free of aluminum, parabens, phthalates and propylene-glycol, and even packaged in 100% recyclable plastic tubes.
Schmidt's Natural
With a charcoal and magnesium scent, this metallic deodorant from Schmidt's is aluminum free and plenty masculine. Composed of mineral-derived ingredients like magnesium and sodium bicarbonate, this is among the more powerful antiperspirants on the list. It's also got one of the simplest but pleasant smells: petrichor or the smell of freshly fallen rain.
Burt's Bees Natural Deodorant
Burt's Bees runs the gamut when it comes to natural cosmetics, so it's no surprise that they also offer an excellent natural deodorant for men. The Burt's Bees Natural stick will battle, and neutralize odor with botanicals instead of harmful chemicals. Citrus oils, cyprus, and fir coalesce to create a lovely smell that will render your armpit odor obsolete. One noteworthy drawback is that this deodorant has a tendency to stain clothes.
Herban Cowboy Dusk
Herban Cowboy's maximum protection deodorant called "Dusk" is a masculine antiperspirant that prides itself on its natural ingredients. Crafted from a proprietary blend of essential oils, Herban Cowboy avers that their stick has been made with no phthalates, no aluminum, no triclosan, and is 100% vegan and cruelty-free (made without the use of animal testing).
Oars And Alps Natural Deodorant
Oars and Alps makes some of the best natural cosmetics and hygiene products for men, and their all-natural deodorant is no exception. Made with natural ingredients like propanediol, water, glycerin (plant derived), sodium stearate, steareth-100, and cornstarch for its moisture-resistant properties, this fresh ocean splash-scented deodorant is a non-irritating and efficacious alternative to synthetic, chemical-saturated deodorants.
Ursa Major No B.S. Deodorant
Skip the bullsh*t — Ursa Major's deodorant shirks the toxic add-ons that most mainstream deodorants standby, in favor of simpler, cleaner ingredients. Constituted by 20 naturally-derived ingredients like saccharomyces ferment, kaolin clay and soothing aloe vera, the No B.S. deodorant is easier on skin or tougher on moisture.
Native Deodorant
What's in a name? For Native Deodorant, everything. Go back to your natural roots with Native's package of natural deodorants, which come in five different scent combos: Eucalyptus & Mint, Citrus & Herbal Musk, Bergamot & Sage, Coconut & Vanilla, and Cucumber & Mint. With no aluminum or synthetic ingredients of any kind, and barely leaving a residue, Native all-natural deodorant is the perfect thing to roll onto your armpits every morning.
15 Best Colognes For men
Want to take your smell game up to a new level? Try on these manly musks from our list of the 15 best colognes for men, and freshen up.