Dec 13, 2018
Category: Gear
Presented By
If it were up to us, we'd never put a spending cap on our gift giving. Unfortunately, that's not actually the case. And it probably isn't for you, either. Luckily, there's still plenty of gear out there you can give to those you care about without bankrupting yourself — you just have to know where to look.
Of course, it's all too easy to be seduced by online marketing and slick photos — which have the potential to trick you into gifting things that aren't quite up to snuff. But that's why we're here. We sifted through every corner of the internet to find you 50 of the best gifts you can get for $50 or less. Even on an extreme budget, you can still get the perfect present — and you'll likely find it in the following collection.
Matador Freefly16 Packable Daypack
Once again exceeding our expectations of packable adventure gear, Matador recently released the FreeFly16 — their newest packable daypack. It's a 16-liter outdoor companion built from waterproof Cordura and sealed internal seams and sealing zippers to keep your gear protected at all costs. Additionally, each Matador FreeFly16 Daypack hosts a front organizational pocket with a water-resistant zipper, adjustable weight distributing (and non-absorbing) shoulder straps, and a packs down into a 4.75in x 2.75in detachable rolltop storage bag. Can't go wrong here.
Instantly save some coin (10% off) on your purchase through 12/22 using the HiConsumption exclusive discount code: HiConMatador10
Stellar Factory Peak Mountain Playing Cards
Whether for your home, campsite, or just a contingency plan stashed away in your car, a deck of playing cards is an indispensable means by which to pass the time amongst friends. These cards have the added bonus of featuring graphical representations of famous mountains all around the world. They're also made in the USA.
Field Notes Pocket Notebooks
Made in the USA and available in a number of different styles — from simple blank note-taking slates to week-by-week organizers — Field Notes makes some of the absolute best pocket notebooks available. They're a sure-fire hit for any EDC enthusiast or fan of the written word.
LifeStraw Personal Water Filter
Filter out 99.99% of everything harmful in any water source with this compact personal water filter, the LifeStraw. For doomsday preppers to hardcore backpacking outdoorsmen, this is an indispensable survival tool that should be in everyone's arsenal.
Hacking Whiskey Book
Whiskey is one of our favorite spirits to sip, but that doesn't mean we don't like to dress it up a bit from time to time. That's where this book comes in — Hacking Whiskey will help you turn your bourbon into something bigger and bolder while helping to turn you into a first-rate home bartender.
Carry-On Cocktail Kit
Most airplane carts have only the most basic cocktails available — your rum and cokes, whiskey gingers, and the like. But if you want a true craft cocktail to ease the stress of traveling, you'll want to pick up a Carry-On Cocktail Kit. All you need to add is the alcohol itself.
Barebones Living Hori-Hori Garden Knife
Gardening can both help relieve stress and allow you to personally grow your own healthy produce. But you'll need the right tools to get the job done right, if it interests you. The Barebones Living Hori-Hori is an excellent start with its multi-functional blade and durable walnut handle. It's not the only thing you need to get started, but it's a huge step forward.
Smartwool Hiking Socks
You should definitely have a solid pair of hiking boots in your repertoire, but the socks you wear are also very important to keep your feet safe and sound. That's where the Smartwool Hiking Socks come into play. Made from Merino wool, elastane, and nylon, they'll help prevent blisters, keep your toes warm, and survive even the toughest hikes.
MecArmy CMP Brass Keychain Compass
Every man should know how to navigate without the help of a smartphone, but it's going to be a lot easier if you have a compass in your everyday carry loadout. Luckily, the MecArmy CMP brass compass is small and discreet enough to fit on your keychain without any fuss. For survivalists and outdoorsman alike, this is a must-have gift.
Soto Pocket Torch
Turn those cruddy disposable plastic lighters into a formidable source of fire with the Soto Pocket Torch. Not only will this thing create a wind-proof flame that gets up to 2,300 degrees, but it will also make the lighter you place in it last for up to 60% longer. And that makes this a mighty tool.
Rabbit Compact Bar Tools Set
Whether you're a mixologist who likes to travel or you just want to keep your bar tools out of the way when they're not in use, the Rabbit Compact Bar Tools Set is the perfect kit for you. Complete with six tools — including a peeler, strainer, zester, and more — this stainless steel kit is as handy as it is packable.
Anker Qi Wireless Charger
Wireless charging is an increasingly available technology in even the most basic everyday carry gear — especially with the latest generation of smartphones. And if you own gear with wireless charging capability, you should take advantage of it with this Anker Qi charger. It's 10% faster than similar offerings, ultra-slim and sleek, and it can even charge through cases.
Rains Large Wash Bag
A dopp kit is an absolute necessity if you're a frequent traveler and you like to keep yourself looking good, even on the road. This toiletry bag has a bit of an edge on the competition, however, as it's made from a weatherproof combination of polyurethane and polyester, and it comes with a water-resistant zipper.
Parker SRX Straight Razor
A straight razor offers you the closest shave you'll ever have, but they often require a lot of maintenance and care. That is, of course, unless you use this one from Parker. The SRX straight razor gives you the same baby-smooth shave but has replaceable disposable razor blades, so once yours goes dull, you just swap it out for a brand new sharp one.
Amazon Smart Plug
Rather than rewiring your whole home to make it smart, you can have the same voice-activated AI-assisted technology in every outlet simply by adding an Amazon Smart Plug. Compatible with Alexa, this device can also schedule your appliances to turn on and off at the same time each day, or you can just tell it to turn off or on with your voice.
Mechanix Wear M-Pact Covert Tactical Gloves
When it comes to toughness and functionality, nobody beats Mechanix Wear's glove offerings. Of course, even in their own catalogue, there are a few stand-outs. The M-Pact Covert Tactical Gloves are one such stand-out, with thermoplastic rubber guards to protect your digits, dual-layer durability, and D30 palm padding to help reduce shock from impacts. These are great gloves for the garage, but evern better for use in the field.
Buck Mason Slub Curved Hem Tee
Casual comfort can be easily achieved simply by putting on your favorite T-shirt. And if you own a Buck Mason Slub Curved Hem Tee, it will be your go-to every single time thanks to its USA-made construction of breathable and soft 100% cotton. It's also pre-shrunk, so you don't have to worry about what happens when you wash it for the first time.
Amabilis Stash Capsule
While the Amabilis Stash Capsule is one of the most impressive Dopp kits for travel toiletries we've ever come across, you might want to stash stuff other than your toothbrush inside. That's because it is tough enough to protect far more delicate gear, with a waterproof exterior and built-in armor plating. It also boasts an internal security pocket, bound internal seams, and a simple grab handle for quick access.
BioLite SiteLight
It isn't always legal to build a fire out in the wilderness, especially if you're not at a designated campsite. But that shouldn't stop you from enjoying the night with a bit more visibility than what the moon has to offer. That's where the BioLite SiteLite shines. This handy lantern is ultralight, packs down tiny, and offers up to 300 lumens of dimmable light. All you have to do is plug it into a power source.
Vinyl Styl Ultimate Vinyl Cleaning Kit
If you're a long-time vinyl collector, you already know how important it is to keep your records clean. However, if you're a newcomer, you'll definitely want to invest in something like the Vinyl Styl Ultimate Vinyl Cleaning Kit. It contains everything you need to keep your albums static- and dust-free to ensure that they keep sounding great for years to come.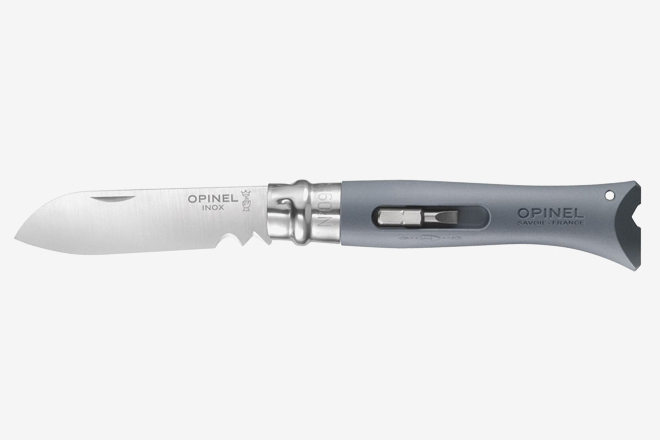 Opinel No. 9 DIY Knife
Opinel excels at building tough-as-nails, budget-friendly cutting tools. So when we tell you that their No. 9 DIY knife is one of the most impressive, we want you to understand the weight of that statement. Not only does it feature a Sandvik steel blade, but it also comes with driver bits and a bit holder, so you can tighten or loosen any screws on-the-go.
Armatus Vita Kydex Travel Wallet
Made from mil-spec Kydex, this passport-sized wallet is naturally waterproof and ultra-durable. It's also non-metallic — perfect for bringing through customs and TSA checkpoints — made in the USA, and has enough room inside for your passport, tickets, pocket notebook, and loose papers.
Bradley Mountain Utility Roll
Keeping your EDC organized and handy just got a whole lot easier thanks to the Bradley Mountain Utility Roll. Made in the USA from a combination of water-resistant Martexin waxed canvas and oiled leather, this USA-made tool tote has room for your pens, knives, multi-tools, and so much more.
Stanley Classic Vacuum Insulated Growler
Stanley knows a thing or two about making sturdy outdoor adventure-ready gear, so it should come as no surprise that, when they built a beer growler, it was one of the best. With a vacuum-insulated body and foam-insulated lid, this heavy duty stainless steel beer hauler is perfect for your home or campsite.
LEGO Technic Racing Yacht
We've always thought of LEGO's Technic series as a bit more refined and grown-up than their other plastic building brick counterparts. And this Racing Yacht definitely fits that bill. The desirability gets kicked up a notch even further once you realize that this is the one and only official LEGO Technic set that comes with its own sail.
Tactica Gear M100 Multi-Tool
With a whopping 17+ built-in functions, it seems a little hard to believe that the Tactica Gear M100 Multi-Tool is small enough to fit into your pocket — but it is. It's also crafted from a combination of stainless steel and an ultra-tough composite that's 40% lighter than titanium. If you need a does-everything TSA-approved one-piece multi-tool, make it this one.
Daneson Every Blend Toothpicks
While their clear primary purpose is to help get stuff out of your teeth, there's something satisfying about chewing on a toothpick. That's all the more true when it comes with the Daneson Every Blend variety, which comes in four different flavors: mint, cinnamon, bourbon, and scotch.
Woolrich Fleece Mill Scuff Slipper
Especially when the weather is colder, we love getting comfortable and lounging around the house. Lazy activities also require the proper attire, if you want to do them right — which is why we turn to the Wollrich Fleece Mill Scuff Slippers. They're stylish and about as comfortable as walking on a cloud.
Tile Pro Tracking Device
Tile's tracking devices — with their two-way location and GPS functionality — were already the best in the business. But they've gotten even better now, thanks to the fact that the onboard battery is easy to replace on your own at home. Never lose your keys or wallet again with the Tile Pro.
Victorinox Pioneer Swiss Army Knife
The Swiss Army Knife is an everyday carry classic that every man should own. And their Pioneer offering is one of the best out there, as it boasts the same iconic silhouette as the original, as well as eight built-in tools that include a slipjoint knife, bottle opener, screwdrivers, and more.
Machine Era Original Brass Pen
Every man should own and carry an EDC writing utensil, but some are better than others. For instance, the Machine Era Original Brass Pen is insanely tough — thanks to a construction of solid brass — but it also looks good enough to keep on your desk at work. It doesn't hurt, either, that it's made in the USA.
Sega Ultimate Portable Game Player
Loaded with a whopping 85 pre-programmed gaming classics — which include the likes of Sonic the Hedgehog, Mortal Kombat, Pac-Man, and more — this portable retro gaming handheld is the perfect gift option for anyone feeling nostalgic about gaming's past. It also has a built-in screen, but can be plugged into your TV for full-sized gaming.
Keysmart Titanium Key Organizer
Made from remarkably tough and lightweight titanium, this Keysmart key organizer can keep your pockets organized and jingle-free. It also boasts a removable key fob attachment, has stainless steel hardware, and holds up to eight standard keys.
Soma 10-Cup Water Filter Pitcher
Depending on where you live, tap water can be practically undrinkable and sometimes very harmful to your health. And that's why you should be sure to filter it before drinking. That's what the Soma 10-Cup Water Filter Pitcher does — reduces the impurities in your drinking water. It's also made from shatterproof glass and BPA-free plastic.
Quiet Carry Bandit Titanium Keychain Knife
With an AUS-8 steel blade and a titanium handle, this would already be a formidable EDC folder. But the fact that it's small enough to fit on your keychain and still boasts a sturdy back lock makes it all the more enticing. At just 3″ in length overall, this is one of the best tiny knives out there.
Elastic Precision 1911 Rubber Band Gun
Based on the classic iconic 1911 handgun, this Elastic Precision rubber band gun is a beautiful (and a lot more playful) toy to keep around the house. It's made from sturdy high-quality hardwoods, boasts semi-automatic firing, and comes with 100 rubber bands. Just be careful not to shoot anyone's eye out!
Four Roses Small Batch Bourbon
A good bottle of booze is always a welcome gift in our office, and we'd be happy to get one like the Four Roses Small Batch Bourbon from anyone in our family or group of friends. If you know someone with discerning tastes and an appreciation for a stiff drink, we bet they'd be happy to find this in their stocking, too.
Amazon Fire TV Streaming Stick
With the death of cable on the horizon, it's become clear that streaming services are here to stay. Give someone on your nice list the ability to access all of their favorite services with the Amazon Fire TV Streaming Stick. It's ultra-simple to use, streams in HD, and doesn't even need batteries — it just uses ghost power from your TV.
Bradley Mountain Large Valet Tray
Any seasoned everyday carry enthusiast can tell you, at the end of the day, it's nice to have a single organized place to stow your pocket gear. And they don't get much better than the Bradley Mountain Large Valet Tray. Made from premium leather and boasting tough brass rivets, this is the ideal stash for anyone's favorite EDC.
Onnit Primal Kettle Bells
If you know how to do it right, a kettle bell exercise can be one of the most physically demanding and beneficial workouts available. But, the problem is, you need kettle bells in order to do it. That's where Onnit comes in — these are some of the best on the market and they also come in a wealth of fun designs to personalize them to your home gym.
Teva Ember MOC Slipper
House slippers are great for your home, but they don't exactly stand up to outdoor usage. The Teva Ember MOC Slipper, however, was made specifically to be worn outside. Inspired by and designed to mimic a puffy down jacket, this footwear is comfy, warm, and made for the outdoors.
Opinel No. 8 Black Oak Knife
While most of Opinel's offerings are excellent workhorse blades, we wouldn't necessarily call them upscale or stylish. But that doesn't mean they don't make folding knives that are. Take their Black Oak Knife, for example. Not only does it feature the brand's signature silhouette, but it comes with a gorgeous wood handle and black-finished Sandvik steel blade.
Craighill Square Money Clip
If your gift recipient frequently finds themselves at high-class gatherings — like business dinners and/or black tie events — you may want to gift them the Craighill Square Money Clip. A good deal more beautiful and classy than your typical wallet, it's made from nitrocarburized-coated brass (so it's sturdy and durable) and it was made in the USA.
CRKT Birler Compact Axe
An essential tool for any outdoorsman, CRKT's Birler Compact Axe was made to survive hard usage. In fact, it's a part of their Forged by War collection — which encompasses some of their toughest gear. With a hickory handle and high-carbon steel head, this camp axe is a woodcutter crafted for adventure.
GCI Outdoor Freestyle Rocker Camp Chair
Rocking chairs are some of the most comfortable and satisfying seating ever invented, but they're not exactly portable. The GCI Outdoor Freestyle Rocker, by contrast, can pack down very small while still offering the same satisfying back-and-forth motion. This camp chair is perfect for outdoor relaxation.
Anker Roav Viva Alexa-Enabled Car Charger
Simply by plugging this device into your car's cigarette lighter port, you can turn any Bluetooth-enabled vehicle into one that supports Amazon's Alexa AI assistant. That means you'll be able to navigate, get calls, send texts, and so much more all with just the sound of your voice. Plus, it doubles as a 2-port USB charger for all your car gadgets.
Griffin Titanium Pocket Tool
Impressively built from insanely sturdy and reliable titanium, this Griffin Pocket Tool boasts 11 built-in functions — making it one of the most compact and comprehensive one-piece multi-tools. And the tools it includes — a bottle opener, hex wrenches, a pry bar/scraper tool, and more — are very useful. It's also TSA-compliant, making it perfect for travel.
Aesop Jet Set Travel Kit
As you likely know, packing for travel is especially difficult if you have to deal with the TSA — which goes double if you hope to bring along toiletries like body wash, shampoo, and conditioner. But that's exactly why Aesop made their Jet Set. This kit includes four TSA-compliant doses of high-quality shampoo, conditioner, body wash, and moisturizer.
Nagao Higonokami Iron Friction Folding Knife
Stunningly gorgeous in its iconic design, the Higonokami friction folding knife has been handmade for over a century by the same master Japanese craftsmen. This one features a raw iron handle mated to a blue paper steel blade and it's stamped with traditional Japanese kanji on both the blade and handle.
Cargo Works EDC Dopp Kit
One part travel toiletry kit and one part modular everyday carry tactical bag, the Cargo Works EDC Dopp Kit is an impressive multi-purpose pack that's excellent for jet-setters and outdoorsmen alike. From its rugged and water-resistant nylon exterior (complete with MOLLE webbing) to its internal organizational pockets, this is a handy bag for anyone on the go.
The 50 Best Men's Gifts Under $100
For those whose spending cap is just a bit higher than $50, we've also got a stellar collection of the 50 best men's gifts under $100.