It's true that a number of the 1990's fabled styles have seen a dramatic resurgence in the last few years, and although guys were once only privy to leather and denim when it came to their insatiable lightweight jacket addiction, one surprising style found a way to break free from its modest, pitch-proven roots to topple the competition.
The Coach's Jacket started off as a respected, hierarchical piece of athletic-oriented outerwear that was traditionally worn by the most notable individual on the field: the coach. What began as a waterproof, windbreaker-esque garment utilized primarily within sports became a sensational (and detrimental) trademark of street-style — eventually finding its niche as the iconic jacket utilized by various hip-hop groups during the 1990s. Revered ensembles like NWA and Public Enemy were seldom seen without their own personalized jackets, and soon, the silhouette would become synonymous with the culture and persona of everyday street life.
What Defines A Coach's Jacket?
Breaking Down The Classic
Coach's Jackets are difficult to confuse with other symbolic pieces of outerwear — they utilize a traditional windbreaker style that's characterized by a classic pointed/folded collar, slanted or slashed hip pockets, and a snap button front to create a look that's become one of the most iconic (and valued) aspects of every guy's arsenal. Typically, a drawstring waist and elasticated cuffs are a mainstay, no matter the garment, and although modern designers have run rampant with everything from slim-fit, oversized, and downright "boxy" design principles, a tasteful coach's jacket will always utilize the aforementioned characteristics.
The key to the iconic silhouette is, in fact, why it was popularized — a simplistic, minimally designed piece of outerwear that can stand up to the threat of rain, wind, and other inclement weather, all while retaining a lightweight but durable build. Urbanites everywhere have adopted the culturally adept jacket and integrated it into their everyday wardrobe, utilizing it with everything from casual, dressed-down outfits, all the way to tailored, fashion-forward ensembles. Below, we'll outline the best coach's jackets that you can get your hands on right now — whether you're looking for a garment that will solidify your status as the head of the team, or perhaps just as a stylish street-walker, we're sure you'll find what you're looking or in our well-informed guide.
Vans Torrey Coaches Jacket
Vans' Torrey Coaches Jacket is about as classic as it gets, sporting a handsome, clean-cut silhouette that's both water-resistant and semi-insulated for the perfect lightweight garment. The brand's iconic "Off The Wall" insignia is printed on the left chest, while slit pockets and an exceptional selection of colorways provide wearers with a diverse piece of outerwear that's as timeless as the Southern California company itself.
Zara Quilted Coach Jacket
Zara's Quilted Coach Jacket is the perfect budget outerwear piece, utilizing a technical polyester exterior fabric alongside a quilted interior that's soft, warm, and durable. Long cuffed sleeves, a hidden interior compartment, and front welt pockets work in tandem with a front snap closure to round out the iconic garment.
Dickies Torrance Coach Jacket
Dickies is a widely renowned workwear brand, providing tried and true garments that stand up to the wear and tear of everyday life. Their Torrance Coach Jacket stays right in line with the brand's original mission, utilizing 7000mm of waterproof material, taped seams, a 4000 mvp breathable silhouette, and clear coat on the jacket's reverse side. It's constructed with a hard-wearing polyamide taslon 228T, providing an exceptional fit that's sure to age with style and grace.
Carhartt WIP College Jacket
Carhartt WIP is trusted by men everywhere to provide durable, aesthetically pleasing outerwear, and their College Jacket is the perfect amalgamation of those traits. Sporting a 100% nylon construction, a brushed tricot lining, and printed Carhartt branding, the College boasts one of the best looking designs out of any warm-wearing garment. A press stud closure, side entry welt pocketing, elasticated cuffs, and a drawstring helm provide all the technical aspects you'd expect from a classic coach's jacket, but with Carhartt's uniquely street-oriented twist.
Adidas Logo Print Coach Jacket
Adidas is an industry leader in athletic and sport-oriented outerwear, so it's a no-brainer that they'd offer one of the best looking coach jackets around. Featuring a timeless snap button front closure, elasticated cuffs, and a classic collar that's become synonymous with the fabled jacket style, this offering is a great choice for tasteful, technical urban explorers. Elasticated cuffs, a drawstring hem, and a printed Adidas logo on the chest round out the handsome garment.
Topman Navy Borg Lined Coach Jacket
Topman specializes in bringing timeless styles to the forefront of every guy's wardrobe, and their Navy Borg Lined Coach Jacket is the perfect addition to any fashion-forward collection. The cotton and elastane garment features a comfortable Borg lining and collar, alongside iconic side pockets, a classic fit, and Popper fastening, which departs from the typical snap button closures found on most coach jackets.
Stussy Printed Shell Coach Jacket
Stussy has made quite the name for itself within the street-oriented outerwear space, boasting a recognizable brand icon and signature style that sets it apart from other manufacturers. Their Printed Shell Coach Jacket is a testament to the brand's urban roots, providing a windbreaker-style garment that utilizes elasticated cuffs, slash pockets, and a fold over collar that harkens back to the first iterations of the classic style. A polyester and cotton poplin construction ensures a comfortable, tough-wearing silhouette that can be put through the wringer while boasting a handsome design that's sure to turn some heads.
Champion Reverse Weave Coach Jacket
Champion's Reverse Weave Coach Jacket is a simple take on the timeless garment, proving that you don't need to fix what isn't broken. Elasticated cuffs and a drawstring hem pair with the jacket's front welt pockets, polyester construction, and press stud closure for a heritage reimagining that doesn't depart from the original but provides a fresh take on the urban outerwear.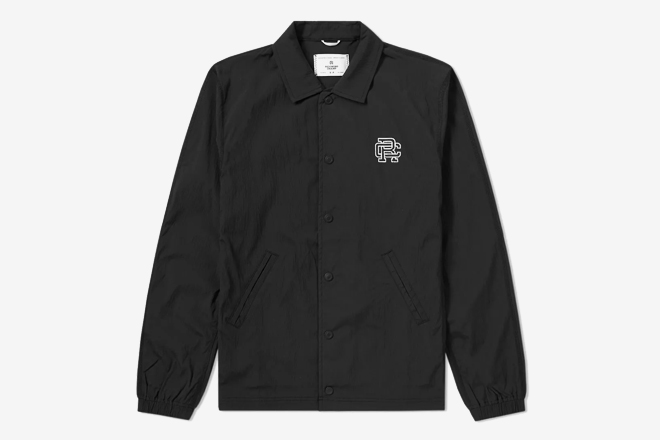 Reigning Champ Snap Front Coach Jacket
Reigning Champ is a force to be reckoned with when it comes to athletic apparel, and there's hardly a better fit for the coach jacket than a brand that takes its designs to heart. The Snap Front Coach Jacket is a perfect piece of technical outerwear, boasting Raglan sleeves, double-welt pockets, an adjustable drawstring waist, and an attractive press stud closure to keep everything in line. It has a naturally wrinkled appearance, giving it that timeless "worn" look, while tasteful RC branding can be found printed throughout the jacket's exterior.
Calvin Klein Institutional Coach Jacket
Calvin Klein might be one of the most notable names in menswear, but that hasn't stopped the brand's progression into the world of technical jackets. The CK Institutional Coach Jacket stays true to the refined pedigree of the New York-based company, utilizing angled welt pockets, a unique woven brand patch, elasticated cuffs, and tastefully printed branding throughout. A mixed polyester and cotton construction ensure that the garment provides the wearer with industry-leading comfort, while a traditional black silhouette gives the Institutional jacket an undeniably shadowy look.
Comme des Garcons Homme Oxford Coach Jacket
Comme des Garcons' Homme Oxford Coach Jacket draws heavy inspiration from the original garment but replaces the traditional cotton fabric with a much more durable ripstop nylon. Aside from the addition of highly technical fabrics, the Oxford utilizes a nostalgic collar design, a drawstring hem, raglan sleeves, and a press stud closure — successfully reinterpreting the timeless garment into a modern day classic.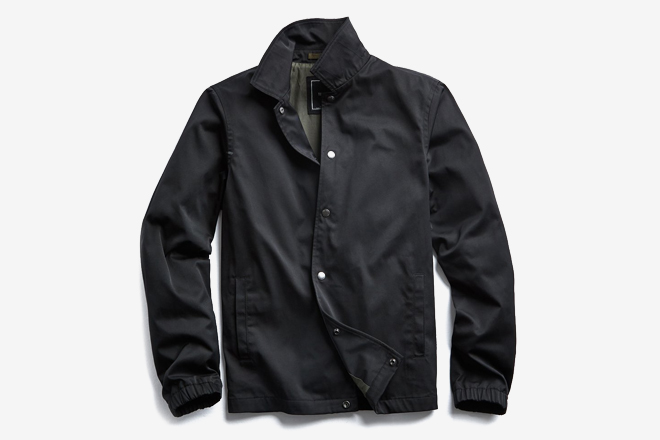 Todd Snyder Black Coach's Jacket
Todd Snyder retains his prolific standing as one of the leading men's clothing designers with his Back Coach's Jacket — a startling take on the traditional outerwear garment. Utilizing dual interior pockets, ribbed elastic cuffs, and a button snap closure, the jacket retains a number of classic attributes of its predecessor. A polyester and cotton blend combine with water-repellent Italian fabrics to create a technical piece of gear that won't let you down, no matter the climate — and with a small batch production process that takes place entirely in the USA, the coach's jacket stays true to its urban roots.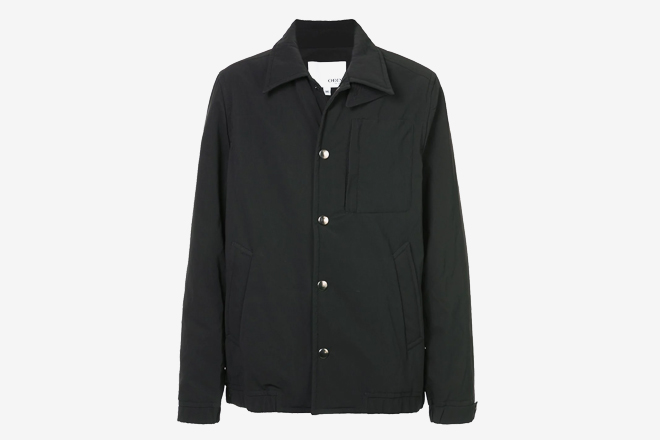 Odin Coach's Jacket
Odin's Coach's Jacket is the perfect blend of tasteful design elements and modernized styling, bring the bemberg-lined garment to the forefront of every guy's outfit. A pointed collar, elasticated cuffs, and a snap button closure help to define the black cotton peripheral, which utilizes a traditional chest pocket/front pocket layout that's sure to set you apart from the crowd.
Heron Preston CTNMB Embroidered Coach Jacket
Heron Preston's CTNMB Embroidered Coach Jacket is a testament to tasteful street style, combining contemporary and modern design elements to create one of the most aesthetically pleasing pieces of outerwear we've ever seen. Utilizing a long sleeve silhouette that's adorned by logo prints on the chest and back, a brand patch on the left sleeve, and classic side slit pockets, the CTNMB sets itself apart from the competition with a refreshingly implemented layout. A classic collar and drawstring hem help to solidify the garment squarely within the coach's jacket realm.
Supreme Old English Coach's Jacket
Supreme might be one of the leading streetwear brands in the industry, but that reputation certainly hasn't stifled them from creating their fair share of minimalist outerwear. Their Old English Coach's Jacket stands up to nearly every competitor in the space — which comes as a surprise due to its simplistic build. A standard nylon construction and front button closure offer a comfortable, defined fit, while a large "old English" Supreme logo adorns the jacket's back. If streetwear isn't your thing, rest assured — this coach's jacket retains a number of attributes that made the original garment a breakaway fan favorite.
10 Best Men's Chore Coats
If the famed coach's jacket isn't quite the right fit, perhaps you should look for something with a bit more durability and structure. You'll find it on our guide to the best chore coats for men.