Presented by
The holidays are a time for giving, spending time with your closest friends and family, and looking back on life's most memorable moments. For many, the ability to unplug and reset isn't taken for granted, but between driving to friendly get-togethers, joining your parents or in-laws for dinner, and shopping for a tree to turn your living room into a festive wonderland, we forget to pay homage to the country we love.
There are few things as dependable, durable, and patriotic as a handmade item from one of America's finest proprietors. And if you know anything about us, we'll always condone offerings from our favorite homeland companies. So, whether you're looking for leather, wood, technical, tactical, or novelty gifts, there are more than a few storied outfits with long-running local histories to choose from. Below, we'll outline a few of our favorite offerings — all of which have been conceptualized, sourced, and crafted right here on US soil.
Dango T01 Raw Tactical Wallet
When you're headed into the outdoors, the last thing you want to worry about is the security of your cards, money, and coins. Luckily, Dango's six-card T01 Raw Tactical Wallet was created to take the stress out of carrying these important items on your person, thanks to its lightweight 6061 aerospace-grade CNC aluminum chassis, top grain leather exterior, and high carbon stainless steel Dango Multi-tool, which offers over 14 different functions to make sure you're prepared for any situation. And if you use Veteran's Day coupon code "PAT15″ you can get an extra 15% Dango's entire store from Nov. 11th-18th.
Hella Slingshots No. 4
The nostalgia of shooting a handmade slingshot is hard to beat, and with Hella Slingshots' No. 4 variant, you're guaranteed to have some childhood flashbacks. This hand-formed peripheral was brought to life in San Francisco and boasts a shellacked hemp grip, leather ammo pouch, and natural latex bands to keep your shots precise and on-target.
Birdwell 311 Limited-Edition 3-Stripe Board Shorts
Birdwell's 311 3-Stripe Board Shorts are the perfect pair of water-ready peripherals to usher in the summer, and while it might be cold and snowy where you are, you'll be fully prepared for the onset of spring. These great-looking shorts have been adopted and tested by lifeguards and surfers for over 50 years, and thanks to their proprietary SurfNyl construction, they're one of the most durable, and comfortable, variants on the market today. Better yet, each pair is cut and sewn by expert craftspeople in Santa Ana, California, so you'll have peace-of-mind knowing that they're as authentic as possible.
Fisher Space Pen
The International Space Race was an important time for America, and to commemorate that, Fisher's AG7 Space Pen was crafted to accompany astronauts on the Apollo 7 mission in 1968. Today, the company's storied writing utensil is still around, and it boasts the same chrome-plated, zero-gravity silhouette as its predecessor. As you might expect, each of these great-looking examples is made right here in the U.S.A.
Standard Issue 1942 WWII Class A Comb
During WWII, hygiene was especially important for soldiers on the frontlines. Standard Issue 1942's WWII Class A Comb is an homage to the original item that was used by America's toughest fighters, utilizing a laser-cut, hand-polished brass construction, and an integrated leather sheath, which was tanned in Missouri by Hermann Oak Leather Co.To finish it off, each Standard Issue WWII Class A is hand-built in Boise, Idaho by the company's masterful craftsmen.
Peak LED Solutions Eiger Flashlight
Peak LED Solutions' Eiger Flashlight is a sleek, compact keyring attachment that won't let you down when the going gets tough. It boasts a solid brass construction, a reinforced scratch-resistant polycarbonate window, and Quantum Tunneling Composite technology that allows you to adjust the brightness of the accessory as you see fit. Made in Arizona for those dark desert nights.
Craighill Nocturn Catch
Craighill's Nocturn Catch is a captivating valet tray for your home desktop or work area. It's made using sourced American hardwood and boasts a milled and finished exterior that's adept at keeping your important items separated in style. Each variant is assembled in Michigan by the company's experienced woodworkers.
Grovemade Walnut Headphone Stand
If you're tired of hanging your headphones from the corner of your monitor or laying them on the desk for use at a later date, the Grovemade Walnut Headphone Stand is an attractive proposition for the guy who likes to keep things organized. Aside from its great-looking exterior, the stand is decidedly robust, thanks to its heavy 2.25-pound orientation, providing the perfect display piece for your expensive audio peripherals.
Billykirk No. 521 Leather Tool Bag
Billykirk's No. 521 Leather Tool Bag is a heritage offering that calls upon hard-wearing leather, reinforced stress areas, and riveted corners to carry your most important items with ease. It boasts a handsome exterior that's dressed in a mixture of steel and nickel-plated brass hardware, while a sleek interior, adorned by an intricate interior pocket to stash smaller items, keeps everything from tools, brushes, and architecture equipment, all the way to books, and electronic items, safe from harm.
Benchmade 580BK Barrage Knife
Benchmade's 580BK Barrage Knife was created by Warren Osbourne, one of the knife world's most prolific designers. It boasts a 154CM steel drop-point plain edge blade, an AXIS locking mechanism, and opening, and Valox handle scales to give its 3.6-inch blade a dependable, hard-wearing foundation.
Silver Piston Hobo Nickel Zippo Lighter
The Zippo lighter is a legend in its own right, and Silver Piston has added their own special touch to the iconic accessory with the Hobo Nickel. Each example boasts a timeless brushed brass silhouette, a flip-top design, and a unique oxidized finish that makes every offering unique. On the exterior of each, you'll find a handsome hobo nickel design that was hand-carved by hand-carved by Shane Hunter, one of the world's most lauded carvers.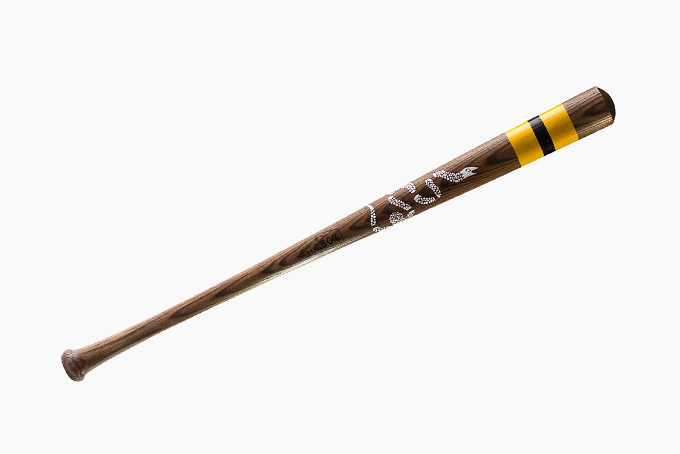 Pillbox 'Join Or Die' Bat
Pillbox hit a home run when they made the "Join Or Die" bat — a heritage-imbued homage to the league's old-school silhouettes. Each example is made in Minnesota and features a wood-burned snake design that was originally popularized by Benjamin Franklin. A premium Ash wood is used in each and every variant, giving it an authentic feel that's perfect for baseball's most endearing fans.
Filson Weatherproof Leather Trucker Wallet
Filson's Weatherproof Leather Trucker Wallet is a cut above the rest when it comes to great-looking heritage leather, making this peripheral a must-have for any fashion-forward gentleman. It boasts a 4/5-ounce harness leather that's been vegetable-tanned in Pennsylvania by Wickett & Craig, boot-grade weatherproof leather that's resistant to rain, snow & saltwater, and a stylish, but rugged cast brass chain lanyard to keep it attached to your person at all times. Thanks to its font card slot and main zippered storage compartment, the Trucker can hold up to four cards, while still harboring enough space for papers, and small items.
Stetson Open Road Cowboy Hat
It doesn't get as authentic as Stetson's Open Road Cowboy Hat. This stylish variant is an homage to the silhouettes of old, and calls upon a 6X quality fur felt, a bound edge, and brown leather interior sweatband to keep you looking your best, regardless of the situation. On the exterior, a grosgrain hatband provides the perfect heritage accent.
Best Made American Felling Axe
You might not spend a lot of time cutting down trees in the forest, but Best Made's American Felling Axe will certainly make you feel like a rough and rugged lumberjack. Each of these well-designed peripherals boasts a four-pound Dayton pattern head that's based on one of America's most influential axe designs, alongside an embroidered badge, 35-inch fine-grain Appalachian hickory handle, and a bridle leather sheath to keep the edge sharp and refined.
Iron & Resin Rambler Vest
Iron & Resin's Rambler Vest is handmade in the USA and boasts a heavy-duty Martexin waxed canvas to keep you prepared for inclement weather, wherever you are. This sleeveless offering calls upon a tasteful Corduroy collar, interior cuff, and zippered front closure to promote its timeless look, while button-flap chest pockets, side welt hand stows, and tack button accents round out the rugged garment.
Red Wing Moc 6-Inch Boot
Red Wing's Moc 6-Inch Boot is a timeless example that's been adopted by some of the world's most stylish guys. It boasts a unique moc toe silhouette, a refined No. 23 last that can fit a variety of foot shapes, and calls upon a durable Traction Tred outsole to keep you headed in the right direction, without any fuss from below your feet. Better yet, each variant is made with a full-grain leather upper, insole, and cork midsole, promoting long-lasting style, and comfortable wear for the life of the shoe.
American Kitchen Cookware Triple Threat Set
Every chef needs a set of high-performance, American-made cookware. That's where American Kitchen's Triple Threat Set comes in, providing a well-rounded stainless steel collection that includes an 8-, 10-, and 12-inch skillet for use in the world's most demanding kitchens — or maybe just your home. Each of these premium skillets is crafted with a tri-ply construction, induction compatibility, and "Stay Cool" handles that won't burn your hands after they've been on the stovetop for a prolonged period of time.
Dom Vetro Capretta Glasses
Dom Vetro's Capretta Glasses are a stylish addition to any guy's fashionable arsenal and harken back to one of Italy's most iconic 1960s designs. Each pair comes complete with keyhole detailing and an undeniable intellectual touch that's sure to accent any head-turning outfit with ease. Crafted and sold in Los Angeles, California.
Filson Medium Rugged Twill Duffle
Filson's Medium Rugged Twill Duffle is the ultimate rain-resistant companion for everyday use, bringing a stylish, functional bag into the traveler's lauded lineup. Each example is designed to adhere to airline carry-on restrictions and includes a durable storm-flap closure, rustproof brass zipper, and dry-finish Tin cloth to keep your important peripherals protected from adverse conditions.
Timex American Documents Watch
Timex's American Documents Watch is a remarkable remembrance of the brand's mantel clocks, which were put into production over a century ago. Each example is made right here in the U.S.A. and features US-sourced stainless steel, a brushed satin finish, and a tasteful 20mm leather strap, for good measure. To give the watch its timeless look, Timex has opted to include an "Aged Waterbury Brass" case back coin and crown insert, a gold-plated Swiss Quartz analog movement, and impact-resistant Gorilla Glass 3 to protect the dial, ensuring that you'll utilize your great-looking timekeeper for years to come.
The 60 Best Pieces Of American-Made Gear
If you're in the market for more patriotic pieces for the upcoming holiday season, head over to our guide on the best American-made gear to peruse the U.S.A.'s finest offerings.