When laptops were first created, consumers were forced to make a decision: did they want the increased portability and convenience of a laptop or did they want the high-performance offered by larger desktop computers? And for a long time, that was the way things were. In recent years, however, the tech has somewhat plateaued. Yes, you can still generally get more out of a fully-featured desktop PC, but laptops are not far behind.
Plus, on top of their increased performance, thanks in part to the continued miniaturization of tech, they've also gotten even more portable – thinner, lighter, (and in some cases) smaller. Now, there's a whole range of portable computers that offer incredible computing power with weights and profiles that are practically negligible. Still, the world of computers and tech lingo is a vast and confusing one, so it can be hard to tell which ones are worth your time. And that's why we've put together the following collection of the 10 best lightweight laptops. PC or Mac, hardcore gamer or businessman – there's one here for you.
Lenovo Yoga 710
Your average laptop, structured like a book, has a limit to how wide it can be opened. Lenovo's Yoga 710, however, has a full 360-degrees of screen motion. That means you can use it like a normal laptop or you can flip the screen all the way around the body to use it like a tablet. Oh yeah, and it's probably worth mentioning that the screen functions tactilely – so you can use your fingers or a stylus and forget about using the trackpad and keys. It also measures just 0.6″ thick, weighs less than 3 pounds, and has a battery that lasts up to 9 hours per charge.
RAM: 4GB
HD: 128GB SSD
Weight: 2.36 Lbs
Display: 11.6″
ASUS Zenbook 13.3
One of the thinnest laptops we've ever come across, the Asus Zenbook – this particular model featuring a 13.3″ display – measures up at less than 1/2 an inch thick. Even in today's world, that's an impressive technological feat. Especially when you consider that it also has a touchscreen HD monitor, 8 gigs of ram, a hearty 256-gig hard drive, and a full 360-degrees of screen rotation. And since it features an aluminum unibody construction, there's even an added bit of durability perfect for the frequent traveler.
RAM: 8GB
HD: 256GB SSD
Weight: 3 Lbs
Display: 13.3″
Samsung Galaxy Book
Samsung's Galaxy Book is somewhat of an outlier on this list because it's not quite a laptop, but not quite a tablet either. It fits somewhere in-between – and that's what makes it so great. Users can choose the functionality they want depending on the circumstances. In fact, you can even remove the 10.6″ display unit from the keyboard and included cover to take it on the go without any added bulk. And even if you're away from any power outlets for an extended period of time, this bad boy has a functional life of up to 11 hours per charge.
RAM: 4GB
HD: 128GB SSD
Weight: 1.4 Lbs
Display: 10.6″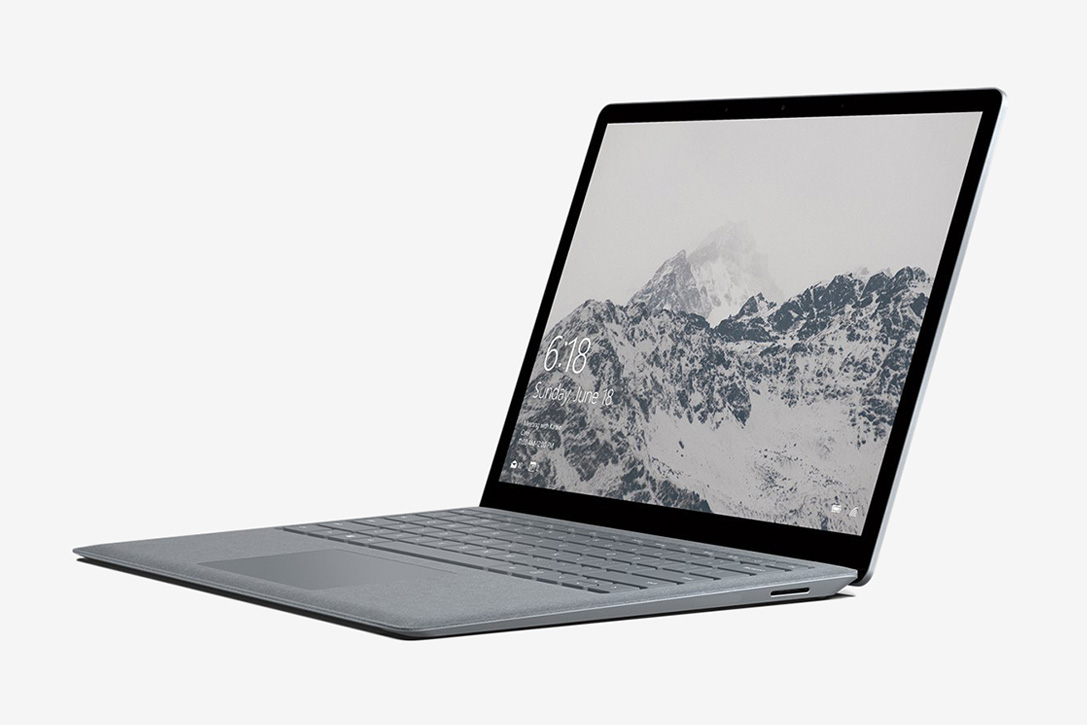 Microsoft Surface Laptop
Amongst some of its many innovations, the Microsoft Surface Laptop has one which we are especially fond: a Alcantara fabric keyboard cover. Yes, it's not going to change the way we use the computer, but the conscious effort to make using this portable PC a little more friendly to the touch is one worth recognition. We also appreciate that this particular computer comes in three different configurations (the onboard storage being the primary difference between them) and offers up to 14.5 hours of continuous video playback per charge. Because the only thing better than an ultra-portable laptop is one that you rarely have to plug in.
RAM: 4-16 GB
HD: 128GB-1TB SSD
Weight: 2.8 Lbs
Display: 13.5″
MacBook Air
The lines, at this point, are clearly drawn between those who prefer sticking with PCs and those who have embraced and will continue to support Apple's endeavors. And we're not here to change anyone's mind on the subject. Still, even PC users have to recognize the impact that Apple has had on the tech space – just take a look at some of the other laptops on this list which clearly draw inspiration from the brand's design language. Their MacBook Air comes in just two variations (one with 128 gigs of storage and the other with 256), but that's more than enough options for most folks looking for a lightweight slim Mac.
RAM: 8GB
HD: 128-256GB SSD
Weight: 2.96 Lbs
Display: 13″
Acer Swift 7
The world's thinnest laptop ever, Acer's incredible Swift 7 folding computer measures up at a thickness of only 0.39 inches. Yes, that's total. And it still comes equipped with a 7th Gen Intel Core i5 processor, has up to 9 hours of battery life, and weighs only 2.5 pounds. If you're the kind of person who likes their tech sleek, stylish, and as unobtrusive as possible, then this is certainly one worth consideration.
RAM: 8GB
HD: 256GB SSD
Weight: 2.5 Lbs
Display: 13.3″
HP EliteBook Folio G1
Apple, with the release of their newest iPhones, has been bragging quite a bit about their facial recognition software. But they're not the only ones with access to that sort of tech. In fact, HP has built a similar system into their EliteBook Folio G1 laptop. Using an IR onboard camera, this laptop can recognize you as the user and unlocks its functionality without the need for a password. It also weighs as little as 2.14 pounds, has the option of a touchscreen display, and is loaded with some of the best processors on the market.
RAM: 8GB
HD: 128-256GB SSD
Weight: 2.14-2.36 Lbs
Display: 12.5″
Asus Zenbook 3
Weighing in at just 2.4 pounds overall is no easy feat for any laptop. But getting one that's also got a 14-inch Gorilla Glass-protected display, 178° of viewing angles, and fast charging that gets you up to 60% of total battery capacity in only 49 minutes is practically unheard of. Yet, here it is. As beautiful as it is capable – if not a little pricey – this lightweight laptop is one that completely outshines even some of the best on the market.
RAM: 16GB
HD: 512GB SSD
Weight: 2.4 Lbs
Display: 14″
LG Gram
With a whopping 15.6″ screen and a weight of just 2.5 pounds, it's no wonder the LG Gram is held in such high regard. And since it comes with a 1TB hard drive, fingerprint reader, 16.5-hour battery, touchscreen, and more – we're also not surprised by the high cost. Still, if you desire only the best of the best when it comes to both onboard capabilities and lightness of weight, that's the price you have to be willing to pay. If you are thinking of taking a dive to the tune of $2k – you're safe with this one.
RAM: 16GB
HD: 1TB SSD
Weight: 2 Lbs
Display: 15.6″
Razer Blade Pro
So we are pushing the limits of lightweight a bit with this one. Yes, it's over 4 pounds – hardly an achievement by normal PC standards. But, take into account the kind of gaming capabilities that this laptop has to offer – including but not limited to it being VR-ready, equipped with a 4k display, touchscreen capabilities, and featuring a legitimate mechanical keyboard – and it's amazing that they could get this beast down to its present weight. When it comes to portable gaming, we posit that there is not a better, lighter, more capable option.
RAM: 32GB + 8GB GDDR5X VRAM
HD: 512GB SSD
Weight: 4.16 Lbs
Display: 17″
20 Best Laptop Backpacks
The best part about laptops is their portability. But, even then, you still need something to haul them around in – like one of our picks for the best laptop backpacks.