Dec 18, 2018
Category: Gear
It's the busiest time of the year — especially for those of us who like to procrastinate — and the holidays are approaching even faster than we might think. Even if you've got all of your essential shopping out of the way, there are bound to be a few inevitable "uh-oh" gifts that you might have forgotten about. But with the advent of online buying, a slew of spectacular deals, and a number of retailers advertising gift ideas for the true last-minute-shopper, it's easier than ever to finish off your shopping list this late in December.
If you're the kind of person who let that "extended" family member's gift slip through the cracks this year, don't worry — we've got a quick, down and dirty list covering some of the top last-minute mention-ables you can snag before it's too late. From books on becoming a whiskey expert, all the way to EDC tools and outerwear, we're here make sure there are no awkward encounters when your entire extended family is in town this holiday season.
Whiskey: Instant Expert
A quick, down-and-dirty culmination of guides revolving around Whiskey — complete with commentary by the leading voices in the industry on distilling practices, note tasting, rare and prestigious variants, as well as specialized knowledge on single malts, bourbon, and other elegant blends. If you've ever wanted to be the guy at the party who knows way too much about the superb spirit, now's your chance.
Word Notebooks Adventure Log
This slick 3.5 x 5.5" Adventure Log features a minimalist design, utilitarian layout, and 48 pages of American made paper that makes it the perfect EDC notebook to help you memorialize the greatest experiences of your life.
Kershaw Cinder Knife
Kershaw's Cinder is a keychain knife with a 1.4" blade that's perfect for minimal carry and cutting practices, utilizing an upswept tip to provide a significant cutting edge that won't let you down no matter the application. It even features a secure locking liner with cutout embellishments to keep the knife safe and secure when not in use.
Herschel Anchor Laptop Sleeve
The Anchor laptop sleeve is a fully padded, minimalist offering complete with fleece lining and traditional Herschel branding. It's available right now in 30 different colorways and prints.
Carhartt Men's Acrylic Watch Hat
Carhartt's timeless American-made Men's Acrylic Watch Hat (made from a thick 100% acrylic rib knit) steps in as the perfect last-minute gift — promising warmth, comfort, and a stylish silhouette.
American Crew Classic Moisturizing Shave Cream
Top men's grooming line American Crew has developed this herbal shave cream for men with normal to coarse beards. It utilizes aloe and avocado oil to help nourish dry skin that comes as a byproduct of daily shaving.
Contigo Vacuum Insulated Water Bottle
The White Marble Contigo Vacuum Insulated Water Bottle is a "polished" take on the traditional drab water bottle design. It's leak-proof and features a 100% BPA free stainless steel body with a soft-touch carrying loop for easy travel.
DIA-GRIP Universal Socket & Ratchet Set
The DIA-GRIP Universal Socket set is a multi-function grip and ratchet set that utilizes 3-in-1 technology, with 54 Chromoly steel pins for the ultimate in tactile strength and grip.
Hamilton Beach Fresh Grind Coffee Grinder
There's nothing better than fresh coffee, and the Hamilton Beach 12-cup capacity grinder with stainless steel blades and a removable grinding chamber ensures you never have to go a day without a fresh blend.
REI Co-op Wallace Lake Wool Striped Socks
REI's Wallace Lake Wool Socks offer a long-wearing durability with a reinforced and padded heel, toe, and bottom. The USA-made merino wool and nylon blend make these socks the perfect companions for long excursions through the uncharted wilds.
Opinel No. 8 Trekking Knife
Opinel's No.8 Trekking Knife with a 3.25" blade is the ideal addition to any outdoorsman's repertoire, with an affordable format and folding functionality that allows it to pack a lot of utility into a small package. It's made from a tough 12C27 Sandvik stainless steel and even features a Virobloc safety ring that ensures protected closure when not in use.
Saturdays NYC Coffee Blend
Saturday's NYC Blend No. 01 is a stylish, tasteful take on the thick, flavorful full-bodied whole bean blend that we all know and love.
Topman Tortoiseshell Round Glasses
Topman's Tortoiseshell Glasses are a timeless style offering from one of the most respected minimalist menswear brands, featuring a plastic and metal blend with an iconic tortoiseshell design.
Fisher Space Pen
The Fisher Space Pen is a fail-proof writing utensil that's utilized in some of the most grueling conditions known to man. With a unique aluminum chrome finish that houses Fisher's trademark pressurized PR4 black ink, the Space Pen is a testament to true ingenuity — and better yet, it's hand-built in the USA.
Harry's Truman Grooming Set
The Truman Grooming Set is sure to keep any man happy, thanks to the Truman handle with a weighted core and textured rubber grip, three flex hinge blade cartridges, and a shave cream that moisturizes and hydrates for healthier skin.
Matador Mini Pocket Blanket
This keychain attachable mini pocket blanket is made with Hyprlyte Nylon and a 90-micron thick water-repellant, puncture-resistant material that makes it perfect for outdoor adventures. At 44 x 28″, it can fit up to two adults when completely unfolded and even comes with weighted corners to battle movement on windy days.
Griffin Pocket Tool Mini
Griffin's stainless steel Pocket Tool is the quintessential piece of everyday carry for anyone who can appreciate the convenience of nine tools in one. It features a bottle opener, 1/4″ and 11/32″ hex driver, flathead screwdriver, 5/16″ hex wrench, a scoring tool, and a convenient pocket clip — making it the perfect all-arounder for any utilitarian guy.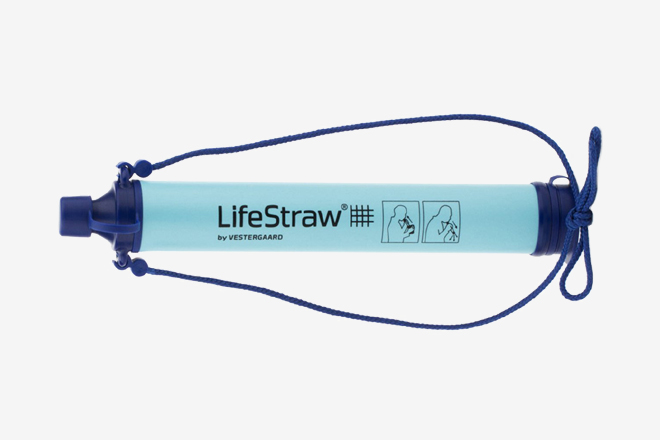 Lifestraw Water Purification System
When the only thing standing between you and death is fresh, purified water, the lightweight Lifestraw has you covered with their innovative Water Purification system that removes parasites, bacteria, and microplastics. The filter is good for the purification of up to 1,000 gallons of clean water, making this an essential piece of any survivalist's kit.
Amazon Echo Dot w/ Alexa
The Echo Dot is a perfect smart device for your home or work area, utilizing voice recognition and control to operate a variety of connected devices. From calls and music, all the way to more menial tasks like alarm systems and thermostats, the Echo Dot is an all-in-one smart device that brings a little more organization and convenience to your everyday life.
Nomad Micro USB Key
This Micro USB key from Nomad is the perfect solution to bulky cable and USB systems, allowing you to always have an integrated synching system just an arm's reach away. With a sleek, flexible design, the Nomad USB Key allows you to pair your Android, Windows, and Blackberry enabled smart devices with any USB-supported computer system while on-the-go.
15 Best Tech Gifts Under $50
Now that you've crossed a few more last-minute gifts off the list, you should check out the ultimate electronic roundup in our guide to the 15 best tech gifts under $50. There might even be a handy digital assistant in there to help you remember Uncle Dave's Christmas gift (so you don't have resort to last-minute shopping next year).