When seeking out everyday carry gear, we're constantly forced to make compromises to get our hands on the gear that suits our tastes, functional necessities, and — of course — budget. Truly, even if you have all the money in the world to throw at your EDC loadout, you're still going to have to make some tough decisions. Most people, however, can't just dip into their savings to buy $1,000 holy grail-level pocket gear — which usually makes budgetary restraints amongst the top considerations.
There is some very good news in that regard, however. As it turns out, you can actually get your hands on some truly impressive EDC gear even if your budget is airtight. And, yes, that includes everyone's favorite piece of carry: your knife. To prove that point once-and-for-all, we've scoured the internet to find a whopping dozen EDC knives that you can pick up right now for $50 or less. Whether you're in need of your first or fiftieth blade, the following folding cutting tools are definitely worth considering.
Opinel No. 8 Trekking Knife
For those who view knives as more of a luxury item, $50 might be approaching too-high a price point. Turns out you can actually get one of the most iconic pocket knives of all time for a fraction of that price if you pick up the Opinel No. 8 Trekking Knife. Made by the same artisans in France — they're actually a family, believe it or not — for the better part of a century, this Sandvik steel and beechwood knife has the potential to return its value tenfold, so long as you take care of it. As an added bonus, it also has a locking mechanism in the form of the brand's proprietary Virobloc safety ring.
Blade Length: 3.25″
Blade: 12C27 Sandvik
Handle: Beechwood
Lock Type: Virobloc Safety Ring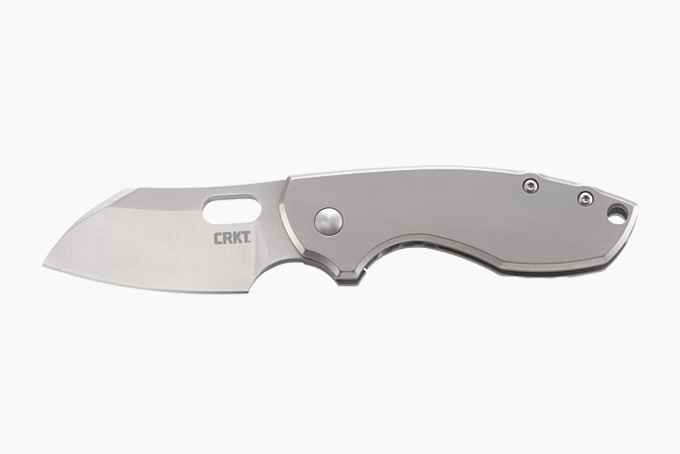 CRKT Pilar Knife
Designed by Jesper Voxnaes, one of the most prolific knife designers alive today, the CRKT Pilar is actually named after the legendary fishing boat piloted and owned by iconic American author Ernest Hemingway. Like the ship, this knife is stout, reliable, and well-built. It boasts a modified Wharncliffe blade that's excellent for daily cutting tasks, alongside a sturdy stainless steel frame lock handle with a reversible pocket clip. It's quite small at just 5.94″ overall, but this tiny titan packs a punch at a remarkably low price point.
Blade Length: 2.4″
Blade: 8Cr13MoV
Handle: Stainless Steel
Lock Type: Frame
OKC RAT I Knife
If we were to pick one knife that you could get for under $50 that has stood the test of time, is legendary in EDC circles, and still has plenty of life left to live, it might just be Ontario Knife Company's RAT folder. And while the brand has since released a higher-spec follow-up, the original is still plenty great for most folks — especially on a budget. From its ergonomic shape, good size, AUS-8 steel blade, Nylon-6 polymer handle, and its reliable liner lock, this no-frills cutting tool is the kind you're going to be glad you have in your arsenal for years and years.
Blade Length: 3.5″
Blade: AUS-8
Handle: Nylon-6
Lock Type: Liner
Douk-Douk Friction Folder Knife
Though pocket knives as we understand them today have only been around for roughly a century and a half, there are still a few around that date back to their inception that are still as relevant today as they originally were. Or at least that's the case with the Douk-Douk. This non-locking friction folder has remained largely unchanged for the better part of a century — boasting a timeless silhouette and beautiful styling details. This particular version also has a carbon steel reverse tanto blade, a steel handle etched with an icon of the Melanesian spirit of destruction for which the knife was named, a bail on the tail end that can be used as a lanyard attachment point or an ad-hoc lock for when the blade is closed, and more.
Blade Length: 3″
Blade: Carbon Steel
Handle: Steel
Lock Type: Friction
Kershaw Cryo Knife
If you ever wanted proof that Rick Hinderer was one of the best knife designers of all time, just turn to the remarkable lifespan of Kershaw's Cryo knife. Most budget-friendly knives come and go with little pomp and circumstance. Yet the Cryo has remained a fan favorite for far longer than anyone would have expected — which has to be credited directly to Hinderer himself. This particular version with its all-black finish boasts a reliable 8Cr13MoV steel blade, a frame lock built into the stainless steel handle, a reversible pocket clip, and more. There's a larger follow-up version, too, but we prefer this smaller one for EDC purposes.
Blade Length: 2.75″
Blade: 8Cr13MoV
Handle: Stainless Steel
Lock Type: Frame
Victorinox Pioneer Swiss Army Knife
The Swiss Army Knife might be the most instantly-recognizable folding pocket tool around. And it comes in a plethora of different shapes, sizes, and formats. The Pioneer you see here, however, is closer to the original than most others and makes for a superb compact EDC knife with plenty of extra functionality. As an added bonus — alongside the 8 included stainless steel tool inserts — this particular version comes with sturdy and beautiful Alox handle scales. Everyone should own at least one Swiss Army Knife, and you definitely can't go wrong with this particular Victorinox offering.
Blade Length: 2.8″
Blade: Stainless Steel
Handle: Alox
Lock Type: Slipjoint
Gerber Flatiron Cleaver
Though the hype has somewhat died off, there are still a large number of excellent cleaver-style everyday carry knives on the market. And while they range in price from the bargain basement to the ultra-luxe, the Gerber Flatiron you see here is still one of the best around — regardless of price. From its combination stainless steel and G-10 frame lock handle to its durable 7Cr17MoV steel blade, this is a budget-friendly knife you can count on day-in and day-out and it won't even cost you half a Benjamin. And that's not a bad value proposition at all.
Blade Length: 3.8″
Blade: 7Cr17MoV
Handle: G-10 & Stainless Steel
Lock Type: Frame
Case Trapper Knife
For the uninitiated, Case is one of the longest-running American knifemaking brands around — and they're still going strong in 2020. As it turns out, one of their best heritage folders is also one of the brand's most exceptional folding knives under $50. We're talking, of course, about the Trapper knife you see here. Believe it or not, this classic folder was actually intended as an outdoor hunting knife — featuring two blades for dressing game — but it works just as well as a multi-purpose cutting tool in the modern age, as well. It's also made here in the USA and comes with a lifetime warranty.
Blade Length: 3.25″
Blade: Chrome Vanadium
Handle: Synthetic
Lock Type: Slipjoint
SOG Twitch II Knife
Typically, SOG's offerings tend to play more on the tactical side of the spectrum. But that doesn't mean the brand can't produce a more toned-down EDC-friendly folder, as is proven by their fan-favorite Twitch II knife you see here. This sleek cutting tool has a versatile AUS-8 drop point blade mated to a sturdy and lightweight aluminum handle. But the best part might just be its combination of a formidable back lock mechanism and an assisted opening flipper mechanism. That means this knife opens in a flash and stays open until you're done using it.
Blade Length: 2.65″
Blade: AUS-8
Handle: Aluminum
Lock Type: Back
Buck 110 Hunter Knife
If someone told you that you could get your hands on one of the most important and impactful folding knives of all time for less than $50, you might think they're pulling the wool over your eyes. However, so long as they're talking about the Buck 110 Hunter you see here, they'd be telling the absolute truth. This exceptional American folder is, quite literally, as iconic as folding knives come and boasts a trustworthy 410HC steel clip point blade mated to an ebony wood handle with brass bolsters. Finishing off with a reliable back lock and this is the kind of knife you may find yourself passing down to your kids, who will — in turn — pass it down to their kids, too.
Blade Length: 3.75″
Blade: 420HC
Handle: Ebony & Brass
Lock Type: Back
Spyderco Tenacious
There are some knife brands out there that don't really play in the "budget-friendly" space. Spyderco is one such brand — the exception being their Chinese-made Byrd knives. However, if you look hard enough, you can actually find legitimate Spyderco blades that fall just under the $50 limit. Case in point: the Tenacious you see here. Sure, it doesn't have the brand's unrivaled compression lock — opting instead for a liner lock — but it does still have the brand's iconic styling, a G-10 handle, a black-finished 8Cr13Mov steel blade with Spyderco's signature thumb hole, and more.
Blade Length: 3.39″
Blade: 8Cr13MoV
Handle: G-10
Lock Type: Liner
Nagao Higonokami Friction Folder Knife
As mentioned earlier, there are still some historically-significant knife designs floating around out there that are still exceptionally relevant. The best of them might just be the Nagao Higonokami friction folder you see here. For starters, this knife is handmade by expert craftsmen in Japan — the same craftsmen that descended from the blacksmiths responsible for samurai katanas. It also features a blue paper steel reverse tanto blade mated to a gorgeous solid brass handle with kanji etched into it. But don't let this knife's beauty fool you — it was still very much built to withstand plenty of punishment.
Blade Length: 3.5″
Blade: Blue Paper Steel
Handle: Brass
Lock Type: Friction
The 15 Best Pocket Knives Under $100
While this list is loaded to the gills with worthwhile knives, just a slight bump in price can offer even more spectacular options. If you can swing it, we're certain you'll find something you love on our list of the best knives under $100.