As the holidays approach, more than a few of us are dreading the amount of time we'll be spending in the kitchen. With friends, family, and acquaintances making their way into our homes to celebrate one of the most socially-intensive times of the year, it's not farfetched to stress out over the number of impending dishes we'll be making to compensate; so why not make things easier with some of the industry's best cooking items?
Instead of enamoring our company with your finest cookware this holiday season, it might be time to focus on the not-so-noticeable aspects of your kitchen. Things like can openers, fish flippers, handle covers, and bottle openers. Below, we've created a list of some of the finest cooking accessories and peripherals around, while also paying mind to their affordable nature. So dive deep into your guide on the finest kitchen gifts under $50, and be sure to save us some of your leftovers for all the help we've bestowed.
U.S. Shelby Co Survival Kit P-51 Can Opener
The last thing that comes to mind when outfitting your favorite chef with a kitchen appliance is a packable can opener, but with the U.S. Shelby Co's Survival Kit P-51, it's easier than ever to satisfy even the pickiest cook. This military-inspired peripheral features a hinged blade system and a two-inch long handle to open unruly cans and containers while camping or traveling, and thanks to its lightweight, packable design, it'll take up minimal space in your bug-out bag, allowing you to bring it with you wherever you tread.
OXO Good Grips Fish Turner
Sometimes, it's the most obscure cooking utensils that make the best gifts. This OXO Good Grips Fish Turner, for example, is one stovetop accessory that might have been overlooked when building out your favorite chef's current kit. It features a beveled edge that makes flipping whole fish, seafood, and other ingredients a breeze, while a stainless steel head and slotted construction keep things comfortable, lightweight, and intuitive for those deep-fried dinners.
Takeya Cold Brew Coffee Maker
There's hardly anything better than Cold Brew coffee, but turning your hot morning cup into a chilled beverage takes up valuable time. Thankfully, Takeya's Cold Brew Coffee Maker is here to make things a whole lot easier, thanks to its BPA-Free Tritan pitcher, airtight lid, and non-slip silicone handle. Each brew results in four servings of cold goodness, but if you're the type who enjoys a hot cup of joe on occasion, rest assured — you'll still be able to use Takeya's Tritan pitcher for your steamy morning fix.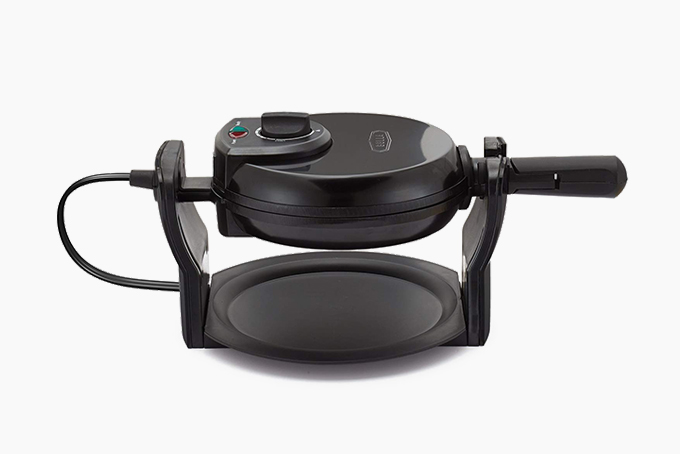 BELLA Rotating Belgian Waffle Maker
Breakfast is the best meal of the day, and the best meal of the day wouldn't be where it is without the Belgian Waffle. With the BELLA Rotating Belgian Waffle Maker, you'll be able to create the finest waffles you've ever had, while also having the ability to utilize a number of different batter types, like wheat and gluten-free. It's also outfitted with a non-stick coating ensure optimal waffle removal, and calls upon a cool-touch handle and rotating option to give each and every fluffy recipe an even consistency.
Field Company Leather Handle Cover
If you've spent a lot of time in the kitchen, you know how hot things can get. When cooking over four to six burners at a time, the handles on each of your pots, pans, and skillets can get a bit unmanageable, but thanks to Field Company's Leather Handle Cover, grabbing onto a piping-hot extension might just become a thing of the past. Each example is hand-stitched in the USA by Phillip's Goods and utilizes a finely-sewn vegetable-tanned leather to give the cover a great looking aesthetic while performing its job without reservation.
Bradley Mountain The Good Bottle Opener
Every good chef has a trusty bottle opener, and with Bradley Mountain's "The Good Bottle Opener," we might have just found our new favorite. This aesthetically-pleasing variant boasts a solid zinc construction and oxidized brass plating to keep it durable, functional, and long-wearing. Better yet, each of these finely-constructed peripherals has been cast in-house by master crafters at Hoffman Supply Co. in Los Angeles, California, so you'll never have to question its authenticity.
Dash Mini Rice Cooker
Dash's Mini Rice Cooker is a personal essential that's great for the solo denizen. This perfectly-sized cooking peripheral offers minimalistic chefs the perfect steamed rice or grain and can create up to two full servings at the touch of a button. After it's done, it'll keep your rice warm at an ideal temperature for care-free serving, making it a must-have for a variety of quick, last-minute meals.
Alive Artisanal Olive Oil
Olive Oil is an essential ingredient in nearly every cooking endeavor, so why should you settle for a low-quality iteration? Alive's Artisanal blend might be a bit steep in price, but you get what you're paying for: a wondrous oil made from hand-picked heirloom Frantoio and Coratina olives and milled onsite in a certified-organic mill for a tastier, healthier offering. Better yet, you won't have to worry about intrinsic light damage thanks to Alive's UV-coated glass bottle, keeping your Artisanal oil safe and great-tasting for longer than it would in a traditional container.
Best Made Seamless & Steadfast Enamel Pot
Everyone's got a favorite pot, pan, or skillet; and if you don't, you will after trying out Best Made's Seamless & Steadfast Enamel Pot. This wonderful example was built to withstand even the hottest campfires and calls upon lauded World War II-era construction techniques to create a long-lasting, seamless finish for all of your cooking needs. To keep the pot in it for the long haul, each variant has been reinforced with a double-dip of enamel, helping it to maintain its composure over years, and miles of trusted use.
Barebones Canvas Grilling Apron
You're not a real chef unless you've got an apron that reflects your dominance in the kitchen. But not just any apron will do. Luckily, Barebones' Canvas Grilling Apron is here to prove your worth, providing a heavy-duty cotton-canvas garment that's been built to haul all of your favorite utensils, tools, and beverages, while still staying true to its artisanal nature.
Freiling Large Cast Iron Mortar & Pestle
Buying premade seasonings is an easy route to take for the amateur chef, but if you're looking to take a step into the realm of the connoisseur, you've got to have a mortar and pestle in your arsenal. With Freiling's Large Cast Iron Mortar & Pestle, you'll be able to blend all of your spices in-house, thanks to a heavy-duty cast iron silhouette that'll help to turn your favorite seeds into a finely-crushed garnish.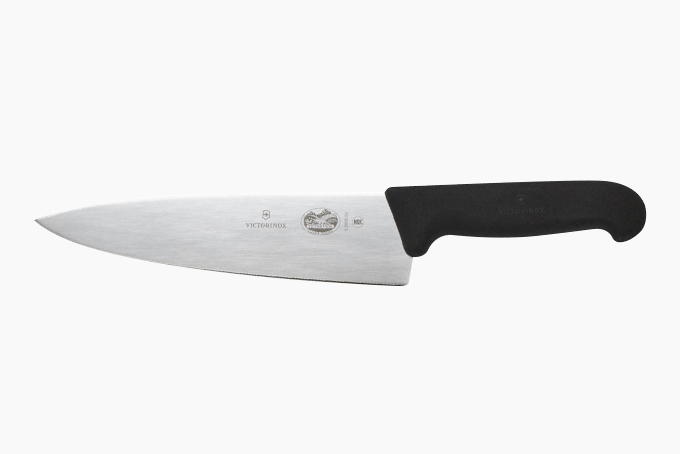 Victorinox Fibrox Pro Chef's Knife
We all have a go-to knife that we can count on all the time, and for many of the industry's finest chefs, Victorinox is a household name. The company's Fibrox Pro Chef's Knife has made an appearance on its fair share of Best Kitchen Knife guides since its release, and thanks to its high-carbon stainless steel blade, ergonomic, non-slip handle, and durable Fibrox, it remains one of the most commercially-used staples in all the land.
Imperia Pasta Maker Machine
Imperia's Pasta Maker Machine fits right in with our artisanal vibe, and as one of the industry's finest fresh pasta peripherals, it's sure to take your cooking to an entirely different level. Each machine is made from heavy-duty chrome-plated steel and features a six-inch-wide roller that makes it perfect for the creation of spaghetti, fettucini, and other flat noodles, while additional attachments made in Italy by Imperia will open the door to an entire range of noodle-based recipes.
Himalayan Salt Plate & Holder
After you've slaved away at the stovetop or grill, why would you want to present your grand achievement on a drab plate or tray? With Himalayan's Salt Plate & Holder, you'll never have to worry about your food's presentation ever again, thanks to a functional, mineral-rich pink Himalayan salt that adds texture and style to any dish.
Whirley Stainless-Steel Induction Popcorn Maker
Sometimes, one of the most prized peripherals in your kitchen comes in the form of something a bit more obscure. In this case, it might be Whirley's Stainless-Steel Induction Popcorn Maker, a hand-cranked stovetop popper that'll stoke the fire on your nostalgic tastes. Each variant is fashioned after the industry's finest commercial poppers and features a patented stirring system to keep your corn in constant motion for one of the finest popcorn experiences you'll ever experience.
The 20 Best Gifts For The Chef
If you're looking to enhance your cooking abilities, but don't mind spending a bit more for the industry's best items, head over to our guide on the best gifts for the chef.