Jun 1, 2022
Category: Gear
While there is nothing like enjoying a fresh beer from a bar tap, as there is really no matching the taste of beer poured from a pressurized keg, taking that experience home really cranks the party up to 11. Having a kegerator at home is an easy way to plug yourself into the good life of having heady drafts available at arm's reach.
Though at its core a kegerator is something that can feasible created in a DIY scenario, there really is no reason to go through the hassle when there are so many great options widely available for every budget. Each pick from our list is specifically designed to dispense frosty cold suds and will come as complete kits ready to get your adventures in freshly tapped beer started – all you will need is to have your CO2 canister filled, then you'll be ready to pick up a keg, and you can let the good times roll. From countertop units to commercial-sized rigs ready to serve the masses, this list has it all, so take a look and find your next beer dispensing buddy from our picks of the best kegerators for your personal use.
Tap Talk
Ready For The Pour
To begin thinking about which kegerator is right for you, there are a couple of key factors to keep in mind when doing your shopping to make sure you bring home the best option. There is nothing worse than selecting a product that won't work, so be sure to study up on these picks to find the right option.
First, begin with considering the volume of the space you intend to place your new kegerator, as these mini-refrigerator units are just like their full-sized siblings and will be available in a multitude of different sizes. Measure out where you plan on placing your new kegerator, leaving a couple of inches on all sides for consideration to let the unit expel hot air, and make sure the style you like will fit the bill. A lot of the listed products will also happily fit into a built-in cabinet or countertop, so if you are planning on executing a custom look, make sure to keep that factor in mind to avoid any unnecessary features.
Secondly, try to contemplate what sizes of kegs you may be interested in purchasing for your home consumption, as not all kegerators will be able to accept all sizes of kegs, and some will specialize in dispensing certain sizes. If you are looking to host large parties or just want to keep an ample amount of brew on hand, look for models that will accept up to a half-barrel. For those concerned with quality over quantity, a unit that accepts quarter- or sixth-barrel kegs will provide plenty of capacity to keep those beers ready to serve.
Sunpentown BD-0538 Mini Kegerator & Dispense
Not all beer comes in a large keg, and therefore, not ever kegerator comes in a full standing size. For this small, 5-liter mini-kegs, the Sunpentown BD-0538 Mini Kegerator & Dispenser that has all of the bases converted for amplifying your fresh beer experience over going straight from the factory-supplied plastic tap. Just pop in a mini-keg of your choice, let the liquid cool for a day, then get your pint glass ready for bar-style draft beer served up right from your countertop. For those kegs that require pressurization to keep the flow going, disposable bike pump style CO2 cartridges provide enough push to power the party, or if the mini-keg has built-in pressurization system, this kegerator will accept and pour without any modification necessary. If you are looking for a light-weight way to tap your small batch homebrew concoctions at your next party, give this mini kegerator a look for easily had good times.
W x D x H: 10.7 x 16.3 x 16.9 inches
Keg Capacity: 5-liter
KRUPS B100 BeerTender
While nothing is cooler than a brand backing a product with their seal of approval, but that that item happens to be a refrigerated beer dispenser, the meaning of cool is taken to new levels. And to ratchet that brand partnership with a legacy beverage serving equipment manufacturer that has spent the last 60+ years perfecting their craft, you end up with a product that feels so intuitive to use that it seems like second nature, and the KRUPS B100 BeerTender is that piece of an engineering marvel. While it may seem small in stature, Heineken set out with the goal to deliver their beer in an innovative way that any beer drinker would be proud to display in their home kitchen, and the near decade long partnership has seen multiple iterations of this crafty little appliance. Intended to keep a tapped Heineken mini-keg fresh for up to 30-days, the constant 37.4-degree temperature regulator ensures that any time you pull the handle, a smooth and chilled Dutch draft will be ready to go.
W x D x H: 12 x 21 x 18 inches
Keg Capacity: 5-liter
EdgeStar KC2000
Having a simple design is great for many reasons, as it can make the product easier to operate and maintain, as fewer parts usually equate to fewer components to learn about and repair. As the overall idea of a kegerator is basic in itself, the EdgeStar KC2000 is an elementary unit with all that you will need to get the job done and start serving draft beer at home. This single tap unit is built with a slightly slimmer width, allowing for a better fit into narrower areas while still having the capacity to accept full-sized half-barrel kegs, making the kegerator a great fit in smaller homes or apartments. With all of the necessary hardware included, this package is ready to use and is simply operated by an analog temperature switch and a single gauge regulator. Giving you a few options, the KC2000 also includes caster wheels and the ability to mount your CO2 canister either inside or outside of the fridge, so this versatile assemblage will transform easily into the perfect draft station for your needs.
W x D x H: 20.2 x 20.1 x 30.5 inches
Keg Capacity: 1/2-barrel
Insignia Single Tap Beverage Cooler
One of the best parts about beer is the variety, and with the huge waves of craft brewers the world has seen over the past few decades, a slew of innovative ales and lagers hit store shelves regularly, giving the adventurous sud sipper a lot of opportunities to broaden their horizons. The Insignia Single Tap Beverage Cooler is an adaptable kegerator that is the perfect design for anyone who's taste change regularly, as the versatile layout accepts half- or quarter-barrel kegs and has 2 wire shelves for keeping cans or bottles cool, perfect for those brews purchased in smaller containers. Keeping the rig agile is a set of locking caster wheels and a reversible stainless-steel door, so transport is easy around the house, while the versatile set-up allows this kegerator to look beautiful anywhere that you have room for it.
W x D x H: 23.6 x 23.6 x 33.7 inches
Keg Capacity: 1/2-barrel
Bistro Bar Premiere
Taking your beer out on the town is a standard move for party animals everywhere because what good time wouldn't be substantially better when lubed up by your favorite brew. Well, a cold can in your jacket pocket can do the trick, but if you are really looking to turn it to 11, why not take the whole keg with you in the Bistro Bar Premiere portable kegerator. With this fully-enclosed unit, just add your favorite keg of any size and fill the rest of the container with ice, then stroll this unit out to the park using the attached 8" wheels – a set-up time that only takes 5 minutes. Included with the kit is a foot pump to keep your beer flowing, or if looking to step-up the game a CO2 adaptor is available to keep anyone from working too hard to earn their pint.
W x D x H: 27 x 27 x 40 inches
Keg Capacity: 1/2-barrel
Kegco Digital Homebrew Double Tap
For those that take their beer consumption to the next level know that brewing your own beer at home is a great way to learn more about what makes the taste profile of every beer unique, and allows the inner chemist to run wild in the experimentation process of the brew. So if you ever end up taking this journey, keep in mind that you'll want to serve up the beer you've worked so hard on through a worthy kegerator, and the Kegco Digital Homebrew Double Tap is the perfect answer for that need. Specifically designed with the home-brewer in mind, this kit is made to work specifically with the "ball-lock" style kegs for home brewing, meaning you won't have to rig any special contraptions to serve the beer right from the storage vessel. The digital temperature controls even allow for temps as high as 75-degrees F, creating the perfect conditions for the fermentation process of your home-brew operation.
W x D x H: 26 x 33 x 20 inches
Keg Capacity: 1/2-barrel
Beer Meister Triple Tower Premium Series All Stainless
To be a great host, you'll want to make that you always have a varied selection of beer to tap from your home kegerator, as we all know that one person that has never met an IPA they won't drink, but could never gulp down a crispy lager if their life depended on it. Providing a tap-room style experience at home, the Beer Meister Triple Tower Premium Series All Stainless is exactly as the name implies – a gorgeous three-tap kegerator, completely clad in stainless steel. This outdoor-rated unit can accept three sixth-barrels, two quarter-barrels, or one half-barrel – even the elusive taller Miller/Coors style kegs – making this great for serving any style of beer in the backyard. Included in the kit is a premium connection package that will make sure delicious varieties of beer will be flowing in no time at all.
W x D x H: 23.9 x 24.9 x 39.3 inches
Keg Capacity: 1/2-barrel
Kitma FCK-90
As one of the most important factors to consider when selecting your new kegerator is the amount of space available to install the new unit, this pick might be a bit much for some, and just the right fit for others. If you have a larger area that needs to be stuffed with beer delivering goodness, the Kitma FCK-90 provides 90-inches of tabletop and four taps, ensuring the next party you host will have no line-up of people waiting for their beer. A commercial-grade appliance, the gigantic 30 cubic foot capacity has more than enough room to fit full-size kegs with room to spare, allowing for multiple kegs to be kept on-deck in the cooler if that is your preference. Of course, a piece of equipment that is built for the pro's does come with its perks, as the manufacturer will dispatch an onsite repair person to perform the maintenance within 48 hours of reporting any issue.
W x D x H: 89.3 x 28.1 x 42.2 inches
Keg Capacity: 3 1/2-barrels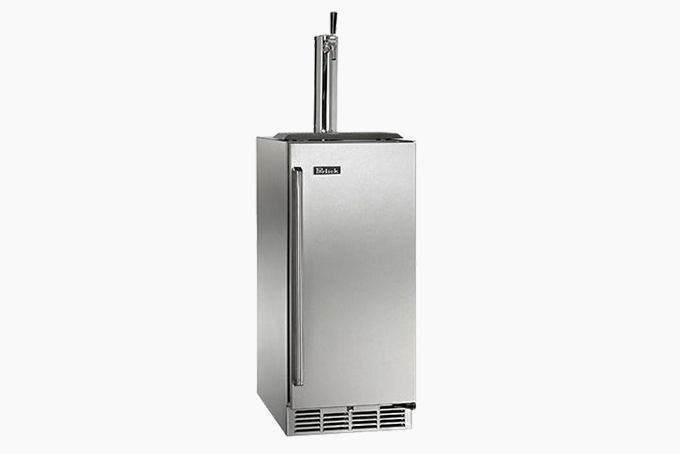 Perlick Signature Series 15-Inch
Every industry has its brand names that set the bar for what all other players will measure themselves by, and the beverage serving sector has its share of illustrious monikers that do just that. With more than 100 years in the game, Perlick is an American heritage brand that is a leader in commercial bar and beverage systems that also specials in high-end units for the home and their Signature Series 15-Inch kegerator is their install-ready unit that is worth lusting over. Covered in commercial-grade stainless steel inside and out, this narrow unit is optimized to fit sixth-barrel kegs, with the exclusive RAPIDcool forced-air refrigeration system providing ample colling power for the craft keg. Ease of use is enhanced by digital temperature controls and a Perlick 650SS flow control faucet, which allows for isolating the tap valve from the beer in the keg, guaranteeing even the laziest keg-keeper will enjoy a tasty pour time after time.
W x D x H: 14.9 x 24 x 32.3 inches
Keg Capacity: 1/6-barrel
Hestan 24-Inch Single Tap
Long gone are the days when beer drinkers were only blue-collar workers looking for a filling way to drown their sorrows, and with that change in consumers, there is nothing that says your kegerator can't match the rest of your home decor. Unlikely to ever be spotted in a frat house kitchen, the Hestan 24-Inch Single Tap is an outdoor rated kegerator that will have your favorite draft kegs feeling like a king. Constructed fully from stainless steel and featuring a hefty amount of insulation, the forced-air refrigerator also features the ability to have the face panel customized with a wood overlay, allowing for a seamless appearance once built into your countertop. As final touches, Hesten added an LED interior light for those late-night keg swaps and a lock to the door, making sure that prying hands will have a tough time gaining unwanted access to your prized pints.
W x D x H: 24 x 24 x 34.4 inches
Keg Capacity: 1/4-barrel
The 12 Best Beer Growlers
Not in the market for a full-sized keg tapping device, but still looking to wet your whistle? Check out our picks for the Best Beer Growlers to find a smaller container that may better match your beer drinking needs.
HiConsumption is reader-supported. When you buy through links on our site, we may earn an affiliate commission. Learn more