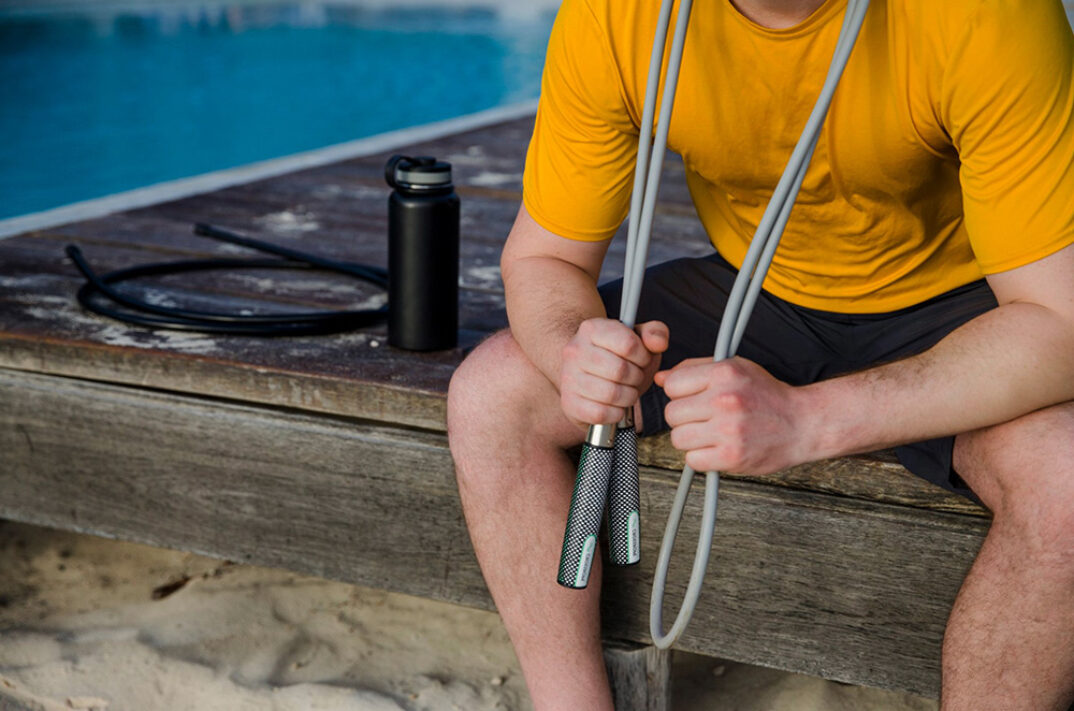 Many people are quick to assume that skipping rope is an activity best suited to the schoolyard, but what they fail to realize is that it's actually an incredibly efficient form of training. In fact, it's one of the fitness industry's best-kept secrets. Used by everyone from CrossFit competitors to professional boxers, jumping rope offers numerous health benefits in the form of improved cardio capacity, better coordination and footwork, and even added muscle gains. And with going to the gym still very much a questionable proposition, it makes for an ideal way to bring your workouts with you — wherever you are.
Nevertheless, it's important to get a handle on your goals before you go out and buy a jump rope because there are tons of different types and each one has its intended purpose. For instance, if you're looking to burn fat and lose weight, a speed rope will allow you to crank up the pace and really get your heart pumping. On the other hand, if you want to build strength and add muscle definition, you'll be better off with a heavy or a weighted rope — they'll work everything from your traps to your toes. But regardless of what you're after, we've found an option fit for your needs. So have a look and see what's made the cut on our list of the best jump ropes.
TITLE Boxing Licorice Jump Rope
As one of the preeminent players in boxing equipment, TITLE is a name that needs no introduction. Their licorice jump rope is an excellent choice if you're looking for a cost-effective option that can be used on both indoor and outdoor surfaces. Because it's made with a 5mm plastic rope, it carries the perfect amount of swing weight to keep the momentum going. So, whether you're a beginning jumper or a seasoned skipper, you'll find that this rope gives you enough feedback to find your rhythm without being so heavy that it causes unwanted arm fatigue. Oh, and if you're looking to correct those kinks upon opening, be sure to give it a quick boil for instant break-in.
Heavy Beaded Rope
While plastic ropes make for a great first-time skipping experience, sometimes a heftier option may be in order. This heavy beaded rope adds an extra element of resistance, giving you improved control over a conventional licorice jump rope with the added benefit of a more rigorous workout. In practice, this is because the weight of the beads slows the rope down throughout its swing, improving your proprioception and enabling a more consistent turnover. But that's not all — beaded ropes are a great choice if you hope to keep your jump rope routine consistent throughout the winter. Because they're made from rope rather than plastic, they won't harden once the temperature dips. And when a bead wears out at the contact patch, simply swap it out for a fresh one and you'll be jumping again in no time.
Pulse Weighted Handle Rope
If you're interested in adding some strength work to your training, a jump rope with some weighted grips will serve you well. That is, by holding the load in your hands, it enables plenty of passive resistance without letting the rope's momentum make things easier on you. And unlike heavy ropes that are fixed in their intensity, you can remove the weight from the handles if you're looking to switch things up for the odd speed session. This pick from Pulse features a set of high-speed ball bearings, an upgrade that ensures a smooth, drag-free swing throughout its rotation. And when you consider that it comes with some ergonomic memory foam for improved grip and comfort, this is one rope that's ready to take your skipping to the next level.
Twins Special Muay Thai Rope
Skipping is a staple part of any successful Muay Thai fighter's training regimen, and a key to that equation is the type of rope used. Any old plastic playground rope won't do; on the contrary, you need an option with loads of built-in resistance to hit every part of your upper body. So, whereas the above option works your arms by way of its weighted handles, this jump rope is made with an extra-thick piece of plastic that comes in at a little over 1lb. Sure, it may be easy to swing for the first few revolutions, but after several minutes of sustained skipping, you'll be holding on for dear life, begging for your forearms to stop burning and your shoulders to stop screaming.
Buddy Lee Master Jump Rope
If you've never seen Buddy Lee demonstrate his superhuman jump rope skills, do yourself a favor and have a watch — we guarantee that it'll have you outside practicing sequences for yourself before you know it. That being said, if you're trying to train like the best, it helps to have the same equipment he uses. The preferred choice of Lee himself, this Master Jump Rope comes with a set of 9″ high-density plastic handles wrapped in some comfortable foam grips — a combination that allows for confident control in freestyle and HIIT sessions alike. What's more, it also features a Swivel Bearing System specifically engineered to ensure smooth turning action in all directions for friction- and tangle-free spinning. Top it off with an innovative adjustment method that resizes the rope with just a quick turn of the wrench and it's clear that this offering is a cut above the rest.
Everlast Leather Jump Rope
Before plastic jump ropes became the norm, leather long reigned supreme. Even still, the material remains the preferred choice amongst boxers for its time-honored tradition and superior swing sensation. This pick from Everlast comes with a genuine leather rope, giving you a rotational speed comparable to plastic but with a bit of extra weight behind it so that you can really dial in your technique. But that's not all — because it's made from leather, it's also far more durable for outdoor use than plastic ropes that are likely to kink or snap. And just because this option comes with some old-school cool, don't think that it isn't a purpose-designed piece of equipment. With a set of precision ball bearings built into its premium polished wood handles, it may appear to keep things classic, but it's very much a modern training tool.
Rope Fit Heavy Rope
For those who are looking to turn their high-speed skipping sessions into bonafide muscle-building workouts, this Heavy Rope from Rope Fit will be a much-appreciated addition. Where most jump ropes typically max out around 2-3lbs, this portly pick weighs in at 5lbs for the 1.5″ version and 8lbs for the 2″ version. To put it another way — it's less a jump rope than it is a total-body torture device. And because it's constructed from the same durable poly dacron material used in the brand's burly battle ropes, you better believe that it can hold up to whatever abuse you have to throw at it. If you're after an efficient way to blast fat and develop strength, look no further than this rugged rope.
Rogue Fitness SR-2S Speed Rope 2.0
Rogue Fitness makes some of the best workout gear in the game, and their SR-2S Speed Rope is no exception. For starters, it features a pair of knurled handles made from aircraft-grade aluminum, giving you a secure hold on your jump rope no matter how sweaty things get. And thanks to its set of built-in bearing swivels and omnidirectional mounting points, the SR-2S makes for an incredibly smooth spin with effortless turning action. Whether you're a newcomer to CrossFit or a master MMA fighter, this is one rope that'll have you stringing together hundreds of double-unders in no time at all.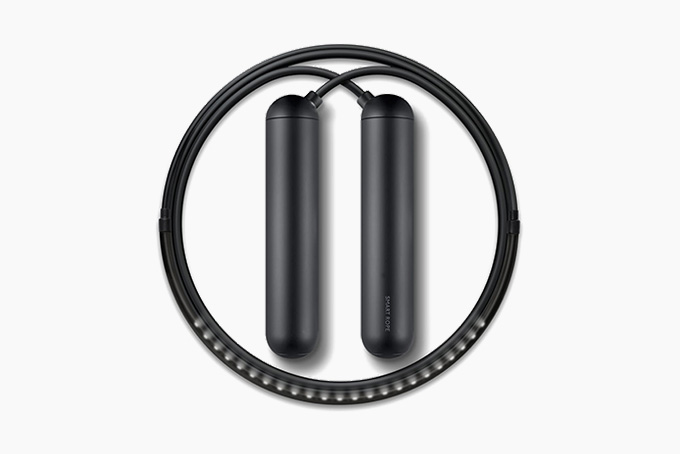 Tangram SmartRope LED
Although jump ropes have the advantage of being a simple, lo-fi piece of fitness equipment, they become all the more capable when you imbue them with a bit of tech. Take Tangram's Smart Rope, for instance. It comes with a set of sensors that track full 360-degree revolutions, allowing you to stay focused on the task at hand rather than counting skips in your head. And because it comes with built-in Bluetooth connectivity, it can instantly upload all of your recorded fitness metrics to the accompanying Smart Gym mobile app. So, in addition to making it simple to log each workout, it also allows you to exercise smarter by keeping tabs on your training. Last but not least, Tangram's Smart Rope includes LED lights that will actually project your count in front of you, allowing you to jump during the day or hone your skipping skills after hours.
Crossrope Get Lean Jump Rope Set
Taking the top spot on our list is Crossrope's Get Lean Jump Rope Set. Sure, it's a far sight more expensive than some of the other options, but it also skews more towards a complete fitness system than it does a helpful training accessory. With two included ropes — a 1/4lb model and a 1/2lb model — you get the benefits of both high-speed HIIT sessions and longer endurance workouts wrapped into one convenient package. And because the redesigned Slim Handles come with Crossrope's patented fast clip connection, it's quick and easy to change your rope weights — just pull the fastener, unhook the rope, and pop in a new one. But the best part is that because of Crossrope's well-rounded rope offerings, you can pick up heftier options when you're ready to add some more intensity.
The 15 Best Pieces Of Workout Equipment For Small Apartments
One of the main advantages to jump ropes is that they offer an effective cardio workout in a small amount of space. If you're keen on keeping up your fitness but you're limited in how much room you have to exercise, be sure to check out our guide to the best pieces of workout equipment for small apartments.