The iPhone is the most universally owned, beloved smartphone on the market. With the iPhone X, Apple has stepped its game up. In introducing an OLED screen, face-recognition unlocking technology, a larger display, and a ton of new, exciting features, the iPhone X is one of the most advanced phones out there. But what it boasts in software tech, it lacks ever-so-slightly in hardware, namely: battery life.
Plenty of smartphone accessories can help elevate your phone. But only one can make your phone last twice as long. Not mentioning the planned obsolescence scandal that proved just how bad Apple's battery tech was, the iPhone has a notoriously short battery life. That's why outfitting your new phone with a battery case to keep it perpetually charged up is a must. We've looked through the sea of iPhone X charging cases available on the Internet, and pulled out the 8 best from which to choose. Take a look at this handguide before picking the perfect companion case for your shiny new smartphone.
Moonmini Battery Case
At less than $30, the Moonmini Battery case for the iPhone X is a bargain, and the cheapest base on this list. A 6000mAh rechargeable Li-polymer battery power bank that you can attach to your phone, the Moonmini is among the more powerful charging cases on the list. It's also very slim, so it won't be like lugging a brick in your pocket. It will allow your phone not only to stay alive longer, but to endure – through scratches and exposure to dirt and dust. Built with internal circuit protection from overheating, overload and short circuiting, as well as LED lights to indicate how much charge remains in the case.
MaxBoost Battery Case
The Maxboost Battery case can provide an extra 1.1 times life energy for your phone. That equates to an extra 8+ hours time spent talking on the phone or 11+ hours web-browsing time. Like most of the cases on the list, the Maxboost is not compatible with 3.5mm input headphones, only true wireless headphones like Airpods. However, sync-through technology allows you to connect to your computer wirelessly, so that you don't have to remove the case (which can be a hassle). You can also charge your iPhone and battery case simultaneously with the included Micro-USB cable.
ZeroLemon Battery Case
The ultra slim, ultra smooth ZeroLemon battery case has everything you need, in an attractive case. The slim case adds 105% of extra battery life, which translates to 23 hours of extra talk time, 65 more hours of music listening, 15 hours of movie watching and 14 hours of gameplay. You can charge and sync through the case using the USB-C cord, and at just 4.4 oz, the ZeroLemon Battery Case is extremely lightweight.
Feob 5200 mAh Case
The Feob packs an impressive 5200 mAh into a lightweight case, which only adds 0.19 inch and 3.5 oz to your iPhones factory stature. With a not so steep price raise, the Feob is still a major step up from the first tier of iPhone X chargers on the list, offering an 180% battery use time increase, which translates to a whole 24 hours of talk time, 20 hours of web browsing time, and 18 hours video. The Feob case is also highly durable, boasting 360° full protection.
Alpatronix BXX
The rechargeable 4200mAh UL-certified internal battery case comes from Alpatronix, which is one of the most reliable names in iPhone accessory tech. THe BXX can be charged via USB-C cord, but unlike the products that precede it on this list, the BXX is QI compatible. Never take your battery case off, whether you're syncing with your computer or recharging the recharger. Plus, the BXX comes in black, gold and pink, if you're looking to splash some color onto your phone.
Lux Battery Case
The LUX Battery Case offers complete coverage, from the screen to the back on a raised bezel, so that nothing can damage your phone while it charges. With three different battery capacities – 4000, 3200 and 3000 mAH – pick the case that best suits your mobile phone use. Calling itself the "best charging case on the market," the iPhone X charging case from LUX can connect with Apple lightning headphones and offers easily accessible ports, so you never have to take off your phone case. Thin, yet sturdy, the LUX makes a strong case.
Vapesoon Waterproof Case
The Vapesoon case has something going for it that the other cases on the list don't: it's completely waterproof. The case from Vapesoon is iP 67 waterproof certified. The three-piece case will cover your phone from all angles and keep it sealed in. With 120% battery life offered and QI charging compatibility, the Vapesoon waterproof battery case is the perfect waterproof accessory for hikers, swimmers, and adventurers who aren't afraid of a little moisture.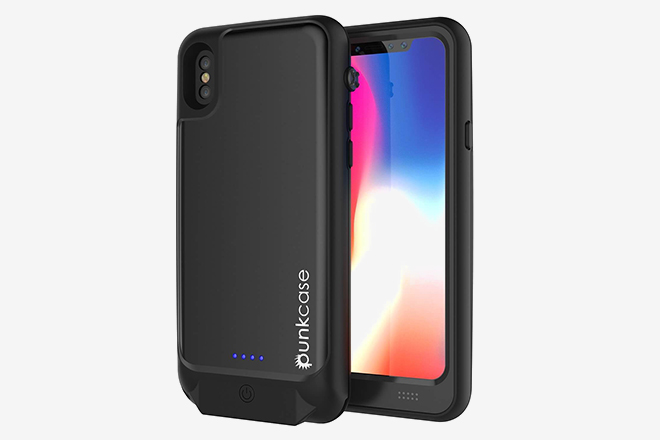 Punkjuice Battery Case
The Punkjuice iPhone X Battery Case will save you from ever being punked by a low battery. With 3600mAh of juice, an LED display to indicate battery remaining in the case, and a sleek and slim design, the Punkjuice battery case is top of the line. Not only will the Punkjuice from Punkcase charge your iPhone fully 1.5 times (an an extra battery will allow you to add 0.5x to that), but patented fast-charging technology will have it reloaded in no time. Water-proof, snow-proof, and dirt-proof, this case can endure the elements so that you can endure a dying battery. Speaker holes, a charging port and even a lanyard hole offer ultimate accessibility, making this one of the most convenient charging cases out there.
Best Wireless Chargers For iPhone 8 And iPhone X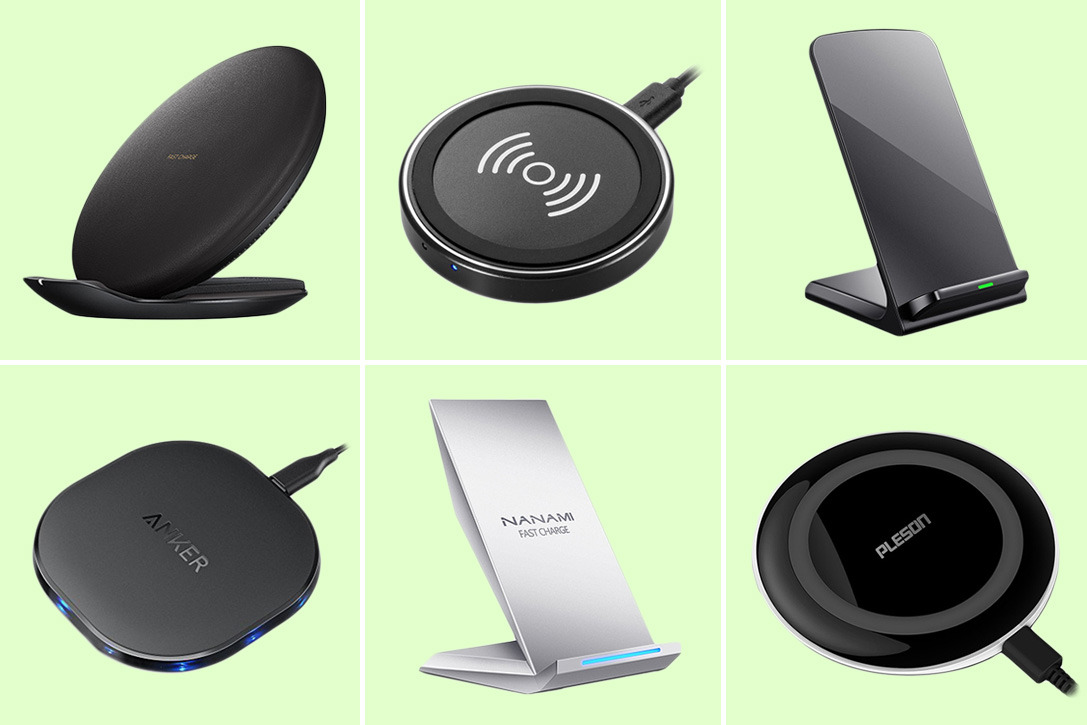 If you've just bought a new iPhone X, equip it with the best charger possible. Check out this list of the best wireless chargers for the iPhone 8 and iPhone X, and stay juiced.